Homily Reflection 15th Sunday in Ordinary Time B: CHOSEN IN CHRIST TO BE HOLY.
Homily Reflection 15th Sunday of Ordinary Time (B):
CHOSEN IN CHRIST TO BE HOLY
BEFORE THE FOUNDATION OF THE WORLD.

VOCATION TO HOLINESS AND APOSTOLATE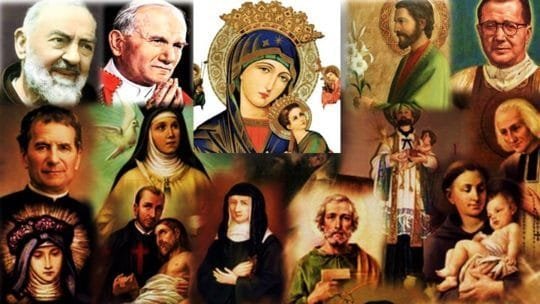 OUTLINE
1.      SUMMARY OF IMPORTANT IDEAS
The readings of the 15th Sunday of Ordinary Time (Year B) remind us of our VOCATION TO HOLINESS AND APOSTOLATE.
The 1st reading (Am 7:12–15) tells us how Amos responded the priest Amaziah saying: "I was a shepherd and a dresser of sycamores. The Lord took me from following the flock, and said to me, Go, prophesy to my people Israel."
The 2nd reading taken from St. Paul's Letter to the Ephesians (3:1-10) blesses "God and Father of our Lord Jesus Christ, who has blessed us in Christ with every spiritual blessing in the heavens, as HE CHOSE US IN HIM, BEFORE THE FOUNDATION OF THE WORLD, TO BE HOLY AND WITHOUT BLEMISH BEFORE HIM."
The Gospel speaks to us how Jesus "called to him the twelve, and began to send them out two by two, and gave them authority over the unclean spirits (Mk 6:7) giving them instructions on how to carry out this apostolic mission (vv.8-13)."
2.      VOCATION TO HOLINESS AND APOSTOLATE
God's eternal plan for each one of us right before the beginning of the world is "TO BE HOLY AND WITHOUT BLEMISH BEFORE HIM".
Our vocation to holiness is a gift of his Loving initiative CHOOSING US IN CHRIST TO BE HOLY AND TO BE HIS CHILDREN WITHOUT BLEMISH. It is what He foresaw for each one of us, choosing us to live this kind of life, to live a holy life, in, with and through His Son, Our Lord Jesus Christ, adopting us as His children (divine filiation) through Him, identifying ourselves with His Only-Begotten Son.
One may ask us why? God only wants the best for His children, as any human father would: He wants us to attain eternal happiness.
2. From the above-mentioned ideas, we glean that according to God's plans for humanity:
HOLINESS and LIVING AS CHILDREN OF GOD IN CHRIST (DIVINE FILIATION) are inseparable. HOLINESS is the fullness of divine sonship because it is nothing but the process in which we Christians, with the help of God's grace, strive to IDENTIFY ourselves with Our Lord Jesus Christ, such that CHRISTIAN STRIVES TO THINK, SPEAK, WANT, FEEL, ACT AND LIVE LIKE CHRIST. And this involves a lifetime struggle to overcome the obstacles, to want what Christ wants and to reject what Christ rejects, knowing how to begin again daily with humility because in this life we will have victories and defeats: all these for love of God.
HOLINESS and ETERNAL HAPPINESS are INSEPARABLE according to God's plans for humanity.
At the same time, THE CHRISTIAN WHO STRIVES FOR HOLINESS CANNOT REMAIN PASSIVE AND ENCLOSED WITHIN HIMSELF, BUT RATHER WANTS WHAT CHRIST WANTS: SOULS! That is why, WE CANNOT REDUCE OUR VOCATION TO HOLINESS INTO SOME ACTS OF PIETY AND A BIT OF SOME VIRTUES, AND REMAIN INDIFFERENT WITH THE SOULS AROUND US, with their problems, miseries, sufferings, poverty (both material and spiritual), FOR THE WORKS OF MERCY are the criteria on which we know whether we are living as Christ's disciples (cf. Pope Francis, Misericordiae vultus. See as well previous post on "WORKS OF MERCY").
Pope Francis, in "Evangelii gaudium", reminded us of our apostolic mission, saying:
EVERY BAPTIZED MEMBER OF THE CATHOLIC FAITH IS CALLED TO EVANGELIZE AND IS CALLED TO BE A MISSIONARY DISCIPLE. "IN VIRTUE OF THEIR BAPTISM, ALL THE MEMBERS OF THE PEOPLE OF GOD HAVE BECOME MISSIONARY DISCIPLES (CF. MT 28:19). ALL THE BAPTIZED, WHATEVER THEIR POSITION IN THE CHURCH OR THEIR LEVEL OF INSTRUCTION IN THE FAITH, ARE AGENTS OF EVANGELIZATION" (n. 120).
3.      ARE WE TAKING GOD'S CALL SERIOUSLY?
Dear friends, it is A WONDERFUL OCCASION TO ASK OURSELVES:
ARE WE TAKING SERIOUSLY GOD'S CALL TO HOLINESS AND APOSTOLATE,
knowing that not only our earthly and heavenly happiness,
but also those of others as well, are at stake?
Above all, GOD DESERVES OUR LOVE AND IT IS FOR LOVE AND
THROUGH LOVE THAT  WE ARE TO FREELY RESPOND TO HIS CALL,
DISPOSED TO DO WHATEVER IT TAKES TO REMOVE, UPROOT AND REJECT THAT WHICH IS INCOMPATIBLE WITH OUR VOCATION TO HOLINESS AND OUR LIFE AS CHILDREN OF GOD THROUGH CHRIST, AND TO FOLLOW HIM FAITHFULLY IN THIS LIFE, until we become one like Him, Christ Himself, ipse Christus
(St. Josemaria, "Christ is Passing By, n. 96).
"You need a heart which is in love, not an easy life, to achieve happiness
(St. Josemaria, "Furrow", n. 795)."
DO WE WANT TO FALL IN LOVE MORE WITH GOD
AND ARE WE PUTTING THE MEANS TO DO SO?
To end, let us meditate on the words of
St. John Paul II in his visit to Croatia in June 7, 2003: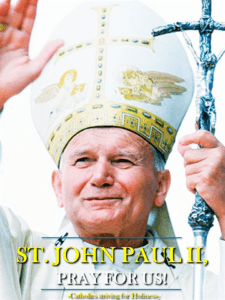 "I beg you to lead a life worthy of the calling to which you have been called" (Eph 4:1). Saint Paul wrote these words to the Ephesians. His exhortation, dear brothers and sisters, resounds today in our assembly with particular timeliness.
BUT WHAT IS THE VOCATION OF A CHRISTIAN? THE ANSWER IS DEMANDING, BUT CLEAR: THE VOCATION OF CHRISTIAN IS HOLINESS. It is a vocation which has its roots in Baptism and is proposed anew by the other sacraments, and principally by the Eucharist.
Dear brothers and sisters…
the Bishop of Rome has come among you today in order to remind you,
IN THE NAME OF THE LORD, THAT YOU ARE CALLED TO HOLINESS IN EVERY SEASON OF LIFE: IN THE SPRING OF YOUTH, IN THE SUMMER OF MATURITY, THEN IN THE AUTUMN AND WINTER OF OLD AGE, AND AT LAST AT THE HOUR OF DEATH AND EVEN BEYOND DEATH, IN THE FINAL PURIFICATION PREORDAINED BY GOD'S MERCIFUL LOVE
(St. John Paul II, Homily Sportive Airport of Osijek/Čepin, 7 June 2003)."
 A Blessed week ahead!
-Fr. Rolly Arjonillo.
FOR THE 15TH SUNDAY IN ORDINARY TIME MASS PRAYERS AND READINGS, CLICK HERE.
FOR POPE FRANCIS' HOMILY REFLECTION 15TH SUNDAY IN ORDINARY TIME YEAR B, CLICK HERE.
PHOTO SOURCE: https://www.lds.org/bc/content/bible-videos/videos/the-calling-of-the-original-twelve-apostles/images/26_the-calling-of-the-original-twelve-apostles_1800x1200_300dpi_3.jpg
VIDEO REFLECTION TOPIC: CAN YOU BE A MIRACLE FOR SOMEONE AND FULFILL JESUS' CALL FOR YOU TO BE A MISSIONARY FOR HIM?
In today's gospel reading, Jesus sends out His disciples to preach His good news and to perform miracles of healing. He also tells us not just to be disciples but be apostles for Him.
Stay updated: subscribe by email for free TO OUR NEW WEBSITE www.catholicsstrivingforholiness.org (PUT YOUR EMAIL IN THE SUBSCRIBE WIDGET).
We are also in www.fb.com/Catholicsstrivingforholiness. Kindly help more people in their Christian life by liking our page and inviting your family, friends and relatives to do so as well. Thanks in advance and God bless you and your loved ones! Fr. Rolly Arjonillo