HOMILY FOR THE MOST HOLY TRINITY YEAR A
HOMILY FOR THE MOST HOLY TRINITY YEAR A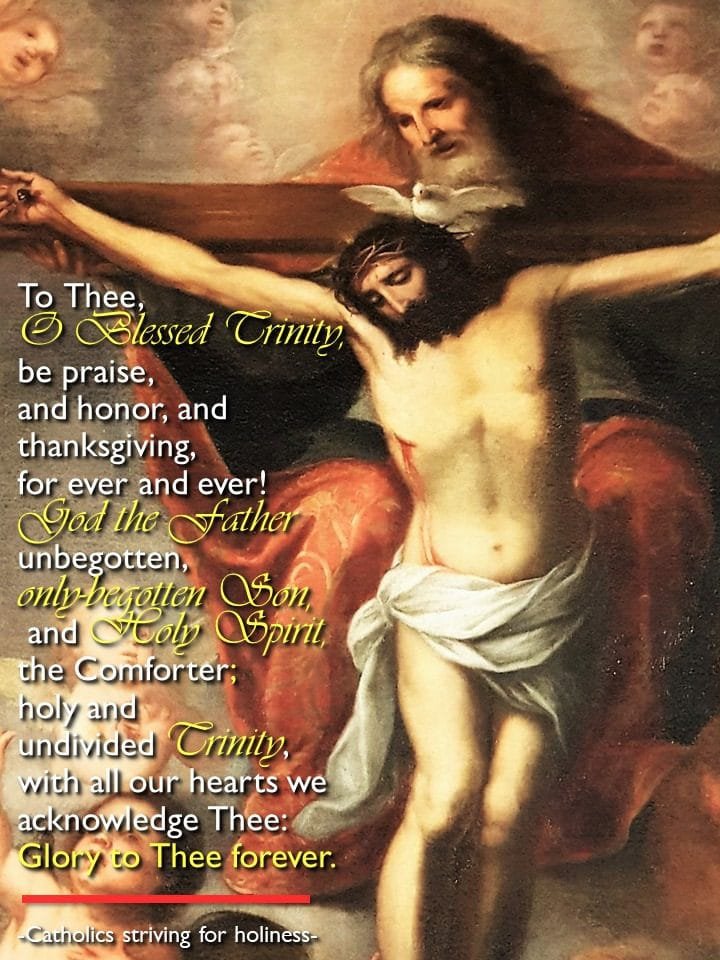 1. What is Most Holy Trinity?
Today we contemplate the central mystery of our faith: the Most Holy Trinity, which is  is the starting point of all revealed truth, the fountain from which proceeds supernatural life, and the goal whither we are headed.
But what does "Trinity" mean? It comes from the words tri + unity, i.e., THREE UNITED IN ONE: THREE PERSONS IN ONE GOD. It is not something which our reason can discover. Jesus revealed it to us. We Catholics believe as Jesus taught us in God as one essence in three Persons: God the Father, God the Son, and God the Holy Spirit. We believe not in three Gods, but in just One God in three Persons, equal in Being and in omnipotence (see more in A Profession of the Catholic Doctrine on the Holy Trinity a.k.a. Pseudo-Athanasian Creed or Quicumque vult prayer).
Today's solemnity of the Most Holy Trinity Year A leads us to contemplate and worship the divine life of the Father, the Son and the Holy Spirit: a life of communion and perfect love, origin and aim of all the universe and of every creature: God.
Jesus reveals to us how the mystery of the Triune God is a mystery of Love: "He himself is an eternal communication of love—Father, Son, and Holy Spirit—in whom we are destined to participate" (Catechism, 221).
We can say that the life of the Trinity, is a dynamism of love, of communion, of mutual service, of mutual giving, receiving and sharing. A person who loves God and others for the very joy of love is a reflection of the Trinity.
WITH ALL THE ABOVE SAID, WE CAN SAY THAT THE STARTING POINT OF ALL TRUTH, THE FOUNTAIN FROM WHICH PROCEEDS OUR SUPERNATURAL LIFE, AND THE GOAL OF OUR LIFE IS LOVE.
2. PRACTICAL CONSEQUENCES.
2.1. PERSONAL RELATIONSHIP:
Aware of God's presence in our soul in grace should lead us to deal with Him frequently to have an intimate loving relationship with the Father, the Son and the Holy Spirit.
2.2. GIVE GLORY TO GOD. Man's principal mission: adoration and give glory to God.
As an elementary student in Manila (Philippines), the Benedictines taught us the short invocation U.I.O.G.D (ut in omnibus glorificetur Deus) and as a young numerary, St. Josemaria taught: Deo omnis Gloria (To God all the glory). These short prayers help us to carry out all our actions with the right intention.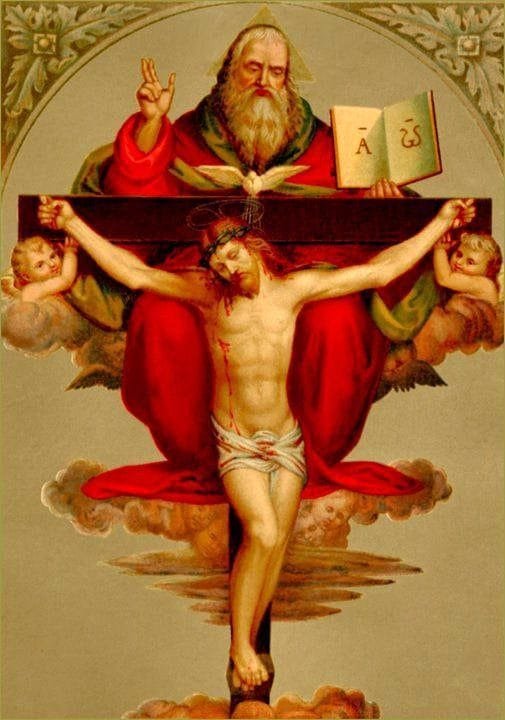 We have learned in our Catechism the reason why God created man: to know, love, serve and give glory to God in order for us to be fully happy. The question remains:
HOW DO WE GIVE GLORY TO GOD?
We give glory to God by bestowing Him honor, praise, worship and thanksgiving: acknowledge Him as the Lord and source of all creation, the source of all good, of all that we are and we have. DO ALL THINGS FOR GOD'S GLORY.
If we do the opposite: if we do not acknowledge Him as Lord, believe in Him as the source of all good and all we have and we are, the consequence is to glorify ourselves. We substitute God with our "I". We become the center of all and of others. And this is equivalent to pride, egotism, idolatry and vainglory.
To GIVE GLORY TO GOD IS TO LIVE AS GOD LIVES AND FOR LOVE: HOW DOES GOD LIVE? We said that in God, there is an eternal giving and sharing of Love, an eternal communication of love to which we are called to participate. GOD IS LOVE.
BELIEVING in Him: "He who does not believe is condemned already" (v. 18).
FULFILLING His Will. In our thoughts, words, actions: in our life living it in the best possible way according to His Will.
Love presupposes SACRIFICE: God gave up His only Son in order that man 'should not perish but have eternal life'…It was God's His supreme sacrifice out of love for us. Are we willing to give up what God asks from each one of us to show him that we really love Him?
A person who loves others for the very joy of love is a reflection of the Trinity. A family in which each person loves and helps one another is a reflection of the Trinity.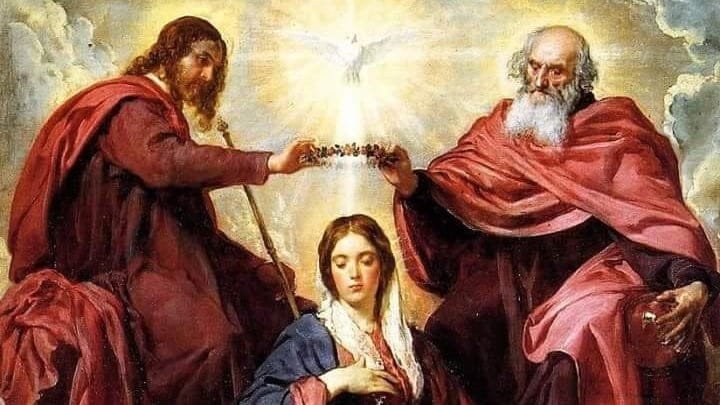 TO GIVE GLORY TO GOD, TO ADORE AND TO SERVE HIM, IS TO LOVE, MAKING OUR LIVES A REFLECTION OF GOD'S LOVE. This is our principal mission here on earth. And this mission is at the same time the means and the goal of our life. Only by reflecting God's love with our life shall we reach God and participate in His life of happiness without end.
May the Virgin Mary, the glory, perfect creation and masterpiece of the Most Holy Trinity help us to make our whole lives, in small gestures and more important choices, a homage to God, who is Love.
SEE AS WELL:
Stay updated: subscribe by email for free TO OUR NEW WEBSITE www.catholicsstrivingforholiness.org (PUT YOUR EMAIL IN THE SUBSCRIBE WIDGET).
We are also in www.fb.com/Catholicsstrivingforholiness. Kindly help more people in their Christian life by liking our page and inviting your family, friends and relatives to do so as well. Thanks in advance and God bless you and your loved ones! Fr. Rolly Arjonillo