Homily 5th Sunday in Ordinary Time Year C. OUR PERSONAL VOCATION: FAITH, OBEDIENCE AND GENEROSITY IN ANSWERING GOD'S CALL.
Homily 5th Sunday in Ordinary Time Year C.
ON PARTICULAR VOCATION:
FAITH, OBEDIENCE AND GENEROSITY IN ANSWERING GOD'S CALL.
Dear friends, today's Sunday liturgy brings us to reflect on the topic of PERSONAL VOCATION, that is, what God wants from each one of us in our life.
The readings of today's Mass wonderfully recount to us the divine vocations of Isaiah, St. Paul and St. Peter and the 1st disciples.
The 1st reading (Isaiah 6:1–2a, 3–8) describes to us the vocation of the prophet. Isaiah was distressed to have witnessed the divine presence as he considers himself a miserable man:
"Woe is me, I am doomed! For I am a man of unclean lips, living among a people of unclean lips; yet my eyes have seen the King, the Lord of hosts!" Then one of the seraphim flew to me, holding an ember that he had taken with tongs from the altar.
He touched my mouth with it, and said, "See, now that this has touched your lips, your wickedness is removed, your sin purged."
Then I heard the voice of the Lord saying, "Whom shall I send? Who will go for us?" "Here I am," I said; "send me!"
But God makes it clear that the divine vocation is HIS INITIATIVE and not man's merit. It is a gift from God.
When God calls someone for a mission, He also gives the person the grace to carry out the mission entrusted to him. This should fill us with optimism and serenity for God never abandons His instruments.
The same idea can be seen in the 2nd reading (1 Corinthians 15:1–11) where St. Paul, after a brief narration of the events of Christ life which he preached, also recalls how Christ Our Lord appeared to him after the apostles, considering himself unworthy to be called as such for "I persecuted the church of God. But by the grace of God I am what I am, and his grace to me has not been ineffective. Indeed, I have toiled harder than all of them; not I, however, but the grace of God that is with me. Therefore, whether it be I or they, so we preach and so you believed."
Paul, among other things, attributes the fact that he is what he is: the Apostle sent to preach to Gospel to the Gentiles, and all the fruits of his mission, to God's grace that is with him.
In the Gospel, Luke tells us the story about the miraculous catch of fish which is as well the context where Jesus called his first disciples: Peter, James and John who were his first disciples. Our Lord Jesus Christ took advantage to teach the crowds of the Good News at the lake of Gennesaret and when he had finished catechizing, St Luke recounts that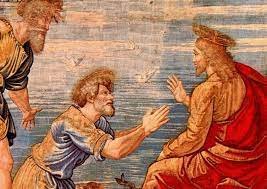 Jesus got "into one of the boats, which was Simon's, he asked him to put out a little from the land. And he sat down and taught the people from the boat. And when he had ceased speaking, he said to Simon, 'Put out into the deep and let down your nets for a catch.' And Simon answered, 'Master, we toiled all night and took nothing! But at your word I will let down the nets.' And when they had done this, they enclosed a great shoal of fish; and as their nets were breaking, they beckoned to their partners in the other boat to come and help them. And they came and filled both the boats, so that they began to sink. But when Simon Peter saw it, he fell down at Jesus' knees, saying, 'Depart from me, for I am a sinful man, O Lord.' For he was astonished, and all that were with him, at the catch of fish which they had taken; And so also were James and John, sons of Zebedee, who were partners with Simon. And Jesus said to Simon, 'Do not be afraid; henceforth you will be catching men.' And when they had brought their boats to land, they left everything and followed him."
It is worthwhile to point out some important ideas contained in this Gospel passage:
The Fathers saw in Simon's boat a symbol of the pilgrim Church on earth. "This is the boat which according to St Matthew was in danger of sinking and according to St Luke was filled with fish. Here we can see the difficult beginnings of the Church and its later fruitfulness" (St Ambrose, Expositio Evangelii sec. Lucam, in loc.), Christ gets into the boat in order to teach the crowds — and FROM THE BARQUE OF PETER, THE CHURCH, HE CONTINUES TO TEACH THE WHOLE WORLD. (Commentary of the Navarre Gospels).
Our Lord Jesus Christ gave some instructions to Peter who states the reasonable difficulties involved: they had toiled all night and took nothing. Besides, it is already daytime and what is the point of fishing at this hour? Nevertheless, PETER HAD AN ENORMOUS AND OBEDIENT FAITH IN JESUS: "'But at your word I will let down the nets.' He decides to act on Christ's suggestion. He undertakes to work relying entirely on the word of our Lord (St. Josemaria, Friends of God, 261)." Lord, may we also learn to react like Peter, especially when humanly speaking, we have valid reasons to excuse ourselves from what you are asking from us. May we be convinced that You can do all things once and for all!
The result of Peter's firm and obedient faith? The miraculous catch of fish! Peter realizes the divine power of Jesus and openly proclaims his unworthiness to be near him and manifests his faith by falling down to his knees. God works wonders through the obedience and faith of men!
Jesus reacts by assuring him of his future mission as the Vicar of His Church: 'Do not be afraid; henceforth you will be catching men.' And when they had brought their boats to land, they left everything and followed him." Peter, from then on, will be the leader of the Apostles and the Vicar of Christ on earth, succeeded in an unbroken manner by the Popes till the present day in the One True Church of Christ, the Catholic Church.
Dear friends, it is a fact that there is a UNIVERSAL VOCATION TO HOLINESS: God calls us and wants all of the Christian faithful to strive for holiness through the faithful following and loving identification with His Son, Our Lord Jesus Christ.
However, the PARTICULAR DETERMINATION of responding to God's call to holiness is so diverse – one can be called to priesthood, to religious consecration, to marriage, to apostolic celibacy− and the possibilities are numerous (for example, to be a religious monk or nun, one has to discern which religious congregation or secular institution etc. God is calling him/her to). The great majority of men and women are called to seek holiness in married life and in the middle of the world. But God, out of loving predilection chooses whom He wants since the foundation of the world and directs Himself to particular individuals to carry out specific missions in their life.
The most important thing is to DISCERN one's OWN PATH ACCORDING TO GOD'S WILL (and not ours) for ultimately it is what gives meaning to our earthly existence. How would one know God's will? Through PERSONAL PRAYER, FREQUENT RECEPTION OF SACRAMENTS, PRACTICE OF VIRTUES AND SPIRITUAL DIRECTION.
One's particular divine vocation is a matter of utmost importance: it is between the God and the individual, who in turn should FREELY discern and answer to what God wants from him. If you have not yet discovered your vocation, it is necessary to ask yourself often in personal prayer:
LORD, WHAT DO YOU WANT ME TO DO IN THIS LIFE? HOW DO YOU WANT ME TO SERVE YOU?
It would also be prudent that you have a spiritual direction with a holy person, whether a priest or not, who would help you discern what God wants from you. AND WHEN YOU HAVE SINCERELY DISCOVERED WHAT GOD IS ASKING FROM YOU, GO FOR IT! HAVE FAITH IN GOD AND RESPOND GENEROUSLY TO HIS CALL because that is the path through which God is leading you to follow and serve Him and many souls: it is the path which God prepared for you since the beginning of the world and what ultimately gives meaning of your earthly existence and through which you will attain eternal happiness.
May your answer be:
LORD, I WANT WHAT YOU WANT! AT YOUR WORD, I WILL LET DOWN THE NETS AND LEAVE EVERYTHING TO FOLLOW YOU. HERE I AM LORD, SEND ME. FOR I WILL DO WHAT YOU WANT AND BE WHAT YOU WANT ME TO BE, THROUGH YOUR GRACE THAT IS IN ME.
With the help of your grace, I wish to serve you, your Church and all souls, for your honor and glory, convinced that my divine vocation brings with it all the divine graces to carry out the mission to its completion for it is not I, but "God's grace works in me".
PHOTO SOURCE: Jacopo Bassano, "The Miraculous Catch of Fish (1545) in https://gsepton.files.wordpress.com/2010/05/01110007.jpg
VIDEO COMMENTARY
TOPIC: DO YOU DESIRE TO BECOME HOLY?
Stay updated: subscribe by email for free TO OUR NEW WEBSITE www.catholicsstrivingforholiness.org (PUT YOUR EMAIL IN THE SUBSCRIBE WIDGET).
We are also in www.fb.com/Catholicsstrivingforholiness. Kindly help more people in their Christian life by liking our page and inviting your family, friends and relatives to do so as well. Thanks in advance and God bless you and your loved ones! Fr. Rolly Arjonillo