HAPPY EASTER PRAYER AND GREETING. AV and commentary.
HAPPY EASTER!
OUR EASTER PRAYER AND GREETING TO YOU ALL!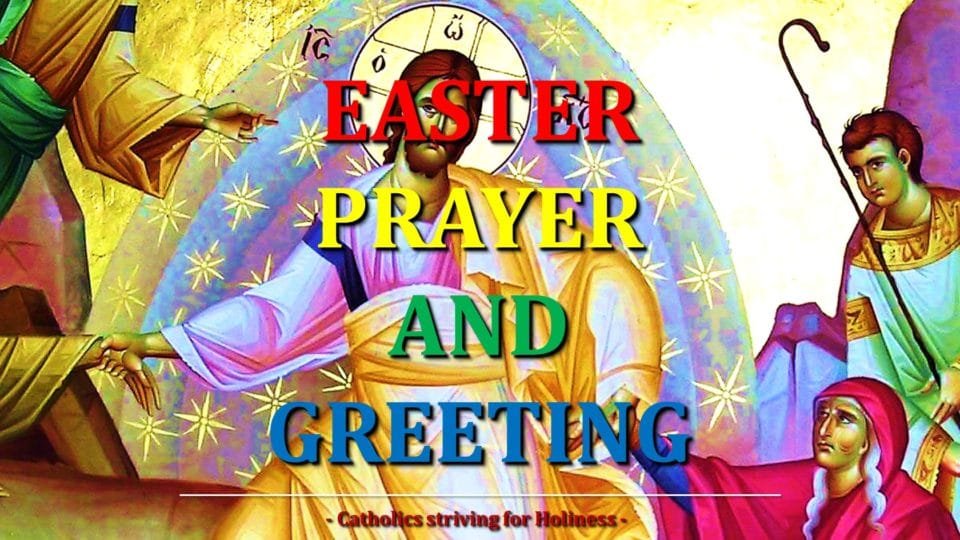 After the 40-day Lenten preparation, we have finally arrived at this day commemorating Our Lord's Resurrection, a fundamental truth of our Faith, in which God the Son has triumphed over death, sin, and evil, thereby gaining for us a new life in Him and opening us the gates of heaven.
Our Lord showed us the way to follow which leads to eternal life and happiness: the way of Love, which is the lesson He teaches us not only with His Passion and Death, but with His entire life. His Love which knows how to suffer, to humble one's self, to renounce one's self, and bear physical and moral pain, all for the sake of the beloved.
A Love like His is the Love which is not only stronger than death but also transcends it. Hence, may we live our life in accordance to His Life, without being afraid of the Cross, but knowing how to convert pain, sorrow, suffering and sacrifice into love. For only then shall we share in the glory of His Resurrection.

May almighty God bless you through today's Easter Solemnity and, in his compassion, defend you from every assault of sin.
Amen.
And may he, who restores you to eternal life in the Resurrection of his Only Begotten, endow you with the prize of immortality.
Amen.
Now the days of the Lord's Passion have drawn to a close, may you who celebrate the gladness of the Paschal Feast come with Christ's help, and exalting in spirit, to those feasts that are celebrated in eternal joy.
Amen.
And may the blessing of almighty God, the Father, and the Son, † and the Holy Spirit, descend upon you and remain with you for ever.
Amen.
A Blessed and Joyous Easter to you and your loved ones! Fr. Rolly Arjonillo
SEE AS WELL: EASTER SUNDAY. THE RESURRECTION OF OUR LORD JESUS CHRIST. Summary vid + full text in
https://catholicsstrivingforholiness.org/easter-sunday-the-resurrection-of-our-lord-jesus-christ-summary-vid-full-text/
AUDIO CREDIT AND SOURCE: Egmont Overture Finale Kevin MacLeod (incompetech.com) Licensed under Creative Commons: By Attribution 3.0 License http://creativecommons.org/licenses/by/3.0/
Stay updated: subscribe by email for free TO OUR NEW WEBSITE www.catholicsstrivingforholiness.org (PUT YOUR EMAIL IN THE SUBSCRIBE WIDGET).
We are also in www.fb.com/Catholicsstrivingforholiness. Kindly help more people in their Christian life by liking our page and inviting your family, friends and relatives to do so as well. Thanks in advance and God bless you and your loved ones! Fr. Rolly Arjonillo