GOOD FRIDAY REFLECTION ON THE PASSION OF OUR LORD.
GOOD FRIDAY REFLECTION ON THE PASSION OF OUR LORD.
EXCERPT OF TODAY'S PASSION OF THE LORD
FROM THE GOSPEL OF ST. JOHN 18:1-19:42
When the soldiers had crucified Jesus, they took his clothes and divided them into four shares, a share for each soldier. They also took his tunic, but the tunic was seamless, woven in one piece from the top down. So they said to one another, "Let's not tear it, but cast lots for it to see whose it will be," in order that the passage of Scripture might be fulfilled that says: They divided my garments among them, and for my vesture they cast lots. This is what the soldiers did. Standing by the cross of Jesus were his mother and his mother's sister, Mary the wife of Clopas, and Mary of Magdala. When Jesus saw his mother and the disciple there whom he loved he said to his mother, "Woman, behold, your son." Then he said to the disciple, "Behold, your mother." And from that hour the disciple took her into his home.
After this, aware that everything was now finished, in order that the Scripture might be fulfilled, Jesus said, "I thirst." There was a vessel filled with common wine. So they put a sponge soaked in wine on a sprig of hyssop and put it up to his mouth. When Jesus had taken the wine, he said, "It is finished." And bowing his head, he handed over the spirit.
BELOW YOU HAVE THE MEDITATION GIVEN BY BISHOP JAVIER ECHEVARRIA
Today we want to accompany Jesus on the Cross. I recall the words of St. Josemaria Escrivá from a Good Friday. He invited us to relive personally the hours of the Passion: from Christ's agony in the Garden of Olives to the scourging, the crowning with thorns and his death on the Cross. He said: "With the omnipotence of God bound by the hand of man, they lead my Jesus from place to place, among the insults and the shoves of the crowd."
Each of us has to see himself in the midst of that crowd, because it was our sins that caused the immense pain that crushed our Lord's soul and body. Yes, each of us pushes Jesus, made into an object of ridicule, from one place to another. It is we who, with our sins, cry out loudly for his death. And He, perfect God and perfect man, lets it be done. The prophet Isaiah had foretold it all: He was oppressed and he was afflicted, yet he opened not his mouth; like a lamb that is led to the slaughter, and like a sheep that before its shearers is dumb.
TRULY CHRISTIAN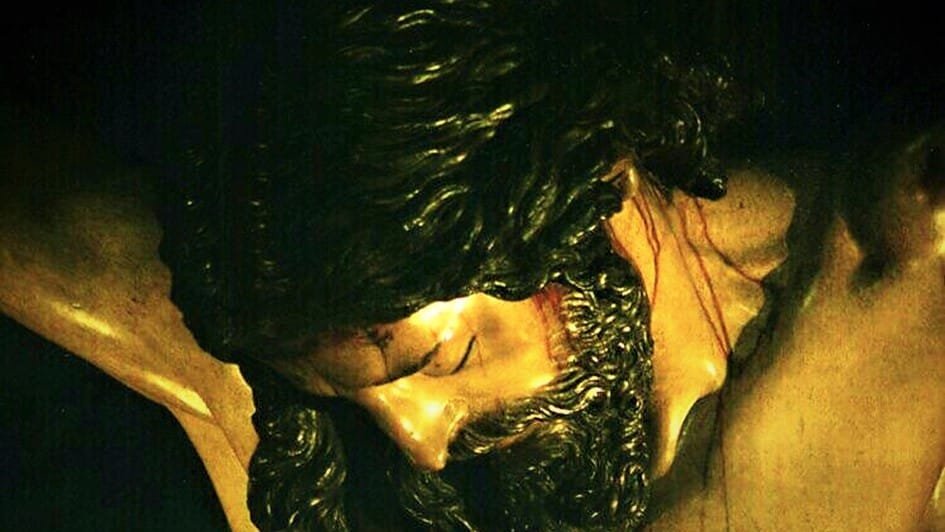 It is only right that we feel the responsibility for our sins. It is logical that we are deeply grateful to Jesus. It is natural that we seek reparation, because of our failures to love. He himself always responds with a total love. During these days of Holy Week, we see our Lord as though closer to us, more like us, who are his brothers and sisters. Let us meditate on some words of John Paul II: "Those who believe in Jesus, crucified and risen, carry the Cross in triumph as an indisputable proof that God is love…However, faith in Christ can never be taken for granted…The Easter Mystery that we will relive during the days of Holy Week is always present" (Homily, March 24, 2002).
Let us ask Jesus, during this Holy Week, to awaken in our soul the awareness of being men and women who are truly Christian, because we live facing God, and, with God, facing all people.
We can't let our Lord carry the Cross alone. Let us accept joyfully little daily sacrifices.
LORD, NEVER AGAIN!
Let us take advantage of the ability to love that God has given us, in order to make specific resolutions, and not be satisfied with mere feelings. Let us say sincerely: Lord, never again, never again! Let us ask with faith that we and everyone on earth will learn to hate moral sin and to abhor deliberate venial sin, which has caused our God so much suffering.
POWER OF THE CROSS
How great is the power of the Cross. When Christ is the object of everyone's derision and ridicule. When He is on the wood without wanting to escape from those nails. When no one would give a cent for his life, the good thief—a man like us—discovers the love of the agonizing Christ, and asks for forgiveness. Today you shall be with me in paradise. What power there is in suffering, when it is accepted in union with our Lord. It is capable of drawing glory and life from the saddest situation. That one who addressed the agonizing Christ found remission for his sins, eternal happiness.
We must do the same. If we lose our fear of the Cross, if we unite ourselves to Christ on the Cross, we will receive his grace, his power, his effectiveness. And we will be filled with peace.
At the foot of the Cross we find Mary, the most faithful Virgin. Let us ask her, on this Good Friday, to give us her love and her strength, so that we too will learn how to accompany Jesus. We go to her with words of St. Josemaría Escrivá that have helped millions of people. Say to her: Mother, my Mother—yours, because you are hers on many counts—may your love bind me to your Son's Cross: may I not lack the faith, nor the courage, nor the daring, to carry out the will of our Jesus.
TEXT SOURCE: https://stjosemaria.org/commentaries-on-holy-week-friday/
SEE AS WELL:
GOOD FRIDAY CELEBRATION OF THE PASSION OF OUR LORD IN
https://catholicsstrivingforholiness.org/good-friday-celebration-of-the-passion-of-our-lord/
&
GOOD FRIDAY MEDITATION.
AV SUMMARY AND FULL TEXT in https://catholicsstrivingforholiness.org/good-friday-meditation-it-is-finished-jn-1930-summary-vid-full-text/
Stay updated: subscribe by email for free TO OUR NEW WEBSITE www.catholicsstrivingforholiness.org (PUT YOUR EMAIL IN THE SUBSCRIBE WIDGET).
We are also in www.fb.com/Catholicsstrivingforholiness. Kindly help more people in their Christian life by liking our page and inviting your family, friends and relatives to do so as well. Thanks in advance and God bless you and your loved ones! Fr. Rolly Arjonillo