FRIDAY OF THE 1ST WEEK OF ADVENT GOSPEL REFLECTION. "AND THEIR EYES WERE OPENED" (Mt 9:27–31).
FRIDAY OF THE 1ST WEEK OF ADVENT GOSPEL REFLECTION. "AND THEIR EYES WERE OPENED" (Mt 9:27–31).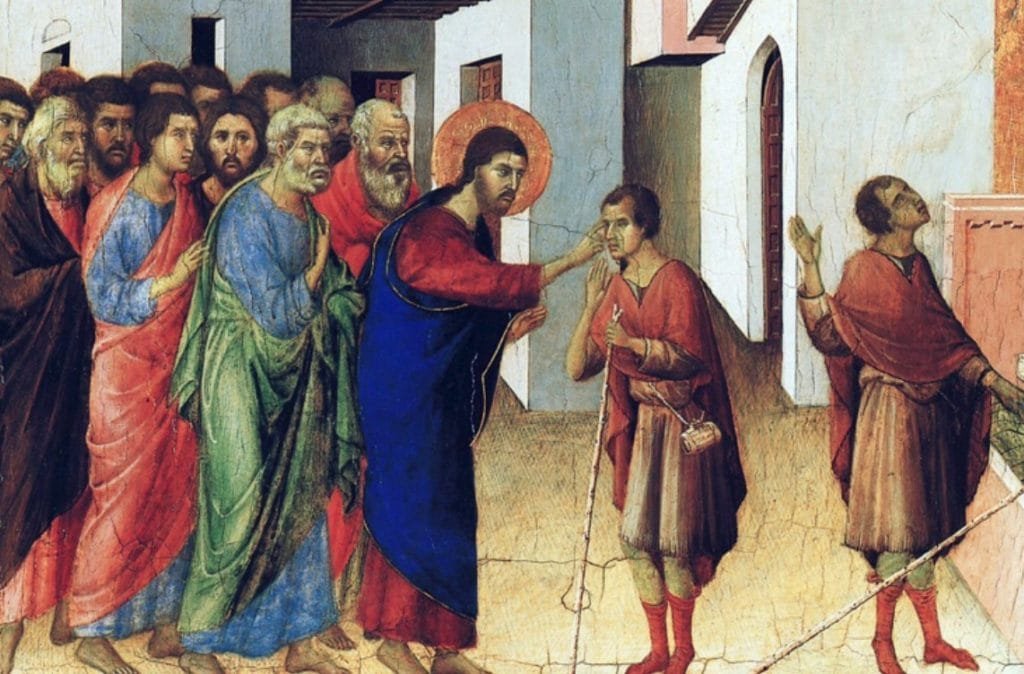 FRIDAY OF THE 1ST WEEK OF ADVENT GOSPEL
Mt 9:27–31
As Jesus passed by, two blind men followed him, crying out, "Son of David, have pity on us!" When he entered the house, the blind men approached him and Jesus said to them, "Do you believe that I can do this?" "Yes, Lord," they said to him. Then he touched their eyes and said, "Let it be done for you according to your faith." And their eyes were opened. Jesus warned them sternly, "See that no one knows about this." But they went out and spread word of him through all that land.
---
COMMENTARY FROM THE NAVARRE BIBLE, GOSPEL OF ST. MATTHEW (with permission)
27-34 The evangelist shows people's different reactions to miracles. Everyone admits that God is at work in these events — everyone, that is, except the Pharisees who attribute them to the power of the devil.

A pharisaical attitude so hardens a person's heart that he becomes closed to any possibility of salvation. The fact that the blind men recognize Jesus as the Messiah (they call him "Son of David": v. 27) may have exasperated the Pharisees. Despite Jesus' sublime teaching, despite his miracles, they remain entrenched in their opposition.
In the light of this episode it is easy enough to see that the paradox is true: there are blind who in fact see God and seers who see no trace of him.

30 Why did our Lord not want them to publicize the miracle? Because his plan was to gradually manifest himself as the Messiah, the Son of God.

He did not want to anticipate events which would occur in their own good time; nor did he want the crowd to start hailing him as Messiah King, because their notion of messiah was a nationalistic, not a spiritual one.
However, the crowd did in fact proclaim him when he worked the miracles of the loaves and the fish (Jn 6:14-15): "when the people saw the sign which he had done, they said, 'This is indeed the prophet who is to come unto the world!' Perceiving then that they were about to come and take him by force to make him king, Jesus withdrew again to the hills by himself".

31 St. Jerome (cf. Comm. on Matth., 9, 31) says that the blind men spread the news of their cure, not out of disobedience to Jesus, but because it was the only way they could find to express their gratitude.
---
VIDEO COMMENTARY
Topic: CAN YOU SEE YOUR BLIND SPOTS?
Today's gospel comes from Matthew (9:27-31) and is about two blind men whom Jesus heals. The gospel of Mark has only one blind man. But in both narrations, Jesus is called the "Son of David," a term to say that the savior will descend from the line of King David. They acknowledge that Jesus would heal them. They had faith. When Jesus asked them, "Do you believe that I can do this?" they responded with a resounding "Yes, Lord."
Stay updated: subscribe by email for free TO OUR NEW WEBSITE www.catholicsstrivingforholiness.org (PUT YOUR EMAIL IN THE SUBSCRIBE WIDGET).
We are also in www.fb.com/Catholicsstrivingforholiness. Kindly help more people in their Christian life by liking our page and inviting your family, friends and relatives to do so as well. Thanks in advance and God bless you and your loved ones! Fr. Rolly Arjonillo