FRIDAY 3RD WEEK IN ORDINARY TIME GOSPEL, COMMENTARY AND READING. PARABLE OF THE GROWING SEED AND THE MUSTARD SEED (Mk 4:21–25).
FRIDAY 3RD WEEK IN ORDINARY TIME GOSPEL, COMMENTARY AND READING. PARABLE OF THE GROWING SEED AND THE MUSTARD SEED (Mk 4:21–25).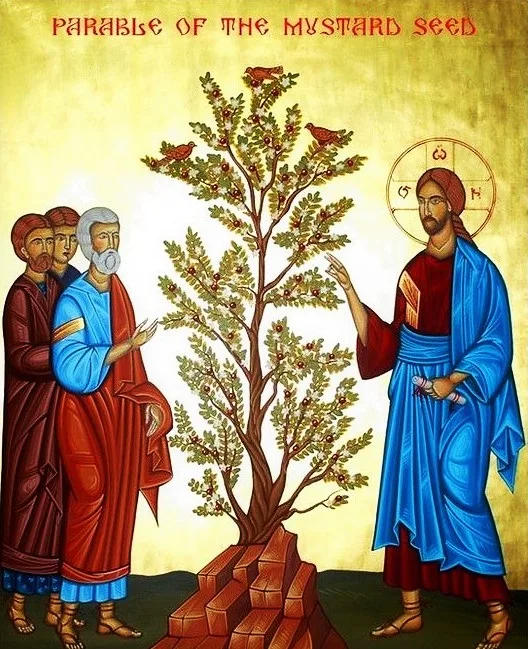 GOSPEL OF FRIDAY OF THE 3RD WEEK IN ORDINARY TIME
Mk 4:26–34
PARABLE OF THE GROWING SEED AND THE MUSTARD SEED
Jesus said to the crowds: "This is how it is with the Kingdom of God; it is as if a man were to scatter seed on the land and would sleep and rise night and day and the seed would sprout and grow, he knows not how. Of its own accord the land yields fruit, first the blade, then the ear, then the full grain in the ear. And when the grain is ripe, he wields the sickle at once, for the harvest has come."
He said, "To what shall we compare the Kingdom of God, or what parable can we use for it? It is like a mustard seed that, when it is sown in the ground, is the smallest of all the seeds on the earth. But once it is sown, it springs up and becomes the largest of plants and puts forth large branches, so that the birds of the sky can dwell in its shade." With many such parables he spoke the word to them as they were able to understand it. Without parables he did not speak to them, but to his own disciples he explained everything in private.
GOSPEL COMMENTARY
---
Jesus is telling his disciples about the Church (=Kingdom of God on earth which began tiny): the preaching of the Gospel, which is the generously sown seed, will unfailingly yield its fruit, independently of who sows or who reaps: it is God who gives the growth (cf. 1 Cor 3:5-9). By day and by night, the seed grows without the sower knowing how.
The work of God is carried out notwithstanding human limitations. It has a force effective by itself. How is it possible for the Church to spread rapidly throughout the world through means which are so poor both from the personal and instrumental viewpoints? Where does her strength to resist and overcome such great persecutions, as those that at first She suffered from the Jews, then from the Romans and now from so many enemies of the Gospel of Christ, come from?
Saint Ambrose replies: "It is a normal thing that, in the middle of this hectic world, the Church of the Lord, built on the foundationn of the Apostles, remains stable and stands firm on this unbreakable base against the furious assaults of the sea (Mt. 16, 18) She is surrounded by the waves, but she does not wobble, and although the elements of this world reverberate with an immense clamor, she, nevertheless, offers those who are distressed the great security of a port of salvation " (Letter 2, 1-2)
And St. John Chrysostom: "The ship of Jesus can not sink … The waves do not break the rock, but they themselves become foam … Nothing is stronger than the Church .. It is useless to fight against heaven, God is always the strongest (Homily before exile)."
The Kingdom of God also refers to the action of grace in each soul. God silently works a transformation in us, counting on our correspondence, until we reach "maturity in Christ" (cf. Eph 4:13). Even though God expects us to do our part, the real initiative lies with Him, "because it is the Holy Spirit who, with his inspirations, gives a supernatural tone to our thoughts, desires and actions. It is he who leads us to receive Christ's teaching and to assimilate it in a profound way. It is he who gives us the light by which we perceive our personal calling and the strength to carry out all that God expects of us. If we are docile to the Holy Spirit, the image of Christ will be found more and more fully in us, and we will be brought closer every day to God the Father. 'For whoever are led by the Spirit of God, they are the children of God' (Rom 8:14)" ( St. Josemaria Escrivá, Christ is passing by, 135).
Stay safe and healthy. God bless. Fr. Rolly Arjonillo.
Almighty ever-living God, direct our actions according to your good pleasure, that in the name of your beloved Son we may abound in good works. Through our Lord.

Collect prayer 3rd week in Ordinary Time
---
VIDEO COMMENTARY
TOPIC: DO YOU EASILY GIVE UP ON LIFE AND ON GOD?
In today's first reading (Hebrews 10:32-39) let us reflect on the words (v. 32) "Remember how it was with you in the past. In those days, after God's light had shone on you, you suffered many things, yet were not defeated by the struggle… (v. 34-36) Do not lose your courage, then, because it brings with it a great reward. You need to be patient, in order to do the will of God and receive what he promises." (GNT).We connect this to the words in today's gospel reading (Mark 4:26-34), (v. 26-27) "This is how it is with the Kingdom of God; it is as if a man were to scatter seed on the land and would sleep and rise night and day and the seed would sprout and grow, he knows not how."We all go through problems in our lives. Remember that no one is exempt from problems. God allows them to happen to us for a good reason and purpose. We always say that God will never allow us to experience problems that we cannot surmount. True. But it needs more than just our human effort.
---
READING FROM A WRITING OF A SAINT
The wonders of God
St. John Fisher, Commentary on the Psalm 101
First of all God freed the people of Israel from slavery in Egypt, with many signs and wonders. Then he let them cross the Red Sea dry-shod; in the desert he fed them with food from heaven in the form of manna and quails; when they were thirsty he gave them an inexhaustible spring of water, bubbling from the rock. He gave them victory over enemies that attacked them; he made the Jordan flow backwards for them; he took the land he had promised them and divided it between them according to their tribes and clans. Although he had dealt with them so lovingly and generously, the ungrateful people abandoned the worship of God, as if they had utterly forgotten everything, and shackled themselves with the crime of idol-worship – not once but many times.
Then God took us, although we were pagans, and irresistibly drawn towards dumb idols, if anything. He cut us off from the wild olive tree of our gentile nature and grafted us on to the true olive tree of the Jewish people, pruning away its existing branches and making us sharers in its grace, its richness, and the nourishment that came from its roots. Finally God did not spare his own Son but gave him up to benefit us all, a victim and fragrant offering to God to redeem us from all wickedness and to purify a people so that it could be his very own.
All these things are not mere arguments but genuine signs of God's love and God's generosity. We men, on the other hand, are supremely ungrateful: we have gone far beyond the boundaries of all previous ingratitude. We pay no attention to God's love, we do not recognise the scale of his generosity, but we spurn the source and giver of all these good things and practically hold him in contempt. Not even the outstanding mercy he shows to sinners moves us to order our lives and actions according to his holy law.
Clearly these acts of God deserve to be written down in the next generation, so that they are remembered for ever. Thus all who in future bear the name of Christians will recognise God's goodness to us and will never at any time cease from offering praise to him.
Stay updated: subscribe by email for free TO OUR NEW WEBSITE www.catholicsstrivingforholiness.org (PUT YOUR EMAIL IN THE SUBSCRIBE WIDGET).
We are also in www.fb.com/Catholicsstrivingforholiness. Kindly help more people in their Christian life by liking our page and inviting your family, friends and relatives to do so as well. Thanks in advance and God bless you and your loved ones! Fr. Rolly Arjonillo