Feb. 17: THE SEVEN HOLY FOUNDERS OF THE SERVITE ORDER.
Feb. 17: THE SEVEN HOLY FOUNDERS OF THE SERVITE ORDER.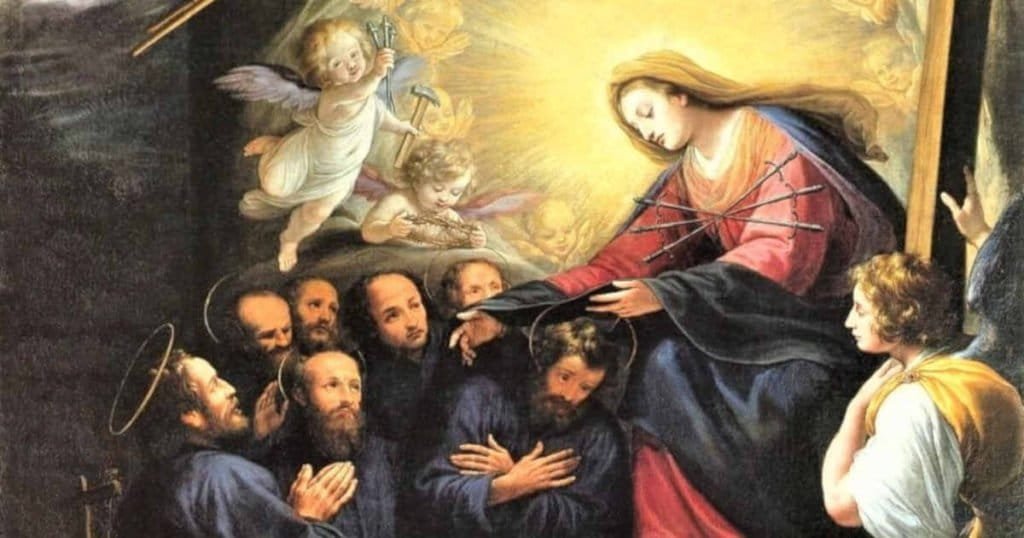 The Seven Holy Founders belonged to seven patrician families of the city of Florence, and had early formed a confraternity of laymen. While engaged in the exercises of the confraternity on the feast of the Assumption, 1233, they witnessed a vision of the Blessed Virgin Mary advising them to withdraw from the world. Then, they founded the Servite Order which is one of the five original Catholic mendicant orders. Its objects are the sanctification of its members, preaching the Gospel, and the propagation of devotion to the Mother of God, with special reference to her sorrows.
Let us praise famous men
From an account of the origin of the Servite Order
There were seven men worthy of all our praise and veneration, whom our Lady brought into one community to form this order of hers and of her servants. They were like seven stars joined together to form a constellation.
When I entered this order I found only one of the seven still alive, Brother Alexis, whom our Lady was pleased to preserve from death down to our own time so that we might listen to his account of the founding of the order. As I saw myself and observed at first hand, Brother Alexis led so good a life that all who met him were moved by the force of his example. Moreover, he was a living testimony to that special kind of religious perfection characteristic of that first community.
But where did these men stand before they formed their own community? Let us consider this in four respects.
First, as regards the Church. Some of them had never married, having vowed themselves to perpetual celibacy; some were married men at the time; some had lost their wives after marriage and now were widowers.
  Second, regarding their status in the city of Florence. They belonged to the merchant class and engaged in buying and selling the goods of this world. But once they found the pearl of great price, our order, they not only gave all they had to the poor but cheerfully offered themselves to God and our Lady in true and loyal service.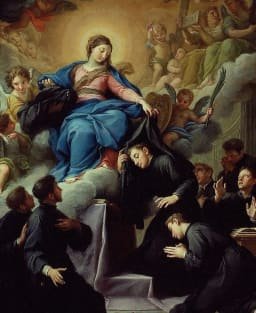 Third, concerning their devotion and reverence to our Lady. In Florence there was an ancient guild dedicated to the Blessed Virgin. Because of its age and the number and holiness of its members, both men and women, the guild had acquired a title of pre-eminence and was called the Major Guild of Our Blessed Lady. These seven men were devoted to our Lady and belonged to this guild before they established their own community.
Fourth, as for their spiritual perfection. They loved God above all things and dedicated their whole lives to him by honouring him in their every thought, word and deed.
But when by God's inspiration and the special urging of our Lady they had firmly resolved to form a community together, they set in order everything that concerned their homes and families, left to their families what they needed and gave all the rest to the poor. Then they sought the advice of virtuous men of good judgement, and described their plans to them.
  They climbed the heights of Monte Senario and built on its summit a little house that would suit their purpose, and there they lived in common. As time passed, they began to realise that they were called not simply to sanctify themselves but to receive others into their community, and so increase the membership of this new order our Lady had inspired them to found. They recruited new members; some they accepted, and thus established our present order. In the beginning our Lady was the chief architect of this new order which was founded on the humility of its members, built up by their mutual love, and preserved by their poverty.
Let us pray. Inspire us, Lord, with the great love the Seven Founders had for Mary, the Mother of God, and as they drew the people to you by their devotion, so may we proclaim your love to all. Through our Lord Jesus Christ, your Son, who lives and reigns with you in the unity of the Holy Spirit, God, for ever and ever.
Stay updated: subscribe by email for free TO OUR NEW WEBSITE www.catholicsstrivingforholiness.org (PUT YOUR EMAIL IN THE SUBSCRIBE WIDGET).
We are also in www.fb.com/Catholicsstrivingforholiness. Kindly help more people in their Christian life by liking our page and inviting your family, friends and relatives to do so as well. Thanks in advance and God bless you and your loved ones! Fr. Rolly Arjonillo