DO YOU WANT TO GROW MORE IN YOUR LOVE? STRIVE TO BE MORE HUMBLE.
We all want to love God and the people He placed beside us: our parents, siblings, your husband or wife, your children. In order to grow more in our love for them, a very important virtue, without which no other virtue could exist, is necessary: the virtue of humility. Why?
Love, whether it be for God or for a human person, involves self-giving, self-denial, and the sacrifice of one's self in order to please, protect, uphold, and cherish the beloved. Without humility, one is not capable of giving one's self, sacrificing one's self, and serving the beloved person. Hence, without humility, one is not capable of loving.
St Augustine says: "IF YOU ASK ME WHAT IS THE ESSENTIAL THING IN THE RELIGION AND DISCIPLINE OF JESUS CHRIST, I SHALL REPLY: FIRST HUMILITY, SECOND HUMILITY AND THIRD HUMILITY" (Letter 118). Why? Because HUMILITY IS THE FOUNDATION, THE BASIS OF ALL VIRTUES, including that of love. HUMILITY IS THE FOUNDATION OF LOVE, THE HABITAT OF CHARITY.
The Lord is near to contrite hearts, so ready to defend the humbled spirit(Ps 33:19). The publican stood far off: he would not even lift his eyes up towards heaven; he only beat his breast and said, 'God, be merciful to me; l am a sinner'. The Lord who flouts the scornful, and gives the humble man his grace (Jas 4:6). "LEARN FROM ME, FOR I AM MEEK AND HUMBLE OF HEART", Our Lord Jesus Christ said.
OUR LORD JESUS CHRIST ASKS FROM EACH ONE OF US TO IMITATE HIS HUMILITY.
"Let the same mind be in you that was in Christ Jesus,who, though he was in the form of God, did not regard equality with God as something to be exploited,but emptied himself, taking the form of a slave, being born in human likeness. And being found in human form, he humbled himself and became obedient to the point of death— even death on a cross" (Phil 2: 5-8).
Our Lord loves us with a love so immense, willing to SURRENDER and FORGET HIMSELF for our sake; disposed to SACRIFICE AND EMPTY HIMSELF, until the last drop of His Blood for love of us; TOTALLY GIVING HIS LIFE for our happiness and salvation; ever ready to SERVE each one of us, taking upon Himself all the burden of our sins through the Sacrifice on the Cross….ALL THESE WERE POSSIBLE BECAUSE OUR LORD WAS HUMBLE! THE TRIUMPH OF OUR LORD JESUS CHRIST'S LOVE FOR US WAS MADE POSSIBLE THROUGH HIS HUMILITY.
HUMILITY IS INDISPENSABLE IF WE ARE TO FAITHFULLY LIVE A CHRISTIAN LIFE, —which consists in having a loving and personal relationship with Jesus Christ, leading to our identification with Him through the imitation of His virtues, and thus holiness— BECAUSE IT IS THE BASIS OF ALL VIRTUES, AND THE DWELLING PLACE OF LOVE. Let us not forget that HOLINESS consists in our daily struggle —with the help of God's grace— to acquire and live the virtues which Christ taught and lived during his life on earth, docilely allowing the Holy Spirit's transformative action in our soul to "Christify" us.
ONLY THE HUMBLE PERSON IS CAPABLE OF TRUE LOVE WHICH DEMANDS TOTAL SELF-GIVING, forgetting oneself, thinking about the others, sacrifice and self-abnegation: all these characteristics we have seen in Our Lord Jesus Christ's life.
Moreoever, ONLY THE HUMBLE PERSON CAN RECEIVE GOD'S GRACE WHICH HAS THE PRIMACY IN HOLINESS.
At the same time, all the other virtues, according to
St. Augustine, are but different manifestations of love, which in turn, can only grow and dwell in a humble person.
In his book, Furrow, n. 259, St. Josemaria wonderfully explains how other virtues are founded on humility:
"Prayer is the humility of the man who acknowledges his profound wretchedness and the greatness of God. He addresses and adores God as one who expects everything from Him and nothing from himself.
Faith is the humility of the mind which renounces its own judgement and surrenders to the verdict and authority of the Church.
Obedience is the humility of the will which subjects itself to the will of another, for God's sake.
Chastity is the humility of the flesh, which subjects itself to the spirit.
Exterior mortification is the humility of the senses.
Penance is the humility of all thepassions, immolated to the Lord.
Humility is truth on the road of the ascetic struggle."
WHAT IS HUMILITY?
HUMILITY IS THE VIRTUE BY WHICH WE KNOW AND ACKNOWLEDGE OURSELVES AS WE TRULY ARE. IT CONSISTS IN ACCEPTING THE TRUTH ABOUT OURSELVES AND LIVING ACCORDING TO THIS TRUTH.
Teresa said: "I was wondering once, why Our Lord so dearly loved this virtue of humility; and all of a sudden—without, I believe, my having previously thought of it—the following reason came into my mind: that it is because God is Sovereign Truth and TO BE HUMBLE IS TO WALK IN TRUTH" (The Interior Castle, VI, 10).
Know thyself!, says the ancient Greek maxim inscribed at the forecourt of the Temple of Apollo at Delphi. HUMILITY LEADS TO SELF-KNOWLEDGE, ACCORDING TO THE TRUTH, —without any presumption, excusesor justification— OF ONE'S QUALITIES AND LIMITATIONS, OF ONE'S ACTIONS AND OMISSIONS, OF ONE'S ERRORS, FAILURES, AND ACHIEVEMENTS AS WELL.
It acknowledges the truth OF ONE'S CONDITION AS A CREATURE AND CHILD OF GOD, and of the fact that ALL THAT WE ARE AND ALL GOOD THAT WE HAVE ARE GIFTS WHICH COME FROM GOD. What have you that you did not receive? If then you received it, why do you boast as if it were not a gift?" (1 Cor 4:7).
HUMILITY AS SELF-KNOWLEDGE ACCORDING TO THE TRUTH is important because it will determine the quality of our dealings with others and with God as well.
Self-knowledge according to the truth leads us to act naturally without pretensions or hypocrisy before others, but rather showing them who we really are.
It also leads us to be more understanding with the people around us, of their errors, limitations, sufferings, miseries, with empathy, mercy and compassion.
Moreover, it enables one to think more of the others than oneself.
At the same time, acknowledging ourselves as creatures, small children, powerless, unworthy and sinners before God is the beginning of a loving relationship with Him.
Conversion will never be possible without humility, without sincerely recognizing and acknowledging our sins and faults before God in our prayer and in the sacrament of Confession. This is the reason why St. John of the Cross wrote: "Knowledge of oneself is the first step that has to be taken for the soul to reach the knowledge of God" (Spiritual Canticle, 4, 1) and St. Augustine: "Domine Iesu, noverim me, noverim te – Lord Jesus, let me know myself and know Thee"(Soliloquios, II, 1, 1)
Dear friends: let us THANK Our Lord for everything He has done out of love for us. Let us never forget that THE TRIUMPH OF GOD'S LOVE WAS MADE POSSIBLE THROUGH HIS HUMILITY. He calls each one of us: "Learn from me for I am meek and humble of heart" (Lk 11:29).
Let us ask the God the Holy Spirit, through the intercession of Our Lady, Spouse of the Holy Spirit, for the virtue of humility and at the same time, to firmly resolve to forget ourselves, think more of the others, serve the people around us, and put God and the others as the center of our life.
As St. Josemaria said, "It is a great thing to know oneself to be nothing before God, because that is how things are. (Furrow, n.260)" LET US THEN ASK OUR LORD FOR THE GRACE TO STRUGGLE DAILY TO BE MORE HUMBLE SO THAT HIS LOVE CAN DWELL IN OUR HEART. MOTHER MARY, ANCILLA DOMINI(HANDMAID OF THE LORD) AND DWELLING PLACE OF GOD WHO IS LOVE, pray for us, your children, who love you so much SO THAT WE MAY LEARN FROM YOU AND OUR LORD AND GROW DAILY IN HUMILITY!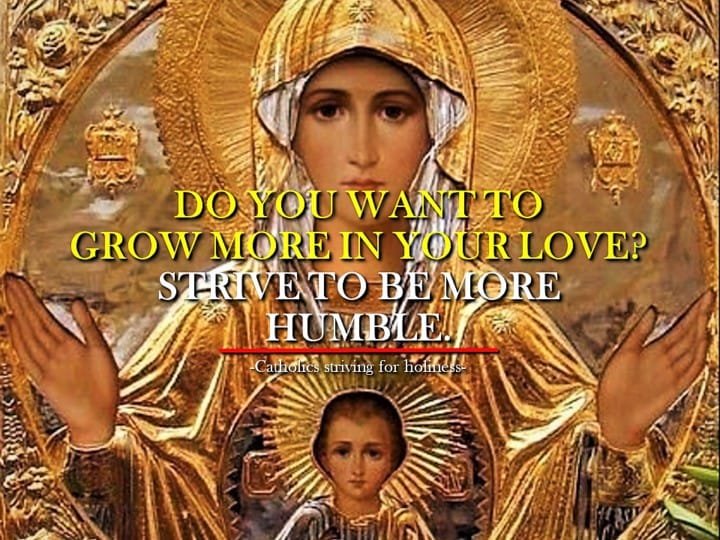 SEE AS WELL: HOW TO GROW IN HUMILITY in https://catholicsstrivingforholiness.org/humility-its-effects-the-means-to-grow-in-this-virtue-and-the-signs-of-lack-of-humility/
Cordially inviting you to like us in www.facebook.com/catholicsstrivingforholinesss
and subscribe to our website, https://catholicsstrivingforholiness.org. Thanks and God bless.
Fr. Rolly Arjonillo