DAILY GOSPEL COMMENTARY: JESUS IS LORD AND MESSIAH (Mk 12:35-37).
DAILY GOSPEL COMMENTARY:
JESUS IS LORD AND MESSIAH
(Mk 12:35-37).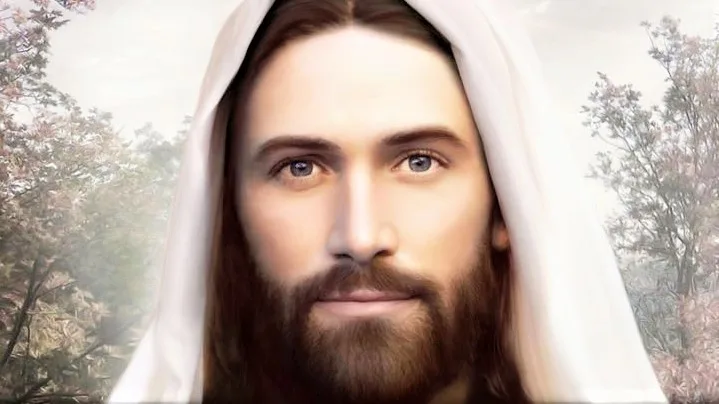 Gospel of Friday, 9th week of Ordinary Time

.
(Mk 12:35-37).
As Jesus was teaching in the temple area he said, "How do the scribes claim that the Christ is the son of David? David himself, inspired by the Holy Spirit, said: The Lord said to my lord, 'Sit at my right hand until I place your enemies under your feet.' David himself calls him 'lord'; so how is he his son?" The great crowd heard this with delight.
Jesus here bears witness, with his special authority, to the fact that Scripture is divinely inspired, when he says that David was inspired by the Holy Spirit when writing Ps 110.
We can see from here that Jews found it difficult to interpret the beginning of the Psalm. Jesus shows the messianic sense of the words "The Lord said to my "Lord": the second "Lord" is the Messiah, with whom Jesus implicitly identifies himself.
The mysteriously transcendental character of the Messiah is indicated by the paradox of his being the son, the descendant, of David, and yet David calls him his Lord.
Let us recall that God promised King David that one of his descendants would reign forever (2 Sam 7:l2ff); this was obviously a reference to the Messiah, and was interpreted as such by all Jewish tradition, which gave the Messiah the title of "Son of David".
However, in Jesus' time this messianic title was understood in a very nationalistic sense: the Jews were expecting an earthly king, a descendant of David, who would free them from Roman rule.
In this passage Jesus shows the Pharisees that the Messiah has a higher origin: he is not only "Son of David"; his nature is more exalted than that, for he is the Son of God and transcends the purely earthly level. The reference to Psalm 110:1 which Jesus uses in his argument explains that the Messiah is God: which is why David calls him Lord — and why he is seated at the right hand of God, his equal in power, majesty and glory
VIDEO COMMENTARY

TOPIC 1: DO YOU STRUGGLE TO TURN AWAY FROM SIN AND DELIGHT IN THE LORD?
In today's gospel reading, the scribes were upset with Jesus for questioning their beliefs. They and all the Jews believed that the Messiah would descend from David. They all thought that the Messiah would be a political leader who would free them from the clutches of the Romans. Jesus clarified the meaning of the Messiah being the "son of David." He quotes from Psalm 110 to prove that the Messiah was to be not simply David's son but David's Lord. The early Church radically brought forth and proclaimed that "Jesus is Lord," a belief that was very difficult for many Jews to accept. Their traditional view was and is that only God is Lord. They did not believe that Jesus is God. The pill of transformation was too hard for them to swallow. We, too, may be struggling in delighting in the Lord.
VIDEO COMMENTARY ON Year I 1st READING (2 Tm 3:10-17)
TOPIC 2: HOW DO YOU RESPOND
TO SUFFERING AND PERSECUTION?
As we follow Paul preaching around Asia , specifically in Turkey, he is subject to much sufferings and persecution. In fact, in Acts 13 and 14, we see him going to Pisidian Antioch, then Iconium and then Lystra and, in all those places, he was persecuted and stoned and in Lystra almost left for dead. But filled with faith, he continued on and converted others in Derbe and then, he, along with Barnabas, brimming with faith, returned to Lystra to Iconium and Antioch to establish the churches there.
For many of us, our greatest obstacle to faith is suffering. We are led to think that either there is no God or He just doesn't care. But we cannot argue that our suffering could also be a result of the choices we make or the choices other people make that cause us to suffer.
As human beings, we have the capacity to hate when we are persecuted. But we also have a choice to love. And we have the liberty to choose which one to apply in our daily lives. The question to us is: how do we respond to all the love and hate around us?
We also have a capacity to observe and discern and think. So we look around us and then we ask: Lord, why are there so many people being persecuted – especially by extremists who are wiping out your followers in certain parts of the world. There are also people who are starving and wallowing in poverty, we may ask God? The Lord respects our free will and so He throws back the question to us: What have you done to ease the plight of these people?
Stay updated: subscribe by email for free TO OUR NEW WEBSITE www.catholicsstrivingforholiness.org (PUT YOUR EMAIL IN THE SUBSCRIBE WIDGET).
We are also in www.fb.com/Catholicsstrivingforholiness. Kindly help more people in their Christian life by liking our page and inviting your family, friends and relatives to do so as well. Thanks in advance and God bless you and your loved ones! Fr. Rolly Arjonillo