DAILY GOSPEL COMMENTARY: THEY DID NOT WELCOME HIM (Lk 9:51-56).
DAILY GOSPEL COMMENTARY:
THEY DID NOT WELCOME HIM (Lk 9:51-56).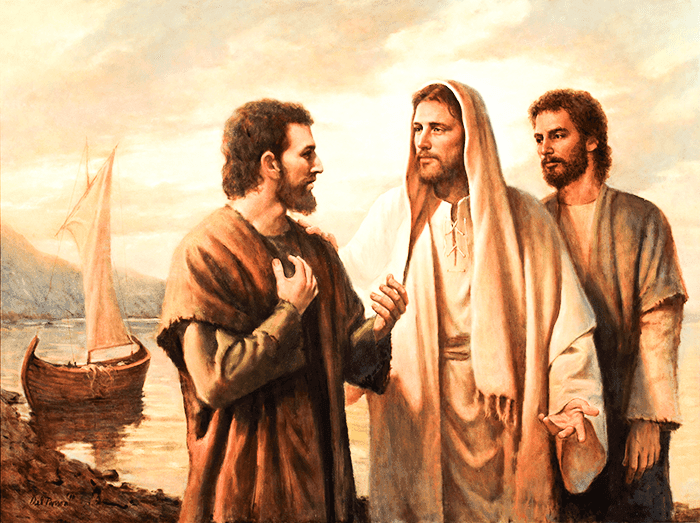 GOSPEL OF TUESDAY, 26TH WEEK IN ORDINARY TIME
Lk 9:51–56
When the days for Jesus to be taken up were fulfilled, he resolutely determined to journey to Jerusalem, and he sent messengers ahead of him. On the way they entered a Samaritan village to prepare for his reception there, but they would not welcome him because the destination of his journey was Jerusalem. When the disciples James and John saw this they asked, "Lord, do you want us to call down fire from heaven to consume them?" Jesus turned and rebuked them, and they journeyed to another village.
COMMENTARY FROM THE NAVARRE BIBLE, ST. LUKE (WITH PERMISSION)
51 "When the days drew near for him to be received up":

these words refer to the moment when Jesus will leave this world and ascend into heaven. Our Lord will say this more explicitly during the Last Supper: "I come from the Father and have come into the world; again, I am leaving the world and going to the Father" (Jn 16:28).
By making his way resolutely to Jerusalem, towards his Cross, Jesus freely complies with his Father's plan — for his Passion and Death to be the route to his Resurrection and Ascension.

52-53 The Samaritans were hostile towards the Jews.

This enmity derived from the fact that the Samaritans were descendants of marriages of Jews with Gentiles who repopulated the region of Samaria at the time of the Assyrian captivity (in the eighth century before Christ).
There were also religious differences: the Samaritans had mixed the religion of Moses with various superstitious practices, and did not accept the Temple of Jerusalem as the only place where sacrifices could properly be offered. They built their own temple on Mount Gerizim, in opposition to Jerusalem (cf. Jn 4:20); this was why, when they realized Jesus was headed for the Holy City, they refused him hospitality.

54-56 Jesus corrects his disciples' desire for revenge, because it is out of keeping with the mission of the Messiah, who has come to save men, not destroy them (cf. Lk 19:10; Jn 12:47). The Apostles are gradually learning that zeal for the things of God should not be bitter or violent.

"The Lord does everything in an admirable way. . . He acts in this way to teach us that perfect virtue retains no desire for vengeance, and that where there is true charity there is no room for anger — in other words, that weakness should not be treated with harshness but should be helped. Indignation should be very far from holy souls, and desire for vengeance very far from great souls" (St Ambrose, Expositio Evangelii sec. Lucam, in loc.).
An RSV footnote after the word "rebuked" in v.55 points out that "other ancient authorities add and he said 'You do not know what manner of Spirit you are of. for the Son of man came not to destroy men's lives but to save them'." These words appear in a considerable number of early Greek MSS. and other versions and were included in the Clementine Vulgate; but they do not appear in the best and oldest Greek codexes and have not been included in the New Vulgate.
---
Dear brethren in Christ, do we really welcome Jesus in our life through deeds? Let us be sensitive to Our Lord's presence during the day and welcome Him in our life by fulfilling his Will although we might find it difficult. To accept Christ as our Savior is not just a matter of words but rather demands following Him closely through a keen discernment of his closeness, fulfillment of the good He asks us to do, and renouncement of our own will.
Stay updated: subscribe by email for free TO OUR NEW WEBSITE www.catholicsstrivingforholiness.org (PUT YOUR EMAIL IN THE SUBSCRIBE WIDGET).
We are also in www.fb.com/Catholicsstrivingforholiness. Kindly help more people in their Christian life by liking our page and inviting your family, friends and relatives to do so as well. Thanks in advance and God bless you and your loved ones! Fr. Rolly Arjonillo