DAILY GOSPEL COMMENTARY: THE FAITH OF THE CENTURION (Lk 7:1-10).
DAILY GOSPEL COMMENTARY:
THE FAITH OF THE CENTURION (Lk 7:1-10).
Gospel of Monday, 24th week in Ordinary Time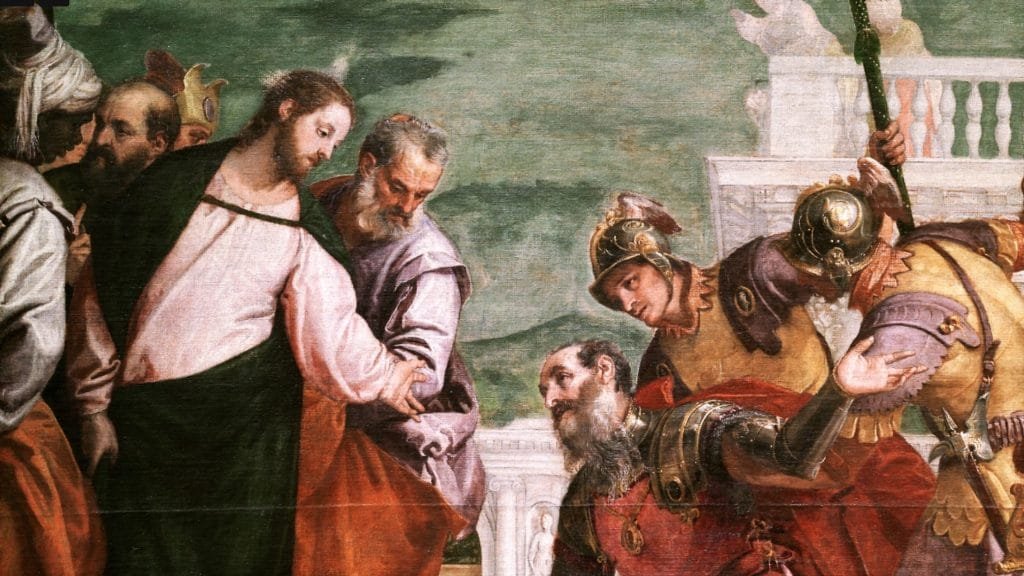 Lk 7:1–10
When Jesus had finished all his words to the people, he entered Capernaum. A centurion there had a slave who was ill and about to die, and he was valuable to him. When he heard about Jesus, he sent elders of the Jews to him, asking him to come and save the life of his slave. They approached Jesus and strongly urged him to come, saying, "He deserves to have you do this for him, for he loves our nation and he built the synagogue for us." And Jesus went with them, but when he was only a short distance from the house, the centurion sent friends to tell him, "Lord, do not trouble yourself, for I am not worthy to have you enter under my roof. Therefore, I did not consider myself worthy to come to you; but say the word and let my servant be healed. For I too am a person subject to authority, with soldiers subject to me. And I say to one, 'Go,' and he goes; and to another, 'Come here,' and he comes; and to my slave, 'Do this,' and he does it." When Jesus heard this he was amazed at him and, turning, said to the crowd following him, "I tell you, not even in Israel have I found such faith." When the messengers returned to the house, they found the slave in good health.
COMMENTARY FROM THE NAVARRE BIBLE, ST. LUKE (WITH PERMISSION)
1-10 "They besought him earnestly" (v.4). Here is an example of the effectiveness of the prayer of petition, which induces almighty God to work a miracle.

In this connexion St Bernard explains what we should ask God for: "As I see it, the petitions of the heart consist in three things. . . . The first two have to do with the present, that is, with things for the body and for the soul; the third is the blessedness of eternal life. Do not be surprised that he says that we should ask God for things for the body: all things come from him, physical as well as spiritual things…. However, we should pray more often and more fervently for things our soul needs, that is, for God's grace and for virtues" (Fifth Lenten sermon, 81). To obtain his grace — of whatever kind — God himself expects us to ask him assiduously, confidently, humbly and persistently.

What stands out here is the centurion's humility: he did not belong to the chosen people, he was a pagan; but he makes his request through friends, with deep humility. Humility is a route to faith, whether to receive faith for the first time or to revive it. Speaking of his own conversion experience, St Augustine says that because he was not humble, he could not understand how Jesus, who was such a humble person, could be God, nor how God could teach anyone by lowering himself to the point of taking on our human condition. This was precisely why the Word, eternal Truth, became man — to demolish our pride, to encourage our love, to subdue all things and thereby be able to raise us up (cf. Confessions, VII, 18, 24).

6-7 Such is the faith and humility of the centurion that the Church, in its eucharistic liturgy, gives us his very words to express our own sentiments just before receiving holy Communion: we too should strive to have this interior disposition when Jesus enters under our roof, our soul.
VIDEO COMMENTARY
TOPIC: DO YOU PRAY FOR YOUR ENEMIES AND DO THESE PRAYERS HAVE AN IMPACT ON YOU?
1st Reading 1 Timothy 2:1-8
Responsorial Psalm Psalms 28:2, 7, 8-9
Alleluia John 3:16
Gospel Luke 7:1-10
In today's gospel reading, we see the preponderance of intercessory prayers. The Jews, in this instance, considered the Roman soldiers as enemies, except for this particular Roman centurion, who built a synagogue for them. On his behalf, they ask Jesus to save the life of his slave. This Roman centurion, a leader of soldiers, accomplished and wealthy, sought Jesus out in behalf of his own sick slave.
Stay updated: subscribe by email for free TO OUR NEW WEBSITE www.catholicsstrivingforholiness.org (PUT YOUR EMAIL IN THE SUBSCRIBE WIDGET).
We are also in www.fb.com/Catholicsstrivingforholiness. Kindly help more people in their Christian life by liking our page and inviting your family, friends and relatives to do so as well. Thanks in advance and God bless you and your loved ones! Fr. Rolly Arjonillo