DAILY GOSPEL COMMENTARY: "O WOMAN, GREAT IS YOUR FAITH!" (Mt 15:21–28).
DAILY GOSPEL COMMENTARY:
"O WOMAN, GREAT IS YOUR FAITH!" (Mt 15:21–28).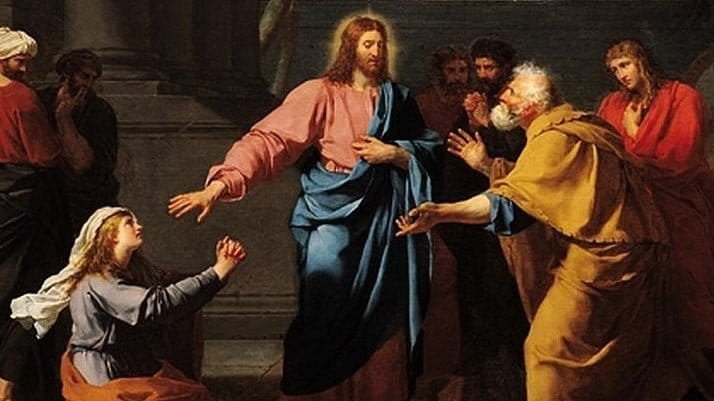 Gospel of Wednesday, 18th week in Ordinary time
Mt 15:21–28
At that time, Jesus withdrew to the region of Tyre and Sidon. And behold, a Canaanite woman of that district came and called out, "Have pity on me, Lord, Son of David! My daughter is tormented by a demon." But Jesus did not say a word in answer to her. Jesus' disciples came and asked him, "Send her away, for she keeps calling out after us." He said in reply, "I was sent only to the lost sheep of the house of Israel." But the woman came and did Jesus homage, saying, "Lord, help me." He said in reply, "It is not right to take the food of the children and throw it to the dogs." She said, "Please, Lord, for even the dogs eat the scraps that fall from the table of their masters." Then Jesus said to her in reply, "O woman, great is your faith! Let it be done for you as you wish." And the woman's daughter was healed from that hour.
Gospel Commentary from Pope Benedict XVI, Angelus Address, 14 August 2011
Dear Brothers and Sisters,
This Sunday's Gospel passage begins by indicating the district to which Jesus was going: Tyre and Sidon, to the north-west of Galilee, a pagan land. And it was here that he met a Canaanite woman who spoke to him, asking him to heal her daughter who was possessed by a demon (cf. Mt 15:22).
In her supplication we can already discern the beginning of a journey of faith, which in her conversation with the divine Teacher grows and becomes stronger.
The woman was not afraid to cry to Jesus "Have mercy on me", an expression that recurs in the Psalms (cf. 50:1), she calls him "Lord" and "Son of David" (cf. Mt 15:22), thus showing a firm hope of being heard. What was the Lord's attitude to this cry of anguish from a pagan woman?
Jesus' silence may seem disconcerting, to the point that it prompted the disciples to intervene, but it was not a question of insensitivity to this woman's sorrow. St Augustine rightly commented: "Christ showed himself indifferent to her, not in order to refuse her his mercy but rather to inflame her desire for it" (Sermo 77, 1: PL 38, 483).
The apparent aloofness of Jesus who said: "I was sent only to the lost sheep of the house of Israel" (v. 24), did not discourage the Canaanite woman who persisted: "Lord, help me" (v. 25). And she did not even desist when she received an answer that would seem to have extinguished any hope: "it is not fair to take the children's bread and throw it to the dogs" (v. 26). She had no wish to take anything from anyone; in her simplicity and humility a little was enough for her, crumbs sufficed, no more than a look, a kind word from the Son of God. And Jesus was struck with admiration for an answer of such great faith and said to her: "Be it done for you as you desire" (v. 28).
Dear friends, we too are called to grow in faith, to open ourselves in order to welcome God's gift freely, to have trust and also to cry to Jesus "give us faith, help us to find the way!". This is the way that Jesus made his disciples take, as well as the Canaanite woman and men and women of every epoch and nation and each one of us.
Faith opens us to knowing and welcoming the real identity of Jesus, his newness and oneness, his word, as a source of life, in order to live a personal relationship with him. Knowledge of the faith grows, it grows with the desire to find the way and in the end it is a gift of God who does not reveal himself to us as an abstract thing without a face or a name, because faith responds to a Person who wants to enter into a relationship of deep love with us and to involve our whole life.
For this reason our heart must undergo the experience of conversion every day, every day it must see us changing from people withdrawn into themselves to people who are open to God's action, spiritual people (cf. 1 Cor 2:13-14), who let themselves be called into question by the Lord's word and open their life to his Love.
Dear brothers and sisters, let us therefore nourish our faith every day with deep attention to the word of God, with the celebration of the Sacraments, with personal prayer as a "cry" to him, and with charity to our neighbour.
SOURCE: http://www.vatican.va/content/benedict-xvi/en/angelus/2011/documents/hf_ben-xvi_ang_20110814.html
EMPHASIS MINE.
VIDEO COMMENTARY
TOPIC: ARE YOU PERSISTENT IN Y0UR PRAYERS TO GOD?
In today's gospel reading, Jesus makes a rare visit to a pagan territory, in the cities of Tyre and Sidon, on what we now know as Lebanon. A Canaanite woman, a pagan, approaches Jesus and calls Him "Lord, Son of David" and pleads with Him to heal her child who is tormented by a demon. Jesus ignores her but His disciples press Him to send her away.
The woman is persistent. Even if she is not a believer, she continues to beg Jesus, "Help me, Lord." All because she loves her child. We reflect today on our persistence in praying to God.
TOPIC 2: Why do people cheat on their spouses and is the situation hopeless?
Stay updated: subscribe by email for free TO OUR NEW WEBSITE www.catholicsstrivingforholiness.org (PUT YOUR EMAIL IN THE SUBSCRIBE WIDGET).
We are also in www.fb.com/Catholicsstrivingforholiness. Kindly help more people in their Christian life by liking our page and inviting your family, friends and relatives to do so as well. Thanks in advance and God bless you and your loved ones! Fr. Rolly Arjonillo