PRAYER OF CONSECRATION TO THE IMMACULATE HEART OF MARY
PRAYER OF CONSECRATION TO THE IMMACULATE HEART OF MARY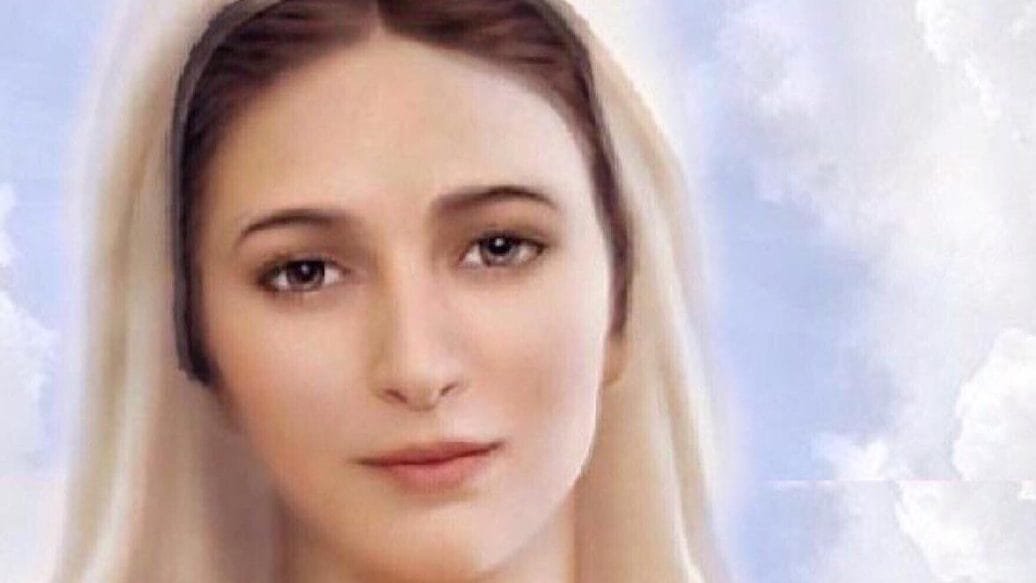 Virgin Mary, Mother of God and our Mother, to your Immaculate Heart we consecrate ourselves, in an act of total entrustment to the Lord.
By You we will be led to Christ. By Him and with Him we will be led to the Father.
We will walk in the light of faith, and we will do everything so that the world may believe that Jesus Christ is the One sent by the Father.
With Him we wish to carry His Love and Salvation to the ends of the earth.
Under the protection of your Immaculate Heart, we will be one People with Christ. We will be witnesses of His Resurrection. By Him we will be led to the Father, for the glory of the Most Holy Trinity, Whom we adore, praise and bless forever. Amen.
---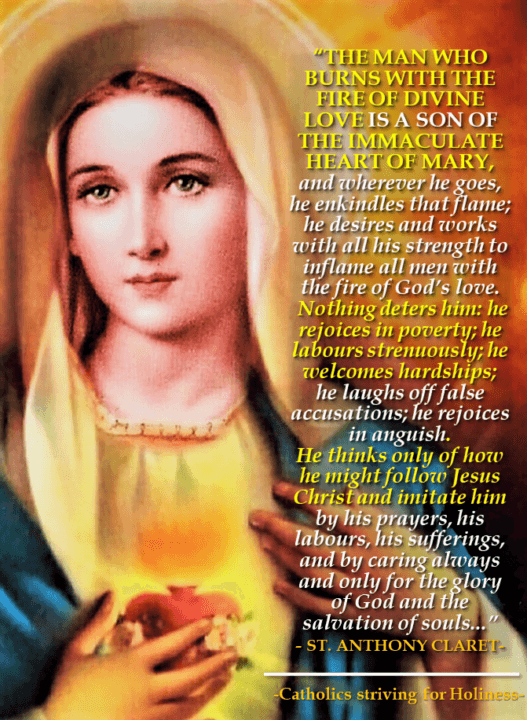 The man who burns with the fire of divine love is a son of the Immaculate Heart of Mary, and wherever he goes, he enkindles that flame; he desires and works with all his strength to inflame all men with the fire of God's love. Nothing deters him: he rejoices in poverty; he labours strenuously; he welcomes hardships; he laughs off false accusations; he rejoices in anguish. He thinks only of how he might follow Jesus Christ and imitate him by his prayers, his labours, his sufferings, and by caring always and only for the glory of God and the salvation of souls.

-St. Anthony Maria Claret
Mary kept all these things in her heart
A sermon of St Laurence Justinian
As Mary pondered all she had learned from reading and from what she had heard and seen, how greatly did she increase in faith, advance in merit and become enlightened with wisdom! More and more she was consumed with burning love. Drawing life and inspiration from the heavenly mysteries which were being unlocked for her, she was filled with joy; she became alive with the Spirit, she was guided towards God and was kept humble in herself. The effects of divine grace are such indeed that they raise one from the depths to the heights, and transform one in an ever greater degree of glory. Entirely blessed was the mind of the Virgin which, through the direction of the Spirit dwelling in her, ever obeyed the command of the Word of God in all things. She was governed not by her own judgement or opinions, but she outwardly performed through her body whatever wisdom had indicated inwardly to her faith. It was surely fitting that divine Wisdom, which had built the house of the Church for its abode, should use most holy Mary as its instrument, where the observance of the law, purification of the heart, the doctrine of humility and spiritual offering were concerned.
Imitate her, O faithful soul. Enter into the temple of your heart that you may be purified in spirit and cleansed of the pollution of your sins. In everything we do God considers our disposition rather than our actions. And so, whether we retire mentally to God in earnest contemplation and remain at rest or whether we are intent on being of service to those around us with good works and worthy undertakings, let our object be that we are motivated only by love of Christ. So the really acceptable offering of purification of the spirit is that which is rendered not in a man-made temple but in the temple of the heart, where Christ the Lord is pleased to enter.
COLLECT
O God, who prepared a fit dwelling place for the Holy Spirit in the Heart of the Blessed Virgin Mary, graciously grant that, through her intercession, we may be a worthy temple of your glory. Through our Lord.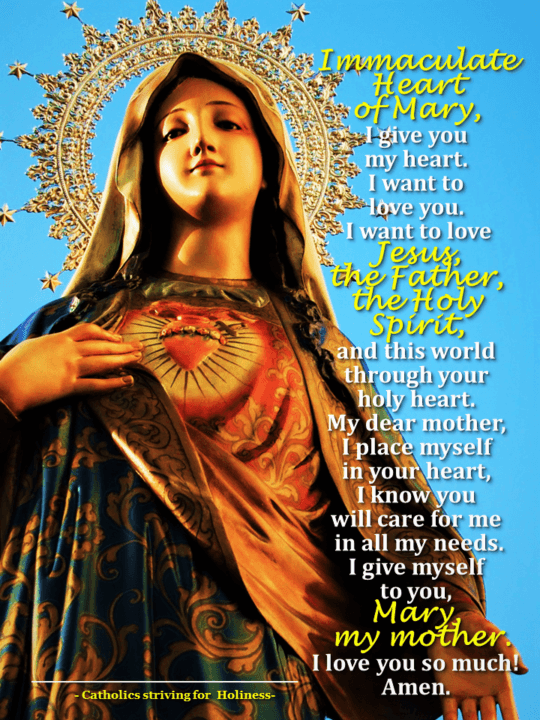 Stay updated: subscribe by email for free TO OUR NEW WEBSITE www.catholicsstrivingforholiness.org (PUT YOUR EMAIL IN THE SUBSCRIBE WIDGET).
We are also in www.fb.com/Catholicsstrivingforholiness. Kindly help more people in their Christian life by liking our page and inviting your family, friends and relatives to do so as well. Thanks in advance and God bless you and your loved ones! Fr. Rolly Arjonillo