ASH WEDNESDAY 2023 RITE OF IMPOSITION OF ASHES OUTSIDE THE MASS
ASH WEDNESDAY 2023
RITE OF IMPOSITION OF ASHES OUTSIDE THE MASS.

(UPDATED FOR THE PANDEMIC CRISIS).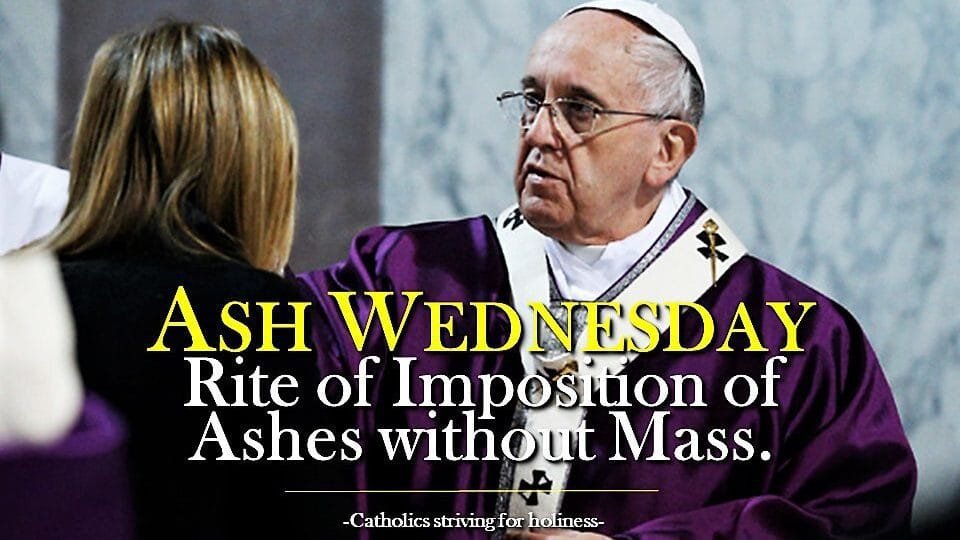 ENTRANCE ANTIPHON
You are merciful to all, O Lord, and despise nothing that you have made. You overlook the sins of man, to bring them to repentance, for you are the Lord our God.
[–» Greeting]
COLLECT
Let us pray.
Grant, O Lord, that we may begin with holy fasting this campaign of Christian service, so that as we take up battle against spiritual evils, we may be armed with weapons of self-restraint. Through our Lord.
READING I
Joel 2:12–18
Even now, says the Lord, return to me with your whole heart, with fasting, and weeping, and mourning; rend your hearts, not your garments, and return to the Lord, your God. For gracious and merciful is he, slow to anger, rich in kindness, and relenting in punishment. Perhaps he will again relent and leave behind him a blessing, Offerings and libations for the Lord, your God.
Blow the trumpet in Zion! Proclaim a fast, call an assembly; gather the people, notify the congregation; assemble the elders, gather the children and the infants at the breast; let the bridegroom quit his room and the bride her chamber. Between the porch and the altar let the priests, the ministers of the Lord, weep, and say, "Spare, O Lord, your people, and make not your heritage a reproach, with the nations ruling over them! Why should they say among the peoples, 'Where is their God?'"
Then the Lord was stirred to concern for his land and took pity on his people.

RESPONSORIAL PSALM
R. Be merciful, O Lord, for we have sinned.
Have mercy on me, O God, in your goodness;
in the greatness of your compassion wipe out my offense.
Thoroughly wash me from my guilt
and of my sin cleanse me.
R.
For I acknowledge my offense,
and my sin is before me always:
"Against you only have I sinned,
and done what is evil in your sight."
R.
A clean heart create for me, O God,
and a steadfast spirit renew within me.
Cast me not out from your presence,
and your Holy Spirit take not from me.
R.
Give me back the joy of your salvation,
and a willing spirit sustain in me.
O Lord, open my lips,
and my mouth shall proclaim your praise.
R.

READING II
1st Letter of St. Paul to the Corinthians 5:20–6:2
Brothers and sisters: We are ambassadors for Christ, as if God were appealing through us. We implore you on behalf of Christ, be reconciled to God. For our sake he made him to be sin who did not know sin, so that we might become the righteousness of God in him.
Working together, then, we appeal to you not to receive the grace of God in vain. For he says: In an acceptable time I heard you, and on the day of salvation I helped you.
Behold, now is a very acceptable time; behold, now is the day of salvation.

VERSE BEFORE THE GOSPEL
Hódie, nolíte obduráre corda vestra, sed vocem Dómini audíte.
If today you hear his voice, harden not your hearts.

GOSPEL
Matthew 6:1–6, 16–18
Jesus said to his disciples: "Take care not to perform righteous deeds in order that people may see them; otherwise, you will have no recompense from your heavenly Father. When you give alms, do not blow a trumpet before you, as the hypocrites do in the synagogues and in the streets to win the praise of others. Amen, I say to you, they have received their reward. But when you give alms, do not let your left hand know what your right is doing, so that your almsgiving may be secret. And your Father who sees in secret will repay you.
"When you pray, do not be like the hypocrites, who love to stand and pray in the synagogues and on street corners so that others may see them. Amen, I say to you, they have received their reward. But when you pray, go to your inner room, close the door, and pray to your Father in secret. And your Father who sees in secret will repay you.
"When you fast, do not look gloomy like the hypocrites. They neglect their appearance, so that they may appear to others to be fasting. Amen, I say to you, they have received their reward. But when you fast, anoint your head and wash your face, so that you may not appear to be fasting, except to your Father who is hidden. And your Father who sees what is hidden will repay you."

Homily
BLESSING AND IMPOSITION OF ASHES
SEE AS WELL: THE MEANING OF THE IMPOSITION OF ASHES in
https://catholicsstrivingforholiness.org/ash-wednesday-fasting-and-abstinence-what-is-lent-why-the-imposition-of-ashes/
After the Homily, the Priest, standing with hands joined, says:
Dear brothers and sisters, let us humbly ask God our Father that he be pleased to bless with the abundance of his grace these ashes which we will put on our heads in penitence.
After a brief prayer in silence, and, with hands extended, he continues
O God, who are moved by acts of humility and respond with forgiveness to works of penance, lend your merciful ear to our prayers, and in your kindness pour out the grace of your † blessing on your servants who are marked with these ashes, that as they follow the Lenten observances, they may be worthy to come with minds made pure to celebrate the paschal mystery of your Son. Through Christ our Lord.
Amen.
DURING THE PANDEMIC CRISIS, THE VATICAN DECREES THE FOLLOWING:
After blessing the ashes and sprinkling them with holy water in silence, the priest addresses those present, reciting once the formula found in the Roman Missal:
"Repent, and believe in the Gospel" or "Remember that you are dust, and to dust you shall return".
At that point, the note continues, the priest "cleanses his hands, puts on a face mask, and distributes ashes to those who come to him or, if appropriate, he goes to those who are standing in their places."
He then sprinkles the ashes on each person's head "without saying anything."

After the imposition of ashes, the Priest washes his hands and proceeds to the Universal Prayer.
UNIVERSAL PRAYER
We should pour forth prayers at all times, dear brothers and sisters, but above all in these days of Lent we ought to watch more intently with Christ and direct our petitions more fervently to God.

Intentions
1. For the whole Christian people, that in this sacred time they may be more abundantly nourished by every word that comes from the mouth of God, let us pray to the Lord.
2. For the whole world, that in lasting tranquility and peace our days may truly become the acceptable time of grace and salvation, let us pray to the Lord.
3. For sinners and the neglectful, that in this time of reconciliation they may return to Christ, let us pray to the Lord.
4. For ourselves, that God may at last stir up in our hearts aversion for our sins, let us pray to the Lord.

Priest's Prayer
Grant, we pray, O Lord, that your people may turn to you with all their heart, so that whatever they dare to ask in fitting prayer they may receive by your mercy. Through Christ our Lord.
PRAYER OVER THE PEOPLE
For the dismissal, the Priest stands facing the people and, extending his hands over them, says this prayer':
Pour out a spirit of compunction, O God, on those who bow before your majesty, and by your mercy may they merit the rewards you promise to those who do penance. Through Christ our Lord.
DISMISSAL
The Lord be with you.
And with your spirit.
May almighty God bless you: the Father, and the Son, † and the Holy Spirit.
Amen.
Go in peace.
Thanks be to God.
FOR ASH WEDNESDAY MASS PRAYERS AND READINGS, SEE https://catholicsstrivingforholiness.org/ash-wednesday-mass-prayers-and-readings/
Stay updated: subscribe by email for free TO OUR NEW WEBSITE www.catholicsstrivingforholiness.org (PUT YOUR EMAIL IN THE SUBSCRIBE WIDGET).
We are also in www.fb.com/Catholicsstrivingforholiness. Kindly help more people in their Christian life by liking our page and inviting your family, friends and relatives to do so as well. Thanks in advance and God bless you and your loved ones! Fr. Rolly Arjonillo