ASH WEDNESDAY (Fasting and Abstinence*). WHAT IS LENT? WHY THE IMPOSITION OF ASHES?
ASH WEDNESDAY
(Fasting and Abstinence*).
WHAT IS LENT? WHY THE IMPOSITION OF ASHES?
OUTLINE
"Return to me with your whole heart, with fasting, and weeping, and mourning; rend your hearts, not your garments, and return to the Lord, your God. For gracious and merciful is he, slow to anger, rich in kindness, and relenting in punishment (Joel 2:12)."
These are the words we read in the liturgical rite of the imposition of ashes during this day which marks the beginning of the Lent.
1. WHAT IS LENT?
"Lent" (from Teutonic word Lent, employed to denote the forty days' fast preceding Easter, originally meant no more than the spring season. Still it has been used from the Anglo-Saxon period to translate the more significant Latin term quadragesima , Italian quaresima, Spanish cuaresma-, meaning the "forty days", or more literally the "fortieth day") denotes the 40 weekdays of spiritual preparation for Our Lord's Paschal Mystery (Passion, Death and Resurrection) which we commemorate during the Holy Week.
During Lent, the Church accompanies and encourages us to accept to Lord's invitation to "return to" Him with our "whole heart", accepting God's grace for "now is the acceptable time; behold, now is the day of salvation(2 Cor 6: 1-2)."
2. THE IMPOSITION OF ASHES: SYMBOL OF PENANCE
This invitation to conversion, repentance, penance and acceptance of God's grace and salvation is symbolically expressed in the rite of the imposition of ashes during which we are reminded to "turn away from sin and be faithful to the Gospel"; 'remember, man, you are dust and to dust you will return".
LENT IS IN THE FIRST PLACE AN APPEAL TO CONVERSION and REPENTANCE:
This is the symbolism behind the imposition of ashes following the Jewish culture of sprinkling ashes on one's head as a sign of penance.
It is an invitation to "turn away from sin", "to change direction in the journey of life: not, however, by means of a small adjustment, but with a true and proper about turn. Conversion means swimming against the tide, where the 'tide' is the superficial lifestyle, inconsistent and deceptive, that often sweeps us long, overwhelms us and makes us SLAVES TO EVIL or at any rate PRISONERS OF MORAL MEDIOCRITY. With conversion, on the other hand, we are aiming for the high standard of Christian living, we entrust ourselves to the living and personal gospel which is Jesus Christ. He is our final goal and the profound meaning of conversion, he is the path on which all are called to walk through life, letting themselves be illumined by his light and sustained by his power which moves our steps (Benedict XVI, General Audience, Feb. 17, 2010)."
With the imposition of ashes, and the words "remember you are dust and to dust you shall return", Lent also reminds us of our FRAIL CONDITION, of our DEATH but with realism, wisdom and optimism "for those who die in Christ will also live with Him (Rm 6:8)." Hence, Lent is a time of RENEWAL, of GRACE, of a "MORE CONSCIOUS AND INTENSE IMMERSION IN CHRIST'S" LIFE".
It is a time for renewing our and "commitment to following Jesus, to letting ourselves be transformed by his Paschal Mystery, to overcoming evil and to doing good, in order to make our former self, linked to sin die and to give birth to our 'new nature', transformed by God's grace (Benedict XVI, General Audience, Feb. 17, 2010)."
3. WHAT ARE THE MEANS TO HAVE A FRUITFUL LENTEN JOURNEY?
Our Mother Church provides us with the means to live the Lenten journey fruitfully:PRAYER AND SACRAMENTS, FASTING (SACRIFICES) and WORKS OF MERCY.
A) SACRAMENT OF CONFESSION: Conversion and repentance, returning to Our Lord with our whole heart presuppose going contritely to the SACRAMENT OF CONFESSION in which we are reconciled with God who is willing to forgive us if we humbly acknowledge our sins and failures and repent from having offended Our Lord.
Immersing ourselves in Christ's life presupposes an intimate relationship with Him which can only be possible through PRAYER.
*B) FASTING AND ABSTINENCE:
As a sign of repentance, in reparation for our sins and in order to strengthen our will and live a spiritual poverty which leads to interior freedom, our Mother Church recommends
FASTING (during Ash Wednesday and Good Friday, mandatory for those 18-59 years of age inclusive; see note below) and
ABSTINENCE from meat and poultry (during Fridays of Lent, mandatory for those who are 14 years or older).
Fasting and abstinence, however, can also be applied to anything (television, computer, tobacco, gadgets, use of social media etc…) which may have enslaved us and have become an obsession for us.
Mar. 2, 2022 update: Heeding Pope Francis' appeal made last Feb. 23, 2022, let us offer today our fasting and prayers asking God for peace in the world, in particular in Ukraine.
C) WORKS OF MERCY to the poor and needy encourages Christians to have a compassionate and merciful heart like that of Christ, thus overcoming our egoism and indifference towards the sufferings of others (see Pope Francis' Message for Lent 2016).
Here are some tips for a fruitful Lenten journey, applicable for our lifelong journey towards heaven.
Dear friends, let us heed God's call for to return to Him with our whole heart, putting into practice the means we have at our reach so that this season of Lent may really be a time of interior conversion and repentance, a time of renewal of our commitment to follow Christ, a time of grace and reconciliation with God and our neighbors as well.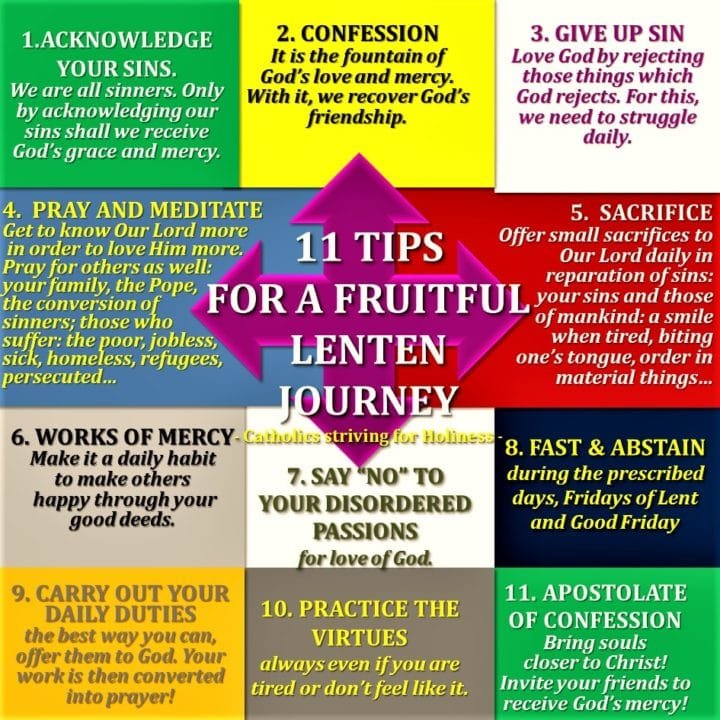 4. IMPORTANT FACTS: WHAT IS CONSIDERED FASTING? WHO HAS THE DISPENSATION FROM FASTING AND ABSTINENCE
A) Fasting
Fasting is understood as having ONE NORMAL MEAL during the day. Depending on the customs of each country, it is allowed to take a very light breakfast and a very light dinner if the principal meal is lunchtime; or a very light lunch if the principal heavy meal is done at night. During the rest of the day, one must not eat, taking into account that water and medication do not break the fast.
The Code of Canon Law, nn. 1251-1253 state that:
Canon 1251 "Abstinence from eating meat or another food according to the prescriptions of the conference of bishops is to be observed on Fridays throughout the year unless ("nisi") they are solemnities; abstinence and fast are to be observed on Ash Wednesday and on the Friday of the Passion and Death of Our Lord Jesus Christ. "
Canon 1252 "All persons who have completed their fourteenth year are bound by the law of abstinence; all adults are bound by the law of fast up to the beginning of their sixtieth year. Nevertheless, pastors and parents are to see to it that minors who are not bound by the law of fast and abstinence are educated in an authentic sense of penance. "
Can. 1253 "It is for the conference of bishops to determine more precisely the observance of fast and abstinence and to substitute in whole or in part for fast and abstinence other forms of penance, especially works of charity and exercises of piety."
B) Dispensation from fasting and abstinence
Those who have the dispensation from the proper legitimate Church authority ARE NOT OBLIGED to fulfill the Church law on fasting and abstinence.
• Moreover, all those who, due to physical or moral motives, encounter important difficulties e.g., the sick or those recovering from illness, persons suffering from poverty or malnutrition and those who have to carry out tough manual labor…are also not obliged to fulfill this norm on fasting and abstinence.
---
As a recap, here's a useful infographic made by ABS-CBN:
SUGGESTED READINGS FOR MEDITATION:
St. Josemaria, "The Conversion of the Children of God" inhttp://www.escrivaworks.org/…/christ_is_passing_by-chapter-…
Benedict XVI, General Audience, Feb. 17, 2010 in http://w2.vatican.va/…/documen…/hf_ben-xvi_aud_20100217.html
PHOTO SOURCE: http://www.raybuettner.com/…/uplo…/2015/02/Ash-Wednesday.jpg
Stay updated: subscribe by email for free TO OUR NEW WEBSITE www.catholicsstrivingforholiness.org (PUT YOUR EMAIL IN THE SUBSCRIBE WIDGET).
We are also in www.fb.com/Catholicsstrivingforholiness. Kindly help more people in their Christian life by liking our page and inviting your family, friends and relatives to do so as well. Thanks in advance and God bless you and your loved ones! Fr. Rolly Arjonillo