5th Sunday of Lent C MASS PRAYERS AND READINGS.
5th Sunday of Lent C MASS PRAYERS AND READINGS.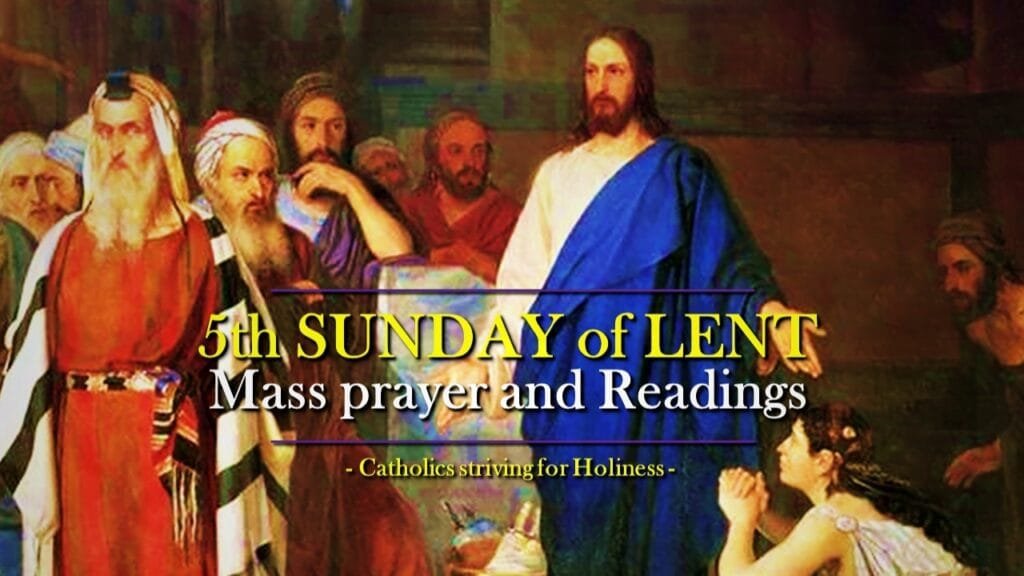 The practice of covering crosses and images throughout the church from this Sunday may be observed, if the Conference of Bishops so decides. Crosses remain covered until the end of the celebration of the Lord's Passion on Good Friday, but images remain covered until the beginning of the Easter Vigil. On this Sunday the third scrutiny in preparation for the Baptism of the catechumens who are to be admitted to the Sacraments of Christian Initiation at the Easter Vigil is celebrated with the proper prayers and intercessions.
 
ENTRANCE ANTIPHON
Give me justice, O God, and plead my cause against a nation that is faithless. From the deceitful and cunning rescue me, for you, O God, are my strength.
[–» Greeting]
In the name of the Father and of the Son, and of the Holy Spirit.
Amen.
The grace of our Lord Jesus Christ, and the love of God, and the communion of the Holy Spirit be with you all.
R. And with your spirit.
PENITENCIAL RITE
Brothers and sisters, let us acknowledge our sins, and so prepare ourselves to celebrate the sacred mysteries.
After the silence, all pray
I confess to almighty God and to you, my brothers and sisters, that I have greatly sinned in my thoughts and in my words, in what I have done and in what I have failed to do, They strike their breast:
through my fault, through my fault, through my most grievous fault; therefore I ask blessed Mary ever-Virgin, all the Angels and Saints, and you, my brothers and sisters, to pray for me to the Lord our God.
The priest says the absolution
May almighty God have mercy on us, forgive us our sins, and bring us to everlasting life.
The people answer:
Amen.
The priest invites all to repent of their sins. A pause for silent reflection follows:
Lord, have mercy.
Lord, have mercy.
Christ, have mercy.
Christ, have mercy.
Lord, have mercy.
Lord, have mercy.
The Gloria in excelsis (Glory to God in the highest) is not said.
COLLECT
By your help, we beseech you, Lord our God, may we walk eagerly in that same charity with which, out of love for the world, your Son handed himself over to death. Through our Lord.
READINGS FOR YEAR C 2022, 2025, 2028, 2031…
READING I
Isaiah 43:16–21
Thus says the Lord, who opens a way in the sea and a path in the mighty waters, who leads out chariots and horsemen, a powerful army, till they lie prostrate together, never to rise, snuffed out and quenched like a wick. Remember not the events of the past, the things of long ago consider not; see, I am doing something new! Now it springs forth, do you not perceive it? In the desert I make a way, in the wasteland, rivers. Wild beasts honor me, jackals and ostriches, for I put water in the desert and rivers in the wasteland for my chosen people to drink, the people whom I formed for myself, that they might announce my praise.

RESPONSORIAL PSALM
R. The Lord has done great things for us; we are filled with joy.
When the Lord brought back the captives of Zion,
we were like men dreaming.
Then our mouth was filled with laughter,
and our tongue with rejoicing.
R.
Then they said among the nations,
"The Lord has done great things for them."
The Lord has done great things for us;
we are glad indeed.
R.
Restore our fortunes, O Lord,
like the torrents in the southern desert.
Those that sow in tears
shall reap rejoicing.
R.
Although they go forth weeping,
carrying the seed to be sown,
They shall come back rejoicing,
carrying their sheaves.
R. 
 
READING II
Letter of St. Paul to the Philippians 3:8–14
Brothers and sisters: I consider everything as a loss because of the supreme good of knowing Christ Jesus my Lord. For his sake I have accepted the loss of all things and I consider them so much rubbish, that I may gain Christ and be found in him, not having any righteousness of my own based on the law but that which comes through faith in Christ, the righteousness from God, depending on faith to know him and the power of his resurrection and the sharing of his sufferings by being conformed to his death, if somehow I may attain the resurrection from the dead.
It is not that I have already taken hold of it or have already attained perfect maturity, but I continue my pursuit in hope that I may possess it, since I have indeed been taken possession of by Christ Jesus. Brothers and sisters, I for my part do not consider myself to have taken possession. Just one thing: forgetting what lies behind but straining forward to what lies ahead, I continue my pursuit toward the goal, the prize of God's upward calling, in Christ Jesus.
 
VERSE BEFORE THE GOSPEL
With all your heart turn to me for I am tender and compassionate.
 
GOSPEL
A reading from the Gospel of St. John 8:1–11
Jesus went to the Mount of Olives. But early in the morning he arrived again in the temple area, and all the people started coming to him, and he sat down and taught them. Then the scribes and the Pharisees brought a woman who had been caught in adultery and made her stand in the middle. They said to him, "Teacher, this woman was caught in the very act of committing adultery. Now in the law, Moses commanded us to stone such women. So what do you say?" They said this to test him, so that they could have some charge to bring against him. Jesus bent down and began to write on the ground with his finger. But when they continued asking him, he straightened up and said to them, "Let the one among you who is without sin be the first to throw a stone at her." Again, he bent down and wrote on the ground. And in response, they went away one by one, beginning with the elders. So, he was left alone with the woman before him. Then Jesus straightened up and said to her, "Woman, where are they? Has no one condemned you?" She replied, "No one, sir." Then Jesus said, "Neither do I condemn you. Go, and from now on do not sin anymore."
FOR TODAY'S SUNDAY HOMILY REFLECTION, SEE:
"GO AND SIN NO MORE." CONVERSION ENTAILS LIVING A NEW LIFE, THAT OF CHRIST in

POPE BENEDICT XVI ON THE 5TH SUNDAY OF LENT C
POPE FRANCIS ON THE 5TH SUNDAY OF LENT C
[–»  Creed, Universal Prayer]
[–»  Offertory]
I believe in God, the Father almighty, Creator of heaven and earth, and in Jesus Christ, his only Son, our Lord, [at the words that follow, up to and including the Virgin Mary, all bow] who was conceived by the Holy Spirit, born of the Virgin Mary, suffered under Pontius Pilate, was crucified, died and was buried; he descended into hell; on the third day he rose again from the dead; he ascended into heaven, and is seated at the right hand of God the Father almighty; from there he will come to judge the living and the dead.
I believe in the Holy Spirit, the holy catholic Church, the communion of saints, the forgiveness of sins, the resurrection of the body, and life everlasting. Amen.
GENERAL INTERCESSIONS OR PRAYERS OF THE FAITHFUL FOR LENT I
LENT, I
Priest's Introduction
We should pour forth prayers at all times, dear brothers and sisters, but above all in these days of Lent we ought to watch more intently with Christ and direct our petitions more fervently to God.
 
Intentions
For the whole Christian people, that in this sacred time they may be more abundantly nourished by every word that comes from the mouth of God, let us pray to the Lord.
For the whole world, that in lasting tranquility and peace our days may truly become the acceptable time of grace and salvation, let us pray to the Lord.
For sinners and the neglectful, that in this time of reconciliation they may return to Christ, let us pray to the Lord.
For ourselves, that God may at last stir up in our hearts aversion for our sins, let us pray to the Lord.

Priest's Prayer
Grant, we pray, O Lord, that your people may turn to you with all their heart, so that whatever they dare to ask in fitting prayer they may receive by your mercy. Through Christ our Lord.
R. Amen.
[–» Offertory]
LITURGY OF THE EUCHARIST
---
PREPARATION OF THE GIFTS
Blessed are you, Lord God of all creation, for through your goodness we have received the bread we offer you: fruit of the earth and work of human hands, it will become for us the bread of life.
–Blessed be God forever.
Blessed are you, Lord God of all creation, for through your goodness we have received the wine we offer you: fruit of the vine and work of human hands it will become our spiritual drink
– Blessed be God forever.
(ALL STAND)
Pray, brethren [brothers and sisters], that my sacrifice and yours may be acceptable to God, the almighty Father.
The people answer:
 May the Lord accept the sacrifice at your hands, for the praise and glory of his name, for our good, and the good of all his Church

PRAYER OVER THE OFFERINGS
Hear our prayers, almighty God, and having imbued your servants with the teachings of the Christian faith, graciously cleanse them by this sacrifice. Through Christ our Lord.
[–» Eucharistic Prayer]
When the Gospel of Lazarus is not read, Preface I or II of Lent is used.
[–» Preface of Lazarus (Year A) or Preface of Lent]
PREFACE OF LENT I
The Lord be with you.
And with your spirit.
Lift up your hearts.
We lift them up to the Lord.
Let us give thanks to the Lord our God.
It is right and just.
Preface of the 1st Sunday of Lent
It is truly right and just, our duty and our salvation, always and everywhere to give you thanks, Lord, holy Father, almighty and eternal God, through Christ our Lord.
For each year by your gracious gift your faithful await the sacred paschal feasts with the joy of minds made pure, so that, more eagerly intent on prayer and on the works of charity, and participating in the mysteries by which they have been reborn, they may be led to the fullness of grace you bestow on your sons and daughters. And so, with Angels and Archangels, with Thrones and Dominions, and with all the hosts and Powers of heaven, as we sing the hymn of your glory without end we acclaim:
The priest reads the preface of the day; when he finishes, everybody say:
Holy, holy, holy Lord, God of hosts,
heaven and earth are full of your glory.
Hosanna in the highest.
Blessed is he who comes in the name of the Lord. Hosanna in the highest.
EUCHARISTIC PRAYER III
You are indeed Holy, O Lord, and all you have created rightly gives you praise, for through your Son our Lord Jesus Christ, by the power and working of the Holy Spirit, you give life to all things and make them holy, and you never cease to gather a people to yourself, so that from the rising of the sun to its setting a pure sacrifice may be offered to your name.
(ALL KNEEL)
Therefore, O Lord, we humbly implore you: by the same Spirit graciously make holy these gifts we have brought to you for consecration, that they may become the Body and † Blood of your Son our Lord Jesus Christ, at whose command we celebrate these mysteries.

For on the night he was betrayed he himself took bread, and giving you thanks he said the blessing, broke the bread and gave it to his disciples, saying:

TAKE THIS, ALL OF YOU, AND EAT OF IT, FOR THIS IS MY BODY, WHICH WILL BE GIVEN UP FOR YOU.
In a similar way, when supper was ended, he took the chalice, and giving you thanks he said the blessing, and gave the chalice to his disciples, saying:

TAKE THIS, ALL OF YOU, AND DRINK FROM IT, FOR THIS IS THE CHALICE OF MY BLOOD, THE BLOOD OF THE NEW AND ETERNAL COVENANT, WHICH WILL BE POURED OUT FOR YOU AND FOR MANY FOR THE FORGIVENESS OF SINS.
DO THIS IN MEMORY OF ME.  
 
The mystery of faith.
We proclaim your Death, O Lord, and profess your Resurrection until you come again.

Therefore, O Lord, as we celebrate the memorial of the saving Passion of your Son, his wondrous Resurrection and Ascension into heaven, and as we look forward to his second coming, we offer you in thanksgiving this holy and living sacrifice.

Look, we pray, upon the oblation of your Church and, recognizing the sacrificial Victim by whose death you willed to reconcile us to yourself, grant that we, who are nourished by the Body and Blood of your Son and filled with his Holy Spirit, may become one body, one spirit in Christ.
 
May he make of us an eternal offering to you, so that we may obtain an inheritance with your elect, especially with the most blessed Virgin Mary, Mother of God, with your blessed Apostles and glorious Martyrs [with Saint N: the Saint of the day or Patron Saint] and with all the Saints, on whose constant intercession in your presence we rely for unfailing help.

May this Sacrifice of our reconciliation, we pray, O Lord, advance the peace and salvation of all the world. Be pleased to confirm in faith and charity your pilgrim Church on earth, with your servant N. our Pope and [N.] our Bishop, the Order of Bishops, all the clergy, and the entire people you have gained for your own.

Listen graciously to the prayers of this family, whom you have summoned before you: in your compassion, O merciful Father, gather to yourself all your children scattered throughout the earth.

† To our departed brothers and sisters and to all who were pleasing to you at their passing from this life, give kind admittance to your kingdom.
There we hope to enjoy for ever the fullness of your glory through Christ our Lord, through whom you bestow on the world all that is good. †
 
[–»Through him, and with him…]
(ALL STAND)
At the Savior's command and formed by divine teaching, we dare to say:
Our Father, Who art in heaven, hallowed be Thy name; Thy kingdom come; Thy will be done on earth as it is in heaven. Give us this day our daily bread; and forgive us our trespasses as we forgive those who trespass against us; and lead us not into temptation, but deliver us from evil.
Deliver us, Lord, we pray, from every evil, graciously grant peace in our days, that, by the help of your mercy, we may be always free from sin and safe from all distress, as we await the blessed hope and the coming of our Savior, Jesus Christ.
For the kingdom, the power, and the glory are yours, now and forever.
Lord Jesus Christ, you said to your apostles: I leave you peace, my peace I leave you. Look not on our sins, but on the faith of your Church, and graciously grant her peace and unity in accordance to your will, who live and reign for ever and ever. Amen.
The peace of the Lord be with you always.
And with your spirit.
Let us offer each other the sign of peace
Lamb of God, you take away the sins of the world: have mercy on us.
Lamb of God, you take away the sins of the world: have mercy on us.
Lamb of God, you take away the sins of the world: grant us peace.
Behold the Lamb of God, behold him who takes away the sins of the world. Blessed are those called to the supper of the Lamb.
Lord, I am not worthy that you should enter under my roof, but only say the word and my soul shall be healed.
The Body of Christ.
Amen.
COMMUNION ANTIPHON
Year A:
He All who live and believe in me will never die, says the Lord.
 
Year B:
Amen, amen I say to you: Unless a grain of wheat falls to the ground and dies, it remains a single grain. But if it dies, it bears much fruit.
 
Year C:
Has no one condemned you, woman? No one, Lord. Neither shall I condemn you. From now on, sin no more.
 [–» Communion]
 
PRAYER AFTER COMMUNION
We pray, almighty God, that we may always be counted among the members of Christ, in whose Body and Blood we have communion. Who lives and reigns for ever and ever.
[–» Concluding Rite]
 
PRAYER OVER THE PEOPLE
Bless, O Lord, your people who long for the gift of your mercy, and grant that what, at your prompting, they desire they may receive by your generous gift. Through Christ our Lord.
The Lord be with you.
And with your spirit.
May almighty God bless you, the Father, and the Son, and the Holy Spirit.Amen.
The Mass is ended.
Go in peace glorifying the Lord by your life.
Thanks be to God.
PRAYER TO ST. MICHAEL THE ARCHANGEL
St. Michael the Archangel,
defend us in battle.
Be our defense against the wickedness and snares of the Devil.
May God rebuke him, we humbly pray,
and do thou, O Prince of the heavenly hosts,
by the power of God, thrust into hell Satan,
and all the evil spirits,
who prowl about the world seeking the ruin of souls. Amen.
ENTRANCE SONG: HOLY GOD WE PRAISE YOUR NAME
Holy God, we praise Your name;
Lord of all, we bow before You;
All on earth Your scepter claim,
All in heav'n above adore You.
Infinite Your vast domain,
Everlasting is Your reign.
OFFERTORY: LORD, I OFFER MY LIFE TO YOU
All that I am, all that I have
I lay them down before You, oh Lord
All my regrets, all my acclaims
The joy and the pain, I'm making them Yours
REFRAIN:
Lord, I offer my life to You
Everything I've been through, use it for Your glory
Lord I offer my days to You
Lifting my praise to You as a pleasing sacrifice
Lord I offer You my life

Things in the past, things yet unseen
Wishes and dreams that are yet to come true
All of my hope, all of my plans
My heart and my hands are lifted to You. REFRAIN
COMMUNION: POWER OF LOVE
Lord I come to You
Let my heart be changed renewed
Flowing from the grace
That I've found in You
Lord I've come to know
The weakness I see in me
Will be stripped away
By the power of Your love

chorus

Hold me close let Your love surround me
Bring me near
Draw me to Your side
And as I wait
I'll rise up like the eagle
And I will soar with You
Your Spirit leads me on
In the power of Your love

Lord unveil my eyes
Let me see You face to face
The knowledge of Your love
As You live in me
Lord renew my mind
As Your will unfolds in my life
In living every day
By the power of Your love
(repeat chorus 2 times)
SOUL OF CHRIST
Soul of Christ, sanctify me
Body of Christ save me
Water from the side of Christ
Wash me, Passion of Christ
Give me strength

Chorus:
Hear me Jesus
Hide me in thy wounds
That I may never leave thy side
From all the evil that surrounds me
Defend me and when the call of death arrives
Bid me come to thee
That I may praise thee
With thy saints forever
SALVE REGINA CAELITUM
Salve Regina caelitum, O Maria
Tuum spes fidelium, O Maria
Exsultate cherubim,
Iubilate seraphim,
Salve, salve, salve Maria.
ORIGINAL PHOTO CREDIT: Isaak Asknaziy – (Public domain)_Wikipedia_200315
Stay updated: subscribe by email for free TO OUR NEW WEBSITE www.catholicsstrivingforholiness.org (PUT YOUR EMAIL IN THE SUBSCRIBE WIDGET).
We are also in www.fb.com/Catholicsstrivingforholiness. Kindly help more people in their Christian life by liking our page and inviting your family, friends and relatives to do so as well. Thanks in advance and God bless you and your loved ones! Fr. Rolly Arjonillo