4TH SUNDAY OF EASTER YEAR B /GOOD SHEPHERD SUNDAY YEAR B REFLECTION HOMILY. BE A GOOD SHEPHERD AND SHEEP AT THE SAME TIME.
4TH SUNDAY OF EASTER YEAR B /
GOOD SHEPHERD SUNDAY YEAR B REFLECTION HOMILY.

BE A GOOD SHEPHERD AND SHEEP AT THE SAME TIME.
1. Summary of ideas today's liturgy.
Today is the Good Shepherd Sunday. Jesus Christ is our Good Shepherd who has given his life for us, his sheep, to save us from sin and death. He not only has died and risen for us but also for the whole world:
I have other sheep that do not belong to this fold. These also I must lead, and they will hear my voice, and there will be one flock, one shepherd."

Gospel
In the 1st reading, Peter, the First Pastor-Vicar of Christ in his Church, begins his mission to proclaim to the world that only in Christ, the Good Shepherd, is our salvation possible. Christ is the cornerstone. We all lean on him and we all sustain ourselves together. Christ is the great foundation of our faith, of our entire Christian life, and there is no other one who can save us: Jesus, our Good Shepherd is at the same time the one and only Savior of humanity.
In the 2nd reading, St. John reminds us of the immense love God has for us that, through Christ, we have all become God's children.

All the redemptive authority of Christ and of his Vicars or Pastors in the Church, includes the task of making visible the loving paternity of God over us, his children. Saint Augustine comments:
"What greater grace could God do us? Having an only Begotten-Son, he made him the Son of Man, so that the son of man would become the son of God. Seek where your merit is; seek where it comes from, seek what your justice is; and you will see that you cannot find anything other than the pure grace of God" (Sermon 185).
The Church, with its various charisms and vocations – especially through the priestly order – makes Christ, the Good Shepherd, present in the world. Today is a special day to ask the Lord to give us the priestly and consecrated vocations that the Church needs to continue evangelizing and growing in unity.
2. Everyone is both shepherd and sheep.
Although being a shepherd in the ecclesiastical perspective refers to those who have received the Sacrament of Holy Orders -bishops and priests-, all of us are both shepherd and sheep in the ample sense of the word. This is so because we all have the sweet yoke of leading others to Christ and forming them to be good persons, and we are all subjected to a certain authority, be it:
Catholic faithful to the Pope and to their respective Bishops;
children to parents;
subordinates to the superiors;
students to teachers,
soldiers to their captains…
citizens to their immediate authorities, and these to theirs…and so on.
We must not find it strange that we are both sheep and shepherd at the same time for Jesus was such as well: he was subjected to God the Father (not in so far as He is God, but in so far as He is the Son), and also to Mary and Joseph, while being the Good Shepherd of all.
3. Be a good shepherd and sheep at the same time
As such the question arises: are we striving to be both good shepherd and good sheep at the same time?
This principal question could be specified in many other circumstances. As parents, teachers, civil authority, elder siblings, or children to their parents in their advanced age… do we lead others to what is really good, to the source of authentic happiness, to God? As faithful of the Church, as children, or as subordinates… are we docile to the teachings of the Church, of natural law, of our parents or to the legitimate moral and civil authority?
If we want to be both good shepherd and sheep at the same time we must imitate and follow the footsteps of the example par excellence, Our Lord Jesus Christ.
As the Son of the Father, his will was to do his Father's will. My will is to do the will of the one who sent me. he was obedient unto death, death on the Cross.
He submitted himself to Mary and Joseph in spite of being the Son of the Father, the King of the Universe.
He laid down His life for his sheep. He served his disciples. He came to serve and not to be served

He prayed for them. He corrected them. He, taught them with patience. He was understanding and considerat to them.

He sought what was lost (the sheep astray … what joy the Lord had experienced upon finding the lost sheep putting it on his shoulders … inviting his friends to rejoice with him).
He forgave them.
The means to be such both good shepherd and sheep are within our reach, some of which are as follows:
Prayer

We must pray daily for the people God entrusted to us so that He may grant them the grace to use their freedom well and choose the option which pleases God most and which will make them virtuous persons.

Forgetting one's self

This is necessary if we are to help others, or better yet, if we are to love those whom God placed under our care. The great enemy of love is pride and egotism which leads one to enclose himself into his own little world, forgetting the needs and well-being of the people around him.

Leading by our good example

Whether we be shepherd or sheep, out of charity, we are bound to lead by and give good example to others: parents to their children, siblings to their co-siblings, among friends. How many times an exemplary conduct of a person is worth much more than a command or a reprimand.
We could not expect that people around us follow our demands if we ourselves do not live what should be done, do not give them the right example and provide the necessary resources so that moral values are practised in our environment.

Fraternal correction

This Christian custom has to be carried out for charity's sake and not due to a bitter zeal. Founded on prayer and sacrifice, the person who carries out the correction must try to be delicate and kind in conveying this effective means of helping another to improve in his conduct for the contrary would be counterproductive.
Let us ask the help of Mother Mary and St. Joseph so that through their intercession, God will grant us the grace to become both good sheep and shepherd for the benefit of the many souls He placed by our side.
A Blessed Sunday and week ahead! Stay safe and God be with you!
Fr. Rolly Arjonillo
---
REFLECTION HOMILY FOR THE 4TH SUNDAY OF EASTER:
GOOD SHEPHERD SUNDAY 2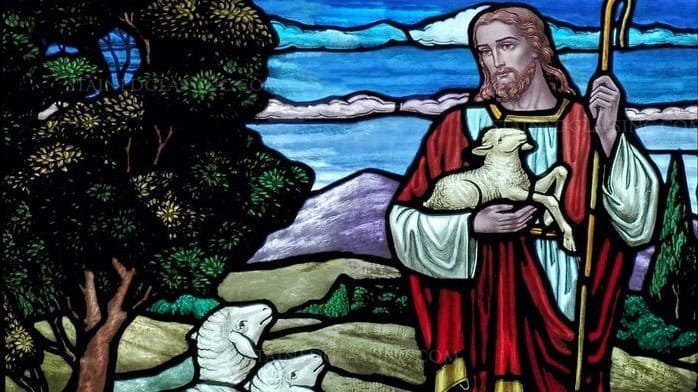 In the Gospel of the Mass (Jn 10:11–18), Jesus presents Himself as the Good Shepherd of His flock which is the entire human race, non-Christians included. As the Good Shepherd: He "lays down his life for the sheep"; He knows his flock and his flock knows him; He is also concerned with "the other sheep which do not belong to this fold" and thus, He is at the service of the unity of "one flock and one shepherd."
These are the characteristics of the Good Shepherd: total self-giving; intimate knowledge and union with his flock; sincere concern and at the service of unity among all men.
TOTAL SELF-GIVING has to be carried out not just once, but rather, daily, as Christ does in the Holy Eucharist. For this FORGETTING ONE'S SELF is absolutely necessary, for if one is enclosed in his own world and concerns, he would be incapable of noticing the needs of the flock entrusted to Him by Our Lord.
INTIMATE RELATIONSHIP AND UNION WITH THE FLOCK which Jesus carried out, first, through PRAYER, asking God for each one of us; then through his COMPASSION and GENEROUS SERVICE towards everyone, especially those who were lost and in most need: the sinners, the sick, the poor, the lonely.
SINCERE CONCERN AND UNIVERSAL SERVICE TO ALL MEN, knowing that Jesus has come in order to save us all: not only the just, but above all, the sinners; not only the Jews, but the Gentiles as well. This can be translated by asking God to grant us a huge and merciful (forgiving) heart where all can fit in, not only our family and loved ones, but those whom we don't know and EVEN those who are against us or who have caused us harm.
Dear friends, let us ask Our Lord for the CONVERSION AND HOLINESS OF PRIESTS AND ALL THOSE WHO HAVE GIVEN THEMSELVES TO GOD IN THE MIDDLE OF THE WORLD AND IN THE RELIGIOUS LIFE: monks, nuns, lay and religious missionaries and ministers…LET US ALSO ASK WITH FAITH AND CONSTANCY SO THAT OUR LORD SEND MORE VOCATIONS TOWARDS PRIESTHOOD, RELIGIOUS LIFE AND APOSTOLIC CELIBACY. Priests, religious, laymen and women who struggle daily to:
to fall in love more with Jesus;
imitate His life and virtues;
who pray daily and frequent the sacraments;
who strive daily to forget themselves;
who give themselves at the SERVICE of all men and women who are entrusted to them by God;
who give good example to their flock;
and, who are faithful till the end for love of God.
We must not forget as well that ALL OF US HAVE THE TASK OF BEING THE GOOD SHEPHERD TO OTHERS: parents to their children, teachers to their students, friends to their friends, leaders to their constituents…and the list goes on. Let us ask Him THE GRACE OF BEING UNITED TO THE ONE AND ONLY GOOD SHEPHERD, imitating His example as we carry out our task of tending, feeding and loving our fold.
And lastly, WE ARE ALL SHEEP AS WELL! That we may be DOCILE, OBEDIENT, ATTENTIVE SHEEP to Our Lord Jesus Christ, the Good Shepherd at all times through His chosen intstruments!
Have great weekend and God bless you and your loved ones! :
PHOTO SOURCE: Christ Good Shepherd in www.pinterest.com/pin/462604192946667878
SUGGESTED MATERIAL FOR MEDITATION:
Benedict XVI, Homily, May 7, 2006, in http://w2.vatican.va/content/benedict-xvi/en/homilies/2006/documents/hf_ben-xvi_hom_20060507_priestly-ordination.html
Stay updated: subscribe by email for free TO OUR NEW WEBSITE www.catholicsstrivingforholiness.org (PUT YOUR EMAIL IN THE SUBSCRIBE WIDGET).
We are also in www.fb.com/Catholicsstrivingforholiness. Kindly help more people in their Christian life by liking our page and inviting your family, friends and relatives to do so as well. Thanks in advance and God bless you and your loved ones! Fr. Rolly Arjonillo