4TH SUNDAY OF EASTER C HOMILY REFLECTION: GOOD SHEPHERD SUNDAY AND WORLD DAY OF PRAYER FOR VOCATIONS.
4TH SUNDAY OF EASTER C HOMILY REFLECTION:
GOOD SHEPHERD SUNDAY AND
WORLD DAY OF PRAYER FOR VOCATIONS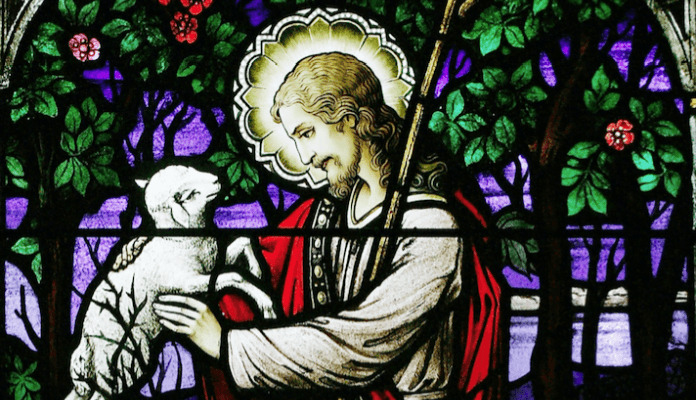 This coming Sunday is the Good Shepherd Sunday, which is at the same time the World Day of Prayer for Vocations.
1. Summary of ideas of today's readings
We begin the celebration by asking God "tend us to a share in the joys of heaven, so that the humble flock may reach where the brave Shepherd has gone before" (Collect prayer).
This participation in the joyous assembly of heaven has already begun here on earth in the sacraments of Christian initiation and in the testimony of life even in martyrdom. It is what is expressed by the white garments and the palms in the hands of those who are standing before the Lamb (2nd reading) and which will reach its fullness when we can eternally enjoy the eternal pastures of his kingdom (cf. Prayer after communion).
Everyone is called to receive that eternal life that only Christ, the Good Shepherd, can give (cf. Gospel).
And it will be the evangelizing work, carried out from the various vocations and charisms, that will make this saving message reach the whole world (cf. 1st reading).
2. Jesus Christ, Our Good Shepherd.
In the Gospel of the Mass (Jn 10:11–18), Jesus presents Himself as the Good Shepherd of His flock which is the entire human race, non-Christians included. As the Good Shepherd: He "lays down his life for the sheep"; He knows his flock and his flock knows him; He is also concerned with "the other sheep which do not belong to this fold" and thus, He is at the service of the unity of "one flock and one shepherd."
These are the characteristics of the Good Shepherd: total self-giving; intimate knowledge and union with his flock; sincere concern and at the service of unity among all men.
TOTAL SELF-GIVING has to be carried out not just once, but rather, daily, as Christ does in the Holy Eucharist. For this SELFLESSNESS and FORGETTING ONE'S SELF are absolutely necessary, for if one is enclosed in his own world and concerns, he would be incapable of noticing the needs of the flock entrusted to Him by Our Lord.
INTIMATE RELATIONSHIP AND UNION WITH THE FLOCK which Jesus carried out, first, through PRAYER, asking God for each one of us; then through his COMPASSION and GENEROUS SERVICE towards everyone, especially those who were lost and in most need: the sinners, the sick, the poor, the lonely.
SINCERE CONCERN AND UNIVERSAL SERVICE TO ALL MEN, knowing that Jesus has come in order to save us all: not only the just, but above all, the sinners; not only the Jews, but the Gentiles as well. This can be translated by asking God to grant us a huge and merciful (forgiving) heart where all can fit in, not only our family and loved ones, but those whom we don't know and EVEN those who are against us or who have caused us harm.
Dear friends, let us ask Our Lord for the CONVERSION AND HOLINESS OF PRIESTS AND ALL THOSE WHO HAVE GIVEN THEMSELVES TO GOD IN THE MIDDLE OF THE WORLD AND IN THE RELIGIOUS LIFE: monks, nuns, lay and religious missionaries and ministers…
LET US ALSO ASK WITH FAITH AND CONSTANCY SO THAT OUR LORD SEND MORE VOCATIONS TOWARDS PRIESTHOOD, RELIGIOUS LIFE AND APOSTOLIC CELIBACY. Priests, religious, laymen and women who struggle daily to:
– to fall in love more with Jesus;
– imitate His life and virtues;
– who pray daily and frequent the sacraments;
– who strive daily to forget themselves;
– who give themselves at the SERVICE of all men and women who are entrusted to them by God;
– who give good example to their flock;
– and, who are faithful till the end for love of God.
3. We are called to be good shepherds and sheep at the same time.
We must not forget as well that ALL OF US HAVE THE TASK OF BEING THE GOOD SHEPHERD TO OTHERS: parents to their children, teachers to their students, friends to their friends, leaders to their constituents…and the list goes on. Let us ask Him THE GRACE OF BEING UNITED TO THE ONE AND ONLY GOOD SHEPHERD, imitating His example as we carry out our task of tending, feeding and loving our fold.
And lastly, WE ARE ALL SHEEP AS WELL! That we may be DOCILE, OBEDIENT, ATTENTIVE SHEEP to Our Lord Jesus Christ, the Good Shepherd at all times through His chosen instruments!
Have a great weekend and God bless you and your loved ones!
SEE AS WELL TODAY'S MASS PRAYERS AND READINGS IN
https://catholicsstrivingforholiness.org/4th-sunday-of-easter-year-a-good-shepherd-sunday-mass-prayers-and-readings/
SUGGESTED MATERIAL FOR MEDITATION:
Benedict XVI, Homily, May 7, 2006, in http://w2.vatican.va/…/hf_ben-xvi_hom_20060507_priestly-ord…
Stay updated: subscribe by email for free TO OUR NEW WEBSITE www.catholicsstrivingforholiness.org (PUT YOUR EMAIL IN THE SUBSCRIBE WIDGET).
We are also in www.fb.com/Catholicsstrivingforholiness. Kindly help more people in their Christian life by liking our page and inviting your family, friends and relatives to do so as well. Thanks in advance and God bless you and your loved ones! Fr. Rolly Arjonillo