3RD SUNDAY OF ORDINARY TIME YEAR B HOMILY REFLECTION : REPENT. BELIEVE IN THE GOSPEL. FOLLOW CHRIST
3RD SUNDAY OF ORDINARY TIME YEAR B HOMILY REFLECTION: REPENT. BELIEVE IN THE GOSPEL. FOLLOW CHRIST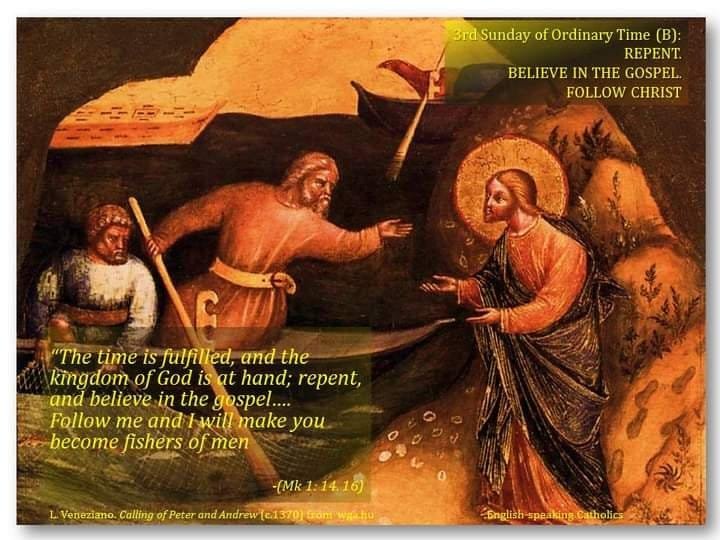 Today marks the 3rd Sunday of Ordinary time. From the readings of today's Mass, we can glean three important ideas which are interconnected with one another. These ideas are: CONVERSION, BELIEVE IN THE GOSPEL and FOLLOW CHRIST.
The Gospel of the Mass (Mark 1:14-20) describes to us the start of Jesus' ministry in Galilee announcing the imminence of the Kingdom of God and inviting everyone to repentance and conversion: "The time is fulfilled, and the kingdom of God is at hand; repent, and believe in the gospel (Mk 1:14)."
Jesus insists on the need for CONVERSION, the NEED TO CHANGE ONE'S ATTITUDE AND CONDUCT as a PREREQUISITE for receiving the Kingdom of God.
But WHAT DOES JESUS' CALL TO REPENTANCE AND CONVERSION CONSIST IN?
It consists in ABANDONING THE EVIL WAYS, A SINFUL LIFE, as proclaimed by Jonas' preaching in Niniveh (1st reading Jonas 3:1-5. 10; see also Jer 3:22; Is 30:15; Os 14:2) and that of John the Baptist and the Apostles.
It also involves DETACHING OURSELVES FROM THE MUNDANE WAY OF LIVING AND WORLDLY GOODS as St. Paul exhorts us in the 2nd reading (1 Cor 7:29–31) putting God at the center of our life.

But let us not forget that conversion also consists IN BELIEVING IN GOD'S BOUNTIFUL MERCY for those who are humble and contrite of heart:
"CONVERSION TO GOD ALWAYS CONSISTS IN DISCOVERING HIS MERCY… CONVERSION TO GOD IS ALWAYS THE FRUIT OF THE 'REDISCOVERY' OF THIS FATHER, WHO IS RICH IN MERCY…Authentic knowledge of the God of mercy, the God of tender love, is a constant and inexhaustible source of conversion, not only as a momentary interior act but also as a permanent attitude, as a state of mind (John Paul II, 'Dives in misericordia,' n. 13)."
AUTHENTIC CONVERSION TO GOD LEADS TO BELIEVING IN THE GOSPEL OF JESUS CHRIST, i.e. implying the acceptance of His Divinity: JESUS IS OUR LORD GOD AND OUR SAVIOR. But OUR FAITH IN AND ACCEPTANCE OF THE DIVINITY OF CHRIST, IN ITSELF, IS NOT SUFFICIENT: it must lead to a FAITHFUL FOLLOWING OF JESUS CHRIST.
"And passing along by the Sea of Galilee, he saw Simon and Andrew the brother of Simon casting a net in the sea; for they were fishermen. And Jesus said to them, 'Follow me and I will make you become fishers of men.' And immediately they left their nets and followed him (Gospel of 3rd Sunday of Ordinary Time Year B. Mk 1: 16.18)."
Following Christ comprises not only in believing that He is Our Lord, nor just knowing his teachings in the Gospel which He entrusted to His Apostles and to the Church He instituted with St. Peter as the foundation (see Mt 16:18-19).
It entails, above all, having a LOVING INTIMATE RELATIONSHIP with THE PERSON OF JESUS CHRIST, IMITATING HIS THOUGHTS, ATTITUDES, SENTIMENTS AND VIRTUES –His Life!- and thereby IDENTIFYING OURSELVES WITH HIM, in order to live His Life in our life, becoming "other Christs, Christ himself ('alter Christus, ipse Christus', an expression of St. Josemaria, Christ is Passing By, no. 183)." This is what HOLINESS or SANTIFICATION is all about to which all of us are called. "Conversion is the matter of a moment. Sanctification is the work of a lifetime (St. Josemaria, The Way n. 285)."
Dear friends: GOD IS INVITING US TO DAILY CONVERSION AND TO FOLLOW HIM FAITHFULLY, STRUGGLING EVERYDAY TO LIVE A HOLY LIFE. We can ask ourselves: in my scale of priorities, what place does Jesus occupy? Do I have a loving and intimate relationship with Jesus? Am I willing to reject sin, a particular way of life which is not compatible with Christ's teachings knowing that God is merciful and always ready to forgive those who sincerely repent in the sacrament of Confession? Am I disposed to imitate Christ in my daily actions? In my daily ordinary activities: how would Jesus react? What would Jesus do in my place?
Through the intercession of Mary, our Mother, of St. Joseph and of St. Paul, let us daily ask God for the GRACE OF CONVERSION OF MANY SOULS – OURS IN THE FIRST PLACE- and FOR THE GRACE TO FOLLOW HIM FAITHFULLY struggling everyday to live A HOLY LIFE.
Let us also ask God for THE UNITY OF ALL CHRISTIANS in the world with the same words Our Lord Jesus prayed: "that they may be one even as we are one, I in them and thou in me, that they may become perfectly one, so that the world may know that thou hast sent me (Jn 17:22-23)."
A blessed Sunday and week ahead! Fr. Rolly Arjonillo
---
VIDEO COMMENTARY
TOPIC: DOES THE GOOD NEWS OF JESUS MAKE YOU TRULY REPENT AND BELIEVE?
In the first reading (Jonah 3:1-5, 10), the disobedient Jonah was running away from God, from the mission God wanted him to accomplish. In the end He obeyed. The people of wicked people of Nineveh immediately accepted Jonah and God's call to repent through him. In the second reading (1 Corinthians 7:29-31), the sin city of Corinth was being urged by Paul to repent as the second coming of Jesus could come soon. Today's gospel reading (Mark 1:14-20) shows Jesus starting His public ministry in Galilee, after John was arrested and beheaded, choosing his first four apostles and preaching and challenging the people to "repent and believe in the good news."We reflect on three things:
1. Appreciate our calling as Christ's disciples wherever we are in
2. We must use the talents we are given to spread the Good News
3. We must continue to strive for holiness to keep us steadfast in our mission for Christ
Stay updated: subscribe by email for free TO OUR NEW WEBSITE www.catholicsstrivingforholiness.org (PUT YOUR EMAIL IN THE SUBSCRIBE WIDGET).
We are also in www.fb.com/Catholicsstrivingforholiness. Kindly help more people in their Christian life by liking our page and inviting your family, friends and relatives to do so as well. Thanks in advance and God bless you and your loved ones! Fr. Rolly Arjonillo