POPE FRANCIS ON THE 32ND SUNDAY IN ORDINARY TIME C.
POPE FRANCIS ON THE 32ND SUNDAY IN ORDINARY TIME C.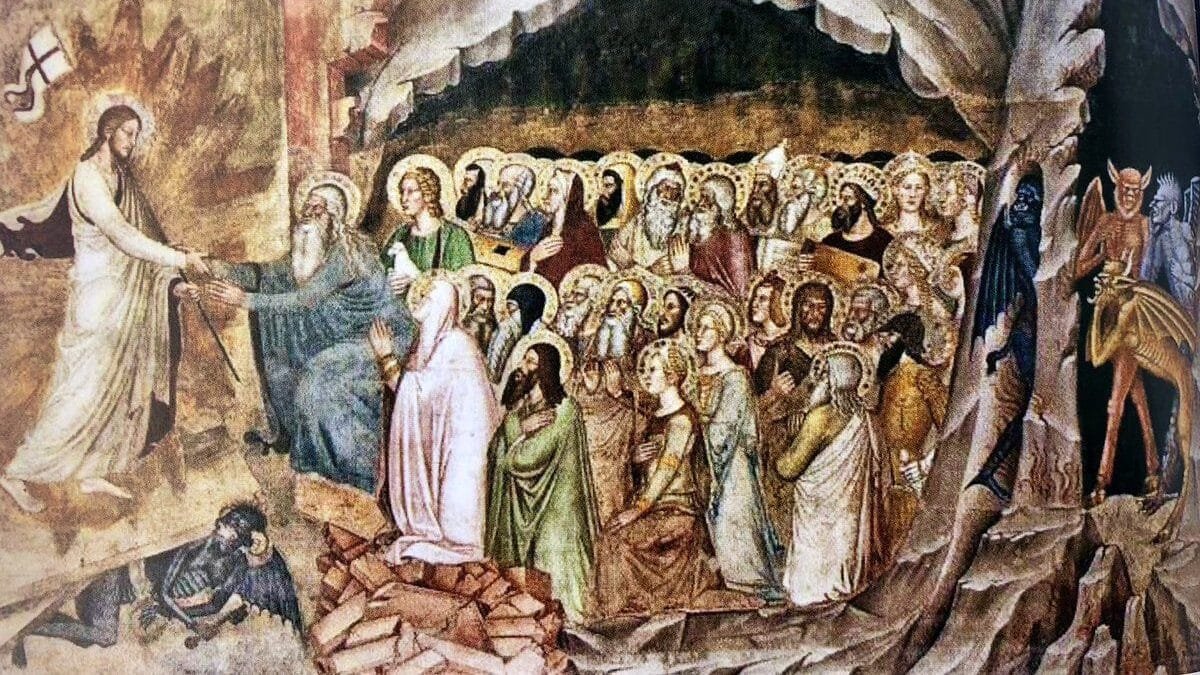 ANGELUS
32nd Sunday in Ordinary Time C, 10 November 2019
---
Dear Brothers and Sisters,
Good Morning!
Today's Gospel reading (Lk 20:27-38) offers us a wonderful teaching of Jesus on the resurrection of the dead. Jesus is asked by some Sadducees, who did not believe in the resurrection and therefore provoke Him with an insidious question: in resurrection, whose wife would a woman be if she had seven successive husbands, who were all brothers, who all died one after the other? Jesus does not fall into the trap and replies that in the hereafter the risen "neither marry nor are given in marriage, for they cannot die anymore, because they are equal to angels and are sons of God, being sons of the resurrection" (vv. 35-36). This is how Jesus responds.
With this response, first and foremost, Jesus invites His interlocutors — and us too — to consider that this earthly dimension in which we now live is not the only dimension, but that there is another, no longer subject to death, which will fully manifest that we are children of God. It is of great comfort and hope to listen to this simple and clear word of Jesus about life beyond death; we need it very much especially in our time, so rich in knowledge about the universe but so lacking in wisdom about eternal life.
Jesus' clear certainty about resurrection is based entirely on the fidelity of God, Who is the God of life. In fact, behind the question of the Sadducees is hidden a more profound question: not only whose wife will be the widow of the seven husbands, but to whom will her life belong. This is a doubt that touches mankind of  every age and also us: after this earthly pilgrimage, what will become of our life? Will it belong to nothing, to death?
Jesus responds that life belongs to God, who loves us and cares very deeply about us, to the point of linking His name to ours: He is "the God of Abraham and the God of Isaac and the God of Jacob. Now He is not God of the dead, but of the living, for all live to him" (vv. 37-38). Life exists where there is [a] bond, communion, brotherhood; and it is a life stronger than death when it is built on true relationships and bonds of fidelity. On the contrary, there is no life where one has the presumption of belonging only to oneself and of living as an island: death prevails in these attitudes. It is selfishness. If I live for myself, I am sowing death in my heart.
May the Virgin Mary help us to live every day from the perspective of what we affirm in the final part of the Creed: " We look for the resurrection of the dead and the life of the world to come". Awaiting the hereafter.
Source: https://www.vatican.va/content/francesco/en/angelus/2019/documents/papa-francesco_angelus_20191110.html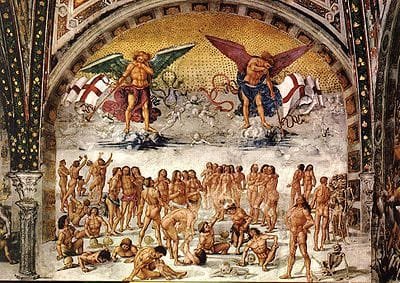 ANGELUS
Saint Peter's Square
32nd Sunday in Ordinary Time C, 6 November 2016
---
Dear Brothers and Sisters, Good morning!
Within just days of the Solemnity of All Saints and of the Commemoration of the faithful departed, this Sunday's Liturgy invites us once again to reflect upon the mystery of the resurrection of the dead. The Gospel (cf. Lk 20:27-38) presents Jesus confronted by several Sadducees, who did not believe in the resurrection and considered the relationship with God only in the dimension of earthly life. Therefore, in order to place the resurrection under ridicule and to create difficulty for Jesus, they submit a paradoxical and absurd case: that of a woman who'd had seven husbands, all brothers, who died one after the other. Thus came the malicious question posed to Jesus: in the resurrection, whose wife will the woman be (v. 33)?
Jesus does not fall into the snare and emphasizes the truth of the resurrection, explaining that life after death will be different from that on earth. He makes his interlocutors understand that it is not possible to apply the categories of this world to the realities that transcend and surpass what we see in this life. He says, in fact: "The sons of this age marry and are given in marriage; but those who are accounted worthy to attain to that age and to the resurrection from the dead neither marry nor are given in marriage" (vv. 34-35). With these words, Jesus means to explain that in this world we live a provisional reality, which ends; conversely, in the afterlife, after the resurrection, we will no longer have death as the horizon and will experience all things, even human bonds, in the dimension of God, in a transfigured way. Even marriage, a sign and instrument of God in this world, will shine brightly, transformed in the full light of the glorious communion of saints in Paradise.
The "sons of heaven and of the resurrection" are not a few privileged ones, but are all men and all women, because the salvation that Jesus brings is for each one of us. And the life of the risen shall be equal to that of angels (cf. v. 36), meaning wholly immersed in the light of God, completely devoted to his praise, in an eternity filled with joy and peace. But pay heed! Resurrection is not only the fact of rising after death, but is a new genre of life which we already experience now; it is the victory over nothing that we can already anticipate. Resurrection is the foundation of the faith and of Christian hope. Were there no reference to Paradise and to eternal life, Christianity would be reduced to ethics, to a philosophy of life. Instead, the message of Christian faith comes from heaven, it is revealed by God and goes beyond this world. Belief in resurrection is essential in order that our every act of Christian love not be ephemeral and an end in itself, but may become a seed destined to blossom in the garden of God, and to produce the fruit of eternal life.
May the Virgin Mary, Queen of Heaven and Earth, confirm us in the hope of resurrection and help us to make fruitful in good works her Son's word sown in our hearts.
Source: https://www.vatican.va/content/francesco/en/angelus/2016/documents/papa-francesco_angelus_20161106.html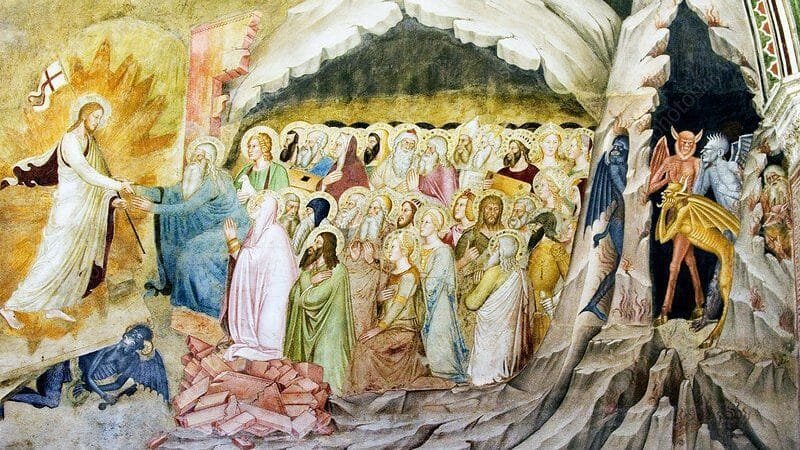 ANGELUS
Saint Peter's Square
32nd Sunday in Ordinary Time C, 10 November 2013
Dear Brothers and Sisters, Good morning!
This Sunday's Gospel sets before us Jesus grappling with the Sadducees, who deny that there is a resurrection. They pose a question to Jesus on this very matter, in order to trip him up and ridicule faith in the resurrection of the dead. They begin with an imaginary case: "A woman had seven husbands, who died one after the other," and they ask Jesus: "Whose wife will the woman be after her death?". Jesus, ever meek and patient, first replies that life after death does not have the same parameters as earthly life. Eternal life is another life, in another dimension where, among other things, there will be no marriage, which is tied to our existence in this world. Those who rise — Jesus says — will be like the angels and they will live in a different state, which now we can neither experience nor imagine. This is the way Jesus explains it.
But then Jesus, as it were, moves to the counterattack. And he does so by citing the Sacred Scripture with a simplicity and originality which leaves us full of admiration for our Teacher, the only Teacher! Jesus finds proof for the resurrection in the account of Moses and the burning bush (cf. Ex 3:1-6), where God reveals himself as the God of Abraham, and of Isaac and of Jacob. The name of God is bound to the names of men and women to whom he binds himself, and this bond is stronger than death. And we can also say this about God's relationship with us, with each one of us: He is our God! He is the God of each one of us! As though he bore each of our names. It pleases him to say it, and this is the covenant. This is why Jesus states: "God is not the god of the dead, but of the living; for all live to him" (Lk 20:38). And this is the decisive bond, the fundamental covenant, the covenant with Jesus: He himself is the Covenant, he himself is the Life and the Resurrection, for by his crucified love he has triumphed over death. In Jesus, God gives us eternal life, he gives it to everyone, and thanks to him everyone has the hope of a life even truer than this one. The life that God prepares for us is not a mere embellishment of the present one: it surpasses our imagination, for God continually amazes us with his love and with his mercy.
Therefore, what will happen is quite the opposite of what the Sadducees expected. It is not this life that will serve as a reference point for eternity, for the other life that awaits us; rather, it is eternity — that life — which illumines and gives hope to the earthly life of each one of us! If we look at things from only a human perspective, we tend to say that man's journey moves from life to death. This is what we see! But this is only so if we look at things from a human perspective. Jesus turns this perspective upside down and states that our pilgrimage goes from death to life: the fullness of life! We are on a journey, on a pilgrimage toward the fullness of life, and that fullness of life is what illumines our journey! Therefore death stands behind us, not before us. Before us is the God of the living, the God of the covenant, the God who bears my name, our names stand before us, as he said: "I am the God of Abraham, of Isaac, of Jacob", and also the God with my name, with your name…, with our names. The God of the living! … Before us stands the final defeat of sin and death, the beginning of a new time of joy and of endless light. But already on this earth, in prayer, in the Sacraments, in fraternity, we encounter Jesus and his love, and thus we may already taste something of the risen life. The experience we have of his love and his faithfulness ignites in our hearts like a fire and increases our faith in the resurrection. In fact, if God is faithful and loves, he cannot be thus for only a limited time: faithfulness is eternal, it cannot change. God's love is eternal, it cannot change! It is not only for a time: it is forever! It is for going forward! He is faithful forever and he is waiting for us, each one of us, he accompanies each one of us with his eternal faithfulness.
Source: https://www.vatican.va/content/francesco/en/angelus/2013/documents/papa-francesco_angelus_20131110.html
See as well:
Stay updated: subscribe by email for free TO OUR NEW WEBSITE www.catholicsstrivingforholiness.org (PUT YOUR EMAIL IN THE SUBSCRIBE WIDGET).
We are also in www.fb.com/Catholicsstrivingforholiness. Kindly help more people in their Christian life by liking our page and inviting your family, friends and relatives to do so as well. Thanks in advance and God bless you and your loved ones! Fr. Rolly Arjonillo