Homily reflection 2nd Sunday of Lent C : THE TRANSFIGURATION. FOLLOW CHRIST NOT ONLY TO TABOR BUT ALSO TO CALVARY.
Homily reflection 2nd Sunday of Lent C
THE TRANSFIGURATION.
FOLLOW CHRIST NOT ONLY TO TABOR BUT ALSO TO CALVARY.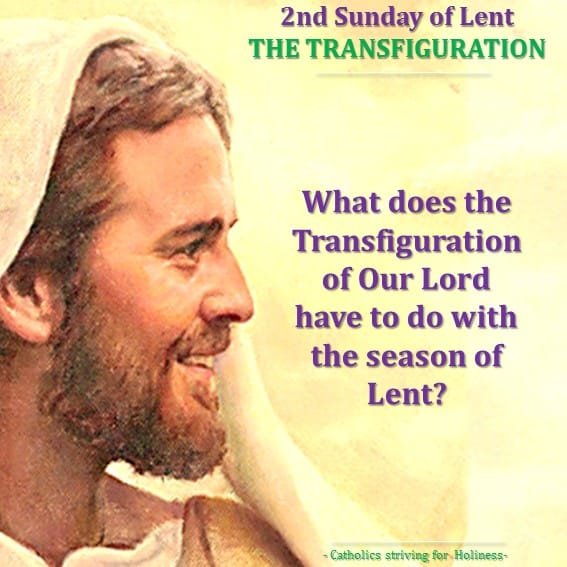 The Gospel of the 2nd Sunday of Lent speaks to us about the TRANSFIGURATION OF OUR LORD on Mt. Tabor in the presence of Peter, James and John six days after Jesus foretold them of His Passion, Death and Resurrection. Before them, Jesus was transfigured and "his garments became glistening, intensely white, as no fuller on earth could bleach them…And a cloud overshadowed them, and a voice came out of the cloud, "THIS IS MY SON, MY CHOSEN; LISTEN TO HIM!" (Lk 9, 35)." Upon briefly seeing the splendor of glory of the transfigured Christ, Peter exclaimed with awe and joy, wanting to prolong the experience: "Master, it is well that we are here; let us make three booths, one for you and one for Moses and one for Elijah (Lk 9:33)."
1. We are in the 2nd week of Lent and perhaps one may wonder: WHY THE TRANSFIGURATION OF OUR LORD IN THIS SEASON OF LENT? WHY DID OUR LORD GIVE A GLIMPSE HIS DIVINE GLORY TO HIS THREE APOSTLES AND WHAT IS ITS RELATIONSHIP WITH THE LENTEN SEASON?
We have mentioned above that the Transfiguration occurred SIX DAYS AFTER JESUS' FIRST PROPHETIC FORETELLING OF HIS PASSION, DEATH AND RESURRECTION in Lk 9:21-22 where Jesus told the Apostles that He "must suffer many things, and be rejected by the elders and the chief priests and the scribes, and be killed, and after three days rise again (Lk 8: 21) and that "If any man would come after me, let him deny himself and take up his cross and follow me (Lk 9:23)."
2. In this context and realizing that his death would demoralize and scandalize the Apostles, Jesus gave his 3 disciples a dazzling glimpse of his divine glory in heaven in order to ENCOURAGE, CONSOLE AND STRENGTHEN NOT ONLY THE 3 DISCIPLES ─who were to be pillars of His Church─ BUT ALL CHRISTIANS, OF WHAT LIES AHEAD IF ONE IS TO FOLLOW CHRIST FAITHFULLY.
St Bede, this Gospel passage, says that Our Lord, "in a loving concession allowed Peter, James and John to enjoy for a very short time the contemplation of the happiness that lasts forever, so as to enable them to bear adversity with greater fortitude (St Bede, Commentary on St Mark, 8; 30:1,3)."
SIX DAYS HAVE PASSED when Jesus foretold the Apostles of His Passion, Death and Resurrection…six days of anxiety, of doubt, of sadness….With his Transfiguration, He wanted to CONSOLE the Apostles by showing them His divine glory and also FORTIFY AND CONFIRM them in their faith in Him, being the Beloved Son of the Father whom they must listen to. CHRIST MANIFESTED HIS GLORY IN THE TRANSFIGURATION TO MOVE US TO DESIRE THE DIVINE GLORY WHICH WILL BE GIVEN US SO THAT, HAVING THIS HOPE, WE TOO CAN UNDERSTAND "THAT THE SUFFERINGS OF THIS PRESENT TIME ARE NOT WORTH COMPARING WITH THE GLORY THAT IS TO BE REVEALED TO US" (Rm 8:18).
3. CHRISTIAN LIFE is all about having a PERSONAL LOVING ENCOUNTER WITH JESUS CHRIST, following his footsteps, identifying ourselves with him, our life with his life. It is A CONTINUOUS CALL TO CONVERSION AND PENANCE OUT OF LOVE FOR GOD, A CALL TO FOLLOW HIM CLOSELY AND UNCONDITIONALLY (see 1st reading on Abraham's sacrifice) TILL THE END: THIS IS WHAT THE LENTEN JOURNEY IS ALL ABOUT.
For this reason, while following our Lord, WE SHOULD NEVER BE SURPRISED IF ALONG THE WAY WE ENCOUNTER DIFFICULTIES, TRIBULATIONS AND SUFFERINGS. CHRISTIANITY WITHOUT THE CROSS IS NOT CHRISTIANITY AT ALL BUT AN ENTIRELY DIFFERENT THING. "When we journey without the Cross, when we build without the Cross, when we profess Christ without the Cross, we are not disciples of the Lord, we are worldly (Pope Francis, Homily, March 13, 2013)."
4. WE CANNOT REMOVE THE CROSS NEITHER FROM CHRIST'S LIFE NOR FROM OURS IF WE WANT TO BE FAITHFUL CHRISTIANS. Let us then LOSE OUR FEAR OF THE CROSS AND ALL THAT IT SIGNIFIES: sickness, tiredness, calumny, persecution, daily contradictions, self-denial, moral suffering, pain, exterior and interior obstacles we experience in living a life coherent to our Christian faith…
WE MUST LEARN HOW TO TAKE UP OUR DAILY CROSS, ACCEPTING SUFFERING AND TRIBULATIONS FOR LOVE, BECAUSE THIS IS WHAT CHRIST'S LIFE WAS ALL ABOUT.
And while doing so, He wants us TO FIX OUR GAZE ON THE HAPPY GOAL FOSTERING THE HOPE OF WHAT AWAITS US IN HEAVEN. IN THE MIDST OF THE GREATEST SUFFERINGS HE GIVES US THE CONSOLATION WE NEED TO KEEP GOING FORWARD knowing that "If God is for us, who can be against us? He who did not spare his own Son but handed him over for us all, how will he not also give us everything else along with him? (Rm 8: 31b)."
This is why Our Mother Church saw it convenient to use the Gospel of the Transfiguration of Our Lord in the Mass of the 2nd Sunday of Lent.
5. Our Lord's life on earth did not end with his Death but rather in his Resurrection and Ascension into heaven, and so shall be the life of a Christian who faithfully follows Christ till the end.
To this regard, HIS TRANSFIGURATION WAS IN SOME WAY AN ANTICIPATION NOT ONLY OF HIS GLORIFICATION IN THE RESURRECTION BUT ALSO OF OURS.
As St Paul says, "it is the same Spirit himself bearing witness with our spirit that we are children of God, and if children, then heirs, heirs of God and fellow heirs with Christ, PROVIDED WE SUFFER WITH HIM IN ORDER THAT WE MAY ALSO BE GLORIFIED WITH HIM (Rom 8:16-17)."
Dear friends, in this 2nd Sunday of Lent, Our Mother Church wants to remind us THAT AFTER THE CROSS COMES THE GLORY OF THE RESURRECTION. Let us faithfully tread on the same footsteps of Christ in an unconditional manner, following him not only towards Mt. Tabor ─when circumstances are favorable─ but also suffer with Him in Calvary ─ when the going gets tough─ so as to be glorified with Him in His Resurrection as well.
As Christians, we MUST LEARN HOW TO SUFFER FOR LOVE LIKE CHRIST DID, to embrace the crosses He sends us along our way, to bear the adversities and hardships we encounter in our life as committed Christians, filled with serene joy and hope and having our gaze fixed towards heaven. Let us then embark on this Lenten journey by being more generous in our spirit of penance and sacrifice, done out of love for God, convinced of the glory which Our Lord promised to those who persevere till the end.
SEE AS WELL: POPE BENEDICT ON THE POPE BENEDICT XVI ON THE 2ND SUNDAY OF LENT YEAR C HERE.
FOR THE
2ND SUNDAY OF LENT YEAR C MASS PRAYERS AND READINGS, CLICK HERE.
---
PHOTO SOURCE: Del Parson, "Perfect Love" detail in https://deseretbook.com/p/perfect-love-del-parson-71669?variant_id=27585-print
VIDEO COMMENTARY
TOPIC: ARE YOUR MOUNTAIN TOP EXPERIENCES GREATER THAN THE STORMS IN YOUR LIFE?
In today's gospel reading, three fishermen – Peter, James and John – were brought by Jesus up a mountain and were shown a new, different and astonishing side of Jesus. Previously, His apostles experienced a dark storm at sea with Jesus. But at this instant, they beheld Jesus in this dazzling light that enveloped Him. In our reflection today, God asks us to look at and behold the sight that awaits us in the end.
---
Stay updated: subscribe by email for free TO OUR NEW WEBSITE www.catholicsstrivingforholiness.org (PUT YOUR EMAIL IN THE SUBSCRIBE WIDGET).
We are also in www.fb.com/Catholicsstrivingforholiness. Kindly help more people in their Christian life by liking our page and inviting your family, friends and relatives to do so as well. Thanks in advance and God bless you and your loved ones! Fr. Rolly Arjonillo