2nd Sunday of Easter reading: THE NEW CREATION IN CHRIST (St. Augustine).
2nd Sunday of Easter reading:
THE NEW CREATION IN CHRIST (St. Augustine).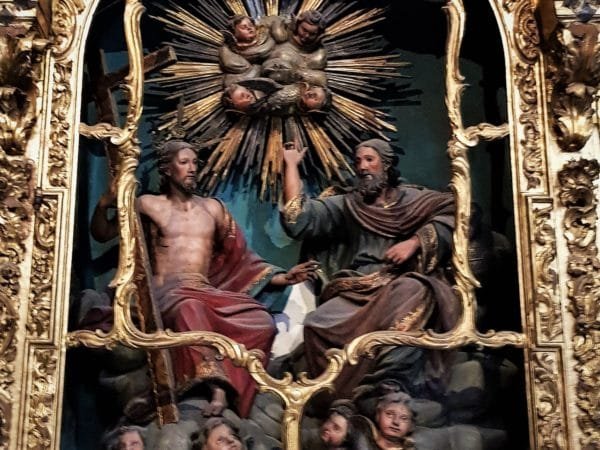 The New Life in Christ (Colossians 3:1-17)
3 So if you have been raised with Christ, seek the things that are above, where Christ is, seated at the right hand of God. 2 Set your minds on things that are above, not on things that are on earth, 3 for you have died, and your life is hidden with Christ in God. 4 When Christ who is your[a] life is revealed, then you also will be revealed with him in glory.
5 Put to death, therefore, whatever in you is earthly: fornication, impurity, passion, evil desire, and greed (which is idolatry). 6 On account of these the wrath of God is coming on those who are disobedient.[b]7 These are the ways you also once followed, when you were living that life.[c] 8 But now you must get rid of all such things—anger, wrath, malice, slander, and abusive[d] language from your mouth. 9 Do not lie to one another, seeing that you have stripped off the old self with its practices 10 and have clothed yourselves with the new self, which is being renewed in knowledge according to the image of its creator. 11 In that renewal[e] there is no longer Greek and Jew, circumcised and uncircumcised, barbarian, Scythian, slave and free; but Christ is all and in all!
12 As God's chosen ones, holy and beloved, clothe yourselves with compassion, kindness, humility, meekness, and patience. 13 Bear with one another and, if anyone has a complaint against another, forgive each other; just as the Lord[f] has forgiven you, so you also must forgive. 14 Above all, clothe yourselves with love, which binds everything together in perfect harmony. 15 And let the peace of Christ rule in your hearts, to which indeed you were called in the one body. And be thankful. 16 Let the word of Christ[g] dwell in you richly; teach and admonish one another in all wisdom; and with gratitude in your hearts sing psalms, hymns, and spiritual songs to God.[h] 17 And whatever you do, in word or deed, do everything in the name of the Lord Jesus, giving thanks to God the Father through him.
THE NEW CREATION IN CHRIST (St. Augustine).
I speak to you who have just been reborn in baptism, my little children in Christ, you who are the new offspring of the Church, gift of the Father, proof of Mother Church's fruitfulness. All of you who stand fast in the Lord are a holy seed, a new colony of bees, the very flower of our ministry and fruit of our toil, my joy and my crown. It is the words of the Apostle that I address to you: Put on the Lord Jesus Christ, and make no provision for the flesh and its desires, so that you may be clothed with the life of him whom you have put on in this sacrament. You have all been clothed with Christ by your baptism in him. There is neither Jew nor Greek; there is neither slave nor freeman; there is neither male nor female; you are all one in Christ Jesus.
Such is the power of this sacrament: it is a sacrament of new life which begins here and now with the forgiveness of all past sins, and will be brought to completion in the resurrection of the dead. You have been buried with Christ by baptism into death in order that, as Christ has risen from the dead, you also may walk in newness of life.
You are walking now by faith, still on pilgrimage in a mortal body away from the Lord; but he to whom your steps are directed is himself the sure and certain way for you: Jesus Christ, who for our sake became man. For all who fear him he has stored up abundant happiness, which he will reveal to those who hope in him, bringing it to completion when we have attained the reality which even now we possess in hope.
This is the octave day of your new birth. Today is fulfilled in you the sign of faith that was prefigured in the Old Testament by the circumcision of the flesh on the eighth day after birth. When the Lord rose from the dead, he put off the mortality of the flesh; his risen body was still the same body, but it was no longer subject to death. By his resurrection he consecrated Sunday, or the Lord's day. Though the third after his passion, this day is the eighth after the Sabbath, and thus also the first day of the week.
And so your own hope of resurrection, though not yet realised, is sure and certain, because you have received the sacrament or sign of this reality, and have been given the pledge of the Spirit. If, then, you have risen with Christ, seek the things that are above, where Christ is seated at the right hand of God. Set your hearts on heavenly things, not the things that are on earth. For you have died and your life is hidden with Christ in God. When Christ, your life, appears, then you too will appear with him in glory.
Let us pray. God of ever-living mercy, who, in the very recurrence .of the paschal feast, kindle the faith of the people you have made your own, increase, we pray, the grace you have bestowed, that all may grasp and rightly understand in whose font they have been washed, by whose Spirit they have been reborn, through whose Blood they have been redeemed. Through our Lord.
SEE AS WELL: HOW CAN WE MAKE CHRIST'S RESURRECTION BECOME  OUR "LIFE"?: SEEK THE THINGS OF THE ABOVE in https://catholicsstrivingforholiness.org/how-can-we-make-christs-resurrection-become-our-life-seek-the-things-of-the-above/
Stay updated: subscribe by email for free TO OUR NEW WEBSITE www.catholicsstrivingforholiness.org (PUT YOUR EMAIL IN THE SUBSCRIBE WIDGET).
We are also in www.fb.com/Catholicsstrivingforholiness. Kindly help more people in their Christian life by liking our page and inviting your family, friends and relatives to do so as well. Thanks in advance and God bless you and your loved ones! Fr. Rolly Arjonillo