POPE FRANCIS ON THE 28TH SUNDAY IN ORDINARY TIME YEAR C
POPE FRANCIS ON THE 28TH SUNDAY IN ORDINARY TIME YEAR C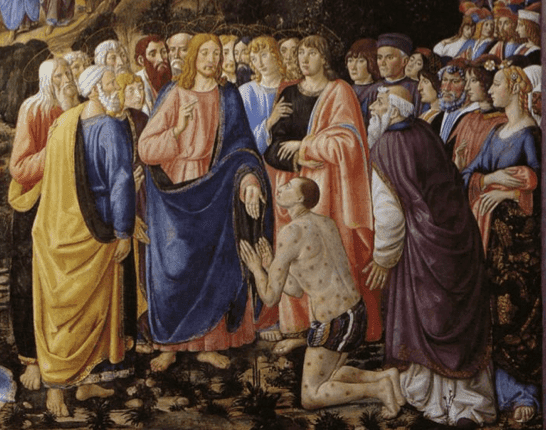 HOMILY OF HIS HOLINESS POPE FRANCIS
St Peter's Square
28th Sunday in Ordinary Time Year C, 9 October 2022
---
As Jesus was walking along, ten lepers met him and cried out: "Have mercy on us!" (Lk 17:13).  All ten were healed, yet only one of them returned to thank Jesus.  He was a Samaritan, a kind of heretic for the Jewish people. At the beginning, they were walking together, but then the Samaritan left the others and turned back, "praising God with a loud voice" (v. 15).  Let us stop and reflect on these two aspects of today's Gospel: walking together and giving thanks.
First, walking together.  At the beginning of the account, there is no difference between the Samaritan and the other nine.  We only hear that they are lepers, who together, as a group, approach Jesus.  Leprosy, as we know, was not only a physical affliction, one which even today we must make every effort to eliminate, but also a "social disease", since in those days, for fear of contagion, lepers had to remain apart from the community (cf. Lev 13:46).  Hence, they could not enter villages; they were kept at a distance, isolated and relegated to the margins of social and even religious life.  By walking together, these lepers indicted a society that excluded them.  We should also note that the Samaritan, although considered a heretic, "a foreigner", is part of their group.  Brothers and sisters, whenever disease and fragility are shared, barriers fall and exclusion is overcome.
This image is also meaningful for us: when we are honest with ourselves, we realize that we are all sick at heart, all sinners in need of the Father's mercy. Then we stop creating divisions on the basis of merit, social position or some other superficial criterion; our interior barriers and prejudices likewise fall. In the end, we realize once more that we are brothers and sisters. Even Naaman the Syrian, as the first reading reminded us, for all his wealth and power, could only be healed by doing something simple: wash in the river in which everyone else was bathing. First of all, he had to remove his armour and his robes (cf. 2 Kings 5). We would do well to set aside our own outer armour, our defensive barriers, and take a good bath of humility, mindful that all of us are vulnerable within and in need of healing. All of us are brothers and sisters. Let us remember this: the Christian faith always asks us to walk alongside others, never to be solitary wayfarers. Faith always urges us to move beyond ourselves and towards God and our brothers and sisters, never to remain enclosed within ourselves. Faith invites us to acknowledge constantly that we are in need of healing and forgiveness, and to share in the frailty of those who are near to us, without feeling ourselves superior.
Brothers and sisters, let us reflect and see if in our lives, in our families, in the places where we daily work and spend our time, we are capable of walking together with others, listening to them, resisting the temptation to lock ourselves up in self-absorption and to think only of our own needs. To walk together – to be "synodal" – is also the vocation of the Church. Let us ask ourselves if we are really communities truly open and inclusive of all; if we cooperate, as priests and laity, in the service of the Gospel; and if we show ourselves welcoming, not only in words but with concrete gestures, to those both near and far, and all those buffeted by the ups and downs of life. Do we make them feel a part of the community? Or do we exclude them? I am troubled when I see Christian communities that divide the world into the good and the bad, saints and sinners: this makes them feel superior to others and exclude so many people that God wants to embrace. Please, always be inclusive: in the Church and in society, which is still marred by many forms of inequality and marginalization. Always be inclusive. Today, the day in which Bishop Scalabrini becomes a saint, I think of emigrants. The exclusion of emigrants is scandalous. Actually, the exclusion of emigrants is criminal. They are dying right in front of us, as the Mediterranean is the largest cemetery in the world. The exclusion of emigrants is revolting, sinful and criminal. Not opening doors to those in need – "No, we do not exclude them, we send them away" to camps, where they are exploited and sold like slaves. Brothers and sisters, today let us call to mind these emigrants, especially those who are dying. And those who are able to enter, do we welcome them as brothers and sisters or do we exploit them? I simply pose the question.
The second thing is giving thanks.  In the group of the ten lepers, there was only one who, realizing that he was cured, turned back to praise God and to show gratitude to Jesus.  The other nine were healed, but then went their own way, forgetting the one who had healed them. They forgot the graces given to them by God.  The Samaritan, on the other hand, makes the gift he received the first step of a new journey: he returns to the one who healed him; he goes back to Jesus in order to know him better; he enters into a relationship with the Lord.  His grateful attitude, then, is no mere act of courtesy, but the start of a journey of thanksgiving: he falls at Jesus' feet (cf. Lk 17:16) and worships him.  He recognizes that Jesus is the Lord, that Jesus is more important than the healing he received.
This is a great lesson also for us, brothers and sisters, who daily benefit from the gifts of God, yet so often go our own way, failing to cultivate a living and real relationship with him.  This is a nasty spiritual disease: we take everything for granted, including faith, including our relationship with God, to the point where we become Christians no longer able to be amazed or to give thanks, lacking in gratitude and incapable of seeing the wonders of the Lord.  A woman I know used to say, "They are rose-water Christians".  We end up thinking that all the gifts we receive each day are natural and due to us.  Gratitude, the ability to give thanks, makes us appreciate instead the presence in our lives of the God who is love.  And to recognize the importance of others, overcoming the dissatisfaction and indifference that disfigure our hearts.  It is essential to know how to say "thank you".  To thank the Lord each day and to thank one another.  In our families, for the little gifts we receive daily and so often do not even think about.  In the places we spend our days, for the many services which we enjoy and for all those people who support us.  In our Christian communities, for the love of God that we experience in the closeness of our brothers and sisters who, often silently, pray, sacrifice, suffer and journey with us.  So please, let us not forget to say these key words: thank you!
The two saints canonized today remind us of the importance of walking together and being able to give thanks.  Bishop Scalabrini, who founded two Congregations – one male and one female – for the care of emigrants, used to say that in the shared journeying of emigrants we should see not only problems, but also a providential plan.  In his words: "Precisely because of the migrations imposed by persecutions, the Church pressed beyond the confines of Jerusalem and of Israel, and became 'catholic'; thanks to the migrations of our own days, the Church will be an instrument of peace and of communion among peoples" (L'emigrazione degli operai italiani, Ferrara, 1899).  The emigration currently taking place in Europe is causing great suffering and forcing us to open our hearts – that is the emigration of Ukrainians who are fleeing from war.  Let us not forget the beleaguered Ukrainian emigrants.  With great vision, Scalabrini looked forward to a world and a Church without barriers, where no one was a foreigner.  For his part, the Salesian Brother Artemide Zatti – with his bicycle – was a living example of gratitude.  Cured of tuberculosis, he devoted his entire life to serving others, caring for the infirm with tender love.  He was said to have carried on his shoulders the dead body of one of his patients.  Filled with gratitude for all that he had received, he wanted to say his own "thank you" by taking upon himself the wounds of others.
Let us pray that these Saints, our brothers, may help us to walk together, without walls of division; and to cultivate that nobility of soul, so pleasing to God, which is gratitude.
Source: https://www.vatican.va/content/francesco/en/homilies/2022/documents/20221009-omelia-canonizzazione.html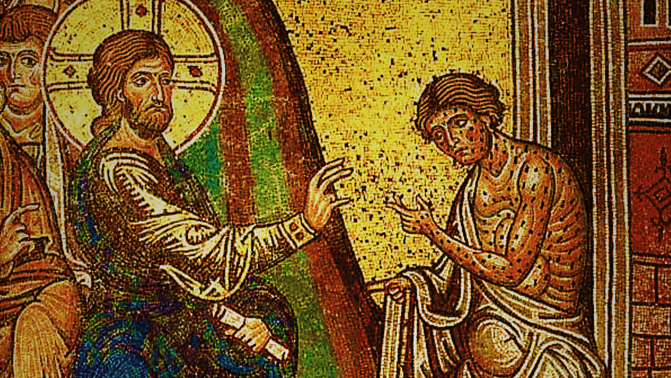 HOMILY OF HIS HOLINESS POPE FRANCIS
St Peter's Square
28th Sunday in Ordinary Time Year C
13 October 2019
---
"Your faith has saved you" (Lk 17:19). This is the climax of today's Gospel, which reflects the journey of faith. There are three steps in this journey of faith. We see them in the actions of the lepers whom Jesus heals. They cry out, they walk and they give thanks.
First, they cry out. The lepers were in a dreadful situation, not only because of a disease that, widespread even today, needs to be battled with unremitting effort, but also because of their exclusion from society. At the time of Jesus, lepers were considered unclean and, as such, had to be isolated and kept apart (cf. Lev 13:46). We see that when they approach Jesus, they "kept their distance" (Lk 17:12). Even though their condition kept them apart, the Gospel tells us that they "called out" (v. 13) and pleaded with Jesus. They did not let themselves be paralyzed because they were shunned by society; they cried out to God, who excludes no one. We see how distances are shortened, how loneliness is overcome: by not closing in on ourselves and our own problems, by not thinking about how others judge us, but rather by crying out to the Lord, for the Lord hears the cry of those who find themselves alone.
Like those lepers, we too need healing, each one of us. We need to be healed of our lack of confidence in ourselves, in life, in the future; we need to be healed of our fears and the vices that enslave us, of our introversion, our addictions and our attachment to games, money, television, mobile phones, to what other people think. The Lord sets our hearts free and heals them if only we ask him, only if we say to him: "Lord, I believe you can heal me. Dear Jesus, heal me from being caught up in myself. Free me from evil and fear". The lepers are the first people, in this Gospel, who called on the name of Jesus. Later, a blind man and a crucified thief would do so: all of them needy people calling on the name of Jesus, which means: "God saves". They call God by name, directly and spontaneously. To call someone by name is a sign of confidence, and it pleases the Lord. That is how faith grows, through confident, trusting prayer. Prayer in which we bring to Jesus who we really are, with open hearts, without attempting to mask our sufferings. Each day, let us invoke with confidence the name of Jesus: "God saves". Let us repeat it: that is prayer, to say "Jesus" is to pray. And prayer is essential! Indeed, prayer is the door of faith; prayer is medicine for the heart.
The second word is to walk. It is the second stage. In today's brief Gospel, there are several verbs of motion. It is quite striking that the lepers are not healed as they stand before Jesus; it is only afterwards, as they were walking. The Gospel tells us that: "As they went, they were made clean" (v. 14). They were healed by going up to Jerusalem, that is, while walking uphill. On the journey of life, purification takes place along the way, a way that is often uphill since it leads to the heights. Faith calls for journey, a "going out" from ourselves, and it can work wonders if we abandon our comforting certainties, if we leave our safe harbours and our cosy nests. Faith increases by giving, and grows by taking risks. Faith advances when we make our way equipped with trust in God. Faith advances with humble and practical steps, like the steps of the lepers or those of Naaman who went down to bathe in the river Jordan (cf. 2 Kings 5:14-17). The same is true for us. We advance in faith by showing humble and practical love, exercising patience each day, and praying constantly to Jesus as we keep pressing forward on our way.
There is a further interesting aspect to the journey of the lepers: they move together. The Gospel tells us that, "as they went, they were made clean" (v. 14). The verbs are in the plural. Faith means also walking together, never alone. Once healed, however, nine of them go off on their own way, and only one turns back to offer thanks. Jesus then expresses his astonishment: "The others, where are they?" (v. 17). It is as if he asks the only one who returned to account for the other nine. It is the task of us, who celebrate the Eucharist as an act of thanksgiving, to take care of those who have stopped walking, those who have lost their way. We are called to be guardians of our distant brothers and sisters, all of us! We are to intercede for them; we are responsible for them, to account for them, to keep them close to heart. Do you want to grow in faith? You, who are here today, do you want to grow in faith? Then take care of a distant brother, a faraway sister.
To cry out. To walk. And to give thanks. This is the final step. Only to the one who thanked him did Jesus say: "Your faith has saved you" (v. 19). It made you both safe, and sound. We see from this that the ultimate goal is not health or wellness, but the encounter with Jesus. Salvation is not drinking a glass of water to keep fit; it is going to the source, which is Jesus. He alone frees us from evil and heals our hearts. Only an encounter with him can save, can make life full and beautiful. Whenever we meet Jesus, the word "thanks" comes immediately to our lips, because we have discovered the most important thing in life, which is not to receive a grace or resolve a problem, but to embrace the Lord of life. And this is the most important thing in life: to embrace the Lord of life.
It is impressive to see how the man who was healed, a Samaritan, expresses his joy with his entire being: he praises God in a loud voice, he prostrates himself, and he gives thanks (cf. vv. 15-16). The culmination of the journey of faith is to live a life of continual thanksgiving. Let us ask ourselves: do we, as people of faith, live each day as a burden, or as an act of praise? Are we closed in on ourselves, waiting to ask another blessing, or do we find our joy in giving thanks? When we express our gratitude, the Father's heart is moved and he pours out the Holy Spirit upon us. To give thanks is not a question of good manners or etiquette; it is a question of faith. A grateful heart is one that remains young. To say "Thank you, Lord" when we wake up, throughout the day and before going to bed: that is the best way to keep our hearts young, because hearts can grow old and be spoilt. This also holds true for families, and between spouses. Remember to say thank you. Those words are the simplest and most effective of all.
To cry out. To walk. To give thanks. Today we give thanks to the Lord for our new Saints. They walked by faith and now we invoke their intercession. Three of them were religious women; they show us that the consecrated life is a journey of love at the existential peripheries of the world. Saint Marguerite Bays, on the other hand, was a seamstress; she speaks to us of the power of simple prayer, enduring patience and silent self-giving. That is how the Lord made the splendour of Easter radiate in her life, in her humbleness. Such is the holiness of daily life, which Saint John Henry Newman described in these words: "The Christian has a deep, silent, hidden peace, which the world sees not… The Christian is cheerful, easy, kind, gentle, courteous, candid, unassuming; has no pretence… with so little that is unusual or striking in his bearing, that he may easily be taken at first sight for an ordinary man" (Parochial and Plain Sermons, V, 5).
Let us ask to be like that, "kindly lights" amid the encircling gloom. Jesus, "stay with me, and then I shall begin to shine as Thou shinest: so to shine as to be a light to others" (Meditations on Christian Doctrine, VII, 3). Amen.
Source: https://www.vatican.va/content/francesco/en/homilies/2019/documents/papa-francesco_20191013_omelia-canonizzazione.html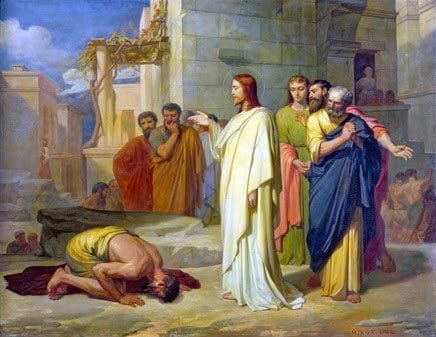 HOMILY OF HIS HOLINESS POPE FRANCIS
St Peter's Square
28th Sunday in Ordinary Time Year C,
9 October 2016
---
This Sunday's Gospel (cf. Lk 17:11-19) invites us to acknowledge God's gifts with wonder and gratitude. On the way to his death and resurrection, Jesus meets ten lepers, who approach him, keep their distance and tell their troubles to the one whom their faith perceived as a possible saviour: "Jesus, Master, have mercy on us!" (v. 13). They are sick and they are looking someone to heal them. Jesus responds by telling them to go and present themselves to the priests, who according to the Law were charged with certifying presumed healings. In this way, Jesus does not simply make them a promise; he tests their faith. At that moment, in fact, the ten were not yet healed. They were restored to health after they set out in obedience to Jesus' command. Then, rejoicing, they showed themselves to the priests and continued on their way. They forgot the Giver, the Father, who cured them through Jesus, his Son made man.
All but one: a Samaritan, a foreigner living on the fringes of the chosen people, practically a pagan! This man was not content with being healed by his faith, but brought that healing to completion by returning to express his gratitude for the gift received. He recognized in Jesus the true Priest, who raised him up and saved him, who can now set him on his way and accept him as one of his disciples.
To be able to offer thanks, to be able to praise the Lord for what he has done for us: this is important! So we can ask ourselves: Are we capable of saying "Thank you"? How many times do we say "Thank you" in our family, our community, and in the Church? How many times do we say "Thank you" to those who help us, to those close to us, to those who accompany us through life? Often we take everything for granted! This also happens with God. It is easy to approach the Lord to ask for something, but to return and give thanks… That is why Jesus so emphasizes the failure of the nine ungrateful lepers: "Were not ten made clean? But the other nine, where are they? Was no one found to return and give praise to God except this foreigner?" (Lk 17:17-18).
On this Jubilee day, we are given a model, indeed the model, to whom we can look: Mary, our Mother. After hearing the message of the Angel, she lifted up her heart in a song of praise and thanksgiving to God: "My soul magnifies the Lord…" Let us ask our Lady to help us recognize that everything is God's gift, and to be able to say "Thank you". Then, I assure you, our joy will be complete. Only those who know how to say "Thank you", will experience the fullness of joy.
It also takes humility to be able to give thanks. In the first reading we heard the singular story of Naaman, the commander of the army of the King of Aram (cf. 2 Kg 5:14-17). In order to be cured of his leprosy, he accepts the suggestion of a poor slave and entrusts himself to the prophet Elisha, whom he considered an enemy. Naaman was nonetheless ready to humble himself. Elisha asks nothing of him, but simply orders him to bathe in the waters of the River Jordan. This request leaves Naaman perplexed, even annoyed. Can a God who demands such banal things truly be God? He would like to turn back, but then he agrees to be immersed in the Jordan and immediately he is cured.
The heart of Mary, more than any other, is a humble heart, capable of accepting God's gifts. In order to become man, God chose precisely her, a simple young woman of Nazareth, who did not dwell in the palaces of power and wealth, who did not do extraordinary things. Let us ask ourselves – it will do us good – if we are prepared to accept God's gifts, or prefer instead to shut ourselves up within our forms of material security, intellectual security, the security of our plans.
Significantly, Naaman and the Samaritans were two foreigners. How many foreigners, including persons of other religions, give us an example of values that we sometimes forget or set aside! Those living beside us, who may be scorned and sidelined because they are foreigners, can instead teach us how to walk on the path that the Lord wishes. The Mother of God, together with Joseph her spouse, knew what it was to live far from home. She too was long a foreigner in Egypt, far from her relatives and friends. Yet her faith was able to overcome the difficulties. Let us cling to this simple faith of the Holy Mother of God; let us ask her that we may always come back to Jesus and express our thanks for the many benefits we have received from his mercy.
Source: https://www.vatican.va/content/francesco/en/homilies/2016/documents/papa-francesco_20161009_omelia-giubileo-mariano.html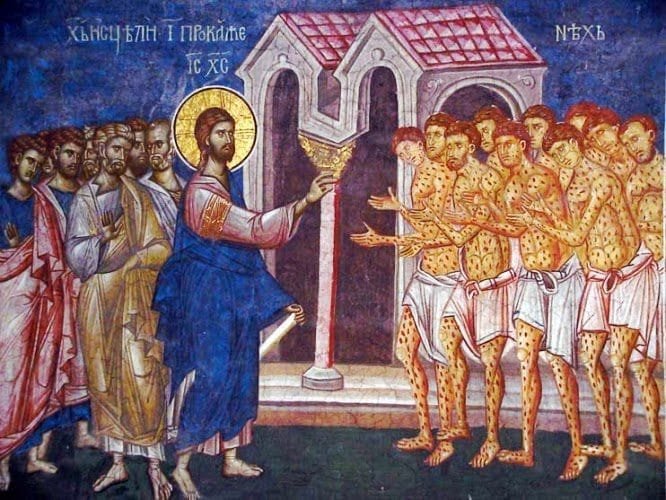 HOMILY OF HOLY FATHER FRANCIS
Saint Peter's Square
28th Sunday in Ordinary Time Year C, 13 October 2013
In the Psalm we said: "Sing to the Lord a new song, for he has done marvellous things" (Ps 98:1).
Today we consider one of the marvellous things which the Lord has done: Mary! A lowly and weak creature like ourselves, she was chosen to be the Mother of God, the Mother of her Creator.
Considering Mary in the light of the readings we have just heard, I would like to reflect with you on three things: first, God surprises us, second, God asks us to be faithful, and third, God is our strength.
1. First: God surprises us. The story of Naaman, the commander of the army of the king of Aram, is remarkable. In order to be healed of leprosy, he turns to the prophet of God, Elisha, who does not perform magic or demand anything unusual of him, but asks him simply to trust in God and to wash in the waters of the river. Not, however, in one of the great rivers of Damascus, but in the little stream of the Jordan. Naaman is left surprised, even taken aback. What kind of God is this who asks for something so simple? He wants to turn back, but then he goes ahead, he immerses himself in the Jordan and is immediately healed (cf. 2 Kg 5:1-4). There it is: God surprises us. It is precisely in poverty, in weakness and in humility that he reveals himself and grants us his love, which saves us, heals us and gives us strength. He asks us only to obey his word and to trust in him.
This was the experience of the Virgin Mary. At the message of the angel, she does not hide her surprise. It is the astonishment of realizing that God, to become man, had chosen her, a simple maid of Nazareth. Not someone who lived in a palace amid power and riches, or one who had done extraordinary things, but simply someone who was open to God and put her trust in him, even without understanding everything: "Here I am, the servant of the Lord; let it be with me according to your word" (Lk 1:38). That was her answer. God constantly surprises us, he bursts our categories, he wreaks havoc with our plans. And he tells us: Trust me, do not be afraid, let yourself be surprised, leave yourself behind and follow me!
Today let us all ask ourselves whether we are afraid of what God might ask, or of what he does ask. Do I let myself be surprised by God, as Mary was, or do I remain caught up in my own safety zone: in forms of material, intellectual or ideological security, taking refuge in my own projects and plans? Do I truly let God into my life? How do I answer him?
2. In the passage from Saint Paul which we have heard, the Apostle tells his disciple Timothy: Remember Jesus Christ; if we persevere with him, we will also reign with him (cf. 2 Tim 2:8-13). This is the second thing: to remember Christ always – to be mindful of Jesus Christ – and thus to persevere in faith. God surprises us with his love, but he demands that we be faithful in following him. We can be unfaithful, but he cannot: he is "the faithful one" and he demands of us that same fidelity. Think of all the times when we were excited about something or other, some initiative, some task, but afterwards, at the first sign of difficulty, we threw in the towel. Sadly, this also happens in the case of fundamental decisions, such as marriage. It is the difficulty of remaining steadfast, faithful to decisions we have made and to commitments we have made. Often it is easy enough to say "yes", but then we fail to repeat this "yes" each and every day. We fail to be faithful.
Mary said her "yes" to God: a "yes" which threw her simple life in Nazareth into turmoil, and not only once. Any number of times she had to utter a heartfelt "yes" at moments of joy and sorrow, culminating in the "yes" she spoke at the foot of the Cross. Here today there are many mothers present; think of the full extent of Mary's faithfulness to God: seeing her only Son hanging on the Cross. The faithful woman, still standing, utterly heartbroken, yet faithful and strong.
And I ask myself: Am I a Christian by fits and starts, or am I a Christian full-time? Our culture of the ephemeral, the relative, also takes it toll on the way we live our faith. God asks us to be faithful to him, daily, in our everyday life. He goes on to say that, even if we are sometimes unfaithful to him, he remains faithful. In his mercy, he never tires of stretching out his hand to lift us up, to encourage us to continue our journey, to come back and tell him of our weakness, so that he can grant us his strength. This is the real journey: to walk with the Lord always, even at moments of weakness, even in our sins. Never to prefer a makeshift path of our own. That kills us. Faith is ultimate fidelity, like that of Mary.
3. The last thing: God is our strength. I think of the ten lepers in the Gospel who were healed by Jesus. They approach him and, keeping their distance, they call out: "Jesus, Master, have mercy on us!" (Lk 17:13). They are sick, they need love and strength, and they are looking for someone to heal them. Jesus responds by freeing them from their disease. Strikingly, however, only one of them comes back, praising God and thanking him in a loud voice. Jesus notes this: ten asked to be healed and only one returned to praise God in a loud voice and to acknowledge that he is our strength. Knowing how to give thanks, to give praise for everything that the Lord has done for us.
Take Mary. After the Annunciation, her first act is one of charity towards her elderly kinswoman Elizabeth. Her first words are: "My soul magnifies the Lord", in other words, a song of praise and thanksgiving to God not only for what he did for her, but for what he had done throughout the history of salvation. Everything is his gift. If we can realize that everything is God's gift, how happy will our hearts be! Everything is his gift. He is our strength! Saying "thank you" is such an easy thing, and yet so hard! How often do we say "thank you" to one another in our families? These are essential words for our life in common. "Sorry", "excuse me", "thank you". If families can say these three things, they will be fine. "Sorry", "excuse me", "thank you". How often do we say "thank you" in our families? How often do we say "thank you" to those who help us, those close to us, those at our side throughout life? All too often we take everything for granted! This happens with God too. It is easy to approach the Lord to ask for something, but to go and thank him: "Well, I don't need to".
As we continue our celebration of the Eucharist, let us invoke Mary's intercession. May she help us to be open to God's surprises, to be faithful to him each and every day, and to praise and thank him, for he is our strength. Amen.
Source: https://www.vatican.va/content/francesco/en/homilies/2013/documents/papa-francesco_20131013_omelia-giornata-mariana.html
Stay updated: subscribe by email for free TO OUR NEW WEBSITE www.catholicsstrivingforholiness.org (PUT YOUR EMAIL IN THE SUBSCRIBE WIDGET).
We are also in www.fb.com/Catholicsstrivingforholiness. Kindly help more people in their Christian life by liking our page and inviting your family, friends and relatives to do so as well. Thanks in advance and God bless you and your loved ones! Fr. Rolly Arjonillo