24th Sunday in Ordinary Time B. Mass and readings.
24th Sunday in Ordinary Time B
Mass and readings.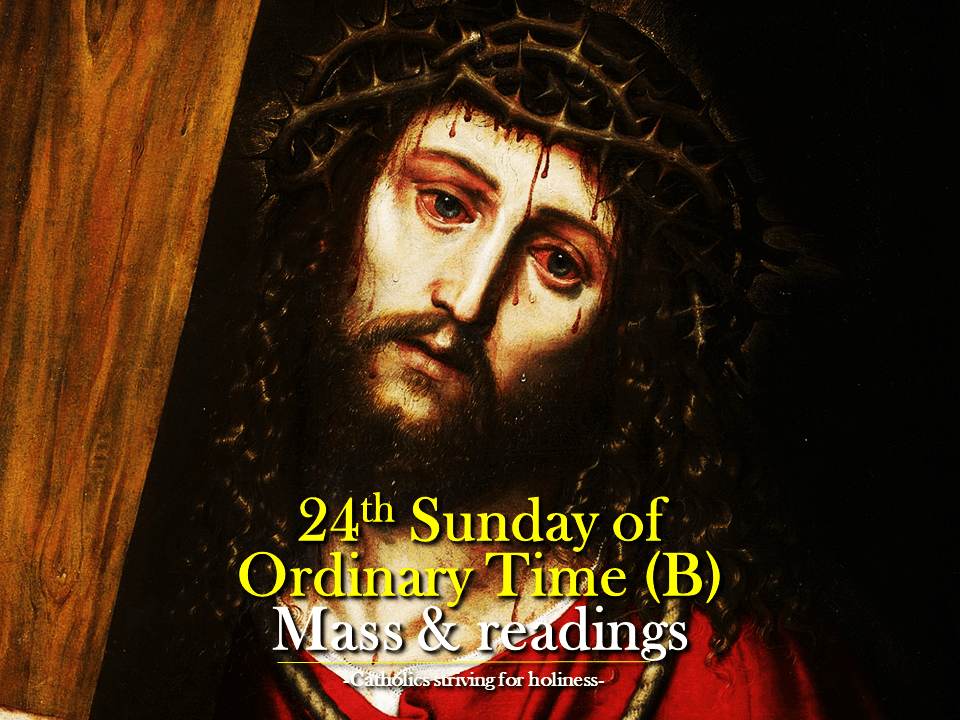 ENTRANCE ANTIPHON
Da pacem, Dómine, sustinéntibus te, ut prophétæ tui fidéles inveniántur; exáudi preces servi tui, et plebis tuæ Israel.
Give peace, O Lord, to those who wait for you, that your prophets be found true. Hear the prayers of your servant, and of your people Israel.
COLLECT
Look upon us, O God, Creator and ruler of all things, and that we may feel the working of your mercy, grant that we may serve you with all our heart. Through our Lord.
READINGS FOR 24TH SUNDAY IN ORDINARY TIME YEAR B
READING I
Isaiah 50:5–9a
The Lord God opens my ear that I may hear; and I have not rebelled, have not turned back. I gave my back to those who beat me, my cheeks to those who plucked my beard; my face I did not shield from buffets and spitting.
The Lord God is my help, therefore I am not disgraced; I have set my face like flint, knowing that I shall not be put to shame. He is near who upholds my right; if anyone wishes to oppose me, let us appear together. Who disputes my right? Let that man confront me. See, the Lord God is my help; who will prove me wrong?

RESPONSORIAL PSALM
R. I will walk before the Lord, in the land of the living.
Ambulábo coram Dómino in regióne vivórum.
I love the Lord because he has heard
my voice in supplication,
Because he has inclined his ear to me
the day I called.
R.
The cords of death encompassed me;
the snares of the netherworld seized upon me;
I fell into distress and sorrow,
And I called upon the name of the Lord,
"O Lord, save my life!"
R.
Gracious is the Lord and just;
yes, our God is merciful.
The Lord keeps the little ones;
I was brought low, and he saved me.
R.
For he has freed my soul from death,
my eyes from tears, my feet from stumbling.
I shall walk before the Lord
in the land of the living.
R.
READING II
James 2:14–18
What good is it, my brothers and sisters, if someone says he has faith but does not have works? Can that faith save him? If a brother or sister has nothing to wear and has no food for the day, and one of you says to them, "Go in peace, keep warm, and eat well, " but you do not give them the necessities of the body, what good is it? So also faith of itself, if it does not have works, is dead.
Indeed someone might say, "You have faith and I have works." Demonstrate your faith to me without works, and I will demonstrate my faith to you from my works.

ALLELUIA
Mihi absit gloriári nisi in cruce Dómini, per quem mihi mundus crucifíxus est, et ego mundo.
My only glory is the cross of our Lord Jesus Christ, which cricifies the world to me and me to the world.

GOSPEL
Mark 8:27–35
Jesus and his disciples set out for the villages of Caesarea Philippi. Along the way he asked his disciples, "Who do people say that I am?" They said in reply, "John the Baptist, others Elijah, still others one of the prophets." And he asked them, "But who do you say that I am?" Peter said to him in reply, "You are the Christ." Then he warned them not to tell anyone about him.
He began to teach them that the Son of Man must suffer greatly and be rejected by the elders, the chief priests, and the scribes, and be killed, and rise after three days. He spoke this openly. Then Peter took him aside and began to rebuke him. At this he turned around and, looking at his disciples, rebuked Peter and said, "Get behind me, Satan. You are thinking not as God does, but as human beings do."
He summoned the crowd with his disciples and said to them, "Whoever wishes to come after me must deny himself, take up his cross, and follow me. For whoever wishes to save his life will lose it, but whoever loses his life for my sake and that of the gospel will save it."
FOR SUNDAY REFLECTION YEAR B, CLICK HERE
PRAYER OVER THE OFFERINGS
Look with favor on our supplications, O Lord, and in your kindness accept these your servants' offerings, that what each has offered to the honor of your name may serve the salvation of all. Through Christ our Lord.
COMMUNION ANTIPHON
Quam pretiósa est misericórdia tua, Deus! Fílii hóminum sub umbra alárum tuárum confúgient.
How precious is your mercy, O God! The children of men seek shelter in the shadow of your wings.
Or:
Calix benedictiónis, cui benedícimus, communicátio Sánguinis Christi est; et panis, quem frángimus, participátio Córporis Dómini est.
The cup of blessing that we bless is a communion in the Blood of Christ; and the bread that we break is a sharing in the Body of the Lord.
PRAYER AFTER COMMUNION
May the working of this heavenly gift, O Lord, we pray, take possession of our minds and bodies, so that its effects and not our own desires, may always prevail in us. Through Christ our Lord.
Stay updated: subscribe by email for free TO OUR NEW WEBSITE www.catholicsstrivingforholiness.org (PUT YOUR EMAIL IN THE SUBSCRIBE WIDGET).
We are also in www.fb.com/Catholicsstrivingforholiness. Kindly help more people in their Christian life by liking our page and inviting your family, friends and relatives to do so as well. Thanks in advance and God bless you and your loved ones! Fr. Rolly Arjonillo