DAILY GOSPEL COMMENTARY: THE WIDOW OF NAIN'S SON RESTORED TO LIFE (Lk 7:11-17)
DAILY GOSPEL COMMENTARY:
THE WIDOW OF NAIN'S SON RESTORED TO LIFE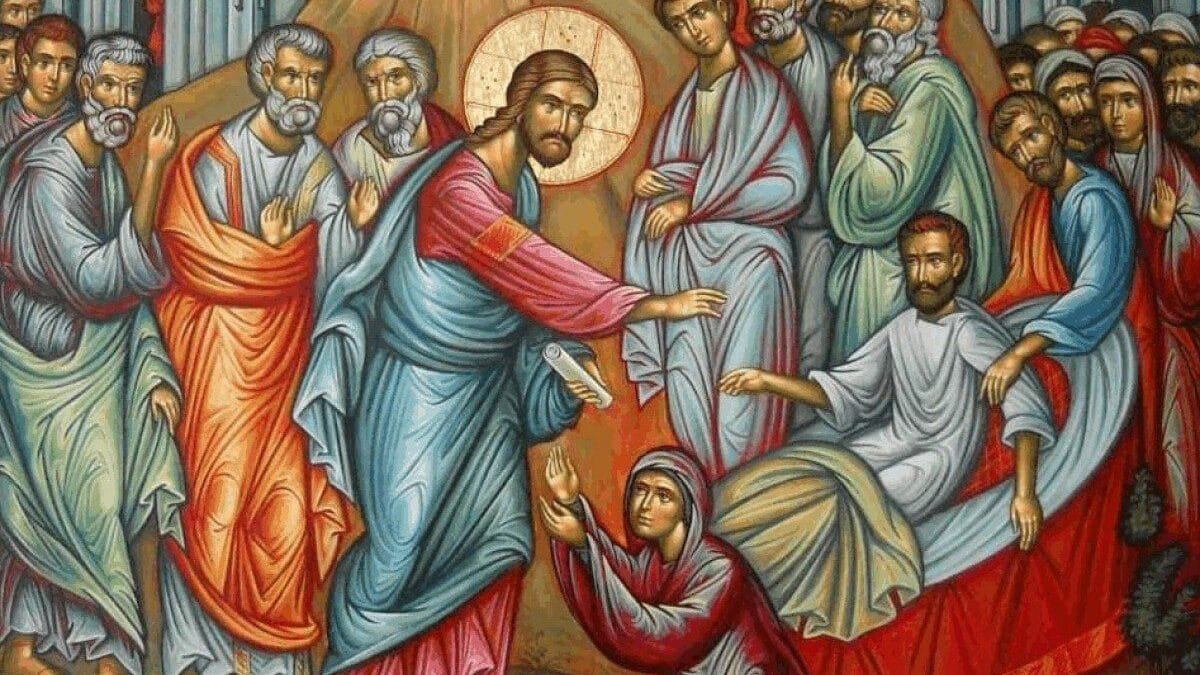 TUESDAY OF THE 24TH WEEK IN ORDINARY TIME GOSPEL
Lk 7:11–17
The son of the widow of Nain restored to life
Jesus journeyed to a city called Nain, and his disciples and a large crowd accompanied him. As he drew near to the gate of the city, a man who had died was being carried out, the only son of his mother, and she was a widow. A large crowd from the city was with her. When the Lord saw her, he was moved with pity for her and said to her, "Do not weep." He stepped forward and touched the coffin; at this the bearers halted, and he said, "Young man, I tell you, arise!" The dead man sat up and began to speak, and Jesus gave him to his mother. Fear seized them all, and they glorified God, exclaiming, "A great prophet has arisen in our midst," and "God has visited his people." This report about him spread through the whole of Judea and in all the surrounding region.
GOSPEL COMMENTARY FROM THE NAVARRE BIBLE, GOSPEL OF ST. LUKE (WITH PERMISSION)
11-17 "Jesus crosses paths again with a crowd of people. He could have passed by or waited until they called him. But he didn't. He took the initiative, because he was moved by a widow's sorrow. She had just lost all she had, her son.
"The evangelist explains that Jesus was moved. Perhaps he even showed signs of it, as when Lazarus died. Jesus Christ was not, and is not, insensitive to the suffering that stems from love. He is pained at seeing children separated from their parents. He overcomes death so as to give life, to reunite those who love one another. But at the same time, he requires that we first admit the pre-eminence of divine love, which alone can inspire genuine Christian living.
"Christ knows he is surrounded by a crowd which will be awed by the miracle and will tell the story all over the countryside. But he does not act artificially, merely to create an effect. Quite simply he is touched by that woman's suffering and cannot but console her. So he goes up to her and says, 'Do not weep'. It is like saying; 'I don't want to see you crying; I have come on earth to bring joy and peace.' And then comes the miracle, the sign of the power of Christ who is God. But first came his compassion, an evident sign of the tenderness of the heart of Christ the man" (St. Josemaria, Christ is passing by, 166).
15 This mother's joy on being given back her son reminds us of the joy of our Mother the Church when her sinful children return to the life of grace. "The widowed mother rejoiced at the raising of that young man," St Augustine comments: "Our Mother the Church rejoices every day when men are raised again in spirit. The young man had been dead physically; the latter, dead spiritually. The young man's death was mourned visibly; the death of the latter was invisible and unmourned. He seeks them out Who knew them to be dead; only he can bring them back to life" (Sermon 98, 2).
GOSPEL COMMENTARY FROM ST. AMBROSE
St. Ambrose explains:
"This passage is also rich in a double benefit; we believe that divine mercy is soon inclined to the tears of a widowed mother, especially when she is broken by the suffering and death of her only son… But, although the last symptoms of death have made all hope of life disappear and that the bodies of the deceased are close to the grave, however, at the word of God, the corpses, ready to perish, are resurrected, the son is given to the mother, is called from the tomb, and is removed from the grave. What is this tomb of yours, if not your evil habits? Your tomb is lack of faith; your sepulchre is this throat that utters words of death. This is the sepulchre from which Christ frees you; you will rise from that sepulchre if you listen to the word of God.
"Although there is a serious sin that cannot be washed away with the tears of your repentance, your mother Church cries for you and intervenes for each of her children like a widowed mother does for her only child; for she pities, for a special suffering which is connatural to her, when she sees her children dragging themselves to death through disastrous vices. We are the entrails of her entrails; for there are also spiritual entrails… We are the entrails of the Church, because we are members of her body, made of her flesh and bones. Let the pious mother weep, then, and let the crowd attend to her; let not only the crowd, but a numerous crowd pity the good mother. Then you will rise from the grave; the ministers of your funeral they will stop and you will begin to pronounce words of life; all will fear, because, by the example of one alone, many will be corrected; and even more, they will praise God who has granted us such remedies to avoid death "(Treatise on re the Gospel of Saint Luke, lib. V, 89-92).
VIDEO COMMENTARY
TOPIC: DO YOU MISS OPPORTUNITIES TO WITNESS FOR THE LORD?
Sorrow, pain, anger and suffering fill our world. We are placed in situations in our life that allow us to exhibit goodness, kindness and love. We may miss out on some but, hopefully, not all. There is hope in our witnessing.
Stay updated: subscribe by email for free TO OUR NEW WEBSITE www.catholicsstrivingforholiness.org (PUT YOUR EMAIL IN THE SUBSCRIBE WIDGET).
We are also in www.fb.com/Catholicsstrivingforholiness. Kindly help more people in their Christian life by liking our page and inviting your family, friends and relatives to do so as well. Thanks in advance and God bless you and your loved ones! Fr. Rolly Arjonillo