WHAT IS THE TRUE DEVOTION TO THE SACRED HEART OF JESUS?
SOLEMNITY OF THE SACRED HEART OF JESUS.
WHAT IS THE TRUE DEVOTION TO THE SACRED HEART OF JESUS?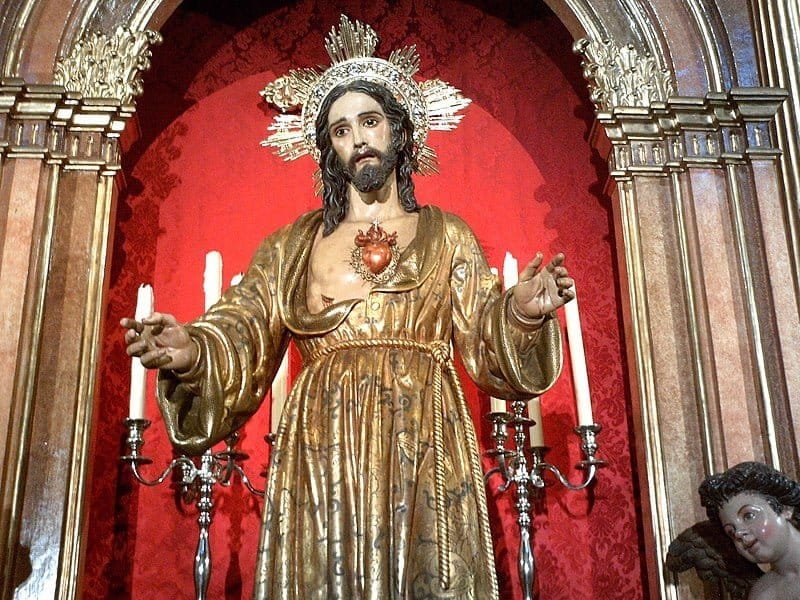 Today we consider the mystery of God 's love for man and it is surprising to note how God made use of human gestures to express this profound reality: "the love of God the Father who gives up his Son, and the Son's love which calmly leads him to Calvary. God does not approach us in power and authority. No, he 'takes the form of a servant, being born in the likeness of man." Jesus is never distant or aloof, although sometimes in his preaching he seems very sad, because he is hurt by the evil men do. However, if we watch him closely, we will note immediately that his anger comes from love. It is a further invitation for us to leave infidelity and sin behind.
'HAVE I ANY PLEASURE IN THE DEATH OF THE WICKED, SAYS THE LORD GOD, AND NOT RATHER THAT HE SHOULD TURN FROM HIS WAY AND LIVE?' THESE WORDS EXPLAIN CHRIST'S WHOLE LIFE. THEY ALLOW US TO UNDERSTAND WHY HE HAS COME TO US WITH A HEART MADE OF FLESH, A HEART LIKE OURS. THIS IS A CONVINCING PROOF OF HIS LOVE AND A CONSTANT WITNESS TO THE MYSTERY OF DIVINE CHARITY (St. Josemaria, "Christ is Passing By", n. 162)."
"WHEN HOLY SCRIPTURE REFERS TO THE HEART, it does not refer to some fleeting sentiment of joy or tears. By heart IT MEANS THE PERSONALITY WHICH DIRECTS ITS WHOLE BEING, SOUL AND BODY, TO WHAT IT CONSIDERS ITS GOOD, AS JESUS HIMSELF INDICATED: 'FOR WHERE YOUR TREASURE IS, THERE WILL YOUR HEART BE ALSO.'
So when we talk about the heart of Jesus, we stress the certainty of God's love and the truth of his commitment to us. When we recommend devotion to the Sacred Heart, we are recommending that WE SHOULD GIVE OUR WHOLE SELF TO JESUS, TO THE WHOLE JESUS — OUR SOUL, OUR FEELINGS AND THOUGHTS, OUR WORDS AND ACTIONS, OUR JOYS.
THAT IS WHAT TRUE DEVOTION TO THE HEART OF JESUS MEANS. IT IS KNOWING GOD AND OURSELVES. IT IS LOOKING AT JESUS AND TURNING TO HIM, LETTING HIM ENCOURAGE AND TEACH AND GUIDE US. The greatest superficiality that can beset this devotion would be a lack of humanity, a failure to understand the reality of an incarnate God (St. Josemaria, "Christ is Passing By", n. 164)."
Dear friends, as we celebrate the central mystery of God's immense love for man, LET US NOT ONLY RAISE OUR HEART IN THANKSGIVING TO THE BLESSED TRINITY, BUT RATHER GIVE OUR WHOLE SELF TO JESUS.
Let us then consecrate ourselves to Him, with the prayer of St. Margarita Alacoque:
I give myself and consecrate to the Sacred Heart of Our Lord
Jesus Christ, my person and my life, my actions, pains and sufferings, so that I may be unwilling to make use of any part of my being other than to honor, love and glorify the Sacred Heart. This is my unchanging purpose, namely, to be all his, and to do all things for the love of him, at the same time renouncing with all my heart whatever is displeasing to him. I therefore take you, o Sacred Heart, to be the only object of my love, the guardian of my life, my assurance of salvation, the remedy of my weakness and inconstancy, the atonement for all the faults of my life and my sure refuge at the hour of death.
Be then, o heart of goodness, my justification before God
the Father, and turn away from me the strokes of his righteous anger. O heart of love, I put all my confidence in you, for I fear everything from my own wickedness and frailty, but I hope for all things from your goodness and bounty.
Remove from me all that can displease you or resist your holy will; let your pure love imprint your image so deeply upon my heart, that I shall never be able to forget you or to be separated from you.
May I obtain from all your loving kindness the grace of having my name written i your heart, for in you I desire to place all my happiness and glory, living and dying in bondage to you. Amen.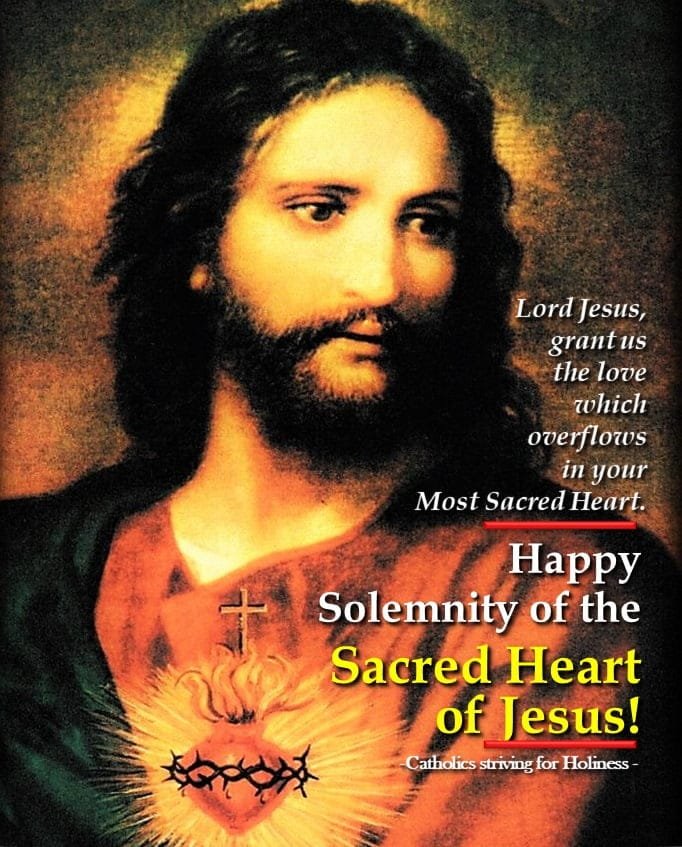 HAPPY SOLEMNITY OF THE MOST SACRED HEART OF JESUS!
For today' Mass prayers and readings click on
Solemnity of the Most Sacred Heart of Jesus
Stay updated: subscribe by email for free TO OUR NEW WEBSITE www.catholicsstrivingforholiness.org (PUT YOUR EMAIL IN THE SUBSCRIBE WIDGET).
We are also in www.fb.com/Catholicsstrivingforholiness. Kindly help more people in their Christian life by liking our page and inviting your family, friends and relatives to do so as well. Thanks in advance and God bless you and your loved ones! Fr. Rolly Arjonillo