SATURDAY AFTER EPIPHANY READINGS, GOSPEL COMMENTARY AND SERMON.
SATURDAY AFTER EPIPHANY READINGS, GOSPEL COMMENTARY AND SERMON.
"He must increase; I must decrease" (Jn 3:22–30).
---
SATURDAY AFTER EPIPHANY READINGS
READING I
1 Jn 5:14–21
Beloved: We have this confidence in God, that if we ask anything according to his will, he hears us. And if we know that he hears us in regard to whatever we ask, we know that what we have asked him for is ours. If anyone sees his brother sinning, if the sin is not deadly, he should pray to God and he will give him life. This is only for those whose sin is not deadly. There is such a thing as deadly sin, about which I do not say that you should pray. All wrongdoing is sin, but there is sin that is not deadly.
We know that no one begotten by God sins; but the one begotten by God he protects, and the Evil One cannot touch him. We know that we belong to God, and the whole world is under the power of the Evil One. We also know that the Son of God has come and has given us discernment to know the one who is true. And we are in the one who is true, in his Son Jesus Christ. He is the true God and eternal life. Children, be on your guard against idols.
RESPONSORIAL PSALM
R. The Lord takes delight in his people.
Sing to the Lord a new song
of praise in the assembly of the faithful.
Let Israel be glad in their maker,
let the children of Zion rejoice in their king.
R. The Lord takes delight in his people.
Let them praise his name in the festive dance,
let them sing praise to him with timbrel and harp.
For the Lord loves his people,
and he adorns the lowly with victory.
R. The Lord takes delight in his people.
Let the faithful exult in glory;
let them sing for joy upon their couches;
Let the high praises of God be in their throats.
This is the glory of all his faithful. Alleluia.
R. The Lord takes delight in his people.
ALLELUIA
A people in darkness have seen a great light; a radiant dawn shines on those lost in faith.
GOSPEL
Jn 3:22–30
After this, Jesus and his disciples went into the region of Judea, where he spent some time with them baptizing. John was also baptizing in Aenon near Salim, because there was an abundance of water there, and people came to be baptized, for John had not yet been imprisoned. Now a dispute arose between the disciples of John and a Jew about ceremonial washings. So they came to John and said to him, "Rabbi, the one who was with you across the Jordan, to whom you testified, here he is baptizing and everyone is coming to him." John answered and said, "No one can receive anything except what has been given him from heaven. You yourselves can testify that I said (that) I am not the Messiah, but that I was sent before him. The one who has the bride is the bridegroom; the best man, who stands and listens for him, rejoices greatly at the bridegroom's voice. So this joy of mine has been made complete. He must increase; I must decrease."
---
GOSPEL COMMENTARY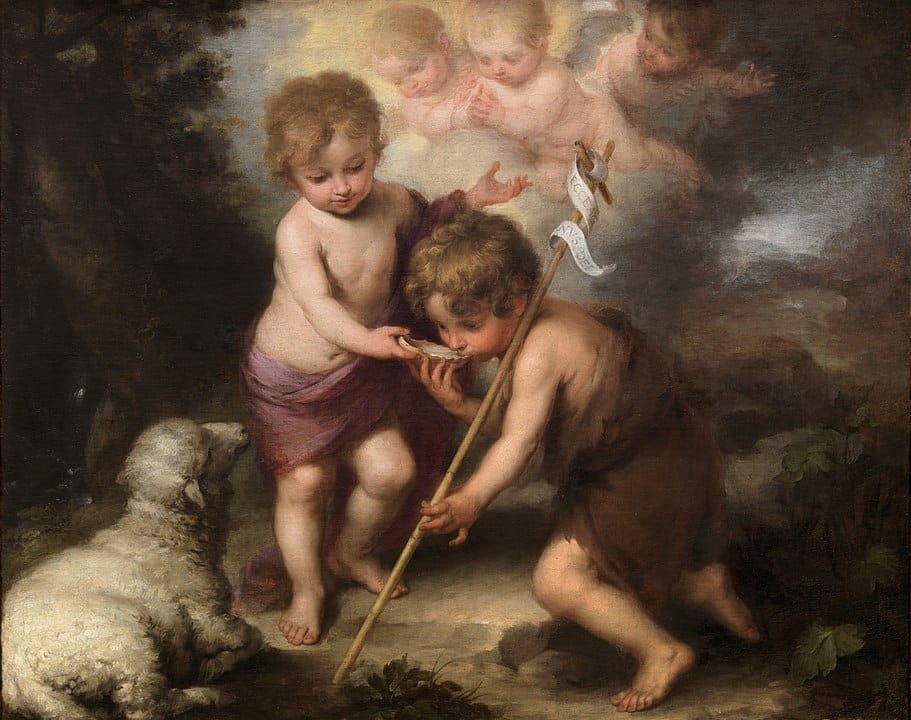 Today's Gospel passage highlights the following points:
Jesus' disciples began to baptise (cfr. Jn 4:2), which was not yet Christian Baptism (which began only after Christ's Resurrection) but rather a rite which has the soul purpose of bringing souls to Christ and prepare the way for them.
John the Baptist knew his mission of preparing the way of the Lord and this led him to rejoice upon seeing his own disciples follow Jesus (cf. Jn 1:37).
Speaking in a symbolic way, John refers to Jesus as the bridegroom, and the Church as the Bride (as deduced from other New Testament passages e.g. Eph 5:24-32; Rev 19:7-9). The wedding as a symbol expresses the indissoluble love between Christ and his Church, called to live Christ's life and preach His teachings.
With a lot of humility, John the Baptist acknowledges that his mission to prepare the way of the Lord will fade into the background upon the arrival of the Messiah. He does not want to be in the limelight and wants Christ to "increase", while he "decreases".
As Christians, we must desire and allow Jesus to "grow" in us. But for this to occur, we need to be humble, for only by emptying ourselves, could God fill us not only with his grace, but above all with Himself.
"It is necessary for Christ to grow in you, for you to progress in your knowledge and love of him: for, the more you know him and love him, the more he grows in you… Therefore, people who advance in this way need to have less self-esteem, because the more a person discovers God's greatness the less importance he gives to his own human condition".

St Thomas Aquinas, Commentary on St John.
---
VIDEO COMMENTARY
TOPIC: ARE YOU A HUMBLE PERSON?
In today's gospel reading (John 3:22-30), John now steps out of the limelight to acknowledge the Messiah. It is a great act of humility as his own disciples will now need to shift their loyalties to Jesus. He knows his place, his role in the greater scheme of things. He says, "No one can receive anything except what is given him from heaven." The source of all his prophetic discourses, the wisdom where he draws all his brilliance is now in the flesh, in the present.
---
The marriage of Christ and the Church
A sermon by Faustus of Riez
On the third day there was a wedding. What wedding can this be but the joyful marriage of man's salvation, a marriage celebrated by confessing the Trinity or by faith in the resurrection. That is why the marriage took place "on the third day," a reference to the sacred mysteries which this number symbolises.
Hence, too, we read elsewhere in the Gospel that the return of the younger son, that is, the conversion of the pagans, is marked by song, and music and wedding garments.
Like a bridegroom coming from his marriage chamber our God descended to earth in his incarnation, in order to be united to his Church which was to be formed of the pagan nations. To her he gave a pledge and a dowry: a pledge when God was united to man; a dowry when he was sacrificed for man's salvation. The pledge is our present redemption; the dowry, eternal life.
To those who see only with the outward eye, all these events at Cana are strange and wonderful; to those who understand, they are also signs. For, if we look closely, the very water tells us of our rebirth in baptism. One thing is turned into another from within, and in a hidden way a lesser creature is changed into a greater. All this points to the hidden reality of our second birth. There water was suddenly changed; later it will cause a change in man.
By Christ's action in Galilee, then, wine is made, that is, the law withdraws and grace takes its place; the shadows fade and truth becomes present; fleshly realities are coupled with spiritual, and the old covenant with its outward discipline is transformed into the new. For, as the Apostle says: The old order has passed away; now all is new! The water in the jars is not less than it was before, but now begins to be what it had not been; so too the law is not destroyed by Christ's coming, but is made better than it was.
When the wine fails, new wine is served: the wine of the old covenant was good, but the wine of the new is better. The old covenant, which Jews follow, is exhausted by its letter; the new covenant, which belongs to us, has the savour of life and is filled with grace.
The good wine, that is, good precepts, refers to the law; thus we read: You shall love your neighbour but hate your enemy. But the Gospel is a better and a stronger wine: My command to you is: love your enemies, pray for your persecutors.
COLLECT
Almighty ever-living God, who through your Only Begotten Son have made us a new creation for yourself, grant, we pray, that by your grace we may be found in the likeness of him in whom our nature is united to you. Who lives and reigns with you.
Stay updated: subscribe by email for free TO OUR NEW WEBSITE www.catholicsstrivingforholiness.org (PUT YOUR EMAIL IN THE SUBSCRIBE WIDGET).
We are also in www.fb.com/Catholicsstrivingforholiness. Kindly help more people in their Christian life by liking our page and inviting your family, friends and relatives to do so as well. Thanks in advance and God bless you and your loved ones! Fr. Rolly Arjonillo