PRAYER FOR THE MIRACULOUS RECOVERY OF COVID-19 PATIENTS.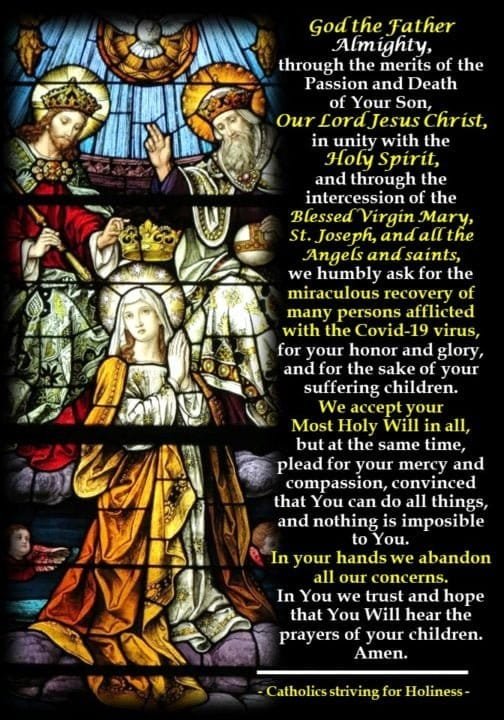 God the Father Almighty,
through the infinite merits of
the Passion and Death of Your Son,
Our Lord Jesus Christ,
in unity with the Holy Spirit,
and through the intercession of the Blessed Virgin Mary,
St. Joseph, and all the Angels and saints,
we humbly ask for the miraculous recovery
of many persons afflicted with the Covid-19 virus,
especially those who are severely-ill,
for your honor and glory,
and for the sake of your suffering children.

We accept your Most Holy Will in all,
but at the same time, plead for your mercy and compassion,
convinced that You can do all things,
and nothing is imposible to You.

You are our strength, refuge and consolation.
In your hands we abandon all our concerns.
You are the source of life and all good,
without You nothing would exist.
In You we trust and hope that
You will hear the prayers of your children.

Most Holy Trinity,
we adore You, hope in You and love You.
Have mercy on us.
Amen.

CSFH PRAYER.