POPE FRANCIS' PALM SUNDAY HOMILY.
POPE FRANCIS' PALM SUNDAY HOMILY.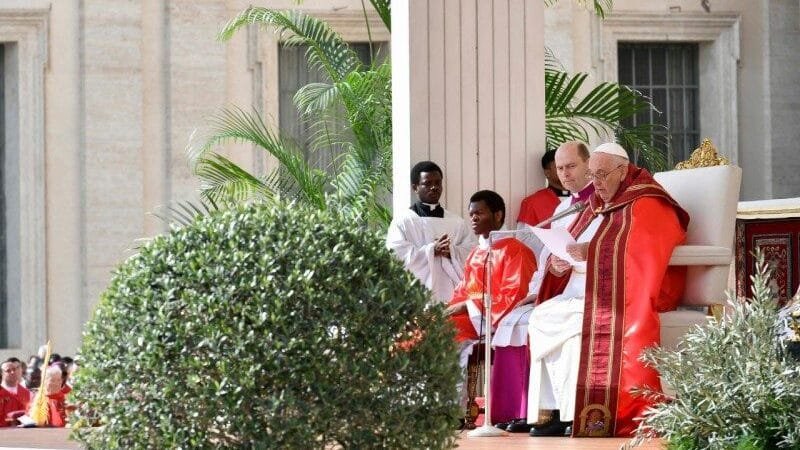 CELEBRATION OF PALM SUNDAY OF THE PASSION OF THE LORD
HOMILY OF HIS HOLINESS POPE FRANCIS
St Peter's Square
Palm Sunday, 2 April 2023
---
"My God, my God, why have you forsaken me?" (Mt 27:46).  This is the cry that today's liturgy has us repeat in the responsorial psalm (cf. Ps 22:2), the only cry that Jesus makes from the cross in the Gospel we have heard.  Those words bring us to the very heart of Christ's passion, the culmination of the sufferings he endured for our salvation.  "Why have you forsaken me?".
The sufferings of Jesus were many, and whenever we listen to the account of the Passion, they pierce our hearts.  There were sufferings of the body: let us think of the slaps and beatings, the flogging and the crowning with thorns, and in the end, the cruelty of the crucifixion.  There were also sufferings of the soul: the betrayal of Judas, the denials of Peter, the condemnation of the religious and civil authorities, the mockery of the guards, the jeering at the foot of the cross, the rejection of the crowd, utter failure and the flight of the disciples.  Yet, amid all these sorrows, Jesus remained certain of one thing: the closeness of the Father.  Now, however, the unthinkable has taken place.  Before dying, he cries out: "My God, my God, why have you forsaken me?"  The forsakenness of Jesus.
This is the most searing of all sufferings, the suffering of the spirit.  At his most tragic hour, Jesus experiences abandonment by God. Prior to that moment, he had never called the Father by his generic name, "God".  To convey the impact of this, the Gospel also reports his words in Aramaic.  These are the only words of Jesus from the cross that have come down to us in the original language.  The real event is the extreme abasement, being forsaken by the Father, forsaken by God.  We find it hard even to grasp what great suffering he embraced out of love for us.  He sees the gates of heaven close, he finds himself at the bitter edge, the shipwreck of life, the collapse of certainty.  And he cries out: "Why?"  A "why" that embraces every other "why" ever spoken.  "Why, God?".
"My God, my God, why have you forsaken me?"  In the Bible, the word "forsake" is powerful.  We hear it at moments of extreme pain: love that fails, or is rejected or betrayed; children who are rejected and aborted; situations of repudiation, the lot of widows and orphans; broken marriages, forms of social exclusion, injustice and oppression; the solitude of sickness.  In a word, in the drastic severing of the bonds that unite us to others.  There, this word is spoken: "abandonment".  Christ brought all of this to the cross; upon his shoulders, he bore the sins of the world.  And at the supreme moment, Jesus, the only-begotten, beloved Son of the Father, experienced a situation utterly alien to his very being: abandonment, the distance of God.
Why did it have to come to this?  He did it for us.  There is no other answer.  For us.  Brothers and sisters, today this is not merely a show.  Every one of us, hearing of Jesus' abandonment, can say: for me.  This abandonment is the price he paid for me.  He became one with each of us in order to be completely and definitively one with us to the very end.  He experienced abandonment in order not to leave us prey to despair, in order to stay at our side forever.  He did this for me, for you, because whenever you or I or anyone else seems pinned to the wall, lost in a blind alley, plunged into the abyss of abandonment, sucked into a whirlwind of so many "whys" without an answer, there can still be a hope: Jesus himself, for you, for me.  It is not the end, because Jesus was there and even now, he is at your side.  He endured the distance of abandonment in order to take up into his love every possible distance that we can feel.  So that each of us might say: in my failings, and each of us has failed many times, in my desolation, whenever I feel betrayed or betrayed others, whenever I feel cast aside or have cast aside others, whenever I feel forsaken or have abandoned others, let us think of Jesus, who was abandoned, betrayed and cast aside.  There, we find him.  When I feel lost and confused, when I feel that I can't go on, he is beside me.  Amid all my unanswered questions "why…?", he is there.
That is how the Lord saves us, from within our questioning "why?"  From within that questioning, he opens the horizon of hope that does not disappoint.  On the cross, even as he felt utter abandonment – this is the ultimate end – Jesus refused to yield to despair; instead, he prayed and trusted.  He cried out his "why?" in the words of the Psalm (22:2), and commended himself into the hands of the Father, despite how distant he felt him to be (cf. Lk 23:46) or rather, whom he did not feel, for instead he felt himself abandoned.  In the hour of his abandonment, Jesus continued to trust.  At the hour of abandonment, he continued to love his disciples who had fled, leaving him alone.  In his abandonment he forgave those who crucified him (v. 34).  Here we see the abyss of our many evils immersed in a greater love, with the result that our isolation becomes fellowship.  
Brothers and sisters, a love like this, embracing us totally and to the very end, the love of Jesus, can turn our stony hearts into hearts of flesh.  His is a love of mercy, tenderness and compassion.  This is God's style: closeness, compassion and tenderness.  God is like this.  Christ, in his abandonment, stirs us to seek him and to love him and those who are themselves abandoned.  For in them we see not only people in need, but Jesus himself, abandoned: Jesus, who saved us by descending to the depths of our human condition.  He is with each of them, abandoned even to death… I think of the German so-called "street person", who died under the colonnade, alone and abandoned.  He is Jesus for each of us.  So many need our closeness, so many are abandoned.  I too need Jesus to caress me and draw close to me, and for this reason I go to find him in the abandoned, in the lonely.  He wants us to care for our brothers and sisters who resemble him most, those experiencing extreme suffering and solitude.  Today, dear brothers and sisters, their numbers are legion.  Entire peoples are exploited and abandoned; the poor live on our streets and we look the other way; there are migrants who are no longer faces but numbers; there are prisoners who are disowned; people written off as problems.  Countless other abandoned persons are in our midst, invisible, hidden, discarded with white gloves: unborn children, the elderly who live alone: they could perhaps be your father or mother, your grandfather or grandmother, left alone in retirement homes, the sick whom no one visits, the disabled who are ignored, and the young burdened by great interior emptiness, with no one prepared to listen to their cry of pain.  And they find no path other than suicide.  The abandoned of our day.  The "Christs" of our day.
Jesus, in his abandonment, asks us to open our eyes and hearts to all who find themselves abandoned.  For us, as disciples of the "forsaken" Lord, no man, woman or child can be regarded as an outcast, no one left to himself or herself.  Let us remember that the rejected and the excluded are living icons of Christ: they remind us of his reckless love, his forsakenness that delivers us from every form of loneliness and isolation.  Brothers and sisters, today let us implore this grace: to love Jesus in his abandonment and to love Jesus in the abandoned all around us.  Let us ask for the grace to see and acknowledge the Lord who continues to cry out in them.  May we not allow his voice to go unheard amid the deafening silence of indifference.  God has not left us alone; let us care, then, for those who feel alone and abandoned.  Then, and only then, will we be of one mind and heart with the one who, for our sake, "emptied himself" (Phil 2:7).  He emptied himself completely for us.
Source: https://www.vatican.va/content/francesco/en/homilies/2023/documents/20230402-omelia-palme.html
Copyright © Dicastero per la Comunicazione – Libreria Editrice Vaticana
---
CELEBRATION OF PALM SUNDAY OF THE PASSION OF THE LORD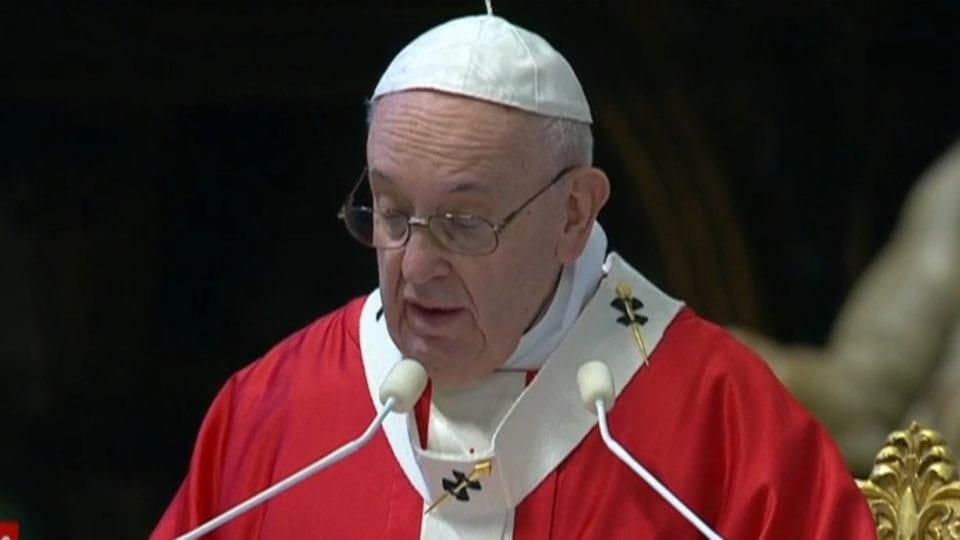 HOMILY OF HIS HOLINESS POPE FRANCIS
St Peter's Basilica
35th World Youth Day
Palm Sunday, 5 April 2020
---
Jesus "emptied himself, taking the form of a servant" (Phil 2:7). Let us allow these words of the Apostle Paul to lead us into these holy days, when the word of God, like a refrain, presents Jesus as servant: on Holy Thursday, he is portrayed as the servant who washes the feet of his disciples; on Good Friday, he is presented as the suffering and victorious servant (cf. Is 52:13); and tomorrow we will hear the prophecy of Isaiah about him: "Behold my servant, whom I uphold" (Is 42:1). God saved us by serving us. We often think we are the ones who serve God. No, he is the one who freely chose to serve us, for he loved us first. It is difficult to love and not be loved in return. And it is even more difficult to serve if we do not let ourselves be served by God.
But – just one question – how did the Lord serve us? By giving his life for us. We are dear to him; we cost him dearly. Saint Angela of Foligno said she once heard Jesus say: "My love for you is no joke". His love for us led him to sacrifice himself and to take upon himself our sins. This astonishes us: God saved us by taking upon himself all the punishment of our sins. Without complaining, but with the humility, patience and obedience of a servant, and purely out of love. And the Father upheld Jesus in his service. He did not take away the evil that crushed him, but rather strengthened him in his suffering so that our evil could be overcome by good, by a love that loves to the very end.
The Lord served us to the point of experiencing the most painful situations of those who love: betrayal and abandonment.
Betrayal. Jesus suffered betrayal by the disciple who sold him and by the disciple who denied him. He was betrayed by the people who sang hosanna to him and then shouted: "Crucify him!" (Mt 27:22). He was betrayed by the religious institution that unjustly condemned him and by the political institution that washed its hands of him. We can think of all the small or great betrayals that we have suffered in life. It is terrible to discover that a firmly placed trust has been betrayed. From deep within our heart a disappointment surges up that can even make life seem meaningless. This happens because we were born to be loved and to love, and the most painful thing is to be betrayed by someone who promised to be loyal and close to us. We cannot even imagine how painful it was for God who is love.
Let us look within. If we are honest with ourselves, we will see our infidelities. How many falsehoods, hypocrisies and duplicities! How many good intentions betrayed! How many broken promises! How many resolutions left unfulfilled! The Lord knows our hearts better than we do. He knows how weak and irresolute we are, how many times we fall, how hard it is for us to get up and how difficult it is to heal certain wounds. And what did he do in order to come to our aid and serve us? He told us through the Prophet: "I will heal their faithlessness; I will love them deeply" (Hos 14:5). He healed us by taking upon himself our infidelity and by taking from us our betrayals. Instead of being discouraged by the fear of failing, we can now look upon the crucifix, feel his embrace, and say: "Behold, there is my infidelity, you took it, Jesus, upon yourself. You open your arms to me, you serve me with your love, you continue to support me… And so I will keep pressing on".
Abandonment. In today's Gospel, Jesus says one thing from the Cross, one thing alone: "My God, my God, why have you forsaken me?" (Mt 27:46). These are powerful words. Jesus had suffered the abandonment of his own, who had fled. But the Father remained for him. Now, in the abyss of solitude, for the first time he calls him by the generic name "God". And "in a loud voice" he asks the question "why?", the most excruciating "why?": "Why did you too abandon me?". These words are in fact those of a Psalm (cf. 22:2); they tell us that Jesus also brought the experience of extreme desolation to his prayer. But the fact remains that he himself experienced that desolation: he experienced the utmost abandonment, which the Gospels testify to by quoting his very words.
Why did all this take place? Once again, it was done for our sake, to serve us. So that when we have our back to the wall, when we find ourselves at a dead end, with no light and no way of escape, when it seems that God himself is not responding, we should remember that we are not alone. Jesus experienced total abandonment in a situation he had never before experienced in order to be one with us in everything. He did it for me, for you, for all of us; he did it to say to us: "Do not be afraid, you are not alone. I experienced all your desolation in order to be ever close to you". That is the extent to which Jesus served us: he descended into the abyss of our most bitter sufferings, culminating in betrayal and abandonment. Today, in the tragedy of a pandemic, in the face of the many false securities that have now crumbled, in the face of so many hopes betrayed, in the sense of abandonment that weighs upon our hearts, Jesus says to each one of us: "Courage, open your heart to my love. You will feel the consolation of God who sustains you".
Dear brothers and sisters, what can we do in comparison with God, who served us even to the point of being betrayed and abandoned? We can refuse to betray him for whom we were created, and not abandon what really matters in our lives. We were put in this world to love him and our neighbours. Everything else passes away, only this remains. The tragedy we are experiencing at this time summons us to take seriously the things that are serious, and not to be caught up in those that matter less; to rediscover that life is of no use if not used to serve others. For life is measured by love. So, in these holy days, in our homes, let us stand before the Crucified One – look upon the Crucified One! – the fullest measure of God's love for us, and before the God who serves us to the point of giving his life, and, – fixing our gaze on the Crucified One – let us ask for the grace to live in order to serve. May we reach out to those who are suffering and those most in need. May we not be concerned about what we lack, but what good we can do for others.
Behold my servant, whom I uphold. The Father, who sustained Jesus in his Passion also supports us in our efforts to serve. Loving, praying, forgiving, caring for others, in the family and in society: all this can certainly be difficult. It can feel like a via crucis. But the path of service is the victorious and life giving path by which we were saved. I would like to say this especially to young people, on this Day which has been dedicated to them for thirty-five years now. Dear friends, look at the real heroes who come to light in these days: they are not famous, rich and successful people; rather, they are those who are giving themselves in order to serve others. Feel called yourselves to put your lives on the line. Do not be afraid to devote your life to God and to others; it pays! For life is a gift we receive only when we give ourselves away, and our deepest joy comes from saying yes to love, without ifs and buts. To truly say yes to love, without ifs and buts. As Jesus did for us.
---
© Copyright – Libreria Editrice Vaticana
SOURCE: http://w2.vatican.va/content/francesco/en/homilies/2020/documents/papa-francesco_20200405_omelia-palme.html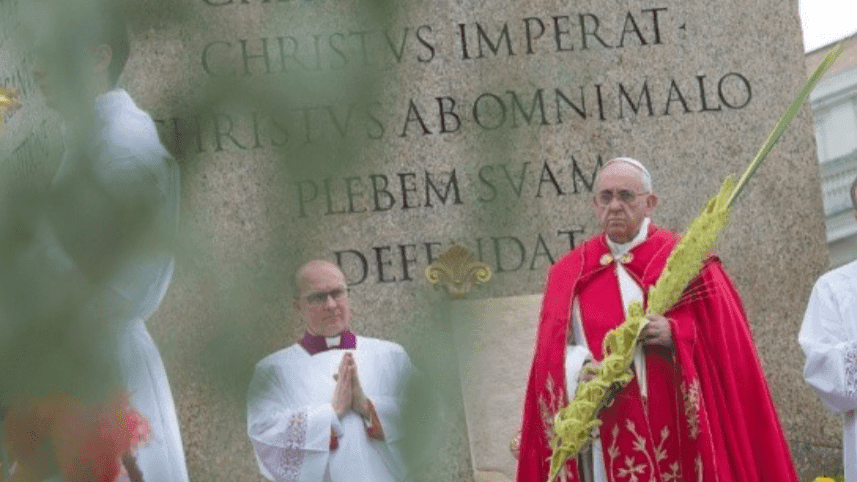 HOMILY OF HIS HOLINESS POPE FRANCIS
Saint Peter's Square
XXXII World Youth Day
Palm Sunday, 9 April 2017
---
Today's celebration can be said to be bittersweet. It is joyful and sorrowful at the same time. We celebrate the Lord's entrance into Jerusalem to the cries of his disciples who acclaim him as king. Yet we also solemnly proclaim the Gospel account of his Passion. In this poignant contrast, our hearts experience in some small measure what Jesus himself must have felt in his own heart that day, as he rejoiced with his friends and wept over Jerusalem.
For thirty-two years now, the joyful aspect of this Sunday has been enriched by the enthusiasm of young people, thanks to the celebration of World Youth Day. This year, it is being celebrated at the diocesan level, but here in Saint Peter's Square it will be marked by the deeply moving and evocative moment when the WYD cross is passed from the young people of Kraków to those of Panama.
The Gospel we heard before the procession (cf. Mt 21:1-11) describes Jesus as he comes down from the Mount of Olives on the back of a colt that had never been ridden. It recounts the enthusiasm of the disciples who acclaim the Master with cries of joy, and we can picture in our minds the excitement of the children and young people of the city who joined in the excitement. Jesus himself sees in this joyful welcome an inexorable force willed by God. To the scandalized Pharisees he responds: "I tell you that if these were silent, the stones would shout out" (Lk 19:40).
Yet Jesus who, in fulfilment of the Scriptures, enters the holy city in this way is no misguided purveyor of illusions, no new age prophet, no imposter. Rather, he is clearly a Messiah who comes in the guise of a servant, the servant of God and of man, and goes to his passion. He is the great "patient", who suffers all the pain of humanity.
So as we joyfully acclaim our King, let us also think of the sufferings that he will have to endure in this week. Let us think of the slanders and insults, the snares and betrayals, the abandonment to an unjust judgment, the blows, the lashes and the crown of thorns… And lastly, the way of the cross leading to the crucifixion.
He had spoken clearly of this to his disciples: "If any want to become my followers, let them deny themselves and take up their cross and follow me" (Mt 16:24). Jesus never promised honour and success. The Gospels make this clear. He had always warned his friends that this was to be his path, and that the final victory would be achieved through the passion and the cross. All this holds true for us too. Let us ask for the grace to follow Jesus faithfully, not in words but in deeds. Let us also ask for the patience to carry our own cross, not to refuse it or set it aside, but rather, in looking to him, to take it up and to carry it daily.
This Jesus, who accepts the hosannas of the crowd, knows full well that they will soon be followed by the cry: "Crucify him!" He does not ask us to contemplate him only in pictures and photographs, or in the videos that circulate on the internet. No. He is present in our many brothers and sisters who today endure sufferings like his own: they suffer from slave labour, from family tragedies, from diseases… They suffer from wars and terrorism, from interests that are armed and ready to strike. Women and men who are cheated, violated in their dignity, discarded… Jesus is in them, in each of them, and, with marred features and broken voice, he asks to be looked in the eye, to be acknowledged, to be loved.
It is not some other Jesus, but the same Jesus who entered Jerusalem amid the waving of palm branches. It is the same Jesus who was nailed to the cross and died between two criminals. We have no other Lord but him: Jesus, the humble King of justice, mercy and peace.
https://www.vatican.va/content/francesco/en/homilies/2017/documents/papa-francesco_20170409_omelia-palme.html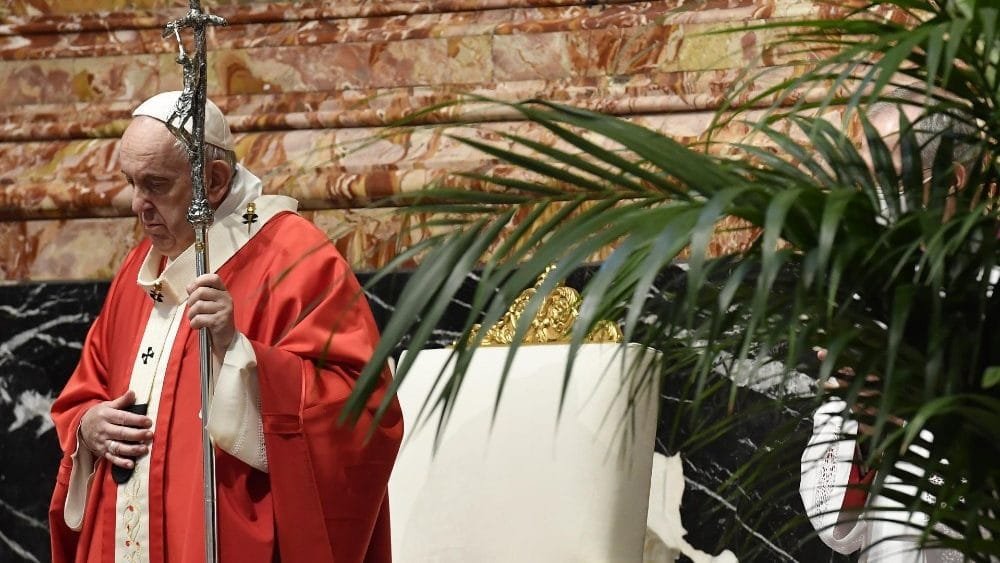 HOMILY OF POPE FRANCIS
St. Peter's Square
29th World Youth Day
Palm Sunday, 13 April 2014
This week begins with the festive procession with olive branches: the entire populace welcomes Jesus. The children and young people sing , praising Jesus.
But this week continues in the mystery of Jesus' death and his resurrection. We have just listened to the Passion of our Lord. We might well ask ourselves just one question: Who am I? Who am I, before my Lord? Who am I, before Jesus who enters Jerusalem amid the enthusiasm of the crowd? Am I ready to express my joy, to praise him? Or do I stand back? Who am I, before the suffering Jesus?
We have just heard many, many names. The group of leaders, some priests, the Pharisees, the teachers of the law, who had decided to kill Jesus. They were waiting for the chance to arrest him. Am I like one of them?
We have also heard another name: Judas. Thirty pieces of silver. Am I like Judas? We have heard other names too: the disciples who understand nothing, who fell asleep while the Lord was suffering. Has my life fallen asleep? Or am I like the disciples, who did not realize what it was to betray Jesus? Or like that other disciple, who wanted to settle everything with a sword? Am I like them? Am I like Judas, who feigns loved and then kisses the Master in order to hand him over, to betray him? Am I a traitor? Am I like those people in power who hastily summon a tribunal and seek false witnesses: am I like them? And when I do these things, if I do them, do I think that in this way I am saving the people?
Am I like Pilate? When I see that the situation is difficult, do I wash my hands and dodge my responsibility, allowing people to be condemned – or condemning them myself?
Am I like that crowd which was not sure whether they were at a religious meeting, a trial or a circus, and then chose Barabbas? For them it was all the same: it was more entertaining to humiliate Jesus.
Am I like the soldiers who strike the Lord, spit on him, insult him, who find entertainment in humiliating him?
Am I like the Cyrenean, who was returning from work, weary, yet was good enough to help the Lord carry his cross?
Am I like those who walked by the cross and mocked Jesus: "He was so courageous! Let him come down from the cross and then we will believe in him!". Mocking Jesus….
Am I like those fearless women, and like the mother of Jesus, who were there, and who suffered in silence?
Am I like Joseph, the hidden disciple, who lovingly carries the body of Jesus to give it burial?
Am I like the two Marys, who remained at the Tomb, weeping and praying?
Am I like those leaders who went the next day to Pilate and said, "Look, this man said that he was going to rise again. We cannot let another fraud take place!", and who block life, who block the tomb, in order to maintain doctrine, lest life come forth?
Where is my heart? Which of these persons am I like? May this question remain with us throughout the entire week.
https://www.vatican.va/content/francesco/en/homilies/2014/documents/papa-francesco_20140413_omelia-palme.html
Stay updated: subscribe by email for free TO OUR NEW WEBSITE www.catholicsstrivingforholiness.org (PUT YOUR EMAIL IN THE SUBSCRIBE WIDGET).
We are also in www.fb.com/Catholicsstrivingforholiness. Kindly help more people in their Christian life by liking our page and inviting your family, friends and relatives to do so as well. Thanks in advance and God bless you and your loved ones! Fr. Rolly Arjonillo