POPE FRANCIS ON THE 5TH SUNDAY OF EASTER YEAR C
POPE FRANCIS ON THE 5TH SUNDAY OF EASTER YEAR C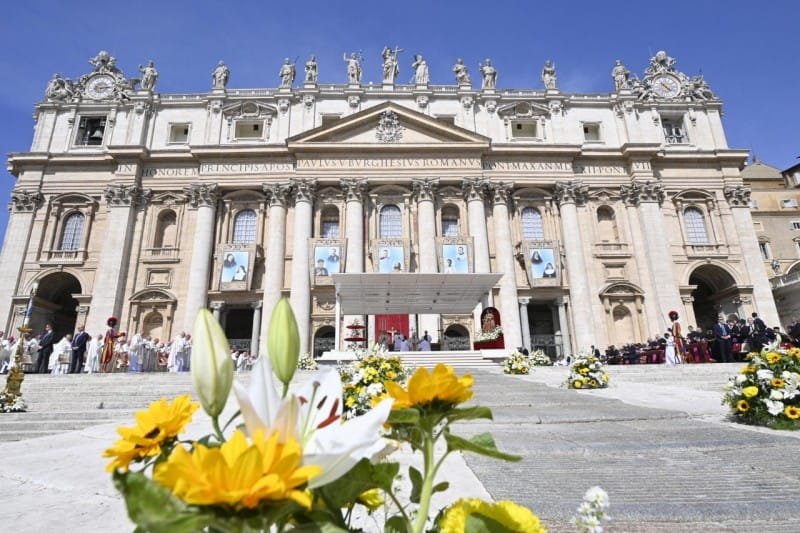 HOMILY OF HIS HOLINESS POPE FRANCIS
St Peter's Square
5th Sunday of Easter Year C Sunday, 15 May 2022
HOLY MASS AND CANONIZATION OF THE BLESSEDS
Titus Brandsma – Lazzaro, detto Devasahayam – César de Bus – Luigi Maria Palazzolo – Giustino Maria Russolillo – Charles de Foucauld – Maria Rivier – Maria Francesca di Gesù Rubatto – Maria di Gesù Santocanale – Maria Domenica Mantovani
---
We have heard what Jesus told his disciples before leaving this world and returning to the Father. He told us what it means to be a Christian: "Even as I have loved you, so you must love one another" (Jn 13:34). This is the legacy that Christ bequeathed to us, the ultimate criterion for discerning whether or not we are truly his disciples. It is the commandment of love. Let us stop to consider two essential elements of this commandment: Jesus' love for us – "as I have loved you" – and the love he asks us to show to others – "so you must love one another".
First, the words "as I have loved you". How did Jesus love us? To the very end, to the total gift of himself. It is striking to think that he spoke these words on that night of darkness, when the atmosphere in the Upper Room was one of deep emotion and anxiety: deep emotion, because the Master was about to bid farewell to his disciples; anxiety because he had said that one of them would betray him. We can imagine the sorrow that filled the heart of Jesus, the dark clouds that were gathering in the hearts of the apostles, and their bitterness at seeing Judas who, after receiving the morsel dipped for him by the Master, left the room to enter into the night of betrayal. Yet at the very hour of his betrayal, Jesus reaffirmed his love for his own. For amid the darkness and tempests of life, that is the most important thing of all: God loves us.
Brothers and sisters, may this message be the core of our own faith and all the ways in which we express it: "…not that we loved God but that he loved us" (1 Jn 4:10).  Let us never forget this.  Our abilities and our merits are not the central thing, but rather the unconditional, free and unmerited love of God.  Our Christian lives begin not with doctrine and good works, but with the amazement born of realizing that we are loved, prior to any response on our part.  While the world frequently tries to convince us that we are valued only for what we can produce, the Gospel reminds us of the real truth of life: we are loved.  A contemporary spiritual writer put it this way: "Long before any human being saw us, we were seen by God's loving eyes.  Long before anyone heard us cry or laugh, we were heard by our God, who is all ears for us.  Long before any person spoke to us in this world, we were spoken to by the voice of eternal love" (H. NOUWEN, Life of the Beloved). He loved us first; he waits for us; he keeps loving us.  This is our identity: we are God's loved ones.  This is our strength: we are loved by God.
Acknowledging this truth requires a conversion in the way we often think of holiness.  At times, by over-emphasizing our efforts to do good works, we have created an ideal of holiness excessively based on ourselves, our personal heroics, our capacity for renunciation, our readiness for self-sacrifice to achieve a reward.  This can at times appear as an overly "pelagian" way of viewing life and holiness.  We have turned holiness into an unattainable goal.  We have separated it from everyday life, instead of looking for it and embracing it in our daily routines, in the dust of the streets, in the trials of real life and, in the words of Teresa of Avila to her Sisters, "among the pots and pans".  Being disciples of Jesus and advancing on the path of holiness means first and foremost letting ourselves be transfigured by the power of God's love.  Let us never forget the primacy of God over self, of the Spirit over the flesh, of grace over works.  For we at times give more importance to self, flesh and works.  No, the primacy is that of God over self, of the Spirit over the flesh, of grace over works.
The love that we receive from the Lord is the force that transforms our lives.  It opens our hearts and enables us to love.  For this reason, Jesus says – here is the second element – "as I have loved you, so must you love one another".  That word "as" is not simply an invitation to imitate Jesus' love; it tells us that we are able to love only because he has loved us, because he pours into our hearts his own Spirit, the Spirit of holiness, love that heals and transforms.  As a result, we can make decisions and perform works of love in every situation and for every brother and sister whom we meet, because we ourselves are loved and we have the power to love.  As I myself am loved, so I can love others.  The love I give is united to Jesus' love for me.  "As" he loved me, so I can love others.  The Christian life is just that simple.  Let's not make it more complicated with so many things.  It is just that simple.
In practice, what does it mean to live this love? Before giving us this commandment, Jesus had washed the disciples' feet; then, after giving it, he gave himself up to the wood of the cross. To love means this: to serve and to give one's life. To serve, that is, not to put our own interests first: to clear our systems of the poison of greed and competitiveness; to fight the cancer of indifference and the worm of self-referentiality; to share the charisms and gifts that God has given us. Specifically, we should ask ourselves, "What do I do for others?" That is what it means to love, to go about our daily lives in a spirit of service, with unassuming love and without seeking any recompense.
Then, to give one's life. This is about more than simply offering something of ours to others; it is about giving them our very selves. I like to ask people who seek my counsel whether they give alms. And if they do, whether they touch the hand of the recipient or simply, antiseptically, throw down the alms. Those people usually blush and say no. And I ask whether, in giving alms, they look the person in the eye, or look the other way. They say no. Touching and looking, touching and looking at the flesh of Christ who suffers in our brothers and sisters. This is very important; it is what it means to give one's life.
Holiness does not consist of a few heroic gestures, but of many small acts of daily love. "Are you called to the consecrated life? So many of you are here today! Then be holy by living out your commitment with joy. Are you married? Be holy by loving and caring for your husband or wife, as Christ does for the Church. Do you work for a living? Be holy by labouring with integrity and skill in the service of your brothers and sisters, by fighting for justice for your comrades, so that they do not remain without work, so that they always receive a just wage. Are you a parent or grandparent? Be holy by patiently teaching the little ones how to follow Jesus. Tell me, are you in a position of authority? So many people in authority are here today! Then be holy by working for the common good and renouncing personal gain" (Gaudete et Exsultate, 14). This is the path of holiness, and it is so simple! To see Jesus always in others.
To serve the Gospel and our brothers and sisters, to offer our lives without expecting anything in return, any worldly glory: this is a secret and it is our calling. That was how our fellow travellers canonized today lived their holiness. By embracing with enthusiasm their vocation – as a priest, as a consecrated women, as a lay person – they devoted their lives to the Gospel. They discovered an incomparable joy and they became brilliant reflections of the Lord of history. For that is what a saint is: a luminous reflection of the Lord of history. May we strive to do the same. The path of holiness is not barred; it is universal and it starts with Baptism. Let us strive to follow it, for each of us is called to holiness, to a form of holiness all our own. Holiness is always "original", as Blessed Carlo Cutis used to say: it is not a photocopy, but an "original", mine, yours, all of ours. It is uniquely our own. Truly, the Lord has a plan of love for everyone. He has a dream for your life, for my life, for the life of each of us. What else can I say? Pursue that dream with joy.
---
Copyright © Dicastero per la Comunicazione – Libreria Editrice Vaticana
Source: https://www.vatican.va/content/francesco/en/homilies/2022/documents/20220515-omelia-canonizzazione.html
Emphasis mine.
REGINA COELI
Saint Peter's Square
5th Sunday of Easter Year C, 19 May 2019
---
Dear Brothers and Sisters, Good morning!
Today's Gospel takes us to the Upper Room to have us listen to some of the words that Jesus addressed to the disciples in the "farewell discourse" before his Passion. After washing the feet of the twelve [Apostles], he says to them: "A new commandment I give to you, that you love one another; even as I have loved you, that you also love one another" (Jn 13:34). But in what sense does Jesus call this commandment "new"? Because we know that already in the Old Testament, God had ordered members of his people to love their neighbour as themselves (cf. Lev 19:18). To those who asked him which was the greatest commandment of the Law, Jesus himself would reply that the first was to love God with all your heart and the second, to love your neighbour as yourself (cf. Mt 22:38-39).
What then, is the novelty of this commandment that Jesus entrusts to his disciples? Why does he call it a "new commandment"? The old commandment of love became new because it was made complete with this addition: "as I have loved you", "love one another as I have loved you". The novelty lies wholly in Jesus Christ's love, with which he gave his life for us. It is God's universal love, without any conditions or limits, which reaches its culmination on the cross. In that moment of extreme abasement, and in that moment of abandonment to the Father, the Son of God showed and gave to the world the fullness of love. Thinking back to Christ's passion and agony, the disciples understood the meaning of his words: "As I have loved you, so you too must love one another".
Jesus loved us first. He loved us despite our frailties, our limitations and our human weaknesses. It was he who ensured we become worthy of his boundless and never-ending love. By giving us this new commandment, he asks us to love one another, not only and not so much with our love, but with his, which the Holy Spirit instills in our hearts if we invoke him with faith. In this way — and only in this way — can we love one another not only as we love ourselves but as he loved us, that is, infinitely more. Indeed, God loves us much more than we love ourselves. And thus, we can spread everywhere the seed of love that renews relationships between people and opens horizons of hope. Jesus always opens horizons of hope. His love opens horizons of hope. This love makes us become new men, brothers and sisters in the Lord, and makes us the new People of God, that is the Church, in which everyone is called to love Christ and to love one another in him.
The love that was manifested in Christ's Cross and that he calls us to live is the only force that transforms our hearts of stone into hearts of flesh; the only force capable of transforming our heart is Jesus' love, if we too love with this love. And this love makes us capable of loving our enemies and forgiving those who have offended us. I will ask you a question; each of you can respond in your heart. Am I capable of loving my enemies? We all have people — whether 'enemies' I do not know — but who do not get along with us, who are on "the other side"; or some have people who have hurt them…. Am I capable of loving those people, that man, that woman who hurt me, who offended me? Am I capable of forgiving them? Each of you can respond in your heart. Jesus' love shows us the other as a present or future member of the community of Jesus' friends. It spurs us to dialogue and helps us to listen to one another and to mutually get to know each other. Love opens up toward the other, becoming the foundation of human relationships. It renders us capable of overcoming the barriers of our own weaknesses and prejudices. Jesus' love within us creates bridges, teaches new paths, triggers the dynamism of fraternity. With her maternal intercession, may the Virgin Mary help us to receive from her son Jesus the gift of his commandment, and from the Holy Spirit, the strength to put it into practice in everyday life.
https://www.vatican.va/content/francesco/en/angelus/2019/documents/papa-francesco_regina-coeli_20190519.html
---
HOMILY OF HIS HOLINESS POPE FRANCIS
Saint Peter's Square
5th Sunday of Easter Year C, 24 April 2016
---
"By this everyone will know that you are my disciples, if you have love for one another" (Jn 13:35).
Dear young friends, what an enormous responsibility the Lord gives us today! He tells us that the world will recognize the disciples of Jesus by the way they love one another. Love, in other words, is the Christian's identity card, the only valid "document" identifying us as Christians. It is the only valid document. If this card expires and is not constantly renewed, we stop being witnesses of the Master. So I ask you: Do you wish to say yes to Jesus' invitation to be his disciples? Do you wish to be his faithful friends? The true friends of Jesus stand out essentially by the genuine love; not some "pie in the sky" love; no, it is a genuine love that shines forth in their way of life. Love is always shown in real actions. Those who are not real and genuine and who speak of love are like characters is a soap opera, some fake love story. Do you want to experience his love? Do you want this love: yes or no? Let us learn from him, for his words are a school of life, a school where we learn to love. This is a task which we must engage in every day: to learn how to love.
Before all else, love is beautiful, it is the path to happiness. But it is not an easy path. It is demanding and it requires effort. Think, for example, of when we receive a gift. It makes us happy, but receiving a gift means that someone generous has invested time and effort; by their gift they also give us a bit of themselves, a sacrifice they have made. Think too of the gift that your parents and group leaders have given you in allowing you to come to Rome for this Jubilee day dedicated to you. They planned, organized, and prepared everything for you, and this made them happy, even if it meant that they had to give up a trip for themselves. This is putting love into action. To love means to give, not only something material, but also something of one's self: one's own time, one's friendship, one's own abilities.
Look to the Lord, who is never outdone in generosity. We receive so many gifts from him, and every day we should thank him… Let me ask you something. Do you thank the Lord every day? Even if we forget to do so, he never forgets, each day, to give us some special gift. It is not something material and tangible that we can use, but something even greater, a life-long gift. What does the Lord give to us? He offers us his faithful friendship, which he will never take back. The Lord is a friend forever. Even if you disappoint him and walk away from him, Jesus continues to want the best for you and to remain close to you; he believes in you even more than you believe in yourself. This is an example of genuine love that Jesus teaches to us. This is very important! Because the biggest threat to growing up well comes from thinking that no one cares about us – and that is always a sadness – from feeling that we are all alone. The Lord, on the other hand, is always with you and he is happy to be with you. As he did with his first disciples, he looks you in the eye and he calls you to follow him, to "put out into the deep" and to "cast your nets wide" trusting in his words and using your talents in life, in union with him, without fear. Jesus is waiting patiently for you. He awaits your response. He is waiting for you to say "yes".
Dear young friends, at this stage in your lives you have a growing desire to demonstrate and receive affection. The Lord, if you let him teach you, will show you how to make tenderness and affection even more beautiful. He will guide your hearts to "love without being possessive", to love others without trying to own them but letting them be free. Because love is free! There is no true love that is not free! The freedom that the Lord gives to us is his love for us. He is always close to each one of us. There is always a temptation to let our affections be tainted by an instinctive desire to "have to have" what we find pleasing; this is selfishness. Our consumerist culture reinforces this tendency. Yet when we hold on too tightly to something, it fades, it dies, and then we feel confused, empty inside. The Lord, if you listen to his voice, will reveal to you the secret of love. It is caring for others, respecting them, protecting them and waiting for them. This is putting tenderness and love into action.
At this point in life you feel also a great longing for freedom. Many people will say to you that freedom means doing whatever you want. But here you have to be able to say no. If you do not know how to say "no", you are not free. The person who is free is he or she who is able to say "yes" and who knows how to say "no". Freedom is not the ability simply to do what I want. This makes us self-centred and aloof, and it prevents us from being open and sincere friends; it is not true to say "it is good enough if it serves me". No, this is not true. Instead, freedom is the gift of being able to choose the good: this is true freedom. The free person is the one who chooses what is good, what is pleasing to God, even if it requires effort, even if it is not easy. I believe that you young men and women are not afraid to make the effort, that you are indeed courageous! Only by courageous and firm decisions do we realize our greatest dreams, the dreams which it is worth spending our entire lives to pursue. Courageous and noble choices. Do not be content with mediocrity, with "simply going with the flow", with being comfortable and laid back. Don't believe those who would distract you from the real treasure, which you are, by telling you that life is beautiful only if you have many possessions. Be sceptical about people who want to make you believe that you are only important if you act tough like the heroes in films or if you wear the latest fashions. Your happiness has no price. It cannot be bought: it is not an app that you can download on your phones nor will the latest update bring you freedom and grandeur in love. True freedom is something else altogether.
That is because love is a free gift which calls for an open heart; love is a responsibility, but a noble responsibility which is life-long; it is a daily task for those who can achieve great dreams! Woe to your people who do not know how to dream, who do not dare to dream! If a person of your age is not able to dream, if they have already gone into retirement… this is not good. Love is nurtured by trust, respect and forgiveness. Love does not happen because we talk about it, but when we live it: it is not a sweet poem to study and memorize, but is a life choice to put into practice! How can we grow in love? The secret, once again, is the Lord: Jesus gives us himself in the Mass, he offers us forgives and peace in Confession. There we learn to receive his love, to make it ours and to give it to the world. And when loving seems hard, when it is difficult to say no to something wrong, look up at Jesus on the cross, embrace the cross and don't ever let go of his hand. He will point you ever higher, and pick you up whenever you fall. Throughout life we will fall many times, because we are sinners, we are weak. But there is always the hand of God who picks us up, who raises us up. Jesus wants us to be up on our feet! Think of the beautiful word Jesus said to the paralytic: "Arise!". God has created us to be on our feet. There is a lovely song that mountain climbers sing as they climb. It goes like this: "In climbing, the important thing is not to not fall, but to not remain fallen!. To have the courage to pick oneself up, to allow oneself to be raised up by Jesus. And his hand is often given through the hand of a friend, through the hand of one's parents, through the hand of those who accompany us throughout life. Jesus himself is present in them. So arise! God wants us up on our feet, ever on our feet!
I know that you are capable of acts of great friendship and goodness. With these you are called to build the future, together with others and for others, but never against anyone! One never builds "against"; this is called "destruction". You will do amazing things if you prepare well, starting now, by living your youth and all its gifts to the fullest and without fear of hard work. Be like sporting champions, who attain high goals by quiet daily effort and practice. Let your daily programme be the works of mercy. Enthusiastically practice them, so as to be champions in life, champions in love! In this way you will be recognized as disciples of Jesus. In this way, you will have the identification card of the Christian. And I promise you: your joy will be complete.
Source: https://www.vatican.va/content/francesco/en/homilies/2016/documents/papa-francesco_20160424_omelia-giubileo-ragazzi.html
Emphasis mine.
---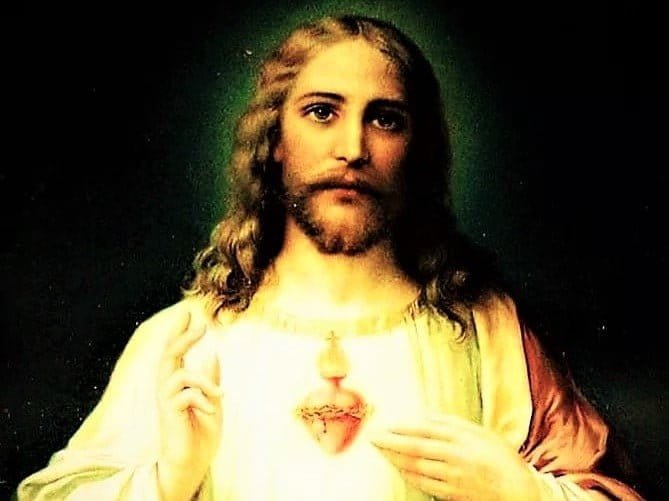 HOMILY OF POPE FRANCIS
Saint Peter's Square
5th Sunday of Easter Year C, 28 April 2013
Dear Brothers and Sisters,
Dear Confirmands,
I would like to offer three short and simple thoughts for your reflection.
1. In the second reading, we listened to the beautiful vision of Saint John: new heavens and a new earth, and then the Holy City coming down from God. All is new, changed into good, beauty and truth; there are no more tears or mourning… This is the work of the Holy Spirit: he brings us the new things of God. He comes to us and makes all things new; he changes us. The Spirit changes us! And Saint John's vision reminds us that all of us are journeying towards the heavenly Jerusalem, the ultimate newness which awaits us and all reality, the happy day when we will see the Lord's face – that marvelous face, the most beautiful face of the Lord Jesus – and be with him for ever, in his love.
You see, the new things of God are not like the novelties of this world, all of which are temporary; they come and go, and we keep looking for more. The new things which God gives to our lives are lasting, not only in the future, when we will be with him, but today as well. God is even now making all things new; the Holy Spirit is truly transforming us, and through us he also wants to transform the world in which we live. Let us open the doors to the Spirit, let ourselves be guided by him, and allow God's constant help to make us new men and women, inspired by the love of God which the Holy Spirit bestows on us! How beautiful it would be if each of you, every evening, could say: Today at school, at home, at work, guided by God, I showed a sign of love towards one of my friends, my parents, an older person! How beautiful!
2. A second thought. In the first reading Paul and Barnabas say that "we must undergo many trials if we are to enter the kingdom of God" (Acts 14:22). The journey of the Church, and our own personal journeys as Christians, are not always easy; they meet with difficulties and trials. To follow the Lord, to let his Spirit transform the shadowy parts of our lives, our ungodly ways of acting, and cleanse us of our sins, is to set out on a path with many obstacles, both in the world around us but also within us, in the heart. But difficulties and trials are part of the path that leads to God's glory, just as they were for Jesus, who was glorified on the cross; we will always encounter them in life! Do not be discouraged! We have the power of the Holy Spirit to overcome these trials!
3. And here I come to my last point. It is an invitation which I make to you, young confirmandi, and to all present. Remain steadfast in the journey of faith, with firm hope in the Lord. This is the secret of our journey! He gives us the courage to swim against the tide. Pay attention, my young friends: to go against the current; this is good for the heart, but we need courage to swim against the tide. Jesus gives us this courage! There are no difficulties, trials or misunderstandings to fear, provided we remain united to God as branches to the vine, provided we do not lose our friendship with him, provided we make ever more room for him in our lives. This is especially so whenever we feel poor, weak and sinful, because God grants strength to our weakness, riches to our poverty, conversion and forgiveness to our sinfulness. The Lord is so rich in mercy: every time, if we go to him, he forgives us. Let us trust in God's work! With him we can do great things; he will give us the joy of being his disciples, his witnesses. Commit yourselves to great ideals, to the most important things. We Christians were not chosen by the Lord for little things; push onwards toward the highest principles. Stake your lives on noble ideals, my dear young people!
The new things of God, the trials of life, remaining steadfast in the Lord. Dear friends, let us open wide the door of our lives to the new things of God which the Holy Spirit gives us. May he transform us, confirm us in our trials, strengthen our union with the Lord, our steadfastness in him: this is a true joy! So may it be.
Source: https://www.vatican.va/content/francesco/en/homilies/2013/documents/papa-francesco_20130428_omelia-cresime.html
Emphasis mine.
Copyright © Dicastero per la Comunicazione – Libreria Editrice Vaticana
Stay updated: subscribe by email for free TO OUR NEW WEBSITE www.catholicsstrivingforholiness.org (PUT YOUR EMAIL IN THE SUBSCRIBE WIDGET).
We are also in www.fb.com/Catholicsstrivingforholiness. Kindly help more people in their Christian life by liking our page and inviting your family, friends and relatives to do so as well. Thanks in advance and God bless you and your loved ones! Fr. Rolly Arjonillo