POPE BENEDICT XVI' REFLECTION ON THE 4TH SUNDAY OF ADVENT YEAR B
POPE BENEDICT XVI' REFLECTION ON THE 4TH SUNDAY OF ADVENT YEAR B.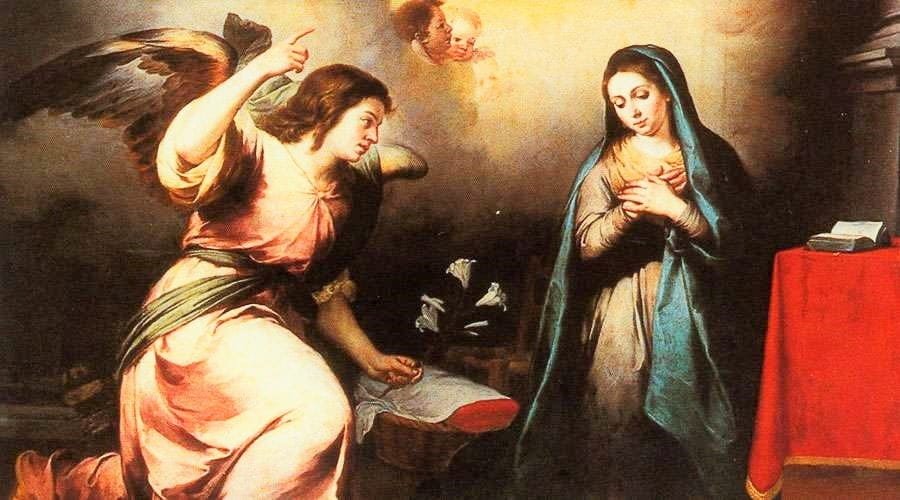 ---
Fourth Sunday of Advent,
ANGELUS ADDRESS
18 December 2011
Mary's virginity
Dear Brothers and Sisters,
On this fourth and last Sunday of Advent, this year the liturgy presents the narrative of the Angel's announcement to Mary. Contemplating the amazing icon of the Blessed Virgin at the moment when she receives the divine message and gives her answer, we are enlightened within by the light of truth that shines from that mystery ever new. In particular I would like to reflect briefly on the importance of Mary's virginity, namely that she conceived Jesus while remaining a virgin
Against the background of the event of Nazareth is the prophecy of Isaiah. "Behold, a young virgin shall conceive and bear a son, and shall call his name Immanuel" (Is 7:14). This ancient promise found superabundant fulfilment in the Incarnation of the Son of God. Indeed, not only did the Virgin Mary conceive, but she did so through the work of the Holy Spirit, that is, God himself.
The human being who came to life in her womb took Mary's flesh, but his existence derived totally from God. He is fully man, made of clay — to use the biblical symbol — but comes from on high, from Heaven. The fact that Mary conceived while remaining a virgin is thus essential to the knowledge of Jesus and to our faith, because it testifies that it was God's initiative and, above all, it reveals who the conceived being was.
As the Gospel says: "the child to be born will be called holy, the Son of God" (Lk 1:35). In this sense, the virginity of Mary and the divinity of Jesus guarantees each other. This is what makes that single question so important that Mary, "greatly troubled", asks the Angel: "How can this be, since I have no husband?" (Lk 1:34). Mary was very wise in her simplicity. She did not doubt God's power, but she wanted to better understand his will, in order to conform herself completely to this will. Mary was infinitely overcome by the Mystery, yet she occupied perfectly the place which, in its centre had been assigned to her. Her heart and her mind are fully humble and precisely because of her unique humility, God awaits this young woman's "yes" in order to carry out his plan. He respects her dignity and her freedom. Mary's "yes" entailed motherhood and virginity as a whole. She wanted everything in her to glorify God and he wanted the Son, born of her, to be totally a gift of grace.
Dear friends, Mary's virginity is unique and unrepeatable; but its spiritual meaning concerns every Christian, who is essentially linked to faith. In fact, those who put deep trust in God's love welcome Jesus and his divine life within them through the action of the Holy Spirit. This is the mystery of Christmas! I hope that you will all experience it with deep joy.
SOURCE: http://www.vatican.va/content/benedict-xvi/en/angelus/2011/documents/hf_ben-xvi_ang_20111218.html
EMPHASIS MINE.
---
---
Fourth Sunday of Advent,
ANGELUS ADDRESS
23 December 2007
Dear Brothers and Sisters,
Only one day separates this Fourth Sunday of Advent from Holy Christmas. Tomorrow night we will gather together to celebrate the great mystery of love which never ceases to amaze us: God became the Son of Man so that we might become children of God. During Advent, a frequent entreaty has risen from the heart of the Church: "Come, Lord, visit us with your peace, your presence will fill us with joy". The Church's evangelizing mission is the response to the cry "Come, Lord Jesus" that pervades all of salvation history and continues to rise from believers' lips. Come, Lord, transform our hearts, so that justice and peace may be spread in the world! The Doctrinal Note on some aspects of evangelization, recently published by the Congregation for the Doctrine of the Faith, intends to recall this. In fact, the Document sets out to remind all Christians – in a situation in which the actual reason why evangelization exists is often no longer clear even to many of the faithful – that "the acceptance of the Good News in faith is thus dynamically ordered to" (n. 7) communicating salvation received as a gift.
Indeed, "The truth which saves one's life inflames the heart of the one who has received it with a love of neighbour that motivates him to pass on to others in freedom what he has freely been given" (ibid.) Being reached by the presence of God who makes himself close to us at Christmas is a priceless gift. It is a gift that can make us "live within the universal embrace of the friends of God" (ibid.), in that "network of friendship with Christ which connects heaven and earth" (ibid., n. 9), which directs human freedom towards its fulfilment and, if it is lived in its truth, blossoms "in a love that is freely given and which overflows with care for the good of all people" (ibid., n. 7). Nothing is more beautiful, urgent and important than freely offering to men and women, in turn, what we ourselves have freely received from God! Nothing can dispense or relieve us from this burdensome but fascinating commitment. While the joy of Christmas that we already anticipate fills us with hope, it spurs us at the same time to proclaim to everyone God's presence in our midst.
The Virgin Mary, who did not communicate to the world an idea but Jesus, the Incarnate Word, is an unparalleled model of evangelization. Let us invoke her with trust so that, in our time too, the Church may proclaim Christ, the Saviour. May every Christian and every community feel the joy of sharing with others the Good News that "God so loved the world that he gave his Only Son… that the world might be saved through him" (Jn 3: 16-17). This is the authentic meaning of Christmas, which we must rediscover and live intensely.
SOURCE: http://www.vatican.va/content/benedict-xvi/en/angelus/2007/documents/hf_ben-xvi_ang_20071223.html
EMPHASIS MINE.
SEE AS WELL:
4TH SUNDAY OF ADVENT YEAR B 2020 MASS PRAYERS AND READINGS HERE
REFLECTION HOMILY ON THE 4TH SUNDAY OF ADVENT YEAR B HERE.
POPE FRANCIS REFLECTION ON THE 4TH SUNDAY OF ADVENT YEAR B HERE.
POPE BENEDICT XVI' REFLECTION ON THE 4TH SUNDAY OF ADVENT YEAR B HERE.