May 3: STS. PHILIP AND JAMES, APOSTLES. Short bio and reading.
May 3
STS. PHILIP AND JAMES, APOSTLES.
Short bio and reading.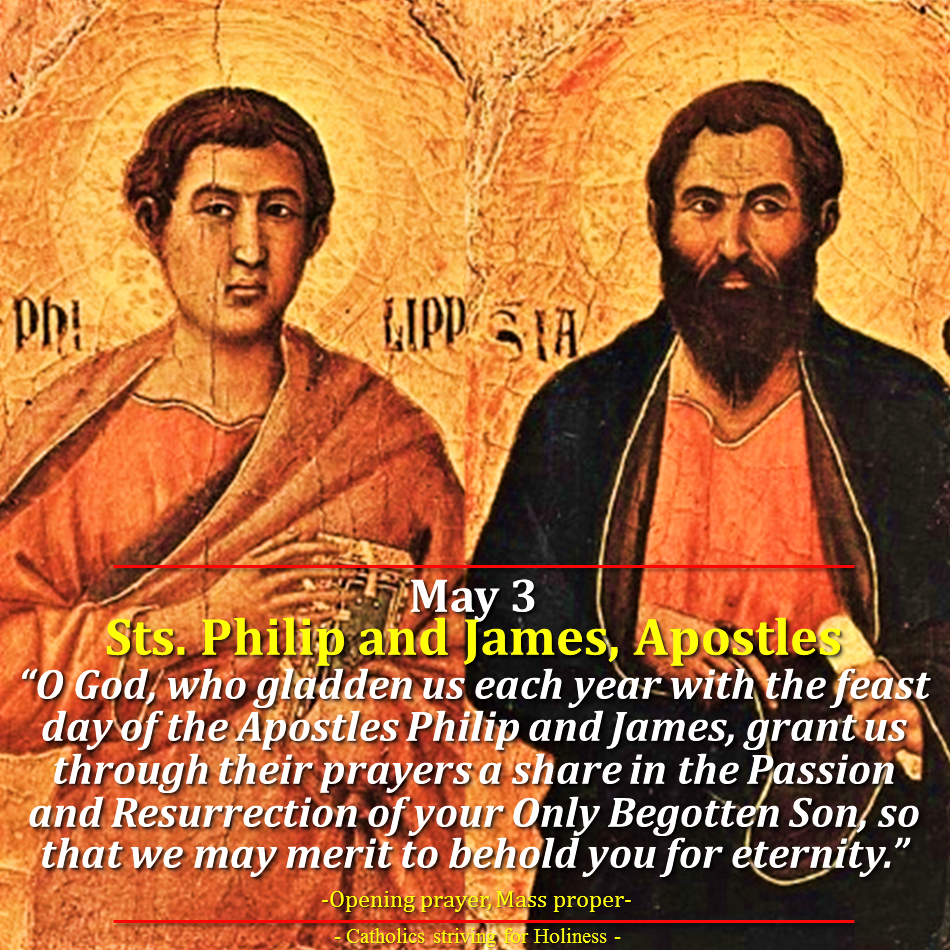 Like Peter and Andrew, St. Philip was from Bethsaida. He was crucified at Hierapolis in Phrygia where he had preached the Gospel. He introduced St. Bartholomew to Christ. Christ declared to Philip, "He that hath seen me, hath seen the Father… I am in the Father and the Father in me." (John 14:8-9).
St. James was a cousin of our Lord. He was called James the Less, to distinguish him from the other James. As Bishop of Jerusalem, he wrote one of the epistles of the New Testament. St. James was thrown down from the terrace of the Temple and then stoned to death. The names of Philip and James are mentioned in the Roman Canon.
THE PREACHING OF THE APOSTLES (Tertullian)
Our Lord Jesus Christ himself declared what he was, what he had been, how he was carrying out his Father's will, what obligations he demanded of men. This he did during his earthly life, either publicly to the crowds or privately to his disciples. Twelve of these he picked out to be his special companions, appointed to teach the nations.
One of them fell from his place. The remaining eleven were commanded by Christ, as he was leaving the earth to return to the Father after his resurrection, to go and teach the nations and to baptize them into the Father, the Son and the Holy Spirit.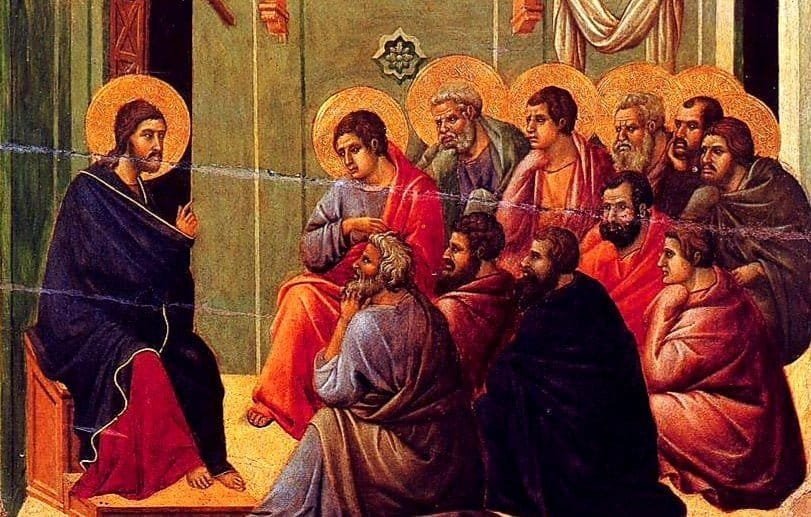 The apostles cast lots and added Matthias to their number, in place of Judas, as the twelfth apostle. The authority for this action is to be found in a prophetic psalm of David. After receiving the power of the Holy Spirit which had been promised to them, so that they could work miracles and proclaim the truth, they first bore witness to their faith in Jesus Christ and established churches throughout Judea. They then went out into the whole world and proclaimed to the nations the same doctrinal faith.
They set up churches in every city. Other churches received from them a living transplant of faith and the seed of doctrine, and through this daily process of transplanting they became churches. They therefore qualify as apostolic churches by being the offspring of churches that are apostolic.
Every family has to be traced back to its origins. That is why we can say that all these great churches constitute that one original Church of the apostles; for it is from them that they all come. They are all primitive, all apostolic, because they are all one. They bear witness to this unity by the peace in which they all live, the brotherhood which is their name, the fellowship to which they are pledged. The principle on which these associations are based is common tradition by which they share the same sacramental bond.
The only way in which we can prove what the apostles taught – that is to say, what Christ revealed to them – is through those same churches. They were founded by the apostles themselves, who first preached to them by what is called the living voice and later by means of letters.
The Lord had said clearly in former times: I have many more things to tell you, but you cannot endure them now. But he went on to say: When the Spirit of truth comes, he will lead you into the whole truth. Thus Christ shows us that the apostles had full knowledge of the truth, for he had promised that they would receive the whole truththrough the Spirit of truth. His promise was certainly fulfilled, since the Acts of the Apostles prove that the Holy Spirit came down on them.
COLLECT
O God, who gladden us each year with the feast day of the Apostles Philip and James, grant us through their prayers a share in the Passion and Resurrection of your Only Begotten Son, so that we may merit to behold you for eternity. Through our Lord.
ORIGINAL PHOTO SOURCE: https://catholicsstrivingforholiness.files.wordpress.com/2017/05/7a0c4-san2bfelipe2by2bsantiago252c2bap25c325b3stoles.jpg
SEE AS WELL:
POPE BENEDICT XVI ON SAINTS PHILIP AND JAMES HERE.
MAY 3 STS. PHILIP AND JAMES MASS AND PROPER READINGS HERE.
VIDEO REFLECTION
TOPIC: HOW WELL DO YOU KNOW YOUR FRIENDS?
1st Reading 1 Corinthians 15:1-8
Responsorial Psalm Psalms 19:2-3, 4-5
Alleluia John 14:6B, 9C
Gospel John 14:6-14
Our reflection today centers on our friendship with Jesus, just like having earthly friends. We choose friends who have the same goals, values, interests in life like us. Some friendships remain superficial, on a "need" basis, meaning, it lasts only to the extent where one's life or career or business aspirations are benefitted by such friendships. But if other commonalities surface to overcome the initial inertia, the friendship goes to a deeper level.
Stay updated: subscribe by email for free TO OUR NEW WEBSITE www.catholicsstrivingforholiness.org (PUT YOUR EMAIL IN THE SUBSCRIBE WIDGET).
We are also in www.fb.com/Catholicsstrivingforholiness. Kindly help more people in their Christian life by liking our page and inviting your family, friends and relatives to do so as well. Thanks in advance and God bless you and your loved ones! Fr. Rolly Arjonillo