May 22: ST. RITA OF CASCIA. Patron saint of lost and impossible causes, the sick, wounded, marital problems, abused, of mothers
May 22: ST. RITA OF CASCIA
Patron saint of lost and impossible causes, the sick, wounded, marital problems, abused, of mothers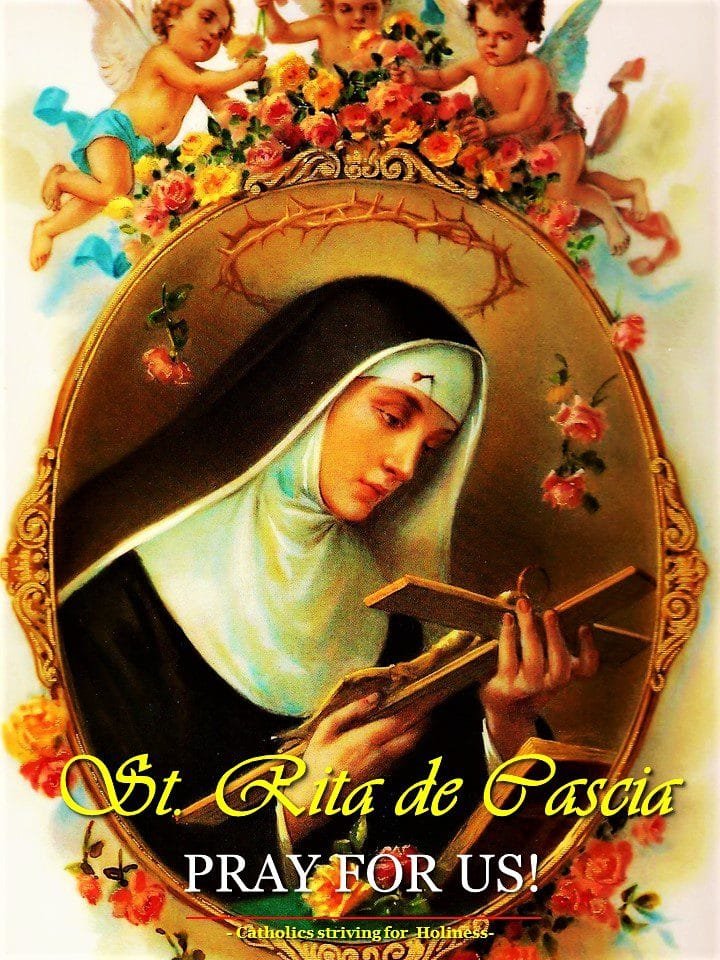 After the deaths of her husband and sons, St. Rita of Cascia (1381 – May 22, 1457) desired to enter the monastery of St. Mary Magdalene at Cascia but was turned away. Although the convent acknowledged Rita's good character and piety, it was afraid of being associated with her due to the scandal of her husband's violent death. However, she persisted in her cause and was given a condition before the convent could accept her; the difficult task of reconciling her family with her husband's murderers. She was able to resolve the conflicts between the families and, at the age of 36, was allowed to enter the monastery.
The words of Christ remain in us
From the treastise of St. John by St. Augustine
"If you abide in me", he says, "and my words abide in you, you shall ask what you will, and it shall be done unto you." For abiding thus in Christ, is there anything they can wish but what will be agreeable to Christ? So abiding in the Saviour, can they wish anything that is inconsistent with salvation? Some things, indeed, we wish because we are in Christ, and other things we desire because still in this world. For at times, in connection with this our present abode, we are inwardly prompted to ask what we know not it would be inexpedient for us to receive. But God forbid that such should be given us if we abide in Christ, who, when we ask, only does what will be for our advantage.
Abiding, therefore, ourselves in him, when his words abide in us we shall ask what we will, and it shall be done unto us. For if we ask, and the doing follows not, what we ask is not connected with our abiding in him, nor with his words which abide in us, but with that craving and infirmity of the flesh which are not in him, and have not his words abiding in them. For to his words, at all events, belongs that prayer which he taught, and in which we say, "Our Father, who art in heaven." Let us only not fall away from the words and meaning of this prayer in our petitions, and whatever we ask, it shall be done unto us.
For then only may his words be said to abide in us, when we do what he has commanded us, and love what he has promised. But when his words abide only in the memory, and have no place in the life, the branch is not to be accounted as in the vine, because it draws not its life from the root. It is to this distinction that the word of Scripture has respect, and to those that remember his commandments to do them. For many retain them in their memory only to treat them with contempt, or even to mock at and assail them. It is not in such as have only some kind of contact, but no connection, that the words of Christ abide; and to them, therefore, they will not be a blessing, but a testimony against them; and because they are present in them without abiding in them, they are held fast by them for the very purpose of being judged according to them at last.
COLLECT
Bestow on us, we pray, O Lord, the wisdom and strength of the Cross, with which you were pleased to endow Saint Rita, so that, suffering in every tribulation with Christ, we may participate ever more deeply in his Paschal Mystery. Who lives and reigns with you.
Stay updated: subscribe by email for free TO OUR NEW WEBSITE www.catholicsstrivingforholiness.org (PUT YOUR EMAIL IN THE SUBSCRIBE WIDGET).
We are also in www.fb.com/Catholicsstrivingforholiness. Kindly help more people in their Christian life by liking our page and inviting your family, friends and relatives to do so as well. Thanks in advance and God bless you and your loved ones! Fr. Rolly Arjonillo