LIVE A CLEAN LIFE. SAY 'YES' TO HOLY PURITY.
LIVE A CLEAN LIFE. SAY 'YES' TO HOLY PURITY.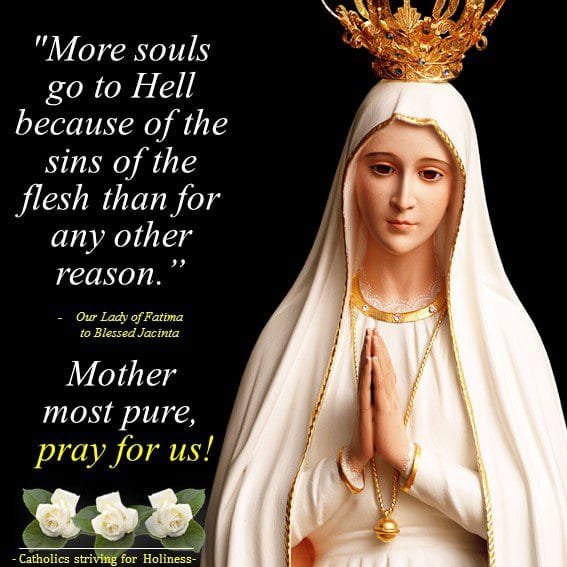 Our Lady of Fatima told Blessed Jacinta the following words to encourage us in living the virtue of holy purity and thus a clean heart, soul and life, for love of God.
"More souls go to Hell because of the sins of the flesh than for any other reason."
Holy purity or chastity is an indispensable virtue if we are to have an intimate and loving relationship with God. "Blessed are the pure of heart, for they shall see God (Mt 5:8)."
Helped by God's grace, we should constantly strive to cleanse our heart and acquire this purity, whose reward is the vision of God. Hence, we must learn how to say "YES" to holy purity and "NO" to all that offends Our Lord, especially the sins of the flesh, enumerated in the Catechism of the Catholic Church, namely:
"2396 Among the sins gravely contrary to chastity are MASTURBATION, FORNICATION, PORNOGRAPHY, AND HOMOSEXUAL PRACTICES.
2399 The regulation of births represents one of the aspects of responsible fatherhood and motherhood. Legitimate intentions on the part of the spouses do not justify recourse to morally unacceptable means (for example, DIRECT STERILIZATION OR CONTRACEPTION).
2400 ADULTERY, DIVORCE, POLYGAMY, AND FREE UNION are grave offenses against the dignity of marriage." (Caps mine).
Dear brethren in Christ, all of us are called to live the virtue of holy purity according to the conditions of our state of life. By living the virtue of holy purity or chastity, our love for God and others will be authentic because it does not seek its own pleasure but rather knows how to respect the sublime dignity of the human person who is an end in itself, and must be treated as such and not as an object or instrument of pleasure.
Thus, let us live a clean life for love of God and others. Let us, with the help of God's grace, say YES to God, YES to holy purity and a clean life, NO to impurity, to the sins of the flesh, and we will experience real happiness in the depths of our soul.
Mother most pure, pray for us!
God bless you and your family! Fr. Rolly A.
SEE AS WELL: RIGHT CLICK ON THE LINK AND OPEN IN A NEW TAB
Stay updated: subscribe by email for free TO OUR NEW WEBSITE www.catholicsstrivingforholiness.org (PUT YOUR EMAIL IN THE SUBSCRIBE WIDGET).
We are also in www.fb.com/Catholicsstrivingforholiness. Kindly help more people in their Christian life by liking our page and inviting your family, friends and relatives to do so as well. Thanks in advance and God bless you and your loved ones! Fr. Rolly Arjonillo