HOMILY FOR THE ASCENSION OF OUR LORD
HOMILY FOR THE ASCENSION OF OUR LORD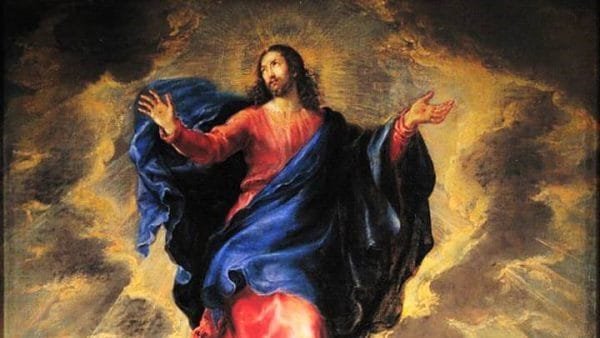 1. WHAT DOES OUR LORD'S ASCENSION SIGNIFY?
After having finished his mission on earth, Our Lord ascended into heaven: he was lifted and taken up to heaven and his HUMANITY WAS GLORIFIED. To understand the meaning and repercussions of Our Lord's Ascension, I would like you to remember the acronyms: G.I.F.T. and A.W.E.
2. WHAT IS THE MEANING AND THE REPERCUSSIONS OF THE ASCENSION OF OUR LORD IN OUR LIFE AS CHRISTIANS? G.I.F.T. and A.W.E.
G: GLORIFICATION of Jesus' humanity with his definitive entrance into GOD'S HEAVENLY DOMAIN)…
he ascends not to distance himself from our lowly state but that we his members might be confident of following where he, our Head and Founder, has gone before (Preface of the Ascension). As "the head of the Church",
Jesus "PRECEDES US INTO THE FATHER'S GLORIOUS KINGDOM so that WE, THE MEMBERS OF HIS BODY, MAY LIVE IN THE HOPE OF ONE DAY BEING WITH HIM FOR EVER…"
Glorify God in our soul and in our body as well.
I: INTERCESSION. He once and for all INTERCEDES CONSTANTLY FOR US AS THE MEDIATOR.
He sits at the right hand of the Father to ask on our behalf.
He is the Mediator. But he makes use of other mediators as his instruments to ASK Him on our behalf: Our Lady and the saints.
F. FULFILLMENT OF HIS PROMISE TO SEND US THE HOLY SPIRIT. (Catechism of the Catholic Church, 665-667).
Pentecost. Deal with the Holy Spirit daily because He is the one who makes us holy and fall in love more with God, being the love which proceeds from the Father and the Son.
T. TASK. Task to do apostolate and to seek his presence here on earth.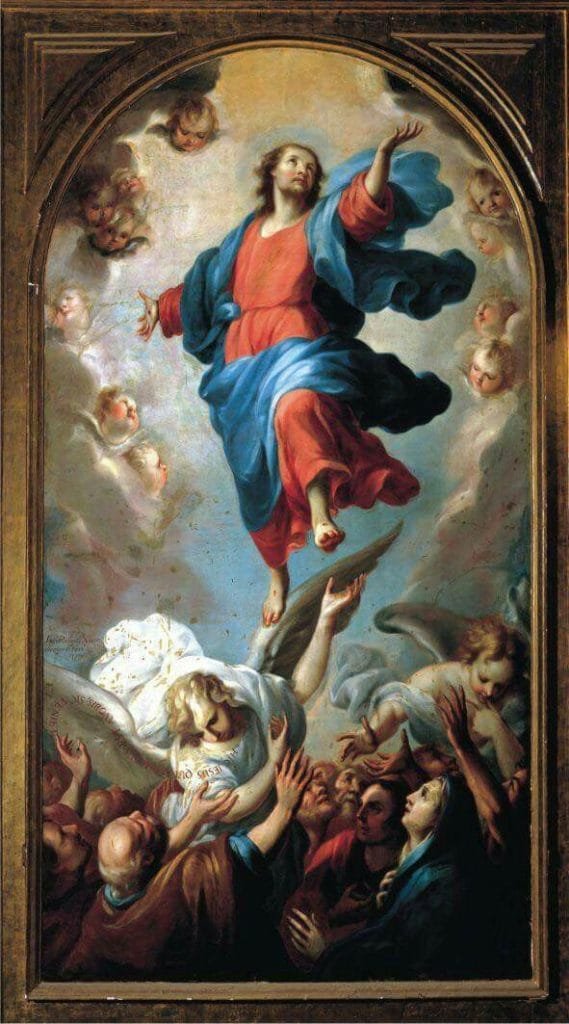 Go, therefore, and make disciples of all nations,
baptizing them in the name of the Father,
and of the Son, and of the Holy Spirit,
teaching them to observe all that I have commanded you.
And behold, I am with you always, until the end of the age."
A: APOSTOLATE: Jesus asks us TO DO APOSTOLATE with the people around us.
APOSTOLATE CONSISTS IN BRINGING SOULS CLOSER TO CHRIST through our prayer, our sacrifices, our good example, our timely and amiable understanding and advice and sincere friendship, and while carrying one's professional duties wherever God has placed us.What are we doing to bring souls closer to Christ, especially those whom God placed by our side?
As parents, in your profession…: Medical interns, doctors and nurses baptizing babies in imminent danger of death; calling the priest to assist the dying. As friends, are we concerned with the spiritual well-being of our friends?
W: WITH US: Jesus also assures us that HE IS WITH US ALWAYS UNTIL THE END OF THE AGE.
Soul in grace, Church, Sacraments especially in the Holy Eucharist. Do we give thanks of God's presence and nearness? Or do we take it for granted?
E: EXPECTS US. Jesus EXPECTS us to look up to Him and SEEK his presence.
It should inspire us to "LOOK FOR GOD IN THE ORDINARY ACTIVITIES OF OUR DAILY LIFE TO ASK US OFTEN: WHAT DO YOU WANT ME TO DO NOW LORD IN THIS SITUATION.
WITH OUR FEET ON THE GROUND, WE SHOULD LIFT UP OUR HEART ALWAYS TOWARDS HEAVEN AND SEEK THIS INTIMATE CONVERSATION WITH GOD THROUGHOUT THE DAY, CONVERTING ALL OUR DAILY ACTIVITIES INTO OCCASIONS TO SEEK, FIND, AND LOVE GOD.
Lord Jesus, through the intercession of our Mother Mary, Help of Christians,
may we learn how to do apostolate, count always that Jesus is with us, deal with the HS frequently and
set our hearts on the things that are above where You are, seated at the right hand of God; may we seek the things that are above, while we carry out our daily activities here on earth.
May we remember the acronyms GIFT and AWE, AND APPLY IT TO OUR DAILY LIVES so that one day, having preceded us, we may also be glorified with you in Heaven.
SEE AS WELL:
Stay updated: subscribe by email for free TO OUR NEW WEBSITE www.catholicsstrivingforholiness.org (PUT YOUR EMAIL IN THE SUBSCRIBE WIDGET).
We are also in www.fb.com/Catholicsstrivingforholiness. Kindly help more people in their Christian life by liking our page and inviting your family, friends and relatives to do so as well. Thanks in advance and God bless you and your loved ones! Fr. Rolly Arjonillo