DAILY GOSPEL COMMENTARY: "THEY BEGGED HIM TO LEAVE THE DISTRICT" (Mt 8:28-34).
DAILY GOSPEL COMMENTARY:
"THEY BEGGED HIM TO LEAVE THE DISTRICT" (Mt 8:28-34).
Gospel of Wednesday, 13th week in Ordinary Time
Mt 8:28–34
When Jesus came to the territory of the Gadarenes, two demoniacs who were coming from the tombs met him. They were so savage that no one could travel by that road. They cried out, "What have you to do with us, Son of God? Have you come here to torment us before the appointed time?" Some distance away a herd of many swine was feeding. The demons pleaded with him, "If you drive us out, send us into the herd of swine." And he said to them, "Go then!" They came out and entered the swine, and the whole herd rushed down the steep bank into the sea where they drowned. The swineherds ran away, and when they came to the town they reported everything, including what had happened to the demoniacs. Thereupon the whole town came out to meet Jesus, and when they saw him they begged him to leave their district.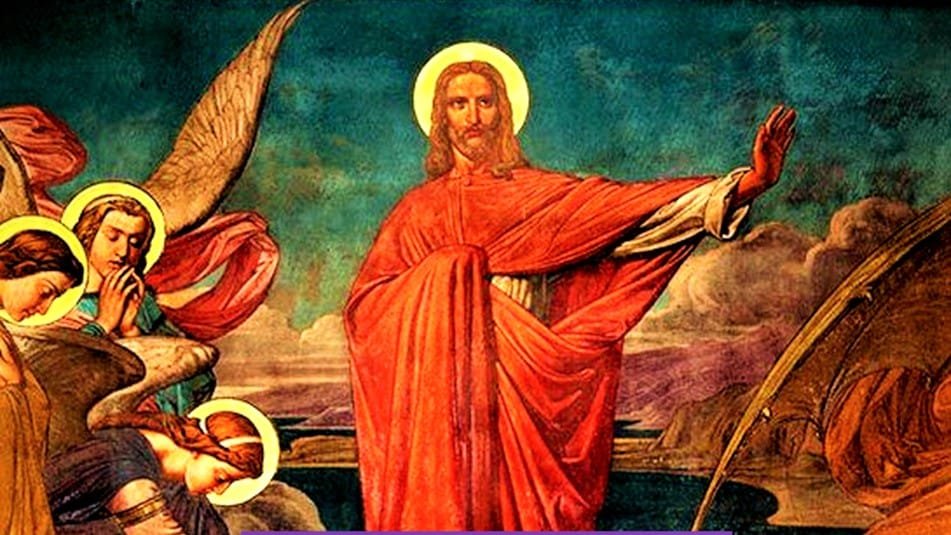 28 Most Gospel codexes and the New Vulgate say "Gadarenes": but the Vulgate and parallel texts in Mark and Luke have "Gerasenes".

Both names are possible: the two main towns in the area were Gerasa and Gadara. The event reported here could have happened close to both towns (limits were not very well defined), though the swine running down into the lake or sea of Galilee makes Gadara somewhat more likely. "Gergesenes" was a suggestion put forward by Origen.

28-34 In this episode Jesus once more shows his power over the devil.

That it occurred in Gentile territory (Gerasa and Gadara were in the Decapolis, east of Jordan) is borne out by the fact that Jews were forbidden to raise swine, which the Law of Moses declared to be unclean.
This and other instances of expulsion of demons narrated in the Gospel are referred to in the Acts of the Apostles, when St Peter addresses Cornelius and his household: "he went about doing good and healing all that were oppressed by the devil" (Acts 10:38).
It was a sign that the Kingdom of God had begun (cf. Mt 12:28).

The attitude of local people towards this miracle reminds us that meeting God and living a Christian life require us to subordinate personal plans to God's designs.

If we have a selfish or materialistic outlook we fail to appreciate the value of divine things and push God out of our lives, begging him to go away, as these people did.
VIDEO COMMENTARY ON TODAY'S GOSPEL
TOPIC 1: DO YOUR LET YOUR DEMONS POSSESS YOU?
In today's gospel reading, Jesus and His disciples arrive at a town called Gadara (Matthew) or Gerasa (Mark and Luke). They had just gone through a storm where the apostles witnessed Jesus calm the winds and the waves. Two demon-possessed men (one according to Mark and Luke), came out of their tomb-filled lifeless cave and beg Him to send them into a herd of swine. We reflect today on the demons that hound us into submission to Satan. Do we let them possess us or do we let God possess us back?
TOPIC 2: WHAT ARE YOUR DEMONS THAT YOU NEED JESUS TO EXPEL FROM YOU
After the storm that Jesus calmed down, they now arrive at Gadarenes.
We see a number of cases of Christians being possessed by the demons today. If the Holy Spirit dwells in the Christian, the Bible says, "Submit yourselves therefore to God. Resist the devil, and he will flee from you." (James 4:7).
What is surprising though in today's gospel is that the people pleaded with Jesus to leave their place. Instead of thinking of Him as the savior who will free them from future demons and problems that they will face, He is seen as a disruptor of their daily lives.
Jews consider pigs as unclean animals; therefore, they do not eat their meat. But for Gentiles, which populated this region, they love eating the meat of pigs. The death of these pigs, which plunged into the sea along with the demons in them, may result in starvation and loss of livelihood for them.
They never imagined that Jesus can totally eradicate their future demons if they just let Him enter into their lives. But what they see are the short-term pleasures that may eventually disappear.
The Gentiles of Gadarenes represent us today. We are so self-possessed, that we have many excuses to commit sin or are too calloused to see the sin in what we are doing. Our minds are littered with lust, vindictiveness, covetousness and attachments to things, power, titles and wealth to the extent of sacrificing our values to acquire them.
We may be addicted to the demons of drugs, alcohol, gambling and sex.
We feel we don't need God and our successes are attributable to our own efforts alone. Our egos are bloated and pride makes us unable to accept the mistakes or even just the perspectives of others. We become too sensitive to negative opinion and are always resentful of anyone who tries to go against us.
In that sense, we are no match against the evil forces. But we have the Holy Spirit within us that can ensure victory over evil. Paul instructs us to use spiritual weapons – truth and righteousness – to fight evil.
But we can only be effective if we live a life of prayer and sacrifice. If our prayers are centered not on ourselves and what we want, but on seeking holiness for ourselves and those around us, we will be able to conquer the evil that tries to permanently displace the Holy Spirit in our lives.
Stay updated: subscribe by email for free TO OUR NEW WEBSITE www.catholicsstrivingforholiness.org (PUT YOUR EMAIL IN THE SUBSCRIBE WIDGET).
We are also in www.fb.com/Catholicsstrivingforholiness. Kindly help more people in their Christian life by liking our page and inviting your family, friends and relatives to do so as well. Thanks in advance and God bless you and your loved ones! Fr. Rolly Arjonillo