DAILY GOSPEL, SHORT COMMENTARY AND TIPS: Jan. 4. "We have found the Messiah."
DAILY GOSPEL, SHORT COMMENTARY AND TIPS:
Jan. 4. "We have found the Messiah."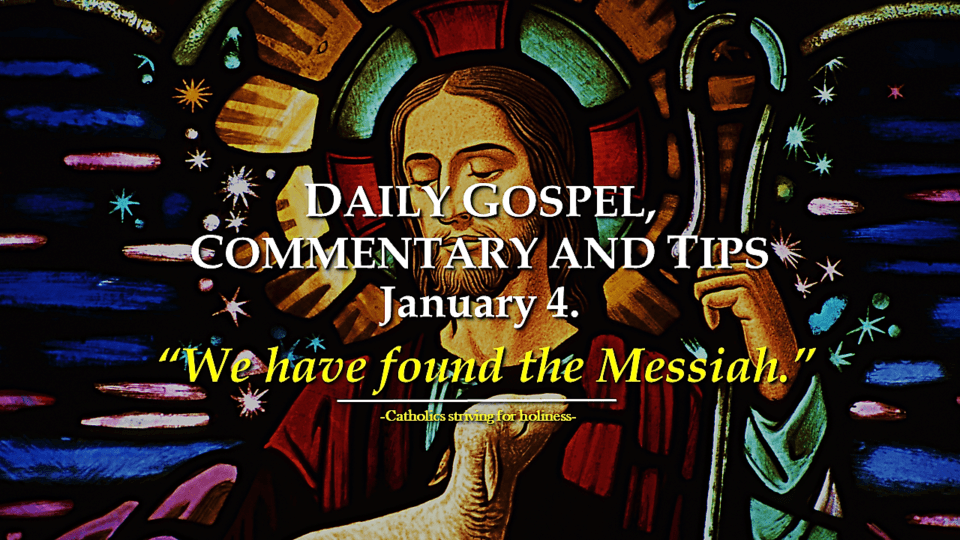 GOSPEL
Jn 1:35-42
John was standing with two of his disciples, and as he watched Jesus walk by, he said, "Behold, the Lamb of God." The two disciples heard what he said and followed Jesus. Jesus turned and saw them following him and said to them, "What are you looking for?" They said to him, "Rabbi" (which translated means Teacher), "where are you staying?" He said to them, "Come, and you will see." So they went and saw where he was staying, and they stayed with him that day. It was about four in the afternoon. Andrew, the brother of Simon Peter, was one of the two who heard John and followed Jesus. He first found his own brother Simon and told him, "We have found the Messiah," which is translated Christ. Then he brought him to Jesus. Jesus looked at him and said, "You are Simon the son of John; you will be called Cephas," which is translated Peter.
COMMENTARY
FROM ST. AUGUSTINE. (Tr. vii. c. 13): "Messias in Hebrew, Christus in Greek, Unctus in Latin. Chrism is unction, and He had a special unction, which from Him extended to all Christians, as appears in the Psalm, God, even Thy God, hath anointed Thee with the oil of gladness above Thy fellows (Ps. 44, [45]) All holy persons are partakers with Him; but He is specially the Holy of Holies, specially anointed."
FROM THE COMPENDIUM OF THE CATHOLIC CHURCH n. 82: "Christ" in Greek, "Messiah" in Hebrew, means the "anointed one". Jesus is the Christ because he is consecrated by God and anointed by the Holy Spirit for his redeeming mission. He is the Messiah awaited by Israel, sent into the world by the Father. Jesus accepted the title of Messiah but he made the meaning of the term clear: "come down from heaven" (John 3:13), crucified and then risen , he is the Suffering Servant "who gives his life as a ransom for the many" (Matthew 20:28). From the name Christ comes our name of Christian.
TIPS:
May we always "seek, find and love Christ (St. Josemaria)" in all that we do during the day. In Baptism, we have been anointed in Christ and we are called to be "other Christs".
Good is diffusive in itself. May we also be instruments in showing Christ to others and leading them to Him through our prayer, example, and friendly advice, for our vocation towards holiness is inseparable from apostolate.
Fr. Rolly Arjonillo
VIDEO COMMENTARY
TOPIC: ARE YOU SO CAUGHT UP IN YOUR OWN PAIN THAT YOU CANNOT SEE THE PAIN IN OTHERS?
We often complain about our own problems and sufferings that we do not see the greater pain that others are experiencing. If we bring ourselves to empathize with others, to feel their own pain, perhaps, our own pain will go away.
Stay updated: subscribe by email for free TO OUR NEW WEBSITE www.catholicsstrivingforholiness.org (PUT YOUR EMAIL IN THE SUBSCRIBE WIDGET).
We are also in www.fb.com/Catholicsstrivingforholiness. Kindly help more people in their Christian life by liking our page and inviting your family, friends and relatives to do so as well. Thanks in advance and God bless you and your loved ones! Fr. Rolly Arjonillo