BEATITUDES 3: "BLESSED ARE THE MEEK, FOR THEY SHALL INHERIT THE EARTH (Mt 5:5)."WHO ARE THE "MEEK"?
BEATITUDES 3:
"BLESSED ARE THE MEEK, FOR THEY SHALL INHERIT THE EARTH
(Mt 5:5)."
WHO ARE THE "MEEK"?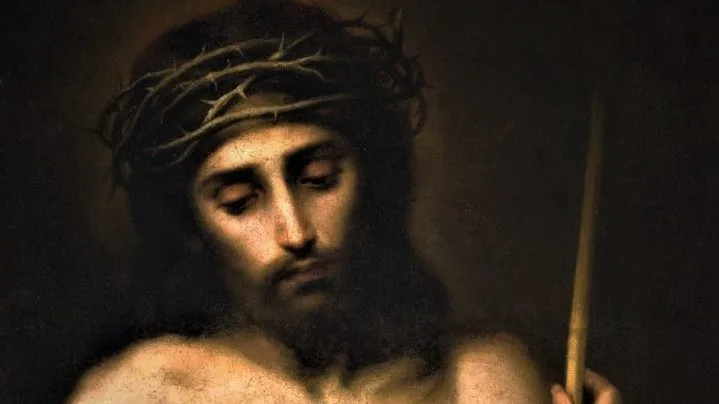 Blessed are the meek, for they will inherit the earth"
"The meek" are "those who patiently suffer unjust persecution; those who remain serene, humble and steadfast in adversity, and do not give way to resentment or discouragement. The virtue of meekness is very necessary in the Christian life. Usually irritableness, which is very common, stems from a lack of humility and interior peace (Commentary to the Gospel of St. Matthew, Navarre Bible, Scepter Press)."
Pope Francis, in His Apostolic Exhortation, Gaudete et exultate, nos. 71-74 comments:
Blessed are the meek, for they will inherit the earth"
71. These are strong words in a world that from the beginning has been a place of conflict, disputes and enmity on all sides, where we constantly pigeonhole others on the basis of their ideas, their customs and even their way of speaking or dressing. Ultimately, it is the reign of pride and vanity, where each person thinks he or she has the right to dominate others. Nonetheless, impossible as it may seem, Jesus proposes a different way of doing things: the way of meekness. This is what we see him doing with his disciples. It is what we contemplate on his entrance to Jerusalem: "Behold, your king is coming to you, humble, and mounted on a donkey" (Mt 21:5; Zech 9:9).
72. Christ says: "Learn from me; for I am gentle and humble of heart, and you will find rest for your souls" (Mt 11:29). If we are constantly upset and impatient with others, we will end up drained and weary. But if we regard the faults and limitations of others with tenderness and meekness, without an air of superiority, we can actually help them and stop wasting our energy on useless complaining. Saint Thérèse of Lisieux tells us that "perfect charity consists in putting up with others' mistakes, and not being scandalized by their faults".[69]
73. Paul speaks of meekness as one of the fruits of the Holy Spirit (cf. Gal 5:23). He suggests that, if a wrongful action of one of our brothers or sisters troubles us, we should try to correct them, but "with a spirit of meekness", since "you too could be tempted" (Gal6:1). Even when we defend our faith and convictions, we are to do so "with meekness" (cf. 1 Pet 3:16). Our enemies too are to be treated "with meekness" (2 Tim 2:25). In the Church we have often erred by not embracing this demand of God's word.
74. Meekness is yet another expression of the interior poverty of those who put their trust in God alone. Indeed, in the Bible the same word – anawim – usually refers both to the poor and to the meek. Someone might object: "If I am that meek, they will think that I am an idiot, a fool or a weakling". At times they may, but so be it. It is always better to be meek, for then our deepest desires will be fulfilled. The meek "shall inherit the earth", for they will see God's promises accomplished in their lives. In every situation, the meek put their hope in the Lord, and those who hope for him shall possess the land… and enjoy the fullness of peace (cf. Ps37:9.11). For his part, the Lord trusts in them: "This is the one to whom I will look, to the humble and contrite in spirit, who trembles at my word" (Is 66:2).
Reacting with meekness and humility: that is holiness.
SEE AS WELL :
THE BEATITUDES AND HOLINESS. AV reflection in https://catholicsstrivingforholiness.org/4th-sunday-o-t-a-the-beatitudes-a-way-of-holiness-and-happiness-av-catechism-gospel-reflection/
THE BEATITUDES. AV Catechism in https://catholicsstrivingforholiness.org/4th-sunday-ot-a-the-beatitudes-and-holiness-av-reflection/
BEATITUDES 1: WHAT DOES "POOR IN SPIRIT" MEAN? https://catholicsstrivingforholiness.org/beatitudes-1-what-does-poor-in-spirit-mean/
BEATITUDES 2: BLESSED ARE THOSE WHO MOURN in https://catholicsstrivingforholiness.org/beatitudes-2-why-are-those-who-mourn-blessed/
PHOTO CREDIT AND SOURCE: "Ecce Homo" attributed to Bartolomé Esteban Murillo in http://www.sothebys.com/…/lo…/L16/L16030/057L15037_7HFTV.jpg
Stay updated: subscribe by email for free TO OUR NEW WEBSITE www.catholicsstrivingforholiness.org (PUT YOUR EMAIL IN THE SUBSCRIBE WIDGET).
We are also in www.fb.com/Catholicsstrivingforholiness. Kindly help more people in their Christian life by liking our page and inviting your family, friends and relatives to do so as well. Thanks in advance and God bless you and your loved ones! Fr. Rolly Arjonillo