August 24. St. BARTHOLOMEW, Apostle. Model of Sincerity and Simplicity.
August 24. St. BARTHOLOMEW, Apostle.
Model of Sincerity and Simplicity.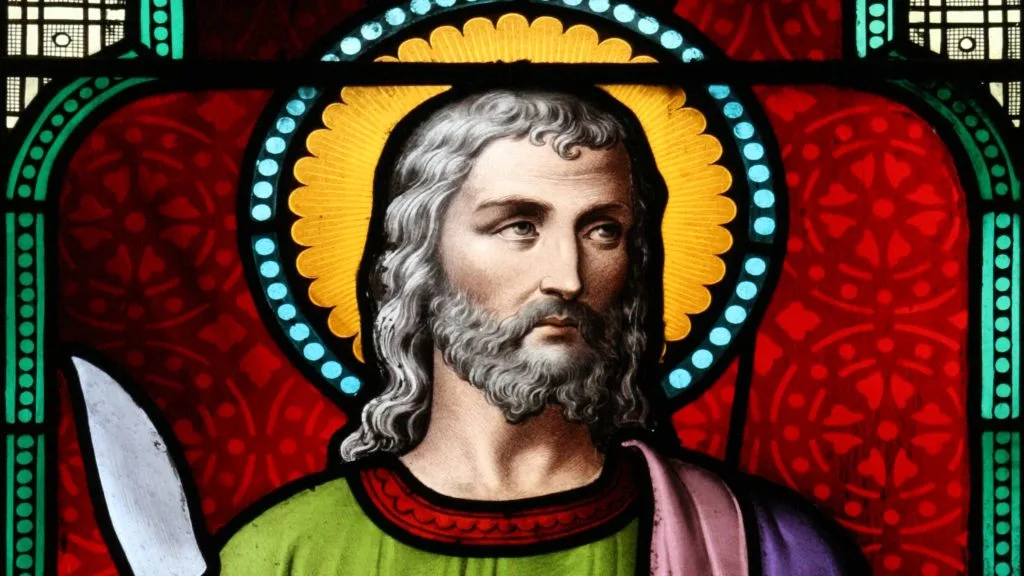 August 24. St. BARTHOLOMEW, Apostle.
Model of Sincerity and Simplicity.
SEE AS WELL:"I AM THE TRUTH (Jn 14:6)." THE "DUMB DEVIL" AND THE NEED FOR SINCERITY in https://catholicsstrivingforholiness.org/i-am-the-truth-jn-146-the-dumb-devil-and-the-need-for-sincerity/
St. Bartholomew was from Cana in Galilee. Mentioned in the Gospel as one of the twelve apostles, he is identified with Nathanael who was brought to Jesus by his friend, the apostle Philip. Jesus bestowed great praise on meeting him: "Behold a true Israelite in whom there is no guile."
Along with his fellow apostle Jude, St. Bartholomew is reputed to have brought Christianity to Arabia and Armenia. Thus both saints are considered the patron saints. However, there are also sources which testify that St. Bartholomew also travelled to India. Eusebius of Caesarea's Ecclesiastical History (5:10) states that after the Ascension, Bartholomew went on a missionary tour to India, where he left behind a copy of the Gospel of Matthew. Other traditions record him as serving as a missionary in Ethiopia, Mesopotamia, Parthia, and Lycaonia.
HE IS SAID TO HAVE BEEN MARTYRED BY BEING SKINNED ALIVE AND BEHEADED IN ALBANOPOLIS (near Başkale, Turkey) by the brother of king Polymius for converting him. This explains why in the works of art, Bartholomew is OFTEN SHOWN WITH A LARGE KNIFE (as in our picture) or HOLDING HIS OWN SKIN (as in Michelangelo's Last Judgment), or both.
2. ST. BARTHOLOMEW: MODEL OF SINCERITY AND SIMPLICITY
"Behold a true Israelite in whom there is no guile (Jn 1:47)." Jesus praised St. Bartholomew for his sincerity, his naturalness and simplicity. "There is no duplicity in him." HE IS A MAN WITHOUT PRETENCE, WITHOUT ANY INTERIOR COMPLICATION, TRANSPARENT AND EASY TO DEAL WITH. As St. Augustine said of him: "He does not have two tongues, one for saying the truth and another for telling lies (Commentary on St John's Gospel, 78, 7, 16)."
Sincerity is a virtue fundamental for following Christ. He Himself said that He is the "Truth" and abhors all deceit, lies and duplicity, labelling the devil as the "father of lies". WE HAVE TO BE SINCERE WITH GOD, WITH OURSELVES AND WITH OTHERS (most especially to those who help us in our spiritual life, be it in spiritual direction or in the sacrament of Confession).
Without this virtue, we cannot receive God's grace and favor. Sincerity is related to humility and only the humble receive God's grace. He who acknowledges his faults, his sins and errors and asks pardon from God, is on the path of conversion.
Moreover, without sincerity and simplicity, it would be very difficult to have relationships based on truth, and thus, love. Dealing with persons who have the habit of lying, hypocrisy, pretense and presumption, is tough and almost always, troublesome.
You were reading in that dictionary the synonyms for insincere: 'two-faced, surreptitious, evasive, disingenuous, sly'. As you closed the book, you asked the Lord that nobody should ever be able to apply those adjectives to you, and you resolved to improve much more in this supernatural and human virtue of sincerity (J. Escrivá, Furrow, 337).
Simplicity, on the other hand, is a virtue very much related to sincerity and necessary if we are to follow Christ. SIMPLICITY IS OPPOSED TO BEING COMPLICATED IN THOUGHTS OR JUDGMENTS, AFFECTATION IN WORDS AND DEEDS, THE WISH TO STAND OUT, PEDANTRY, AN AIR OF SUFFICIENCY, OR BOASTING… "These are shortcomings that make difficult following Christ closely united to him, and they pose serious impediments to helping others draw near to Jesus. The simple person does not get muddled or complicated. He sets out directly to please God in all circumstances, both in what appears good and in what seems bad (F. Fernández-Carvajal, "In Conversation with God", vol. 7, n. 18.3)."
Together with sincerity, naturalness and simplicity constitute, as St. Josemaria said, "two marvellous human virtues which enable one to receive the message of Christ Conversely, all interior entanglements and complications, the twisting and turning inside and out of one's own problems, present a barrier to anyone who hears Our Lord's voice (Friends of God, n. 90)."
3. PRAYER
Dear friends, through St. Bartholomew's intercession, let us ask God to grant us the grace to live the virtues of sincerity, naturalness and simplicity in our dealings with our self, with Him and with others. Mother Mary, Help of Christians, pray for us your children!
FOR TODAY'S MASS PRAYERS AND PROPER READINGS, CLICK ON THIS LINK: https://catholicsstrivingforholiness.org/august-24-st-bartholomew-apostle-mass-prayers-and-proper-readings/
-Fr. Rolly Arjonillo, priest of Opus Dei, Catholics striving for holiness FB page. Hope you like our page and invite your friends as well to do so in order to help more people.
ORIGINAL VIDEO PHOTO SOURCES IN FB POST
VIDEO COMMENTARY ON TODAY'S GOSPEL
TOPIC: DO YOU EASILY GIVE UP ON PEOPLE?
Today, we celebrate the Feast of St. Bartholomew, often known as Nathaniel. The gospel reading identifies him as someone who is frank to a fault. He says what he thinks. He was skeptical when Philip told him that they had found the Messiah Moses spoke about.
We reflect today on our posture towards people who may seem to be difficult, opinionated, skeptical and, oftentimes, abrasive. Are we put off easily? (VIDEO: Maurice Cheeks Helps Natalie Gilbert, https://youtu.be/2dSzjIKtVcA)
Stay updated: subscribe by email for free TO OUR NEW WEBSITE www.catholicsstrivingforholiness.org (PUT YOUR EMAIL IN THE SUBSCRIBE WIDGET).
We are also in www.fb.com/Catholicsstrivingforholiness. Kindly help more people in their Christian life by liking our page and inviting your family, friends and relatives to do so as well. Thanks in advance and God bless you and your loved ones! Fr. Rolly Arjonillo