August 21. St. PIUS X. Pope of the Blessed Sacrament. Short bio + achievements.
August 21. St. PIUS X. Pope of the Blessed Sacrament. Short bio + achievements.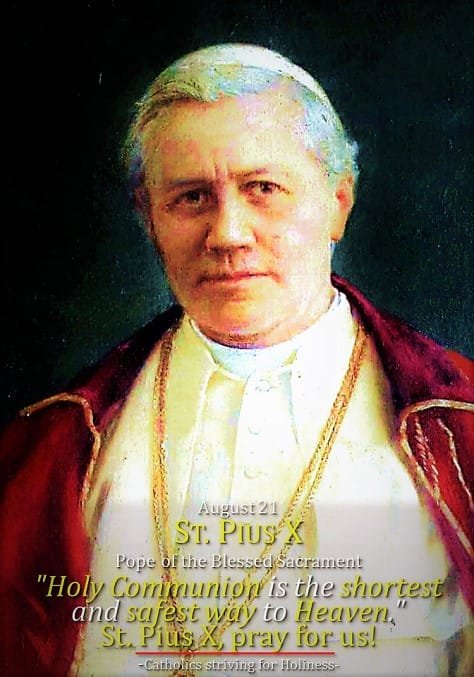 August 21: St. PIUS X
"Instaurare omnia in Christo"
(Restore all things in Christ).
Pope of the Blessed Sacrament.
LINK
2.1. The inauguration of the Liturgical Renewal:
2.2. The restoration of frequent communion from childhood.
2.3. His unwavering war against the heresy and evils of Modernism.
2.4. He brought about the codification of Canon Law.
2.5. His overriding concern was to renew all things in Christ.
1. Short biography
On June 2, 1835, Giuseppe Melchiorre Sarto was born in Riesi, Province of Treviso, in Venice; on August 20, 1914, he saw the light of heaven; and on May 29, 1954, he who had become the two hundred fifty-ninth pope was canonized St. Pius X.
Pope Pius X was born from a poor family, being the 2nd among 10 siblings. In spite of their poverty, his parents valued the education of their children. Giuseppe walked 6 kilometers daily to school.
On 10 November 1884 he was appointed bishop of Mantua by Leo XIII. Father Sarto required papal dispensation from Pope Leo XIII before episcopal consecration as he lacked a doctorate, making him the last Pope without a doctorate. Pope Leo XIII made him a cardinal in an open consistory on 12 June 1893. Three days after this, Cardinal Sarto was privately named Patriarch of Venice.
Interesting to note is that when he became Bishop and later Cardinal, then Pope, he preferred to live in poverty. His last will and testament bears the striking sentence: "I WAS BORN POOR, I HAVE LIVED IN POVERTY, AND I WISH TO DIE POOR."
Right after his election, when he wore a PECTORAL CROSS MADE OF GILDED METAL on the day of his coronation and when his entourage was horrified, the new pope complained that he always wore it and that he had brought no other with him. He was well known for cutting down on papal ceremonies. He also abolished the custom of the pope dining alone and the pope invited his friends to eat with him
He REJECTED ANY KIND OF FAVORS FOR HIS FAMILY; his brother remained a postal clerk, his favourite nephew stayed on as village priest, and his three single sisters lived together close to poverty in Rome, in the same way as other people of the same humble background lived.
2. Outstanding achievements
Among the many OUTSTANDING ACCOMPLISHMENTS of this saintly Pope were the following:
2.1. THE INAUGURATION OF THE LITURGICAL RENEWAL:
He worked to INCREASE DEVOTION IN THE LIVES OF THE CLERGY AND LAITY, particularly in the Breviary, which he reformed considerably, and the Holy Mass.
He also restored the Gregorian Chant.
On 1905, Pius X mandated the existence of the Confraternity of Christian Doctrine (catechism class) in every parish in the world. The CATECHISM OF PIUS X IS HIS REALISATION OF A SIMPLE, PLAIN, BRIEF, POPULAR CATECHISM FOR UNIFORM USE THROUGHOUT THE WHOLE WORLD.
2.2. THE RESTORATION OF FREQUENT COMMUNION FROM CHILDHOOD.
He placed a renewed liturgical emphasis on the Eucharist, saying, "HOLY COMMUNION IS THE SHORTEST AND SAFEST WAY TO HEAVEN." To this end, he encouraged frequent reception of Holy Communion. This also extended to children who had reached the "age of discretion". His devotion to the Holy Eucharist gained him the name the "POPE OF THE BLESSED SACRAMENT".
2.3. HIS UNWAVERING WAR AGAINST THE HERESY AND EVILS OF MODERNISM.
He had sought to revive the inheritance of Thomas Aquinas, "THE MARRIAGE OF REASON AND REVELATION", as a response to secular 'enlightenment'. Under the pontificate of Pius X NEO-THOMISM became the blueprint for an approach to theology. Pius X's papacy featured vigorous condemnation of what he termed 'modernists' and 'relativists' whom he regarded as dangers to the Catholic faith. This paved way to giving a great IMPETUS TO BIBLICAL STUDIES.
2.4. HE BROUGHT ABOUT THE CODIFICATION OF CANON LAW.
During his time, Canon Law in the Catholic Church varied from region to region with no overall prescriptions. For this reason, on 19 March 1904, Pope Pius X named a commission of cardinals to draft a universal set of laws that was to be the Code of Canon Law for most of the twentieth century. Two of his successors worked in the commission, G. della Chiesa, who became Pope Benedict XV and Eugenio Pacelli, who became Pope Pius XII. The first-ever definitive Code of Canon Law was promulgated by Benedict XV on 27 May 1917, obtained the force of law on 19 May 1918[23] and was in effect until Advent 1983.
2.5. HIS OVERRIDING CONCERN WAS TO RENEW ALL THINGS IN CHRIST.
"INSTAURARE OMNIA IN CHRISTO" (To renew all things in Christ) is the motto of his entire papacy and the motive behind all his actions, leading him to renew the life and customs of the entire Catholic Church and safeguard Her from the dangers of modernism and relativism, all carried out for love of Jesus Christ and the flock entrusted to him by God.
Above all, his holiness shone forth conspicuously. From St. Pius X we learn again that "THE FOLLY OF THE CROSS", SIMPLICITY OF LIFE, AND HUMILITY OF HEART ARE STILL THE HIGHEST WISDOM AND THE INDISPENSABLE CONDITIONS OF A PERFECT CHRISTIAN LIFE, FOR THEY ARE THE VERY SOURCE OF ALL APOSTOLIC FRUITFULNESS.
+++
Dear friends, let us ask God through the intercession of the holy Pope, St. Pius X, we may also learn how to "restore all things in Christ" by putting Him in the summit of all noble earthly realities, for love of God and His Glory in the ordinary activities of our daily life.
'"Oh God, who to safeguard the Catholic faith and to restore all things in Christ, filled Pope Saint Pius X with heavenly wisdom and apostolic fortitude, graciously grant that, following his teaching and example, we may gain an eternal prize. Through our Lord Jesus Christ." Collect, Mass proper.
St. Pius X, pray for us!
Cordially inviting you to like www.facebook.com/CatholicsstrivingforHoliness and share our posts to order to help more people in their Christian faith and life. Thanks and God bless! Fr. Rolly A.
TEXT SOURCES: Summary of contents found in  http://www.catholic.org/saints/saint.php?saint_id=313 and https://en.wikipedia.org/wiki/Pope_Pius_X