April 13: ST. MARTIN I, POPE AND MARTYR. Short bio and reading.
April 13: ST. MARTIN I, POPE AND MARTYR.
Short bio and reading.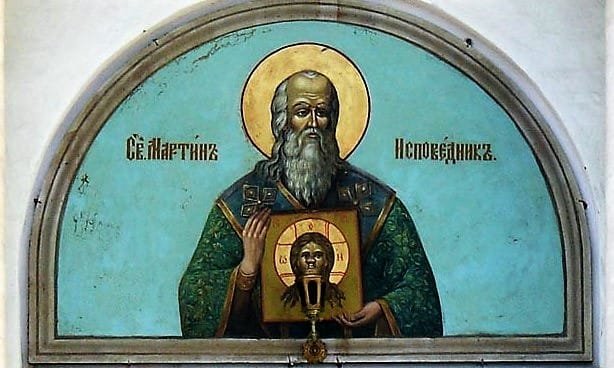 St. Martin was born in Todi, Italy. He was elected pope in 649 during the period of the last christological controversy. He summoned the Lateran Council of 649 to deal with the Monothelites. For his defense of Christ as true God and true man, he was exiled by the Byzantine emperor Constans II to Crimea where he died in 655.
THE LORD IS CLOSE, AND WHY AM I ANXIOUS?
A letter from St. Martin I, Pope.
Our constant desire in our letters to you, my beloved brethren, is to console you and to relieve the anxiety you have for us. And this applies to all our brethren and the holy men who are worrying about me for the sake of the Lord. I am writing now at the moment to you about the difficulties that are pressing in on me. In the name of Christ our God, I am telling the truth.
  We are not only far removed from all the turmoil of the world and destroyed by our sins, but we have been deprived even of the means to live. For the natives of this region are all heathens and those who account themselves resident here have also all adopted heathen customs; they are completely lacking in that human kindness which even among barbarians human nature always leads men to display in frequent acts of compassion.
  I have been, and am still, amazed at the lack of sensitivity and compassion among all those who once had to do with me — both my friends and relations. They have so completely forgotten me in my misfortune, and do not want to know how I am faring, whether indeed I am alive or not.  What sort of defence will we have to show at the tribunal of Christ, when all men will be mutually accusing and defending themselves, all of them of the same stuff and clay? What fear was it which fell on men to prevent them carrying out God's command, a groundless fear? Or is it that evil spirits make me a forgotten man by removing me to such a remote place? Have I appeared such an enemy to the whole Church, so hostile to them?
  However, may God, who desires all men to be saved and to come to the knowledge of the truth, make their hearts firm in the orthodox faith by the intercession of Saint Peter; may he strengthen them against every heretic, and anyone who is an enemy of our Church. May he keep them unmoved, especially the pastor who has now emerged as their leader, so that they may not fall directly away, or even incline to do so; may they forsake none of those things which they have professed in the sight of the Lord and of his holy angels in their writings, even in the slightest degree. So may they receive, along with me in my lowliness, the crown of righteousness of the orthodox faith from the hand of our Lord and Saviour, Jesus Christ.
  As for this, my lowly body, it will be the concern of the Lord, to direct it as it pleases him, whether my troubles continue unbroken or I enjoy some measure of relief. The Lord is near. Why then am I anxious? I put my hope indeed in his mercies that the Lord will not delay to bring my course to an end in whatever way he has commanded.  Greet then all those who are yours for the sake of the Lord, and all who for the love of God have pity on me in my bonds. May God in heaven protect you with the power of his hand from every temptation, and bring you to salvation in his kingdom.
COLLECT
Grant, almighty God, that we may withstand the trials of this world with invincible firmness of purpose, just as you did not allow your Martyr Pope Saint Martin the First to be daunted by threats or broken by suffering. Through our Lord.
Stay updated: subscribe by email for free TO OUR NEW WEBSITE www.catholicsstrivingforholiness.org (PUT YOUR EMAIL IN THE SUBSCRIBE WIDGET).
We are also in www.fb.com/Catholicsstrivingforholiness. Kindly help more people in their Christian life by liking our page and inviting your family, friends and relatives to do so as well. Thanks in advance and God bless you and your loved ones! Fr. Rolly Arjonillo