7th Sunday of Easter, Year A. MASS PRAYERS AND READINGS.
7th Sunday of Easter, Year A.
MASS PRAYERS AND READINGS.
(In places where Ascension Thursday was celebrated e.g. USA, UK, Australia…)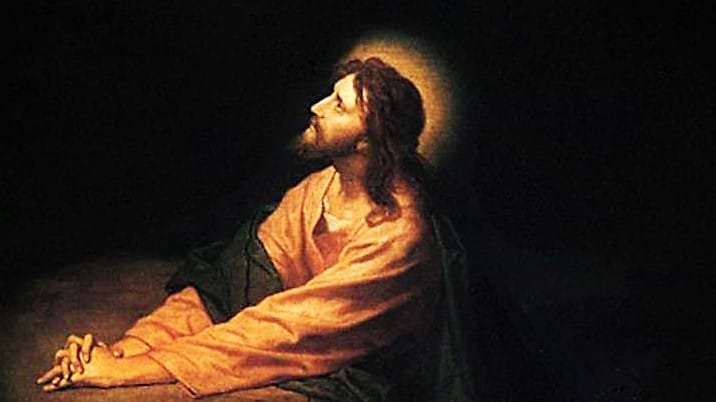 ENTRANCE ANTIPHON
O Lord, hear my voice when I call to you; of you my heart has spoken, your face I seek; hide not your face from me, alleluia.
[–» Greeting]
The Gloria in excelsis (Glory to God in the highest) is said.
COLLECT
Graciously hear our supplications, O Lord, so that we who believe that the Savior of the human race is with you in your glory may experience until the end of the world his abiding presence with us as he promised. Who lives and reigns with you.
READINGS FOR YEAR A (2020, 2023, 2026…)
READING I
Acts 1:12-14
After Jesus had been taken up to heaven the apostles returned to Jerusalem from the mount called Olivet, which is near Jerusalem, a sabbath day's journey away.
When they entered the city they went to the upper room where they were staying, Peter and John and James and Andrew, Philip and Thomas, Bartholomew and Matthew, James son of Alphaeus, Simon the Zealot, and Judas son of James. All these devoted themselves with one accord to prayer, together with some women, and Mary the mother of Jesus, and his brothers
RESPONSORIAL PSALM
R. believe that I shall see the good things of the Lord in the land of the living.
The Lord is my light and my salvation;
whom should I fear?
The Lord is my life's refuge;
of whom should I be afraid?
R.
One thing I ask of the Lord;
this I seek:
To dwell in the house of the Lord
all the days of my life,
That I may gaze on the loveliness of the Lord
and contemplate his temple.
R.
Hear, O Lord, the sound of my call;
have pity on me, and answer me.
Of you my heart speaks; you my glance seeks.
R.
READING II
1 Pt 4:13–16
Beloved: Rejoice to the extent that you share in the sufferings of Christ, so that when his glory is revealed you may also rejoice exultantly. If you are insulted for the name of Christ, blessed are you, for the Spirit of glory and of God rests upon you. But let no one among you be made to suffer as a murderer, a thief, an evildoer, or as an intriguer. But whoever is made to suffer as a Christian should not be ashamed but glorify God because of the name.
ALLELUIA
The Lord said: I will not leave you orphans. I will come back to you, and your hearts will rejoice.
GOSPEL
Jn 17:1–11a
Jesus raised his eyes to heaven and said, "Father, the hour has come. Give glory to your son, so that your son may glorify you, just as you gave him authority over all people, so that your son may give eternal life to all you gave him. Now this is eternal life, that they should know you, the only true God, and the one whom you sent, Jesus Christ. I glorified you on earth by accomplishing the work that you gave me to do. Now glorify me, Father, with you, with the glory that I had with you before the world began.
"I revealed your name to those whom you gave me out of the world. They belonged to you, and you gave them to me, and they have kept your word. Now they know that everything you gave me is from you, because the words you gave to me I have given to them, and they accepted them and truly understood that I came from you, and they have believed that you sent me. I pray for them. I do not pray for the world but for the ones you have given me, because they are yours, and everything of mine is yours and everything of yours is mine, and I have been glorified in them. And now I will no longer be in the world, but they are in the world, while I am coming to you."
The Creed is said.
Universal Prayer
Priest's Introduction
Dear brothers and sisters, filled with paschal joy, let us pray more earnestly to God that he, who graciously listened to the prayers and supplications of his beloved Son, may now be pleased to look upon us in our lowliness.
Intentions
For the shepherds of our souls, that they may have the strength to govern wisely the flock entrusted to them by the Good Shepherd, let us pray to the Lord.
For the whole world, that it may truly know the peace given by Christ, let us pray to the Lord.
For our brothers and sisters who suffer, that their sorrow may be turned to gladness which no one can take from them, let us pray to the Lord.
For our own community, that it may bear witness with great confidence to the Resurrection of Christ, let us pray to the Lord.
Priest's Prayer
O God, who know that our life in this present age is subject to suffering and need, hear the desires of those who cry to you; and receive the prayers of those who believe in you. Through Christ our Lord.

[–» Offertory]
PRAYER OVER THE OFFERINGS
Accept, O Lord, the prayers of your faithful with the sacrificial offerings, that through these acts of devotedness we may pass over to the glory of heaven. Through Christ our Lord.
[–» Eucharistic Prayer]
[–» Preface of Easter or of the Ascension]
PREFACE OF THE ASCENSION OF OUR LORD
It is truly right and just, our duty and our salvation, always and everywhere to give you thanks, Lord, holy Father, almighty and eternal God [through Christ our Lord].
For the Lord Jesus, the King of glory, conqueror of sin and death, ascended [today] to the highest heavens, as the Angels gazed in wonder. Mediator between God and man, judge of the world and Lord of hosts, he ascends not to distance himself from our lowly state but that we his members might be confident of following where he, our Head and Founder, has gone before. Therefore, overcome with paschal joy, every land, every people exults in your praise and even the heavenly Powers, with the angelic hosts, sing together the unending hymn of your glory as they acclaim:
[–» Holy, holy, holy…]
COMMUNION ANTIPHON
Father, I pray that they may be one as we also are one, alleluia.
[–» Communion]
PRAYER AFTER COMMUNION
Hear us, O God our Savior, and grant us confidence that through these sacred mysteries there will be accomplished in the body of the whole Church what has already come to pass in Christ her Head. Who lives and reigns for ever and ever.
[–» Concluding Rite]

A formula of Solemn Blessing may be used.