POPE FRANCIS ON THE 30TH SUNDAY IN ORDINARY TIME C
POPE FRANCIS ON THE 30TH SUNDAY IN ORDINARY TIME C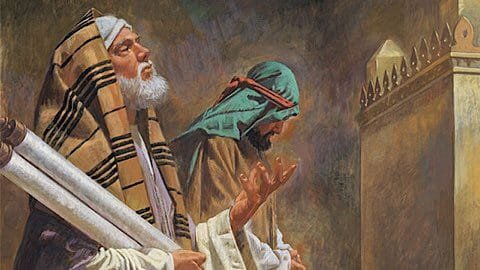 ANGELUS
Saint Peter's Square
30th Sunday in Ordinary Time C, 23 October 2022
____________________________
Dear brothers and sisters, buongiorno!
The Gospel of today's Liturgy presents us a parable with two protagonists, a pharisee and a publican (Lk 18:9-14), that is, a religious man and an avowed sinner. Both of them go up to the Temple to pray, but only the publican truly lifts himself up to God, because he humbly descends into the humility of himself and he presents himself as he is, without masks, with his poverty. We might say, then, that the parable lies between two movements, expressed by two verbs: to rise and to descend.
The first movement is to rise. Indeed, the text begins by saying: "Two people went up to the temple area to pray" (v. 10). This aspect recalls many episodes in the Bible, where in order to encounter the Lord, one goes up to the mountain of his presence: Abraham goes up on the mountain to offer the sacrifice; Moses goes up Mount Sinai to receive the Commandments; Jesus goes up the mountain where he is transfigured. To rise, therefore, expresses the need of the heart to detach itself from a flat life in order to go towards the Lord; to rise up from the plateau of our ego to ascend towards God, freeing oneself of one's own "I"; to gather what we live in the valley to bring it before the Lord. This is "rising", and when we pray, we rise.
But to live the encounter with him and to be transformed by prayer, to rise up to God, a second movement is necessary: to descend. How come? What does this mean? In order to rise towards him, we must descend within ourselves: to cultivate the sincerity and humility of the heart that give us an honest outlook on our frailties and our inner poverty. Indeed, in humility we become capable of bringing what we really are to God, without pretense: the wounds, the sins and the miseries that weigh on our hearts, and to invoke his mercy so that he may heal us, restore us and raise us up. It will be he who raises us up, not us. The more we descend with humility, the more God raises us up.
Indeed, the publican of the parable humbly stops at a distance (cf. v. 13) – he does not come close, he is ashamed – he asks for forgiveness, and the Lord raises him up. Instead, the pharisee exalts himself, self-assured, convinced that he is fine: standing up, he begins to speak with the Lord only of himself, praising himself, listing all the good religious works he does, and disdaining others: "I am not like that person there…". Because this is what spiritual arrogance does. "But father, why are you talking to us about spiritual arrogance?" Because we all risk falling into this trap. It leads you to believe yourself righteous and to judge others. This is spiritual arrogance: "I am fine, I am better than the others: this person does this, that one does that…". And in this way, without realizing, you adore your own ego and obliterate your God. It revolves around oneself. This is prayer without humility.
Brothers, sisters, the pharisee and the publican concern us closely. Thinking of them, let us look at ourselves: let us confirm whether, in us, as in the pharisee, there is the conviction of one's own righteousness (cf. v. 9) that leads us to despise others. It happens, for instance, when we seek compliments and always make a list of our own merits and good works, when we concern ourselves with how we appear rather than how we are, when we let ourselves be trapped by narcissism and exhibitionism. Let us beware of narcissism and exhibitionism, based on vainglory, that lead even us Christians, priests and bishops, always to have one word on our lips. Which word? "I": "I did this, I wrote that, I said it, I understood it before you", and so on. Where there is too much "I", there is too little God. In my country, these people are called "Me, with me, for me, only me", this is the name of those people. And once upon a time they used to talk about a priest who was like that, self-centred, and the people, jokingly, used to say, "When he incenses, he does it backwards, he incenses himself". It is like that; it even makes you seem ridiculous.
Let us ask the intercession of Mary Most Holy, the humble servant of the Lord, the living image of what the Lord loves to accomplish, overthrowing the powerful from their thrones and raising the humble (cf. Lk 1:52).
Source: https://www.vatican.va/content/francesco/en/angelus/2022/documents/20221023-angelus.html
HOMILY OF POPE FRANCIS
Vatican Basilica
30th Sunday in Ordinary Time C, 27 October 2019
---
The word of God today helps us to pray through three figures: in Jesus' parable both the Pharisee and the tax collector pray, while the first reading speaks of the prayer of a poor person.
1. The prayer of the Pharisee begins in this way: "God, I thank you".
This is a great beginning, because the best prayer is that of gratitude, that of praise. Immediately, though, we see the reason why he gives thanks: "that I am not like other men" (Lk 18:11). He also explains the reason: he fasts twice a week, although at the time there was only a yearly obligation; he pays tithes on all that he has, though tithing was prescribed only on the most important products (cf. Dt 14:22ff). In short, he boasts because he fulfils particular commandments to the best degree possible. But he forgets the greatest commandment: to love God and our neighbour (cf. Mt 22:36-40). Brimming with self-assurance about his own ability to keep the commandments, his own merits and virtues, he is focused only on himself. The tragedy of this man is that he is without love. Even the best things, without love, count for nothing, as Saint Paul says (cf. 1 Cor 13). Without love, what is the result? He ends up praising himself instead of praying. In fact, he asks nothing from the Lord because he does not feel needy or in debt, but he feels that God owes something to him. He stands in the temple of God, but he worships a different god: himself. And many "prestigious" groups, "Catholic Christians", go along this path.
Together with God, he forgets his neighbour; indeed, he despises him. For the Pharisee, his neighbour has no worth, no value. He considers himself better than others, whom he calls literally "the rest, the remainders" (loipoi, Lk 18:11). That is, they are "leftovers", they are scraps from which to keep one's distance. How many times do we see this happening over and over again in life and history! How many times do those who are prominent, like the Pharisee with respect to the tax collector, raise up walls to increase distances, making other people feel even more rejected. Or by considering them backward and of little worth, they despise their traditions, erase their history, occupy their lands, and usurp their goods. How much alleged superiority, transformed into oppression and exploitation, exists even today! We saw this during the Synod when speaking about the exploitation of creation, of people, of the inhabitants of the Amazon, of the trafficking of persons, the trade in human beings! The mistakes of the past were not enough to stop the plundering of other persons and the inflicting of wounds on our brothers and sisters and on our sister earth: we have seen it in the scarred face of the Amazon region. Worship of self carries on hypocritically with its rites and "prayers" – many are Catholics, they profess themselves Catholic, but have forgotten they are Christians and human beings – forgetting the true worship of God which is always expressed in love of one's neighbour. Even Christians who pray and go to Mass on Sunday are subject to this religion of the self. Let us examine ourselves and see whether we too may think that someone is inferior and can be tossed aside, even if only in our words. Let us pray for the grace not to consider ourselves superior, not to believe that we are alright, not to become cynical and scornful. Let us ask Jesus to heal us of speaking ill and complaining about others, of despising this or that person: these things are displeasing to God. And at Mass today we are accompanied providentially not only by indigenous people of the Amazon, but also by the poorest from our developed societies: our disabled brothers and sisters from the Community of L'Arche. They are with us, in the front row.
2. Let us turn to the other prayer. The prayer of the tax collector helps us understand what is pleasing to God. He does not begin from his own merits but from his shortcomings; not from his riches but from his poverty. His was not economic poverty – tax collectors were wealthy and tended to make money unjustly at the expense of their fellow citizens – but he felt a poverty of life, because we never live well in sin. The tax collector who exploited others admitted being poor before God, and the Lord heard his prayer, a mere seven words but an expression of heartfelt sincerity. In fact, while the Pharisee stood in front on his feet (cf. v. 11), the tax collector stood far off and "would not even lift up his eyes to heaven", because he believed that God is indeed great, while he knew himself to be small. He "beat his breast" (cf. v. 13), because the breast is where the heart is. His prayer is born straight from the heart; it is transparent. He places his heart before God, not outward appearances. To pray is to stand before God's eyes – it is God looking at me when I pray – without illusions, excuses or justifications. Often our regrets filled with self-justification can make us laugh. More than regrets, they seem as if we are canonizing ourselves. Because from the devil come darkness and lies – these are our self-justifications; from God come light and truth, transparency of my heart. It was a wonderful experience, and I am so grateful, dear members of the Synod, that we have been able to speak to one another in these weeks from the heart, with sincerity and candour, and to place our efforts and hopes before God and our brothers and sisters.
Today, looking at the tax collector, we rediscover where to start: from the conviction that we, all of us, are in need of salvation. This is the first step of the true worship of God, who is merciful towards those who admit their need. On the other hand, the root of every spiritual error, as the ancient monks taught, is believing ourselves to be righteous. To consider ourselves righteous is to leave God, the only righteous one, out in the cold. This initial stance is so important that Jesus shows it to us with an unusual comparison, juxtaposing in the parable the Pharisee, the most pious and devout figure of the time, and the tax collector, the public sinner par excellence. The judgment is reversed: the one who is good but presumptuous fails; the one who is a disaster but humble is exalted by God. If we look at ourselves honestly, we see in us all both the tax collector and the Pharisee. We are a bit tax collectors because we are sinners, and a bit Pharisees because we are presumptuous, able to justify ourselves, masters of the art of self-justification. This may often work with ourselves, but not with God. This trick does not work with God. Let us pray for the grace to experience ourselves in need of mercy, interiorly poor. For this reason too, we do well to associate with the poor, to remind ourselves that we are poor, to remind ourselves that the salvation of God operates only in an atmosphere of interior poverty.
3. We come now to the prayer of the poor person, from the first reading. This prayer, says Sirach, "will reach to the clouds" (35:21). While the prayer of those who presume that they are righteous remains earthly, crushed by the gravitational force of egoism, that of the poor person rises directly to God. The sense of faith of the People of God has seen in the poor "the gatekeepers of heaven": the sense of faith that was missing in [the Pharisee's] utterance. They are the ones who will open wide or not the gates of eternal life. They were not considered bosses in this life, they did not put themselves ahead of others; they had their wealth in God alone. These persons are living icons of Christian prophecy.
In this Synod we have had the grace of listening to the voices of the poor and reflecting on the precariousness of their lives, threatened by predatory models of development. Yet precisely in this situation, many have testified to us that it is possible to look at reality in a different way, accepting it with open arms as a gift, treating the created world not as a resource to be exploited but as a home to be preserved, with trust in God. He is our Father and, Sirach says again, "he hears the prayer of one who is wronged" (v. 16). How many times, even in the Church, have the voices of the poor not been heard and perhaps scoffed at or silenced because they are inconvenient. Let us pray for the grace to be able to listen to the cry of the poor: this is the cry of hope of the Church. The cry of the poor is the Church's cry of hope. When we make their cry our own, we can be certain, our prayer too will reach to the clouds.
Source: https://www.vatican.va/content/francesco/en/homilies/2019/documents/papa-francesco_20191027_omelia-sinodovescovi-conclusione.html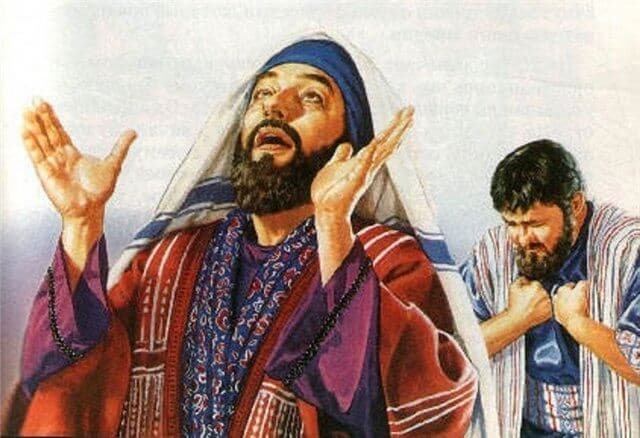 ANGELUS
Saint Peter's Square
30th Sunday in Ordinary Time C, 23 October 2016
---
Dear Brothers and Sisters, Good morning!
The second Reading of the day's Liturgy presents to us Saint Paul's exhortation to Timothy, his collaborator and chosen son, in which he thinks back on his existence as an Apostle wholly consecrated to the mission (cf. 2 Tim 4:6-8, 16-18). Now seeing the end of his earthly journey, he describes it in reference to three seasons: the present, past and future.
The present he interprets with the metaphor of sacrifice: "For I am already on the point of being sacrificed" (v. 6). With regard to the past, Paul points to his life lived with the images of the "good fight" and the "race" of a man who has been coherent with his duties and his responsibilities (cf. v. 7); as a result, for the future he trusts in being recognized by God who is "the righteous judge" (v. 8). But Paul's mission has been effective, just and faithful only thanks to the closeness and the strength of the Lord, who has made of him a proclaimer of the Gospel to all peoples. This is his expression: "the Lord stood by me and gave me strength to proclaim the Gospel fully, that all the peoples might hear it" (cf. v. 17).
In this autobiographical account by Saint Paul the Church is reflected, especially today, World Mission Sunday, the theme of which is "Missionary Church, Witness of Mercy". In Paul the Christian community finds its model, in the conviction that the Lord's presence makes apostolic work and the work of evangelization effective. The experience of the Apostle of the people reminds us that we must be committed in pastoral and missionary activities, on the one hand, as if the result depends on our efforts, with the spirit of sacrifice of an athlete, who never stops even in the face of challenges; on the other, however, knowing that the true success of our mission is a gift of Grace: it is the Holy Spirit who makes the Church's mission in the world effective.
Today is a time of mission and a time of courage! Courage to strengthen faltering steps, to recapture the enthusiasm of devoting oneself to the Gospel, of recovering confidence in the strength that the mission brings to bear. It is a time of courage, even if having courage does not mean having a guarantee of success. Courage is required of us in order to fight, not necessarily to win; in order to proclaim, not necessarily to convert. Courage is required of us in order to open ourselves to everyone, never diminishing the absoluteness and uniqueness of Christ, the one saviour of all. Courage is required of us in order to withstand incredulity, without becoming arrogant. Required of us too is the courage of the tax collector in today's Gospel, who humbly did not dare even to raise his eyes to heaven, but beat his breast saying: "God, be merciful to me a sinner!". Today is a time for courage! Today courage is needed!
May the Virgin Mary, model of the Church "that goes forth" and of docility to the Holy Spirit, help us all to be, in the strength of our Baptism, missionary disciples in order to bring the message of salvation to the entire human family.
Source: https://www.vatican.va/content/francesco/en/angelus/2016/documents/papa-francesco_angelus_20161023.html
HOMILY OF POPE FRANCIS
Saint Peter's Square
30th Sunday in Ordinary Time C, 27 October 2013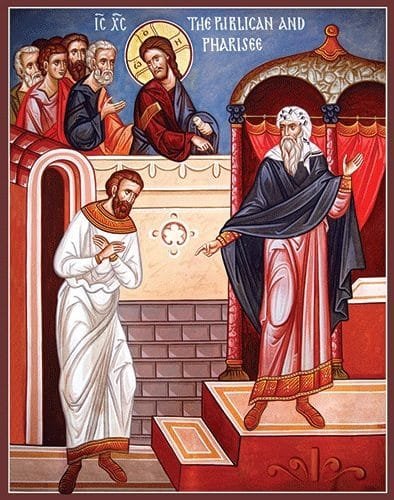 The readings this Sunday invite us to reflect on some basic features of the Christian family.
1. First: the family prays. The Gospel passage speaks about two ways of praying, one is false – that of the Pharisee – and the other is authentic – that of the tax collector. The Pharisee embodies an attitude which does not express thanksgiving to God for his blessings and his mercy, but rather self-satisfaction. The Pharisee feels himself justified, he feels his life is in order, he boasts of this, and he judges others from his pedestal. The tax collector, on the other hand, does not multiply words. His prayer is humble, sober, pervaded by a consciousness of his own unworthiness, of his own needs. Here is a man who truly realizes that he needs God's forgiveness and his mercy.
The prayer of the tax collector is the prayer of the poor man, a prayer pleasing to God. It is a prayer which, as the first reading says, "will reach to the clouds" (Sir 35:20), unlike the prayer of the Pharisee, which is weighed down by vanity.
In the light of God's word, I would like to ask you, dear families: Do you pray together from time to time as a family? Some of you do, I know. But so many people say to me: But how can we? As the tax collector does, it is clear: humbly, before God. Each one, with humility, allowing themselves to be gazed upon by the Lord and imploring his goodness, that he may visit us. But in the family how is this done? After all, prayer seems to be something personal, and besides there is never a good time, a moment of peace… Yes, all that is true enough, but it is also a matter of humility, of realizing that we need God, like the tax collector! And all familes, we need God: all of us! We need his help, his strength, his blessing, his mercy, his forgiveness. And we need simplicity to pray as a family: simplicity is necessary! Praying the Our Father together, around the table, is not something extraordinary: it's easy. And praying the Rosary together, as a family, is very beautiful and a source of great strength! And also praying for one another! The husband for his wife, the wife for her husband, both together for their children, the children for their grandparents….praying for each other. This is what it means to pray in the family and it is what makes the family strong: prayer.
2. The second reading suggests another thought: the family keeps the faith. The Apostle Paul, at the end of his life, makes a final reckoning and says: "I have kept the faith" (2 Tim 4:7). But how did he keep the faith? Not in a strong box! Nor did he hide it underground, like the somewhat lazy servant. Saint Paul compares his life to a fight and to a race. He kept the faith because he didn't just defend it, but proclaimed it, spread it, brought it to distant lands. He stood up to all those who wanted to preserve, to "embalm" the message of Christ within the limits of Palestine. That is why he made courageous decisions, he went into hostile territory, he let himself be challenged by distant peoples and different cultures, he spoke frankly and fearlessly. Saint Paul kept the faith because, in the same way that he received it, he gave it away, he went out to the fringes, and didn't dig himself into defensive positions.
Here too, we can ask: How do we keep our faith as a family? Do we keep it for ourselves, in our families, as a personal treasure like a bank account, or are we able to share it by our witness, by our acceptance of others, by our openness? We all know that families, especially young families, are often "racing" from one place to another, with lots to do. But did you ever think that this "racing" could also be the race of faith? Christian families are missionary families. Yesterday in this square we heard the testimonies of missionary families. They are missionary also in everyday life, in their doing everyday things, as they bring to everything the salt and the leaven of faith! Keeping the faith in families and bringing to everyday things the salt and the leaven of faith.
3. And one more thought we can take from God's word: the family experiences joy. In the responsorial psalm we find these words: "let the humble hear and be glad" (33/34:2). The entire psalm is a hymn to the Lord who is the source of joy and peace. What is the reason for this gladness? It is that the Lord is near, he hears the cry of the lowly and he frees them from evil. As Saint Paul himself writes: "Rejoice always … The Lord is near" (Phil 4:4-5). I would like to ask you all a question today. But each of you keep it in your heart and take it home. You can regard it as a kind of "homework". Only you must answer. How are things when it comes to joy at home? Is there joy in your family? You can answer this question.
Dear families, you know very well that the true joy which we experience in the family is not superficial; it does not come from material objects, from the fact that everything seems to be going well… True joy comes from a profound harmony between persons, something which we all feel in our hearts and which makes us experience the beauty of togetherness, of mutual support along life's journey. But the basis of this feeling of deep joy is the presence of God, the presence of God in the family and his love, which is welcoming, merciful, and respectful towards all. And above all, a love which is patient: patience is a virtue of God and he teaches us how to cultivate it in family life, how to be patient, and lovingly so, with each other. To be patient among ourselves. A patient love. God alone knows how to create harmony from differences. But if God's love is lacking, the family loses its harmony, self-centredness prevails and joy fades. But the family which experiences the joy of faith communicates it naturally. That family is the salt of the earth and the light of the world, it is the leaven of society as a whole.
Dear families, always live in faith and simplicity, like the Holy Family of Nazareth! The joy and peace of the Lord be always with you!
Source: https://www.vatican.va/content/francesco/en/homilies/2013/documents/papa-francesco_20131027_omelia-pellegrinaggio-famiglia.html
Stay updated: subscribe by email for free TO OUR NEW WEBSITE www.catholicsstrivingforholiness.org (PUT YOUR EMAIL IN THE SUBSCRIBE WIDGET).
We are also in www.fb.com/Catholicsstrivingforholiness. Kindly help more people in their Christian life by liking our page and inviting your family, friends and relatives to do so as well. Thanks in advance and God bless you and your loved ones! Fr. Rolly Arjonillo