18th SUNDAY IN ORDINARY TIME YEAR A REFLECTION: THE MULTIPLICATION OF THE LOAVES AND FISH
18th SUNDAY IN ORDINARY TIME YEAR A REFLECTION: THE MULTIPLICATION OF LOAVES AND FISH.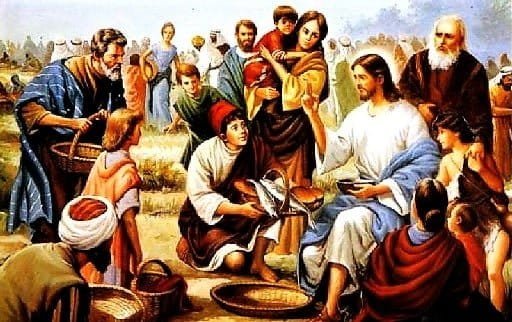 SUMMARY OF IDEAS OF TODAY'S SUNDAY READINGS.
This Sunday's Gospel on the multiplication of the loaves and fish (Mt 14: 13-21) is a fulfillment of the 1st reading from Isaiah 55, 1-3, in which the Lord invites us to eat and drink for free, prophetic words of the salvation offered by the Messiah, a palpable proof of God's love for us.
In this context, we understand the second reading wherein Saint Paul crowns his exposition with a hymn to the love of God. Nothing can separate us from the love of God.
Today's

Sunday liturgy

is a proclamation of the love and life-giving accomplishment of Our Lord Jesus Christ and a deep meditation on the greatness of the faith on the great event of the Eucharist. For the same reason, it is a day of gratitude and responsibility, of intense love and loving fidelity to the Father who loved us in his only begotten Son.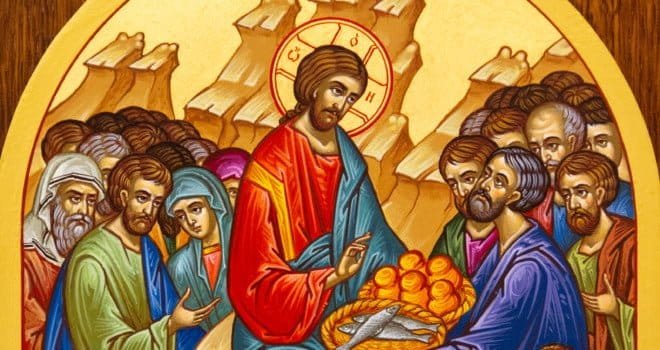 THREE IDEAS
1. GOD PROVIDES
Once more, we have to be convinced of this fact: GOD PROVIDES! Here we see how Jesus is sensitive not only to our spiritual but also to our material needs. Out of His merciful love and compassion, He takes the initiative to satisfy the hunger of the multitude who have followed to listen to His teachings.
2. TRUST IN THE LORD.
At the same time, OUR LORD WANTS US TO TRUST HIM in all our endeavours. He wants us to put all the resources we have on hand, even if we see them as inadequate, as in this case (with just five loaves and two fish) and leave the rest to His Providence for HE COULD TURN OUR MEAGER AND INSUFFICIENT RESOURCES INTO SOMETHING ABUNDANT AND PRODUCTIVE WAY BEYOND OUR IMAGINATION.
"We must, then, have faith and not be dispirited. We must not be stopped by any kind of human calculation. To overcome the obstacles we have to throw ourselves into the task so that the very effort we make will open up new paths" -St. Josemaria, "Christ is Passing By", 160).
3. WITH OUR GRAIN OF SAND, OUR LITTLE THINGS, GOD WORKS OUT MIRACLES.
Furthermore, it is worth mentioning that THE MIRACLE WAS CARRIED OUT WITH THE GENEROSITY OF A LITTLE BOY WHO HAD FIVE LOAVES AND TWO FISH.
With this, OUR LORD WANTS TO REMIND US TODAY OF THE GREAT VALUE OF LITTLE THINGS IN OUR CHRISTIAN LIFE, IN OUR VOCATION TO HOLINESS. From the human viewpoint, the resources at hand were absolutely insufficient. But God has the power to turn them, as we said, in something exceedingly abundant! And it all started with just that: something little!
MAY WE ALSO PUT OUR GRAIN OF SAND, BRING HIM OUR "LOAVES AND FISH" SO THAT GOD MAY MAKE USE OF THE LITTLE THAT WE HAVE TO WORK WONDERS FOR THE BENEFIT OF OTHERS.
Dear friends: HOLINESS IS MADE UP OF THE LITTLE THINGS EACH DAY CARRIED OUT WITH GENEROSITY AND LOVE. Our Lord doesn't not expect from each one of us great acts of heroism but rather, the heroism in the little things of our daily life done out of love: saying "no" to the manifestations of egoism, laziness, sensuality, vanity, envy, greed…an so forth: all of which are manifestations of our "Yes" to God's Will.
As St. Josemaria said:
"Do everything for Love. Thus there will be no little things: everything will be big. Perseverance in little things for Love is heroism. A little act, done for Love, is worth so much!
Do you really want to be a saint? Carry out the little duty of each moment: do what you ought and concentrate on what you are doing. For 'great' holiness consists in carrying out the 'little duties' of each moment. And "great souls pay much attention to little things."
St. Josemaria, The Way, nn. 813-818.
Stay updated: subscribe by email for free TO OUR NEW WEBSITE www.catholicsstrivingforholiness.org (PUT YOUR EMAIL IN THE SUBSCRIBE WIDGET).
We are also in www.fb.com/Catholicsstrivingforholiness. Kindly help more people in their Christian life by liking our page and inviting your family, friends and relatives to do so as well. Thanks in advance and God bless you and your loved ones! Fr. Rolly Arjonillo