Homily 17th Sunday in Ordinary Time C. PRAY WITH A CHILD'S DARING, TRUST, AND CONFIDENCE TO HIS FATHER.
Homily 17th Sunday in Ordinary Time C
PRAY WITH A CHILD'S DARING, TRUST AND CONFIDENCE TO HIS FATHER.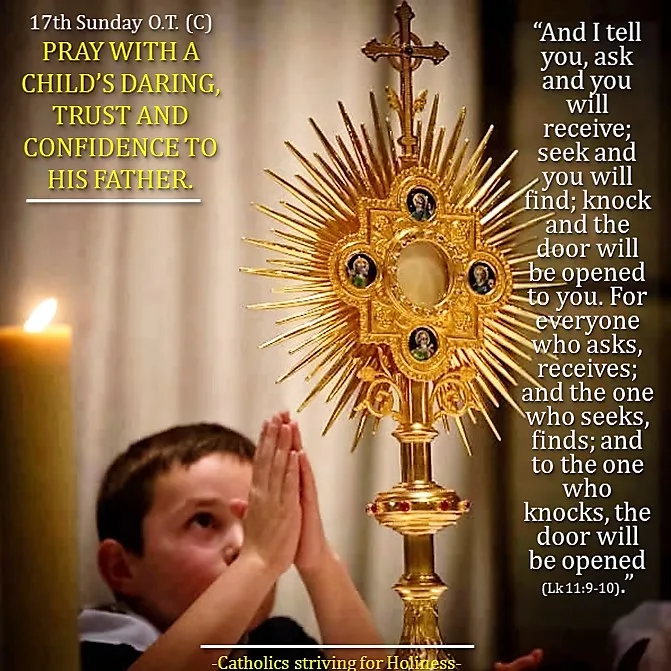 "Lord, on the day I called for help, you answered me," we pray in the Responsorial Psalm of today's Sunday liturgy which highlights some characteristics of Christian prayer.
1. In the Gospel of today's Mass (Lk 11:1–13), one of our Lord's disciples told him, "Lord, teach us to pray just as John taught his disciples." Jesus taught then the "Lord's Prayer" or "Our Father".
It is quite consoling that Jesus taught us to DIRECT OURSELVES TO GOD AS OUR FATHER, for that is who He is: a Father who loves us, his CHILDREN.
At the same time, Our Lord reminds us that THE FIRST THING WE SHOULD ASK GOD IS HIS GLORIFICATION AND THE COMING OF HIS KINGDOM for these are what really matter most in this life: the Kingdom of God and his justice (cf. Mt 6:33).
Our Lord also wants us to pray not only for our material needs with confidence, for "your heavenly Father knows that you need them all" (Mt 6:32). But also reminds us to aspire especially to seek forgiveness (and to forgive others) and to avoid the danger of sinning.
As we have said before, Jesus reveals to us that God is Our Father such that we must deal with him with loving trust and confidence, as a child does with his own father, without being afraid of tiring him of our insistence. To illustrate this, Jesus recounts the parable of the inopportune friend:
"Suppose one of you has a friend to whom he goes at midnight and says, 'Friend, lend me three loaves of bread, for a friend of mine has arrived at my house from a journey and I have nothing to offer him,' and he says in reply from within, 'Do not bother me; the door has already been locked and my children and I are already in bed. I cannot get up to give you anything.' I tell you, if he does not get up to give the visitor the loaves because of their friendship, he will get up to give him whatever he needs because of his persistence.
We must not forget that in order for PRAYER TO BE EFFECTIVE, an IMPORTANT PREREQUISITE is NECESSARY: HUMILITY.
John Paul II comments: "What does praying mean? Prayer means feeling one's own insufficiency through the various necessities which man has to face, necessities that are part of his life. Such as, for example, the need for bread to which Christ refers in the example of that man who wakes up his friend at midnight to ask him for bread. Similar necessities are numerous. The need for bread is, in a way, a symbol of all material necessities, the necessities of the human body, the necessities of this existence which springs from the fact that man is a body. But the range of these necessities is wider (St. John Paul II, Homily, 27 July 1980)."
2. Furthermore, Our Lord solemnly proclaims that GOD LISTENS ATTENTIVELY TO OUR PRAYERS AND WE SHOULD TRUST GOD'S GOODNESS WHO KNOWS WHAT IS BEST FOR HIS CHILDREN.
"And I tell you, ask and you will receive; seek and you will find; knock and the door will be opened to you. For everyone who asks, receives; and the one who seeks, finds; and to the one who knocks, the door will be opened. What father among you would hand his son a snake when he asks for a fish? Or hand him a scorpion when he asks for an egg? If you then, who are wicked, know how to give good gifts to your children, how much more will the Father in heaven give the Holy Spirit to those who ask him?"
However, we must bear in mind that ALTHOUGH GOD WANTS US TO ASK HIM FOR OUR NEEDS, WE SHOULD ALWAYS CONFORM OUR PETITIONS ACCORDING TO HIS DIVINE WILL FOR THIS IS THE BEST ASSURANCE THAT WHAT WE ASK WOULD REALLY BENEFIT US. In the same manner as a father would not give something which would harm his child, God does the same thing for us.
"Trust in your Father. If it would have been good for you, you would have received it. Before God, you are much as a little child is before you. All day long the child cries his eyes out so that you will give him a knife to play with You wisely refuse his plea and pay no attention to his wailing… You deny him in little things so as to preserve more important things. You want the child to grow up safely and possess all his own goods without danger (St Augustine, Sermon 80, 2, 7-8)."
3. Our prayer should have the DARING, AUDACITY AND PERSISTENCE OF A CHILD. It is consoling to note how Abraham "haggled" with God in the 1st reading (Gn 18:20–32) in order to save those cities who have greatly offended God:
""Will you sweep away the innocent with the guilty? Suppose there were fifty innocent people in the city; would you wipe out the place, rather than spare it for the sake of the fifty innocent people within it? Far be it from you to do such a thing, to make the innocent die with the guilty so that the innocent and the guilty would be treated alike! Should not the judge of all the world act with justice?"
We can educe a lot of lessons from Abraham's prayer = conversation with God but for now, we can focus on the fact that Abraham's prayer, aside from being familiar, daring and audacious, is a GENEROUS prayer. Abraham has a big heart. He could have been indifferent with the plight of those who have offended God but he "haggled" and made his case to God who is willing to forgive thousands of sinners for the sake of a handful of just men.
Dear brethren in Christ, let us learn how to pray as CHILDREN of OUR FATHER GOD: children who know that they are in need (HUMILITY), CONFIDENT that God listens attentively to our prayer (FAITH), DARING and PERSISTENT to ask God what would really benefit us and that which is in ACCORDANCE WITH HIS DIVINE WILL, and having a GREAT HEART (generosity) to include in our prayers the needs of the entire humanity, especially those who are suffering for whatever motive.
Let us ask the help of Our Lady so that we may be constant in our daily prayer and learn how to pray like she prayed, like her son Jesus prayed.
Have a Blessed Week ahead! Fr. Rolando Arjonillo, priest of Opus Dei.
SEE AS WELL:
TODAY'S 17TH SUNDAY OF ORDINARY TIME
MASS PRAYERS AND READINGS HERE
AND WHAT IS MENTAL PRAYER? HERE AND HERE.
ORIGINAL PHOTO SOURCE: https://s-media-cache-ak0.pinimg.com/736x/1d/f9/d9/1df9d95b8f06c61f12d85a2c7dff62a0.jpg
Stay updated: subscribe by email for free TO OUR NEW WEBSITE www.catholicsstrivingforholiness.org (PUT YOUR EMAIL IN THE SUBSCRIBE WIDGET).
We are also in www.fb.com/Catholicsstrivingforholiness. Kindly help more people in their Christian life by liking our page and inviting your family, friends and relatives to do so as well. Thanks in advance and God bless you and your loved ones! Fr. Rolly Arjonillo