Homily Reflection 15th Sunday in Ordinary Time C. THE DOUBLE PRECEPT OF CHARITY: LOVE GOD WITH OUR ENTIRE BEING AND OUR NEIGHBOR AS OURSELF.
Homily Reflection 15th Sunday in Ordinary Time C THE DOUBLE PRECEPT OF CHARITY: LOVE GOD WITH OUR ENTIRE BEINGAND OUR NEIGHBOR AS OURSELF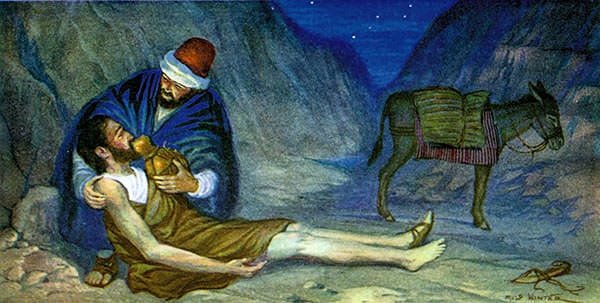 Dear brethren in Christ, today's Sunday liturgy reminds us that if we are to inherit eternal life, we must live the DOUBLE PRECEPT OF CHARITY as taught by Our Lord Jesus Christ:
"You shall love the Lord, your God, with all your heart, with all your being, with all your strength, and with all your mind, and your neighbor as yourself".
1. The 1st reading invites us to remember and practice the commandment (Dt 30:10–14) which God placed in our hearts.
Moses said to the people: "If only you would heed the voice of the Lord, your God, and keep his commandments and statutes that are written in this book of the law, when you return to the Lord, your God, with all your heart and all your soul.
God's commandment is not something external, outside of ourselves; rather, it is within us and we can recognize God's commandments if we have an upright conscience.
But God also expects our free correspondence. It is up to our use of freedom whether to accept or reject God's will and commandments every time we discern them in our conscience. We must strive to live His commandments out of love, and not out of fear.
2. The Gospel (Lk 10:25–37) emphasizes ON THE NECESSITY OF LIVING THE DOUBLE PRECEPT OF CHARITY: "You shall love the Lord, your God, with all your heart, with all your being, with all your strength, and with all your mind, and your neighbor as yourself".
Note that THERE IS A HIERARCHY AND ORDER IN THESE TWO COMMANDMENTS CONSTITUTING THE DOUBLE PRECEPT OF CHARITY: BEFORE AND ABOVE EVERYTHING COMES LOVING GOD IN HIMSELF; in the second place, and AS A CONSEQUENCE OF THE FIRST COMMANDMENT, COMES LOVING ONE'S NEIGHBOUR, for God explicitly requires us to do so (1 Jn 4:21; cf. notes on Mt 22:34-40 and 22:37-38) and the latter is the thermometer of the former.
But who is our neighbor? Jesus, upon answering the question of the scholar of the law on the importance of living the double precept of love in order to inherit eternal life, recounted the Parable of the Good Samaritan, insisting on the fact that WE HAVE TO TREAT OTHERS, ESPECIALLY THOSE WHO ARE IN NEED, THOSE WHO SUFFER, WITH LOVE AND MERCY.
The Commentary of the Navarre Gospels states: "In this moving parable, which only St Luke gives us, our Lord explains very graphically who our neighbour is and how we should show charity towards him, even if he is our enemy.
Following other Fathers, St Augustine (De verbis Domini sermones, 37) identifies the good Samaritan with our Lord, and the waylaid man with Adam, the source and symbol of all fallen mankind. Moved by compassion and piety, he comes down to earth to cure man's wounds, making them his own (Is 53:4; Mt 8:17; 1 Pet 2:24; 1 Jn 3:5). In fact, we often see Jesus being moved by man's suffering (cf. Mt 9:36; Mk 1:41; Lk 7:13). And St John says: "in this the love of God was made manifest among us, that God sent his only Son into the world, so that we might live through him. In this is love, "not that we loved God but that he loved us and sent his Son to be the expiation for our sins. Beloved, if God so loved us, we also ought to love one another" (1 Jn 4:9-11).
THIS PARABLE LEAVES NO DOUBT ABOUT WHO OUR NEIGHBOUR IS — ANYONE (WITHOUT DISTINCTION OF RACE OR RELATIONSHIP) WHO NEEDS OUR HELP; NOR ABOUT HOW WE SHOULD LOVE HIM — BY TAKING PITY ON HIM, BEING COMPASSIONATE TOWARDS HIS SPIRITUAL and CORPORAL NEEDS. IT IS NOT JUST A MATTER OF HAVING THE RIGHT FEELINGS TOWARDS HIM: WE MUST DO SOMETHING, WE MUST GENEROUSLY SERVE HIM."
Pope Benedict XVI comments that Jesus "answers with the famous words of the "Good Samaritan" (cf. Lk 10: 30-37) in order to show that it is up to us to make ourselves the neighbour of all who are in need of help. In fact, the Samaritan takes charge of the condition of a stranger whom robbers have left half dead on the wayside; while a priest and a Levite had passed him by, perhaps thinking, on account of a precept, that they would be contaminated by the contact with blood. The Parable must therefore induce us to change our mindset in accordance with the logic of Christ, which is the logic of charity:  God is love, and worshipping him means serving our brethren with sincere and generous love.
This Gospel account offers the "standard", that is, "universal love towards the needy whom we encounter "by chance' (cf. Lk 10: 31), whoever they may be" (Encyclical Deus Caritas Est,n. 25). Besides this universal rule there is also a specifically ecclesial requirement:  that "in the Church herself, as family, no member should suffer because he is in need" (ibid.). The Christian's programme, learned from Jesus' teaching, is "a heart which sees" where there is a need for love, and acts accordingly (cf. ibid., n. 31)." Angelus, July 11, 2010.
3. This way of acting is the same mercy which Our Lord Jesus Christ, having came from above, being the "Image of the Invisible God"; the source and end of the entire creation for "all things were created through him and for him"; "the head of the body, the church," LOVINGLY APPROACHED THE FALLEN HUMANITY, AS A GOOD SAMARITAN, TO REDEEM US ALL "MAKING PEACE BY THE BLOOD OF HIS CROSS" (Cf. Col 1:15–20)
Dear friends, Our Lord Jesus Christ's charity will always be the key to all Christian authenticity. And love for God could only be authentic if it is translated into service of those who are suffering and are in need for this is how Our Lord Jesus Christ lived. The Heart of Our Lord Jesus Christ is impregnated with love, mercy and service. If we are to be authentic followers of Christ, we need to strive daily to LIVE THE DOUBLE PRECEPT OF CHARITY: LOVE GOD ABOVE ALL THINGS AND OUR NEIGHBOR AS OURSELVES through the CORPORAL AND SPIRITUAL WORKS OF MERCY.
A Blessed week ahead! Fr. Rolly A., priest of Opus Dei.
SEE AS WELL:
POPE FRANCIS ON THE GOOD SAMARITAN,
HERE AND HERE.
ORIGINAL PHOTO SOURCE: ORIGINAL PHOTO SOURCE: https://upload.wikimedia.org/wikipedia/commons/8/81/El_bon_samarit%C3%A0_(1838),_de_Pelegr%C3%AD_Clav%C3%A9_i_Roquer.jpg
Stay updated: subscribe by email for free TO OUR NEW WEBSITE www.catholicsstrivingforholiness.org (PUT YOUR EMAIL IN THE SUBSCRIBE WIDGET).
We are also in www.fb.com/Catholicsstrivingforholiness. Kindly help more people in their Christian life by liking our page and inviting your family, friends and relatives to do so as well. Thanks in advance and God bless you and your loved ones! Fr. Rolly Arjonillo