12th Sunday O.T. (C). CHRISTIANS: LIVE FOR CHRIST! LIVE CHRIST'S LIFE. "FAITHALONE" (Solafide) WITHOUT WORKS IS NOT BIBLICAL.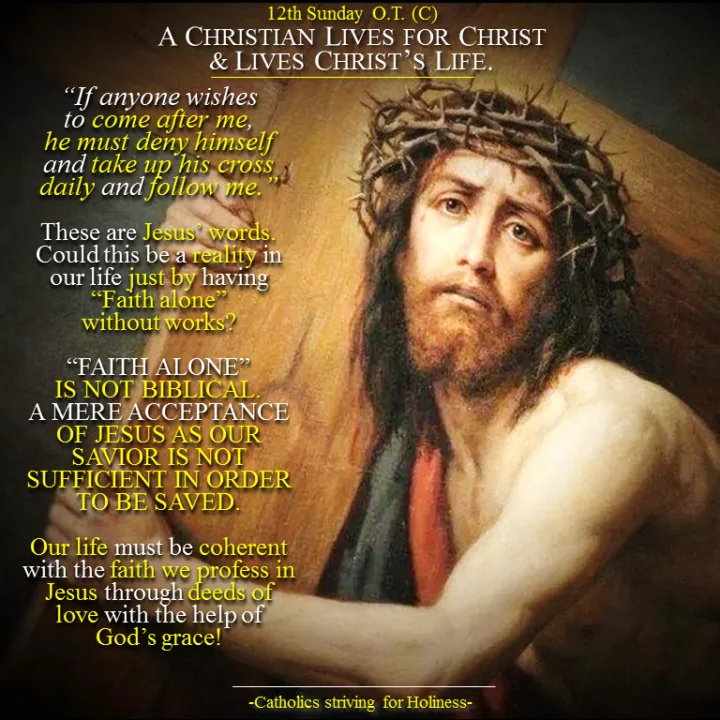 12th Sunday O.T. (C)
A CHRISTIAN LIVES FOR CHRIST AND LIVES CHRIST'S LIFE.
"FAITH ALONE" WITHOUT WORKS IS NOT BIBLICAL.
Dear brethren in Christ, today's Sunday liturgy underlines a very important idea: THE CHRISTIAN IS THE ONE WHO LIVES FOR CHRIST THE MESSIAH  AND LIVES CHRIST'S LIFE.
In the Gospel (Lk 9:18-24), we see how Jesus, after PETER'S CONFESSION OF CHRIST AS THE MESSIAH, announces His Passion and invites His disciples to remember an INDISPENSABLE REQUIREMENT if they were to follow Him: SELF-DENIAL AND ABNEGATION ARE NECESSARY TO CARRY CHRIST'S CROSS AND SAVE ONE'S LIFE. TO FOLLOW CHRIST IS TO LIVE FOR HIM AND LIVE HIS LIFE
"If anyone wishes to come after me, he must deny himself
and take up his cross daily and follow me. For whoever wishes to save his life will lose it,
but whoever loses his life for my sake will save it."
Our Lord's Redeeming Passion and Death were already announced in the Old Testament as we see in the 1st Reading (Zec 12:10-11:13:1) which narrates Zechariah's prophecy on the SUFFERING SERVANT, who prefigures Christ, and whose Passion will be a "a fountain to purify from sin and uncleanness".
"they shall look on him whom they have thrust through, and they shall mourn for him as one mourns for an only son, and they shall grieve over him as one grieves over a first-born."
The first-born son who was PIERCED THROUGH for the PURIFICATION OF SINS is the MESSIAH, the SAVIOR of the world.
With the above-mentioned ideas, St. Paul, in the 2nd reading taken from his Letter to the Galatians 3: 26-29 reminds that THROUGH THE BAPTISMAL GRACE AND FAITH, WE
"are all children of God in Christ Jesus. For all of you who were baptized into Christ
have clothed yourselves with Christ."
Through the Sacrament of Baptism wherein we (or our parents in the case of infant Baptism) accept Jesus as Our Savior and Redeemer −and which we renew in the other sacraments (1st Holy Communion and Confirmation)−, we have become CHILDREN OF GOD, INCORPORATED IN CHRIST, TEMPLE OF THE HOLY SPIRIT, and ARE SAVED BY THE REDEEMING SACRIFICE OF CHRIST ON THE CROSS.
Nevertheless, a MERE ACCEPTANCE OF THE SACRAMENT OF BAPTISM, A MERE PROFESSION OF FAITH IN JESUS AS OUR GOD AND SAVIOR IS NOT ENOUGH TO BE SAVED (contrary to what the born-again, Evangelical Protestants and other sects ERRONEOUSLY TEACH). Why?
Our Lord in the Gospel tells us to DENY OURSELF, CARRY OUR CROSS This implies that FOLLOWING OF CHRIST, LIVING FOR HIM, LIVING HIS LIFE DEMANDS A DAILY STRUGGLE. A daily combat against our "old man", the devil and the world, which lead us apart from Christ.
Our experience demonstrates – and the Scriptures attest to that for the just man falls seven times a day- that WE COMMIT ERRORS, SIN FREQUENTLY AND HAVE THE NEED OF GOD'S FORGIVENESS THROUGH THE SACRAMENT OF CONFESSION instituted by Him out of love for us, foreseeing our WOUNDED (NOT CORRUPTED, AS LUTHER AND THE PROTESTANTS, CLAIM AND THUS MAN IS INCAPABLE OF GOOD WORKS) NATURE.
Our Lord Jesus Christ Himself, after having called the disciples, INVITED THEM TO FOLLOW HIM CLOSELY THROUGH DAILY SELF-DENIAL AND CARRYING OF HIS CROSS and this implies a DAILY CONSTANT STRUGGLE THROUGH DEEDS AND WORKS WHICH MANIFEST OUR FAITH IN JESUS CHRIST.
Dear brethren in Christ, as we have seen above, we can affirm that IN ORDER TO BE SAVED "FAITH ALONE (SOLA FIDE)" WITHOUT WORKS, −as claimed and taught by the born-again and other Protestant sects−, a DEAD FAITH NOT IMBUED BY LOVE SHOWN IN DEEDS, IS NOT BIBLICAL: IT IS ERRONEOUS.
So don't let yourself be deceived by their erroneous teachings.
Rather, OUR LORD JESUS CHRIST EXPECTS FROM EACH ONE OF US A LIVING FAITH:
HE INVITES US TO MAKE IT OURS THE SACRIFICE HE CARRIED OUT IN CALVARY: HE INVITES US TO DENY OURSELVES AND CARRY OUR CROSS DAILY.
HE INVITES US TO LIVE HIS COMMANDMENTS AS CONCRETE MANIFESTATIONS OF OUR LOVE FOR HIM.
HE INVITES US TO COMPLETE IN OUR FLESH WHAT IS LACKING IN CHRIST'S PASSION (Col 1:24)".
All these point to the fact that
A TRUE CHRISTIAN IS THE ONE WHO LIVES FOR CHRIST AND LIVES CHRIST'S LIFE.
WOULD ALL THESE BE POSSIBLE WITHOUT WORKS MADE POSSIBLE BY GOD'S GRACE and ASKED FROM US BY OUR LORD JESUS CHRIST?
OUR LIFE MUST BE COHERENT WITH THE FAITH WE PROFESS IN JESUS THROUGH DEEDS OF LOVE WITH THE HELP OF GOD'S GRACE AND FOR THIS, THE NEED TO STRIVE DAILY TO DENY OURSELF AND TAKE UP CHRIST'S CROSS WITH JOY! 
 Happy Father's Day to all!
Fr. Rolly A., priest of Opus Dei.
SEE AS WELL:
ON THE NECESSITY OF INTERIOR STRUGGLE TO FOLLOW CHRIST: MAKE IT A HABIT TO SAY "NO" TO YOURSELF FOR LOVE OF GOD in https://catholicsstrivingforholiness.com/2015/10/27/on-the-necessity-of-interior-struggle-to-follow-christ-make-it-a-habit-to-say-no-to-yourself-for-love-of-god/
ON LOVE FOR GOD AND DAILY INTERIOR STRUGGLE: WANT TO ADVANCE IN YOUR LOVE FOR GOD DAILY? MAKE JESUS HAPPY BY SAYING "NO" TO YOURSELF IN THE LITTLE THINGS OF EACH DAY. KING ARTHUR & THE DWARF. https://catholicsstrivingforholiness.com/2016/01/05/on-love-for-god-and-daily-interior-struggle-want-to-advance-in-your-love-for-god-daily-make-jesus-happy-by-saying-no-to-yourself-in-the-little-things-of-each-day-king-arthur-amp/
ORIGINAL PHOTO SOURCE: Despite searching in google, I could find the painter's name. www.buna-vestire.net