HAPPY SOLEMNITY OF THE MOST HOLY TRINITY!  OH MOST HOLY TRINITY, GOD IMMORTAL BE ADORED!
HAPPY SOLEMNITY OF THE
MOST HOLY TRINITY!
OH MOST HOLY TRINITY,
GOD IMMORTAL BE ADORED!
"Blest be God the Father, and the Only Begotten Son of God, and also the Holy Spirit: for he has shown us his merciful love (Entrance Antiphon)."
With the Solemnity of the Most Holy Trinity, the entire Catholic Church celebrates the ineffable mystery of God's intimate life. THE MOST BLESSED TRINITY is the CENTRAL TRUTH OF OUR FAITH AND THE SOURCE OF ALL GIFTS AND GRACES.
Today's liturgy invites us to a LOVING UNION WITH EACH OF THE THREE DIVINE PERSONS: FATHER, SON AND HOLY SPIRIT. This loving union in THOUGHT, WORD, DEED…IN OUR LIFE, is nothing but to ADORE, PRAISE AND GLORIFY GOD, which is our purpose here on earth.
We have a particular duty to deliberately recognize God's goodness and majesty, which are the source of all that is good. THE ROLE WHICH IS MOST PROPER TO RATIONAL CREATURES is that of FREELY AND CONSCIOUSLY ADORING, PRAISING, EXALTING AND SERVING GOD SUCH THAT HIS ENTIRE LIFE IS A PLEASING OFFERING TO OUR LORD.
As the dogmatic theologian, M. Schmaus put it: ADORATION OR "WORSHIP.. IS THE PRINCIPAL MISSION OF CREATED BEINGS. There is no situation, no time, when worship is not the principal mission of man. IN WORSHIP, MAN RECOGNIZES THAT GOD IS THE UNCONDITIONAL LORD OF LIFE AND OF HISTORY. (cited by J. Morales, 'Creation Theology', Four Courts Press, Dublin 2001)."
"By seeking the glory of God, through knowing and loving him, human beings attain their own end, so that objective end (glory of God) and subjective end (human happiness) are completely bound up with one another; man's supreme happiness is to glorify God by knowing and loving him.
This means that the glorification of God does not take place at the expense of created beings: their true happiness lies precisely in giving glory to God (Ibidem)."
Today we can say many times the prayer: GLORY BE TO THE FATHER, AND TO THE SON, AND TO THE HOLY SPIRIT. 'TO YOU BE PRAISE, TO YOU BE GLORY, TO YOU BE THANKSGIVING WORLD WITHOUT END, O BLESSED TRINITY!' (Angelic Trisagion) NOT ONLY WITH OUR LIPS, BUT WITH OUR MIND, HEART, ACTIONS: in short, with OUR LIFE!
As St. Irenaeus put: ""the glory of God is man fully alive; moreover man's life is the vision of God (Adv. haeres. 4,20,7 cited in Catechism of the Catholic Church, n. 294)."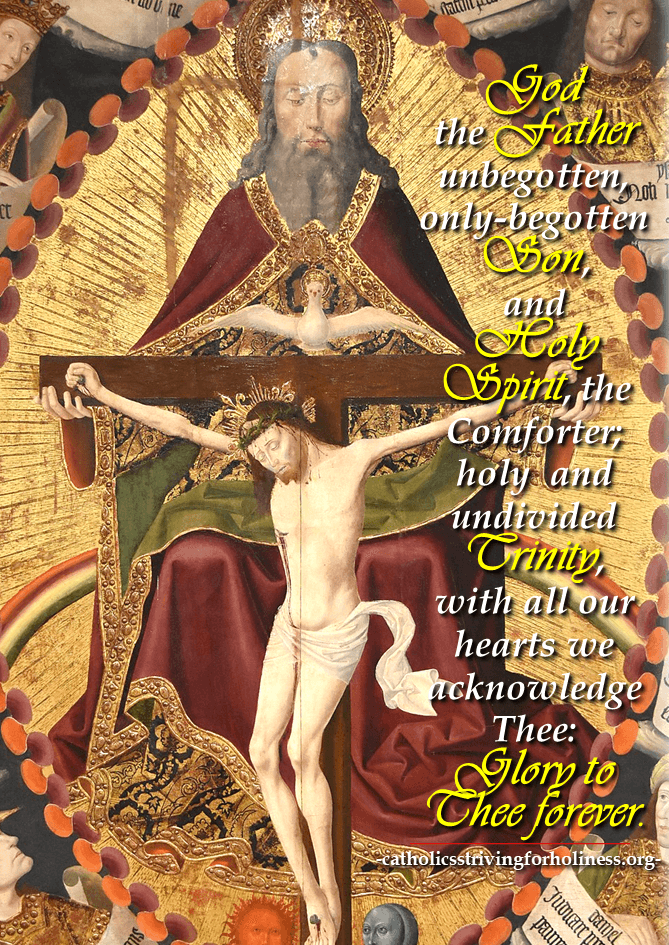 Let us not forget as well that God, in His Goodness and for Love of us, DWELLS in our SOUL IN GRACE! Yes, OUR SOUL IN GRACE, BY VIRTUE OF BAPTISM, IS THE TEMPLE OF GOD THE FATHER, GOD THE SON, AND GOD THE HOLY SPIRIT! May this objective and supernatural reality lead us then to DEAL WITH, TALK TO, ADORE and THANK THE FATHER, THE SON AND THE HOLY SPIRIT; and, GENEROUSLY STRUGGLE TO AVOID ANY SIN OR OCCASION WHICH WOULD DRIVE THEM AWAY FROM OUR SOUL.
Dear friends, through Our Mother Mary, DAUGHTER OF GOD THE FATHER, MOTHER OF GOD THE SON, SPOUSE OF THE HOLY SPIRIT, let us direct ourselves to the Most Blessed Trinity saying:
"God our Father, who by sending into the world the Word of truth and the Spirit of sanctification made known to the human race your wondrous mystery; GRANT US, WE PRAY, THAT IN PROFESSING THE TRUE FAITH, WE MAY ACKNOWLEDGE THE TRINITY OF ETERNAL GLORY, AND ADORE YOUR UNITY, POWERFUL IN MAJESTY (Opening Prayer of the Mass)."
SEE AS WELL:
SOLEMNITY OF THE MOST HOLY TRINITY MASS PRAYERS AND READINGS
https://catholicsstrivingforholiness.org/solemnity-of-the-most-holy-trinity-mass-prayers-and-readings/
SOLEMNITY OF THE MOST HOLY TRINITY AV SUMMARY AND FULL TEXT: GLORY BE TO THE FATHER, TO THE SON, AND TO THE HOLY SPIRIT. https://catholicsstrivingforholiness.org/solemnity-of-the-most-holy-trinity-glory-be-to-the-father-and-to-the-son-and-to-the-holy-spirit-av-summary-full-text/
SOLEMNITY OF THE MOST HOLY TRINITY : ADORATION, MAN'S PRINCIPAL MISSION https://catholicsstrivingforholiness.org/solemnity-of-the-most-blessed-trinity-adoration-mans-principal-mission-in-life/
ORIGINAL PHOTO SOURCE: José Ribera, La Santísima Trinidad in wikicommons.org
Stay updated: subscribe by email for free TO OUR NEW WEBSITE www.catholicsstrivingforholiness.org (PUT YOUR EMAIL IN THE SUBSCRIBE WIDGET).
We are also in www.fb.com/Catholicsstrivingforholiness. Kindly help more people in their Christian life by liking our page and inviting your family, friends and relatives to do so as well. Thanks in advance and God bless you and your loved ones! Fr. Rolly Arjonillo